December 13, 2021
I have no explanation, and I offer no excuses – I have NOT worked (on The Vivienne Files!) for a couple of days!
I have done a lot of laundry, I've finished cleaning out my mother's old apartment (woo hoo!!!), and I've spent time with her and with my sweetheart…
Which is not to say that I haven't been thinking about you…
Santa wanted me to have this little chat – and YES, even if you don't celebrate Christmas, this chat includes you too!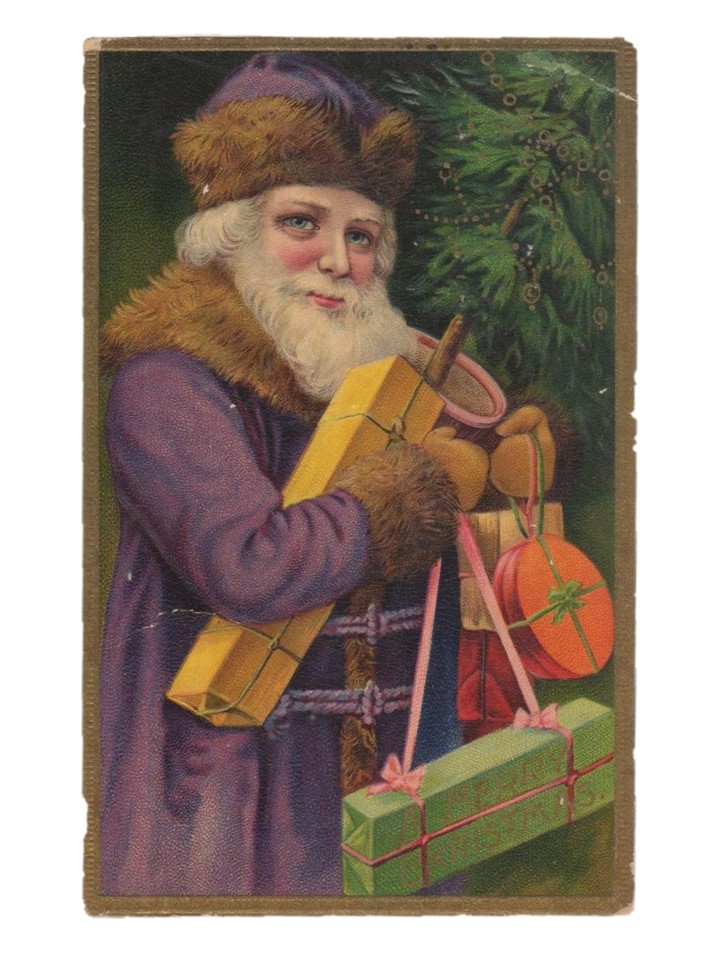 Of COURSE in my world, Santa wears purple! Actually, this is an antique postcard from about 1916. Postcards were the greeting cards on the early 20th century, and in the Christmas ones, Santa is dressed in LITERALLY any color but black. As far as I've seen…
I used to collect these. Beware falling into this black hole of collections; there is no end to what you can find, and they are all more beautiful than the last. Sigh…
But seriously – you HAVE got your "bug-out" bag packed, right? (if anybody actually owns the rights to that term, please let me know and I'll give them credit!)
After Friday's storms, I think we all need to remember to check the contents of our bag, if we have one. And definitely, if you haven't got one packed, starting working on this. I know it seems like over-planning to many of you, but I think being prepared for emergencies is at least part of how to minimize your worry level.
Over and over again, through the weekend, I heard people lamenting dead cell-phones. Which is why you start your bag with your essential prescriptions, some cash, and one of these:
Think about how much weight/volume you can carry, and get the biggest and most robust of these that you can manage. (There's a TON of these, by the brand Anker, available at Amazon…)
Not only will YOU have phone security, but you will also be able to offer a recharge to all kinds of people in an emergency. There's nothing wrong with being a modest heroine…
Other things that are going into my bag for cool weather?
LONG UNDERWEAR! Including a shirt which can be worn as a normal shirt. These pack down VERY small, also make excellent pajamas:
Another garment that I'm going to pack is a flannel shirt. A roomy one, that would be big enough for a toddler nightshirt, or to wrap up a baby to keep them warm to sleep… Note that this is a tunic length shirt – a few extra inches of warmth could come in handy!
(you can tell that I don't necessarily assume that I'm going to need ALL of these things for myself!)
Nobody much talks about what kind of bag you should use for your emergency pack, but I'm STRONGLY encouraging you to consider a backpack. You may need your arms free for another bag, or to push a wheelchair, or to carry a baby or a pet…
Please note that you want to look for something pretty sturdy, and possibly water-resistant…
What else? A roll of quarters, a couple of hands full of $1 bills, and $5's. (assume that paying digitally for anything might not be possible…)
Do you have copies of all of your vital documents in a plastic bag, in your backpack? Or do you have TOO many documents to carry that way? Look into the possibility of a fireproof document bag. Put everything into it in plastic, and be ready to carry them to safety:
Anything else for your physical comfort? Depending on how much time you have to prepare to evacuate, you might not have your very favorite footwear on! (my assumption is that we would have to get out of here in the middle of the night… sigh…)
Maybe something that packs really flat, slips on, but would still be warm?
And an extra pair of socks might fit into a nook or cranny… and depending on what kind of emergencies you face, a change of undergarments might be useful!
For many of us, if we're going to be sitting in a hallway somewhere for 6 hours, we will need both a book (maybe put the Kobo reader on your phone?)
Snacks? I personally put my very favorite snacks into my bag – if I'm under a lot of stress, I do NOT want to be eating some tasteless sawdust thing that's designed to stay edible for 30 years!
And here's where I offer what might be my best idea – every month (on the anniversary of your birthday), put a note on your calendar to check your emergency bag!
This way, if you're packing Reese Cups as your emergency snack, you can "remember" to take the old ones out of your bag and replace them….
The old ones might need to be… handled…. somehow!
There has to be something fun in all of this, right?
I offer this as one who worries about their friends – and that unquestionably includes all of you!
love,
Janice
p.s. Seven years ago, I assembled some outfit suggestions for a friend who has some STUNNING ruby and amethyst jewelry. Why NOT dress to match your jewels?
p.p.s. I promise that I'm going to Revisit The Weekly Timeless Wardrobe on Wednesday… back to work for me!