December 3, 2021
Another session in which we consider the strengths and weaknesses of 2 of our scarf-based wardrobes; I have to believe that if you can get dressed every day, a wardrobe isn't a complete failure!
But if you struggle, and if you feel awkward when you get dressed, then maybe some improvements could be made. This is something that NEVER ends – your life changes every time you take a breath, and with time, your wardrobe needs and preferences will change.
What can we learn, and remember, from knowing this?
(a) You will never have a perfect wardrobe – quit beating yourself up for trying to get there! (mine's not perfect, believe me!) and
(b) there is no garment, and no group of garments, that will get you to your perfect wardrobe.
I am often guilty of seeing something (like a beautiful black cardigan) and thinking "oh, if I get that, THEN I will be perfectly set with something to wear with my black pants, and my black skirts, AND my black dresses…"
As if I couldn't already find something in my closet that would do the same thing. But new sweaters always have a lot more appeal than the one that's hanging in my closet. THAT is a state of mind that needs to be addressed…
Enough philosophy – on to this glorious mass of pink and purple!
I never wear navy – literally do not own one stitch of navy clothing – but I would be willing to jump ship from black to navy if this wardrobe was being offered to me…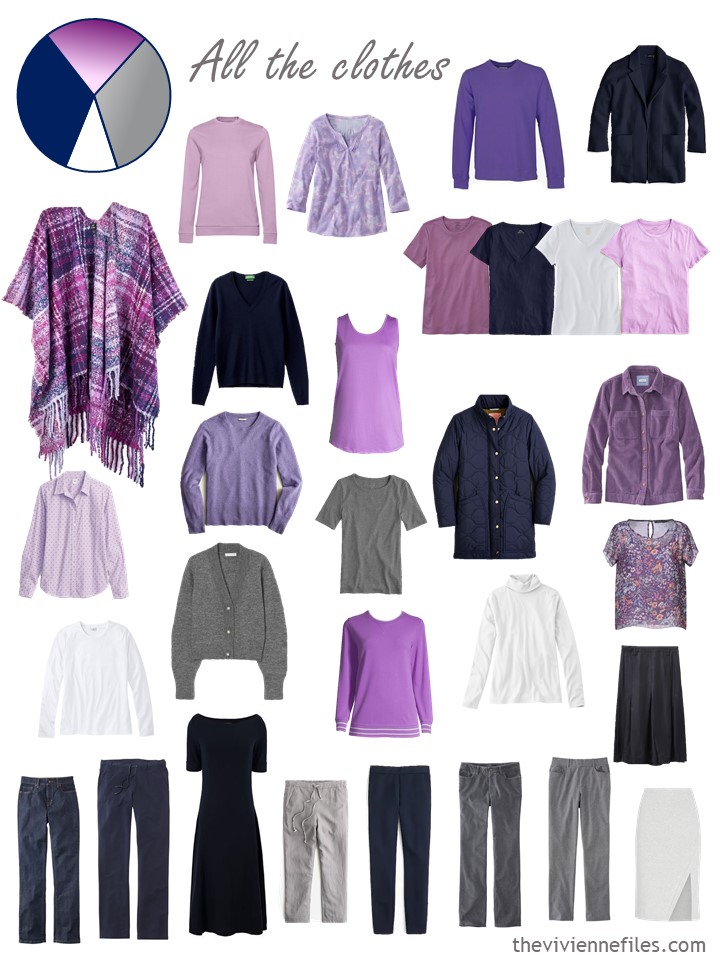 This is interesting – this wardrobe includes a LOT of garments that will work as either a 1st layer, or can be worn over another top. This is worth trying to do – especially if packing – because tops like this are by definition more versatile than something that can only be worn one way… You can wear a shirt under your cashmere crewneck sweater one day, and then a few days later, just wear the sweater on its own. Since you had a shirt next to your skin, your sweater is more than clean enough to be worn again.
some day, we need to address just how often we MUST launder garments; I suspect that a lot of us are overdoing it!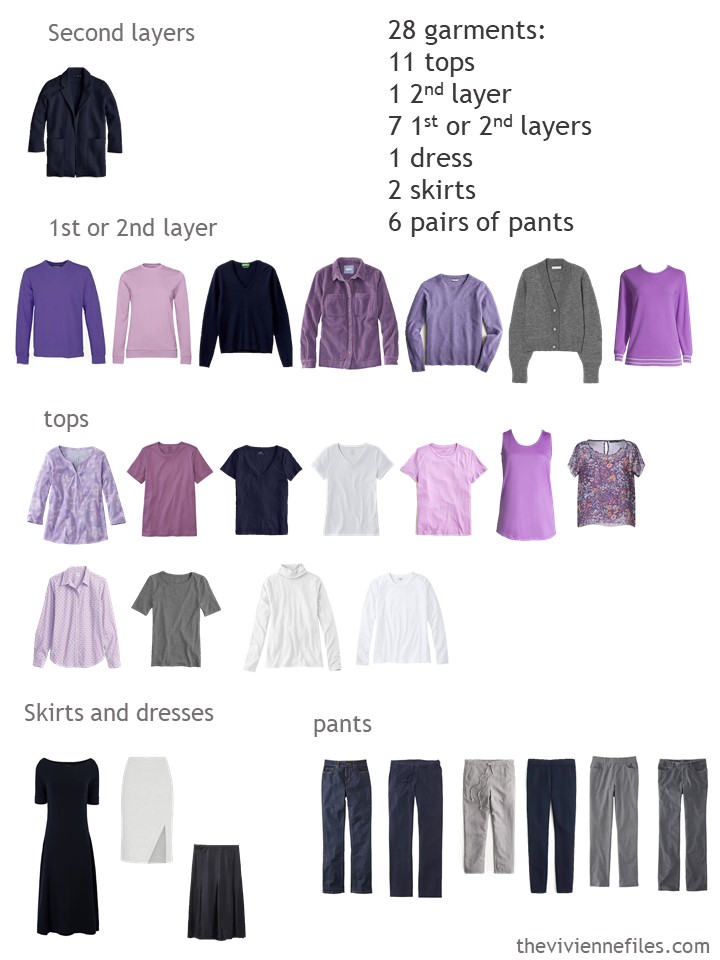 When we sort this wardrobe by color, we discover something that I think is true for a LOT of us who have a favorite color that catches our eye when we shop – this wardrobe has plenty of accents, and just the bare minimum of neutrals!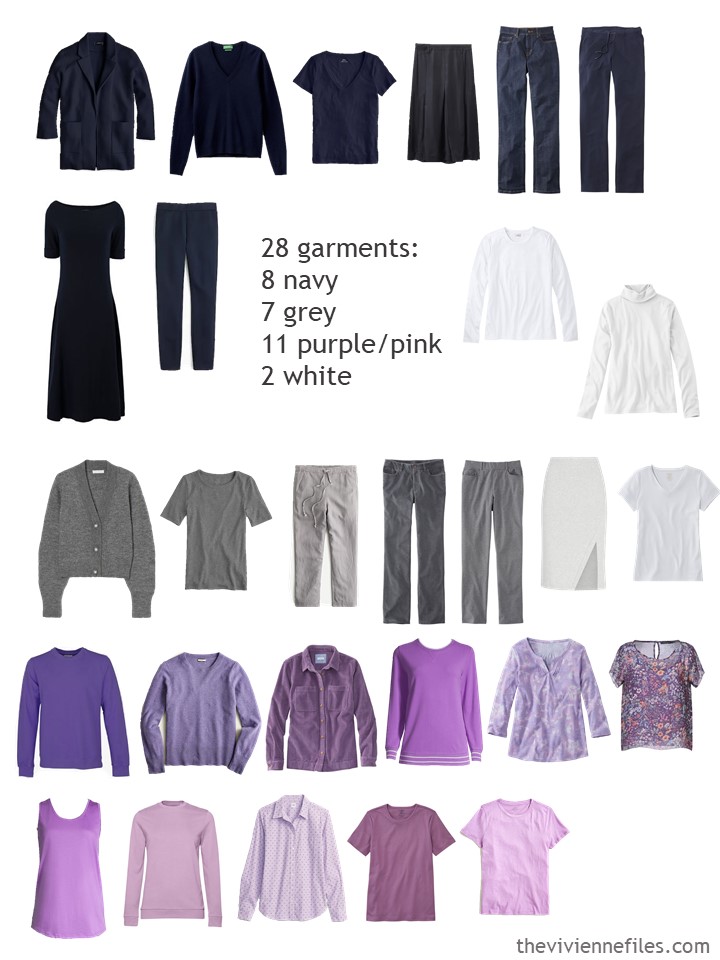 Happily, this is an easy wardrobe gap to fix! Maybe buying a navy tee shirt and cropped pants isn't the most exciting shopping you can do, I understand. But having these kinds of things in your wardrobe (as well as a simple grey skirt, or a timeless grey sweater) will help you find new ways to wear all of those lovely pink and purple accents!
These accessories speak to all of my weaknesses: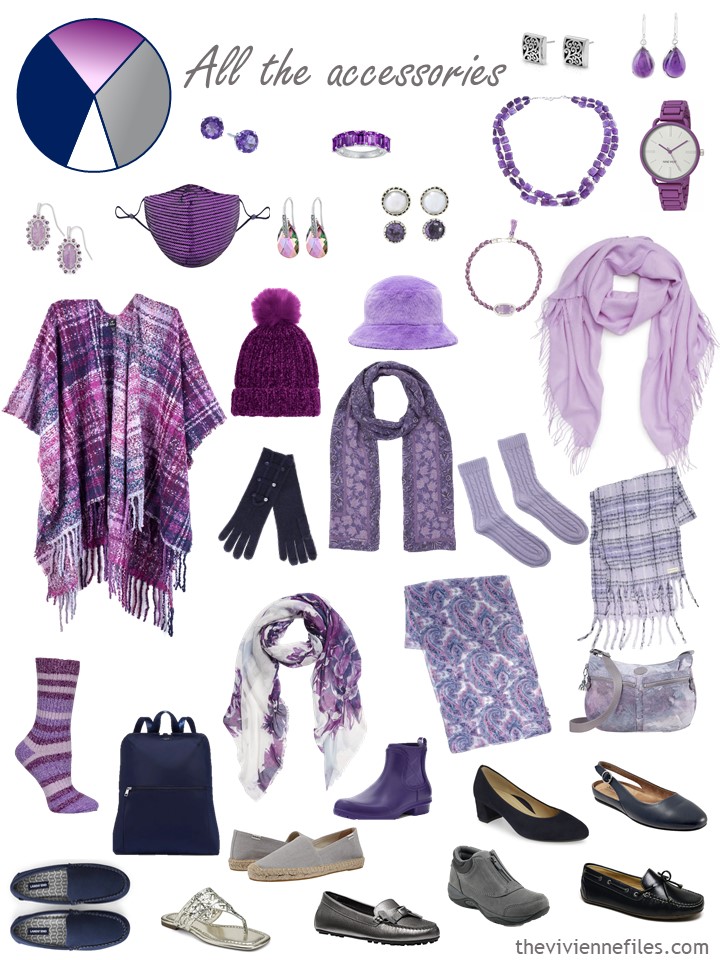 Even though there are no real quotas for how many accessories you should own, in which categories, it can still be useful or edifying to sort out your things…
if I put all of my scarves in 1 place, I'm afraid of what I might see!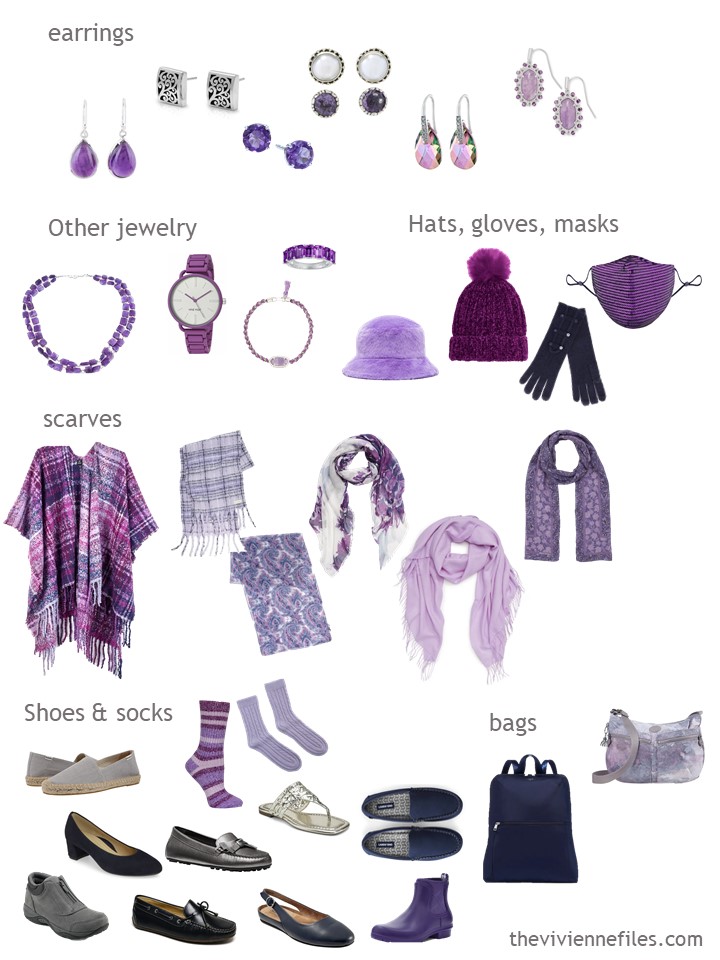 Here again, this heroine might find it useful to own some timeless classic accessories…
I can finally admit – even though I might prefer a wardrobe based upon black, or I might find another of these wardrobes more versatile – this purple-focused wardrobe is where my heart would settle. Perish the thought that I would need to replace my entire wardrobe, but at least I know what I would want!
Let's move on to this beautifully warm and bright palette:
This is another wardrobe for which I kept finding really perfect accent garments: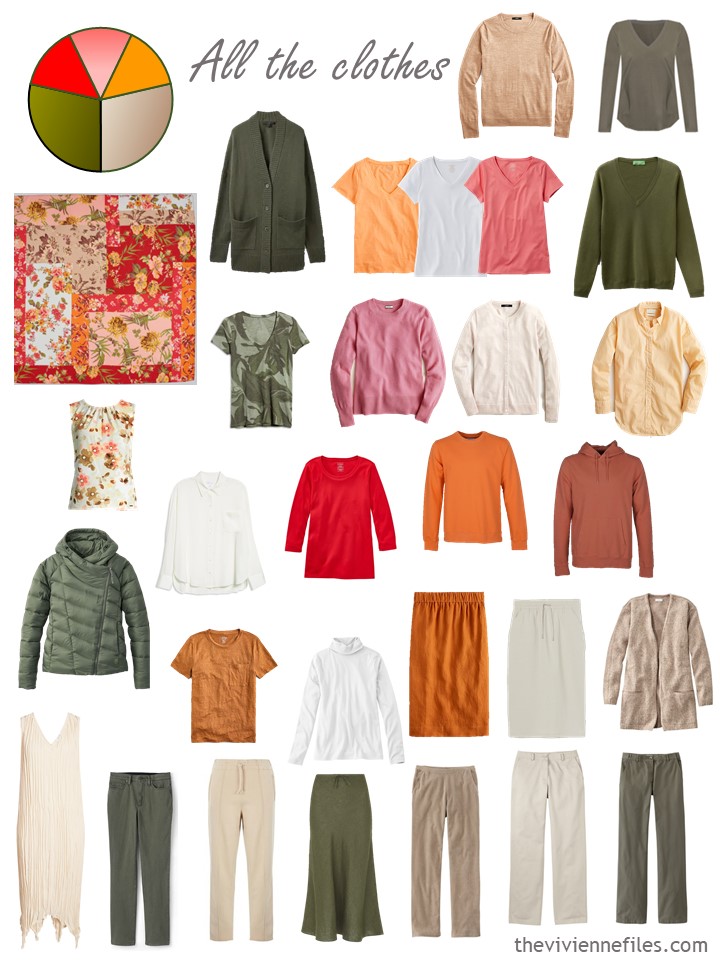 This wardrobe might be for a slightly dressier heroine – she has more skirts and fewer pairs of pants than most of our others…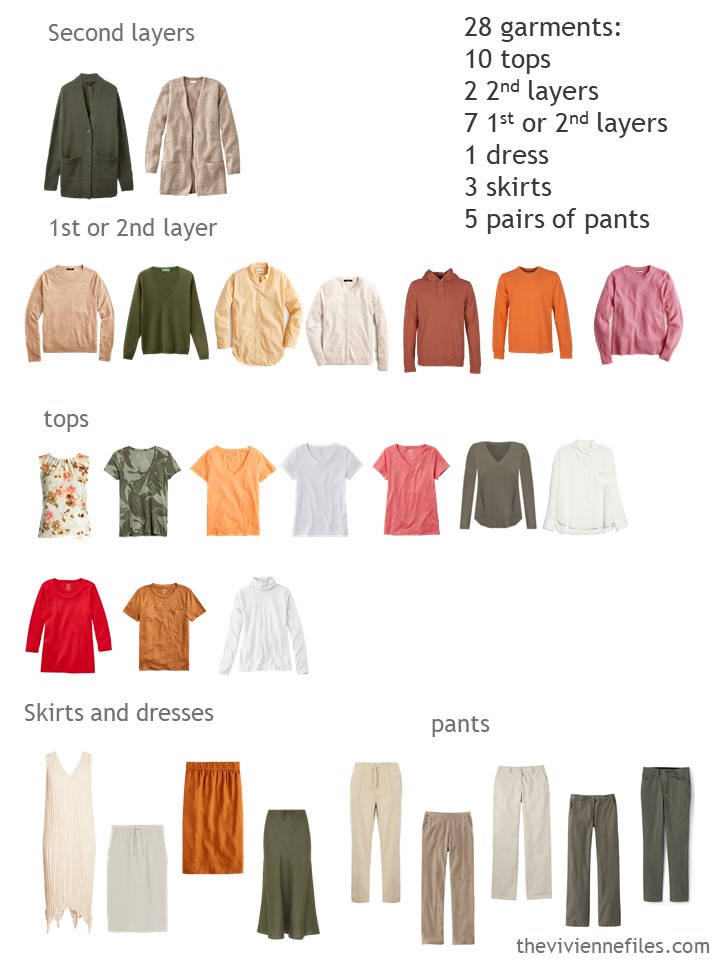 And she has PLENTY of pretty pink, rose, terra-cotta and red tops to wear with olive and beige; this wardrobe is a great example of how your accent colors can have the same general idea, but not necessarily all match!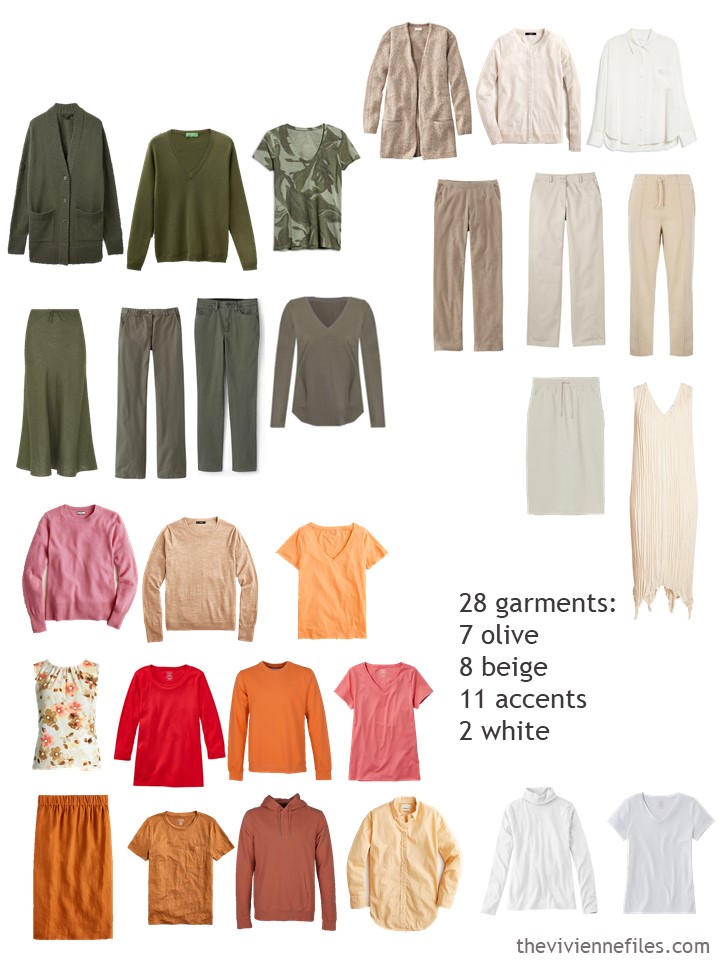 To me, this heroine mostly needed a pair of olive cool-weather pants, and a simple sweater to wear with them! Another couple of accent tops, a timeless ivory cashmere sweater, and possibly the world's most versatile dress will give her all kinds of possibilities:
These accessories are among my all-time favorites; the bird scarf? The tiger scarf? Heck yes – I'll take them all!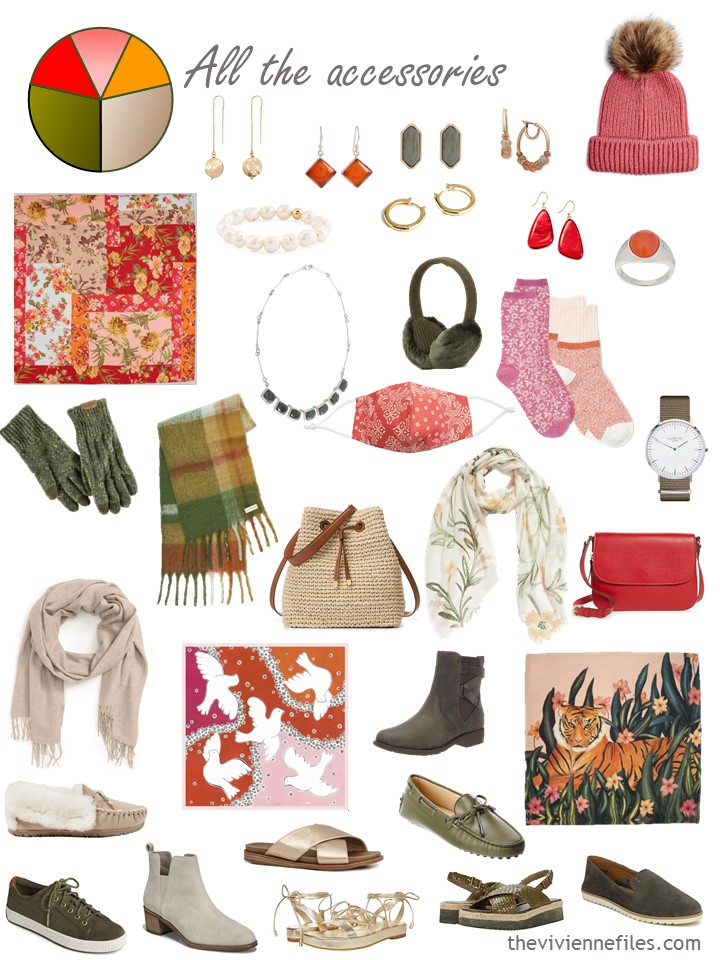 As with all of these wardrobes, the heroine doesn't have a really gaping hole in her accessory wardrobe. That said, I could see the merits of a neutral olive bag, a dressier watch, and some more neutral jewelry. And why NOT wear the most lovely green scarf ever?
I love both of these wardrobes. They're absolutely not for me, but that doesn't mean that I don't admire them, and that I can't learn something from how everything came together.
We can always learn…
love,
Janice
p.s. SEVEN years ago! I looked at jewelry…for those among us who love the idea of choosing our clothing and accessories based on our "season."