December 1, 2021
Don't forget – if you have an Advent Calendar, today's the day to start!
(we have a Bonne Maman jam and jelly Advent Calendar – fun AND sweetness!)
And it's also time to look back at these wardrobes to see where I did well, where I went off the rails, and what we all can learn from this exercise!
First, the black print scarf with accents of pink, gold, and (ha!) purple:
I don't regret choosing this scarf, but I DO regret trying to include purple as an accent color. Purple is never easy to find – generally it shows up around this time of year, briefly. I'm pretty attuned to purple since the highlights in my hair are purple, and I can assure you that you have to be patient if it's a favorite!
This is this heroine's wardrobe, so far: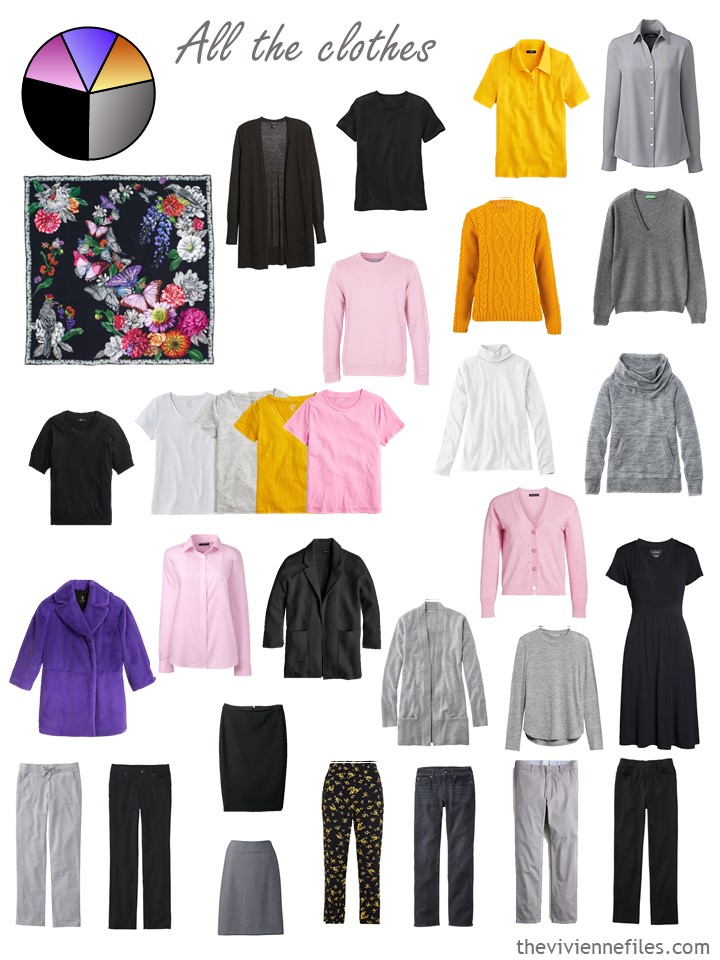 When you look at it like this, it's is clearly pretty versatile, despite the fact that the really cool purple coat sticks out like a sore thumb!
How are we for practical, functional balance? Some of us are madly in love with sweaters, and end up with a wardrobe that's 60% sweaters, without nearly enough pants and skirts to give us options…
But because these wardrobes are assembled outfit by outfit, that's not really an issue; if anything, these wardrobes probably don't have enough tops!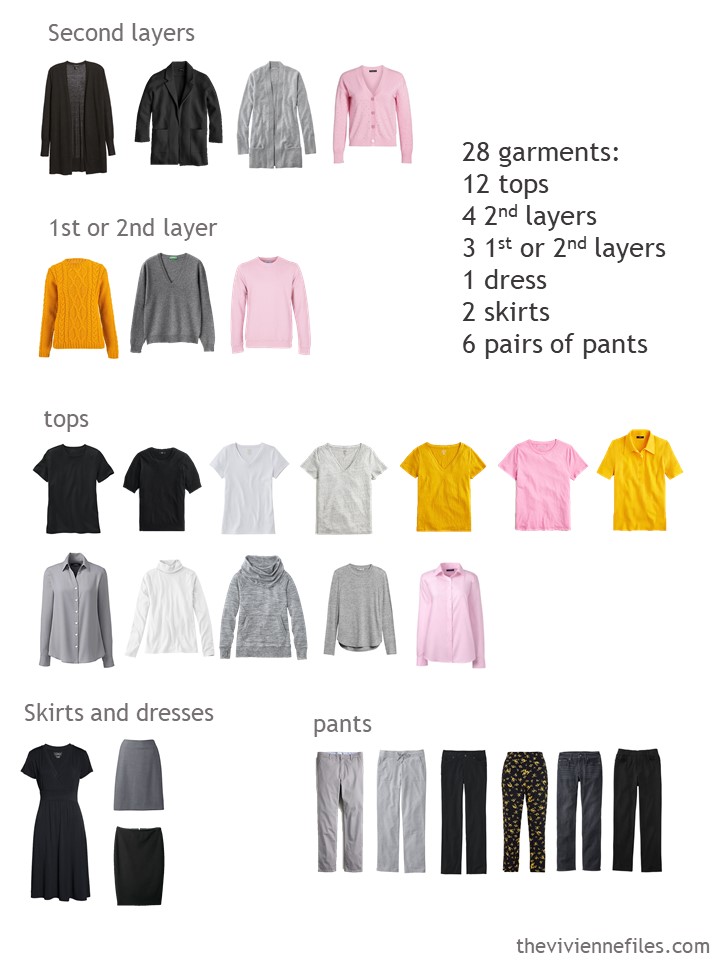 This might be okay for cool weather, but this poor heroine has NO shorts, nor cropped pants! At a bare minimum, she could use another skirt, or a pair of lightweight pants…
And how about color balance?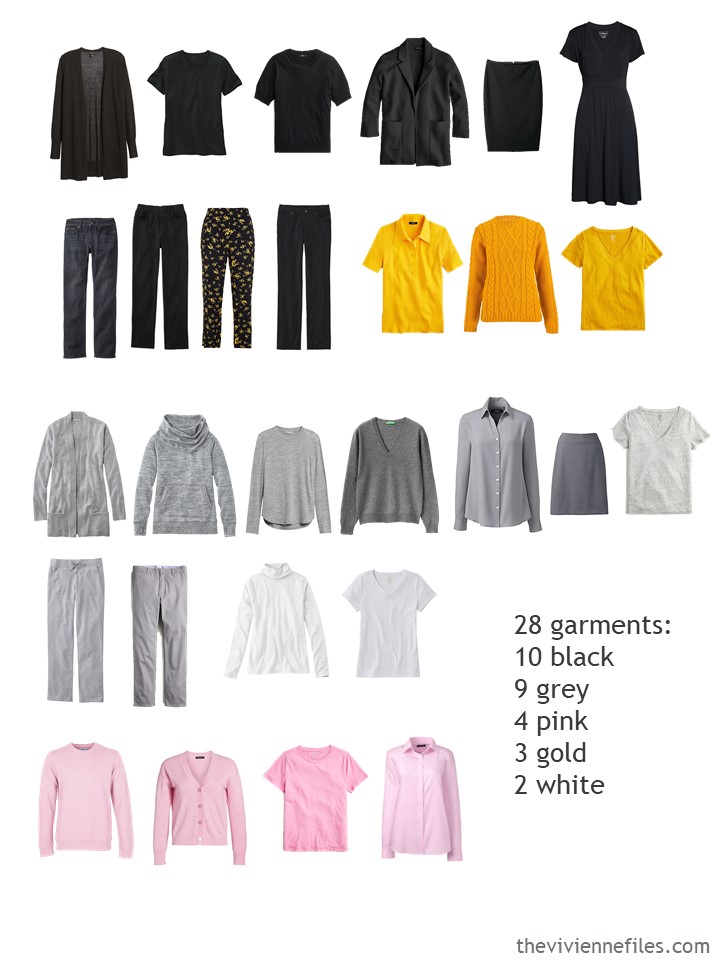 One could easily make a case for another gold top or two, as well as a simple white shirt… but the glaring omission here is (of course) purple…
Another thing that's worth mentioning is that there's only ONE printed garment here, and it's a pretty memorable pair of pants. For many of us, that's not a problem, but she could at least use a printed tee shirt…
So what might I add to this wardrobe?
Some stripes, some warm-weather gear, and a purple vest! If Santa is paying attention, that purple vest might be a lovely gift for someone's favorite blogger, eh?
All of these wardrobes have tones of accessories; to me, these things are almost more important than the clothes! At a minimum, a fabulous assortment of scarves, jewelry and shoes can help elevate even the most boring "all solids" wardrobe.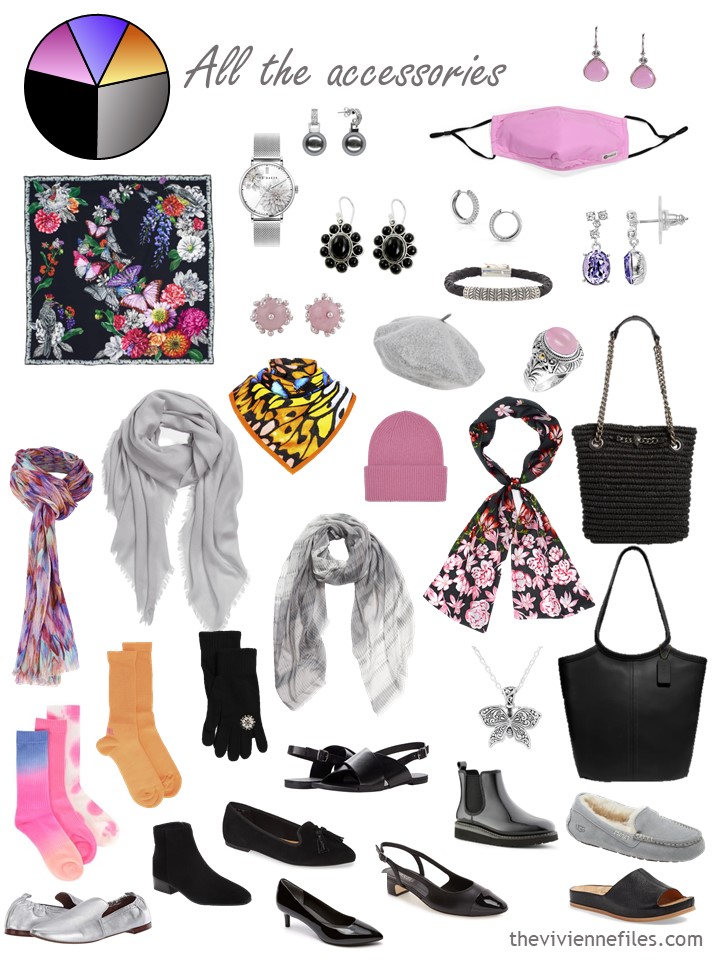 It maybe doesn't even make sense to sort these – so long as you have enough shoes, you can theoretically live with very few accessories. Moreover, it's impossible to tell a heroine that she "should" have more scarves, or fewer pairs of earrings. Accessories are too personal to be dictated…
But let's look, just for perspective: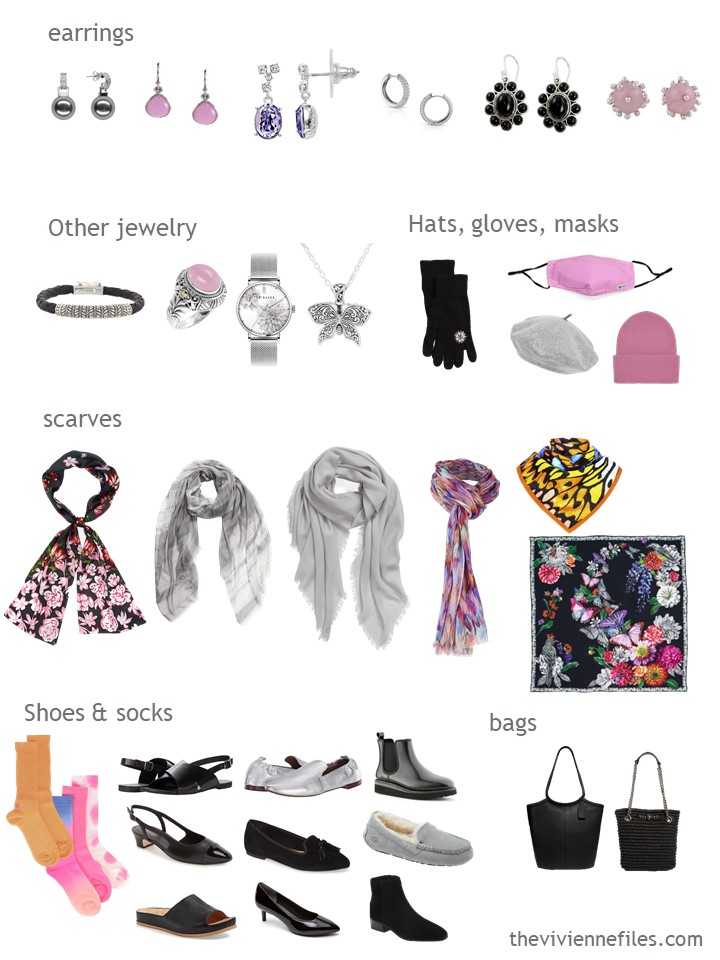 Give that this heroine seems to have all of her essential bases covered, my suggestions for accessories would be to grab all of the purple she can find!
Overall, I was happy with this wardrobe, except for the whole purple scarcity thing! The biggest lesson here might be to be flexible when looking for accent colors, since you can't control what's in stores!
Now, the 2nd wardrobe – based on this bright and sunny scarf:
Nothing sticks out badly here, and nothing seems to dominate the wardrobe. I'm always troubled by not being able to find the "same" beige in a range of colors; I'm not sure that there is a solution to this! I thought that looking at the same brands through the year might give us "matching" beige shades, but that didn't work.
So the lesson here might be to make sure that you match garments that you know you will wear together, and not to be too obsessive about getting a half-dozen garments that are all the identical color…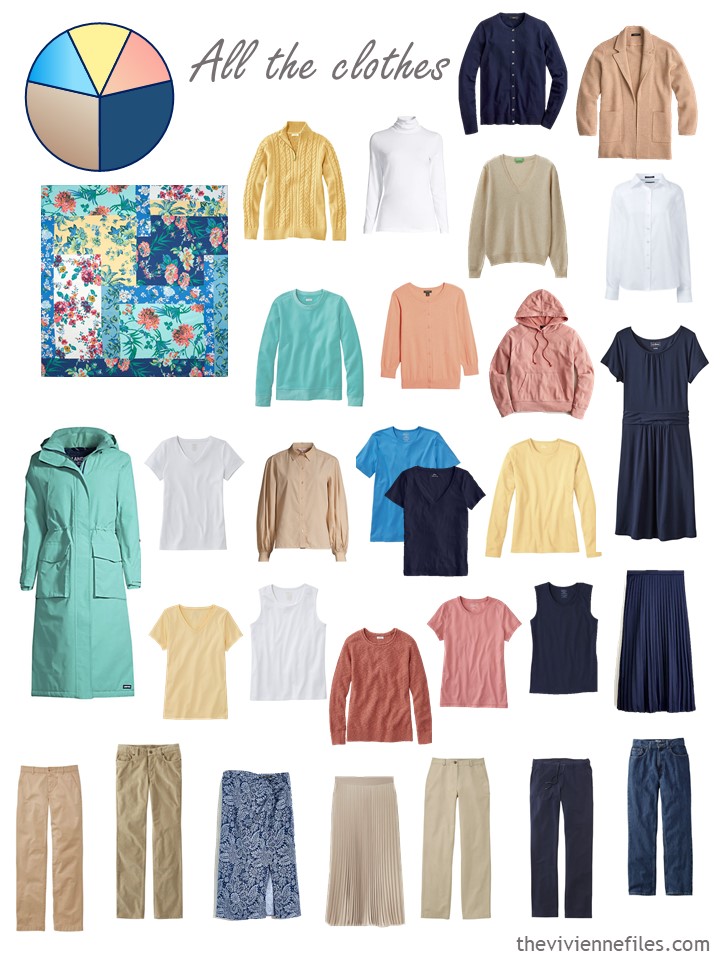 Sorted by function, things look pretty good. I'm drawn to the idea of a 2nd navy cardigan (don't ask me why, it's just an instinct!),
And the more I look at this, the more I realize that the yellow zippered cardigan could easily be in the 2nd row, with the "1st or 2nd layer" tops…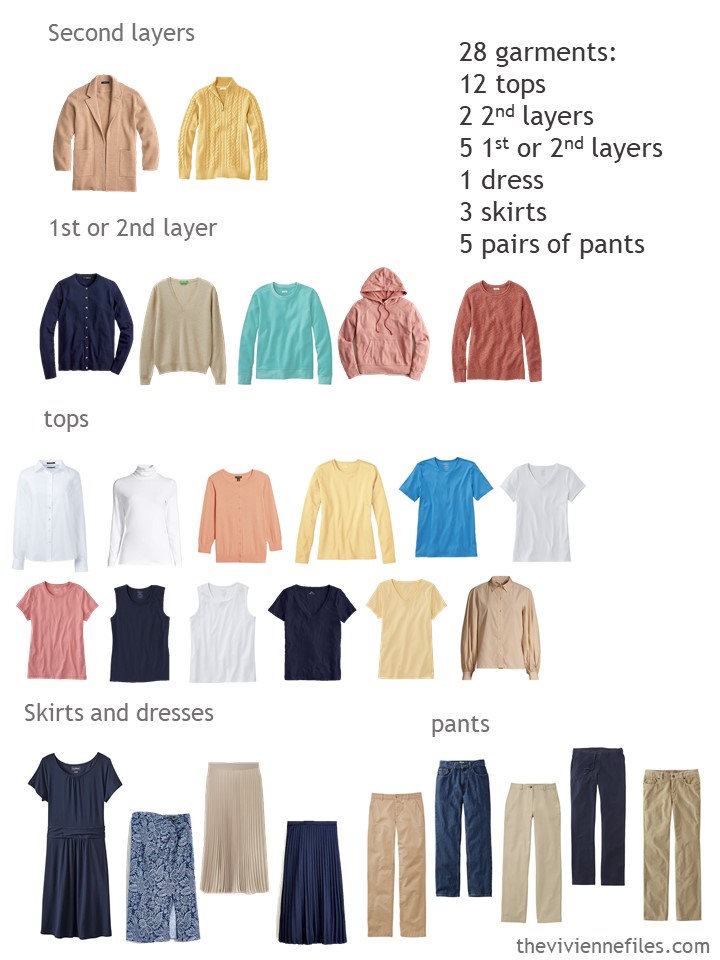 When sorting by color, it becomes clear that the shades of bright blue and turquoise are under-represented in this wardrobe. As I searched about to correct this, it became clear that these colors aren't growing on trees right now…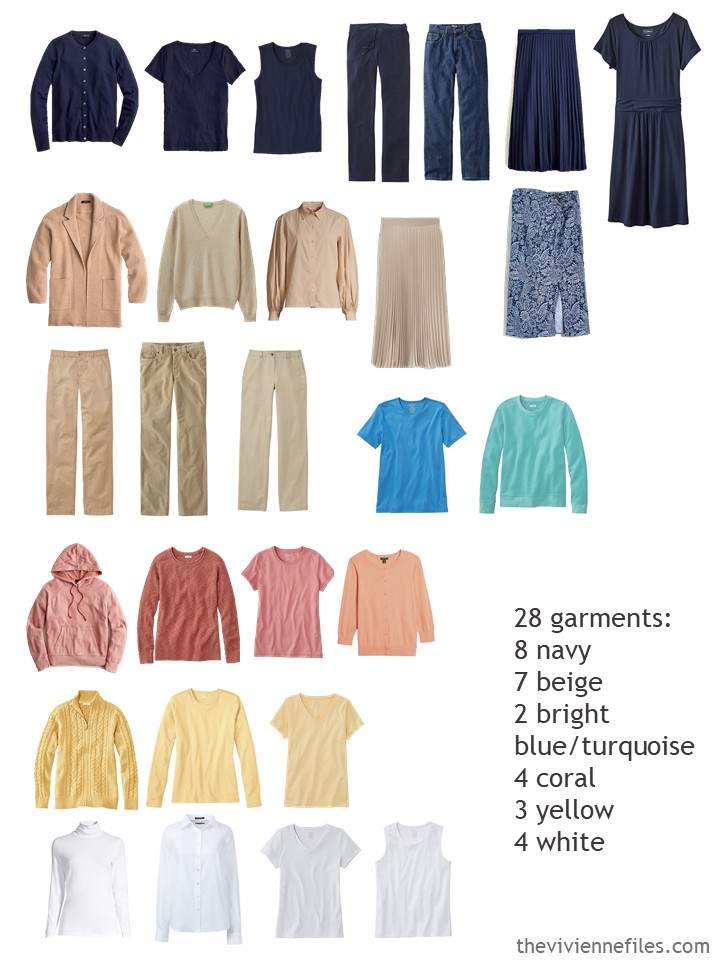 So for this heroine, I'm looking for some warm-weather gear (did I skip summer this year?) as well as a couple of pretty things in seafoam or aqua…
And OH YEAH! – maybe a print or 2…
I love these accessories…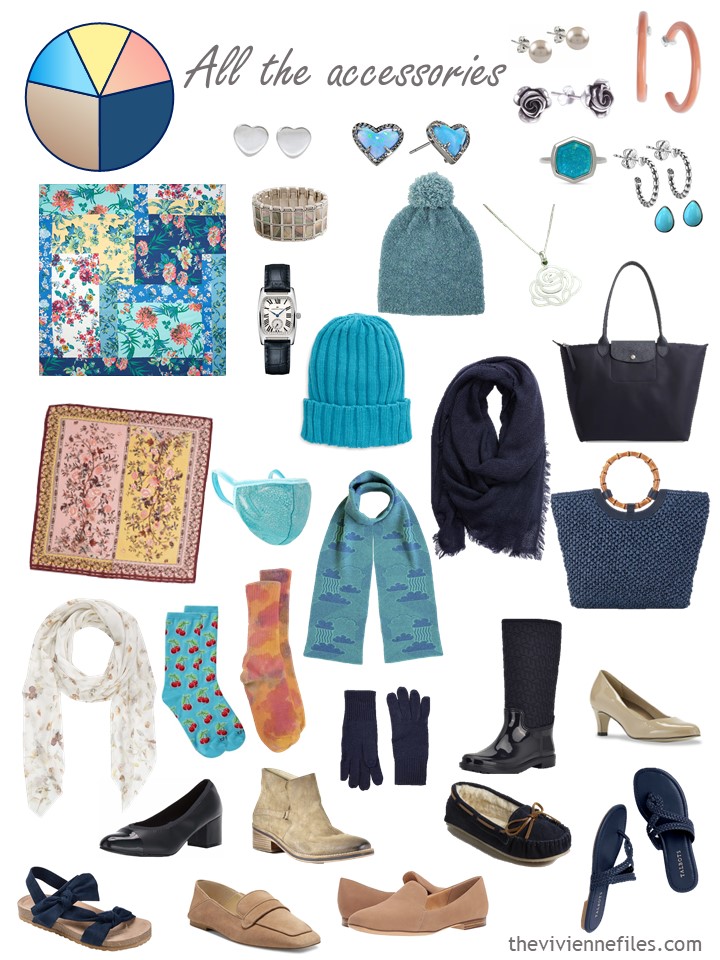 She only has ONE necklace? I'm sure that there are some women who only wear one, right? And her rose and yellow scarf looks like it might be doing some heavy lifting…
So let's take advantage of the holiday season to get her some gifts that will suit her perfectly!
I could – with somewhat different coloring, maybe – wear either of these wardrobes with ease. But we have 4 more wardrobes to study, and it's going to get hairy at some point…
love,
Janice
p.s. Five years ago, I was reviewing a navy and turquoise wardrobe, using some very different techniques and tools!