December 6, 2021
Why yes, this is supposed to be the last installment of the Autumn Weekly Timeless Wardrobe. Welcome to my life of confusion!
Frankly, once I was in the groove sorting these wardrobes and looking for additions to each of them, I just kept going. When I was more than halfway through THIS post, I realized that I was too far along to really be able to finish the Weekly Timeless Wardrobe in time!
I know you understand…. Thank heavens!!!
It's time to address the grey and brown outfit – the bane of my blogging existence for the last year:
If I was starting this one over again, the clothing would be grey, a bunch of shades of pink, and white, and the leather accessories would be brown. That would be both distinctive and lovely…
But NO, I had to at least try to find brown clothing. We will make these decisions, and unless we are madly wasteful and just pitch out the brown clothes, we need to figure out how to make things work well for us.
Nobody dies when your wardrobe is askew.
Here's the wardrobe with which our heroine enters this episode of our drama: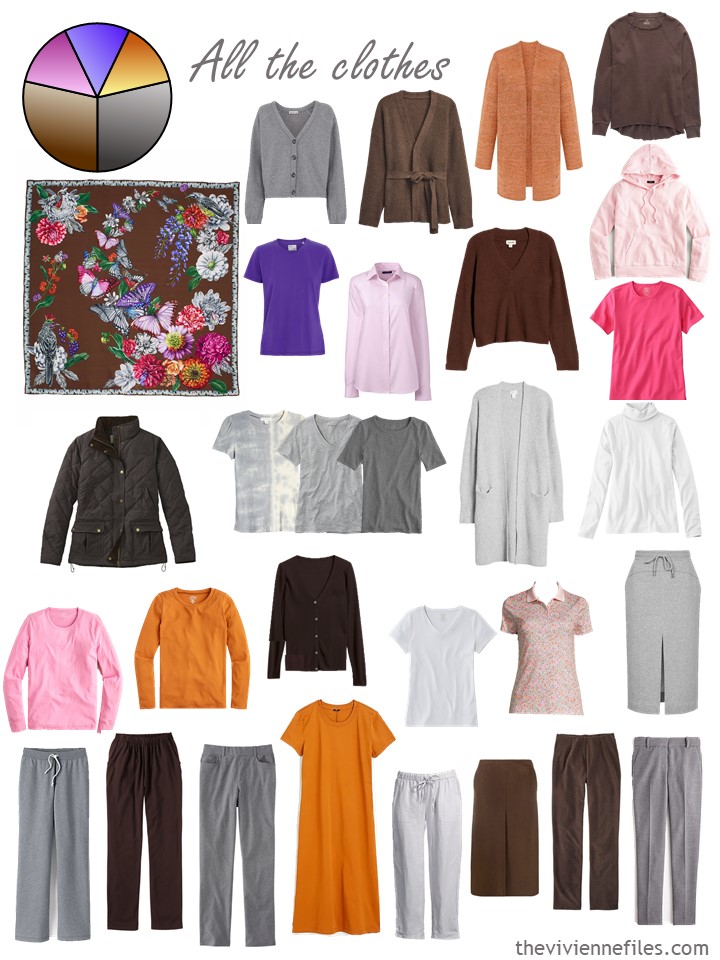 Functionally, she has a good balance. She has quite a few outfits here, so it's not as if she won't be able to get dressed!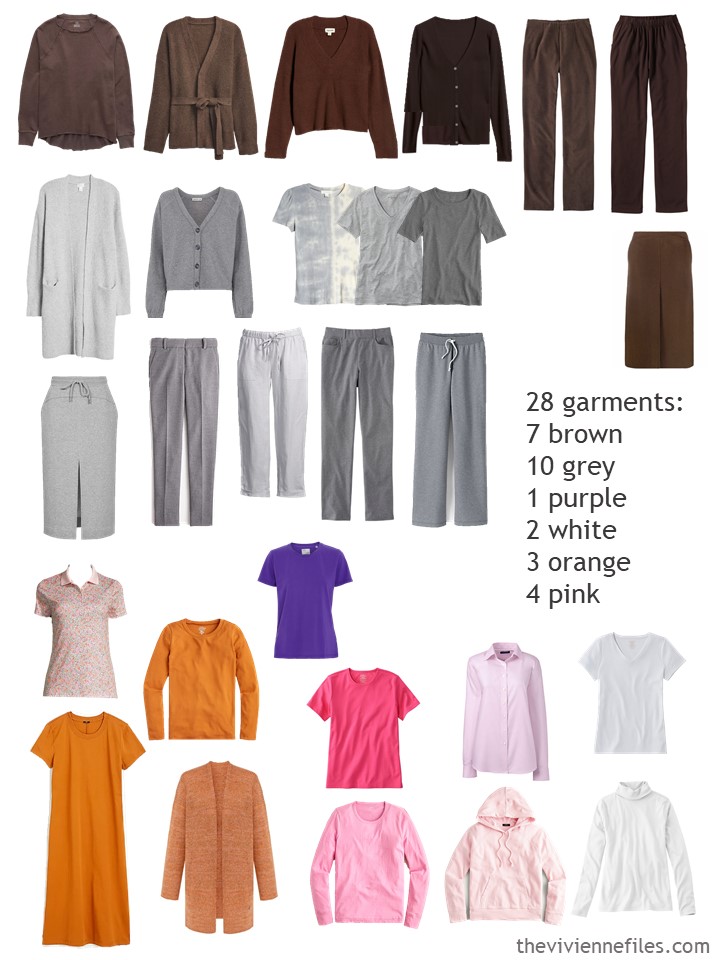 For all of the manic trouble I thought I had looking for brown clothes, our heroine has a pretty nice stash of things!
Purple, not so much. But as the winter holidays approach, purple is available. I should remember this for the future, eh?
So I stocked up on purple tops – I would take all three of these in a heartbeat! And for the balance of her wardrobe additions, I was able to find garments that combine grey and brown. This is going to make it so much easier for her to combine her 2 neutrals, every once in a while:
Her accessories are lovely – I really like how much orange she has! Imagine a bitter cold day, a mostly grey outfit, and some orange accessories!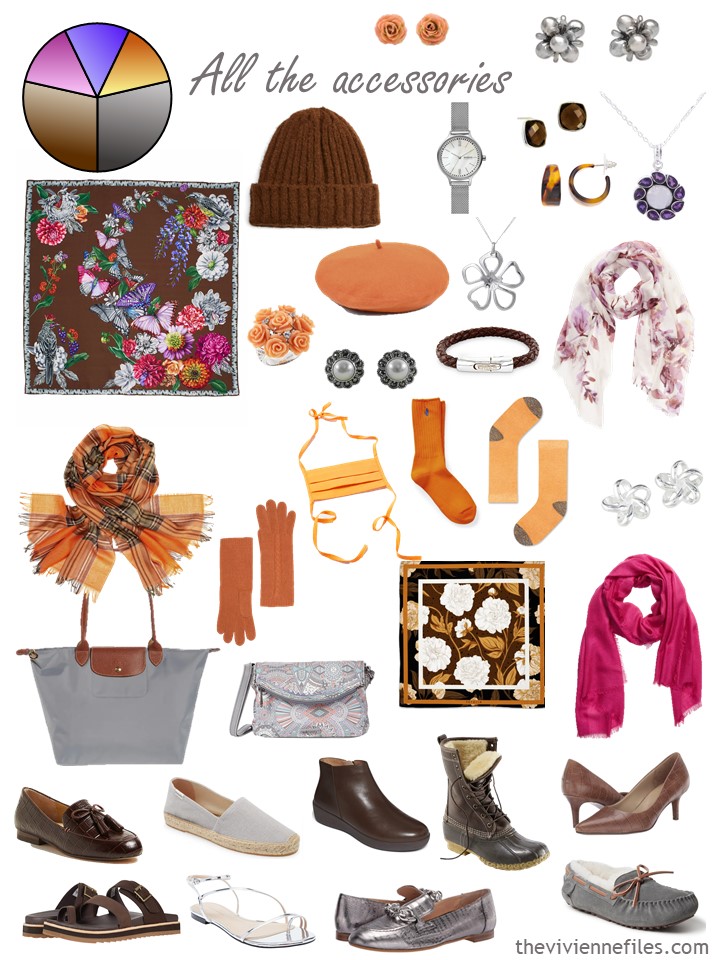 When these are sorted, they still look good…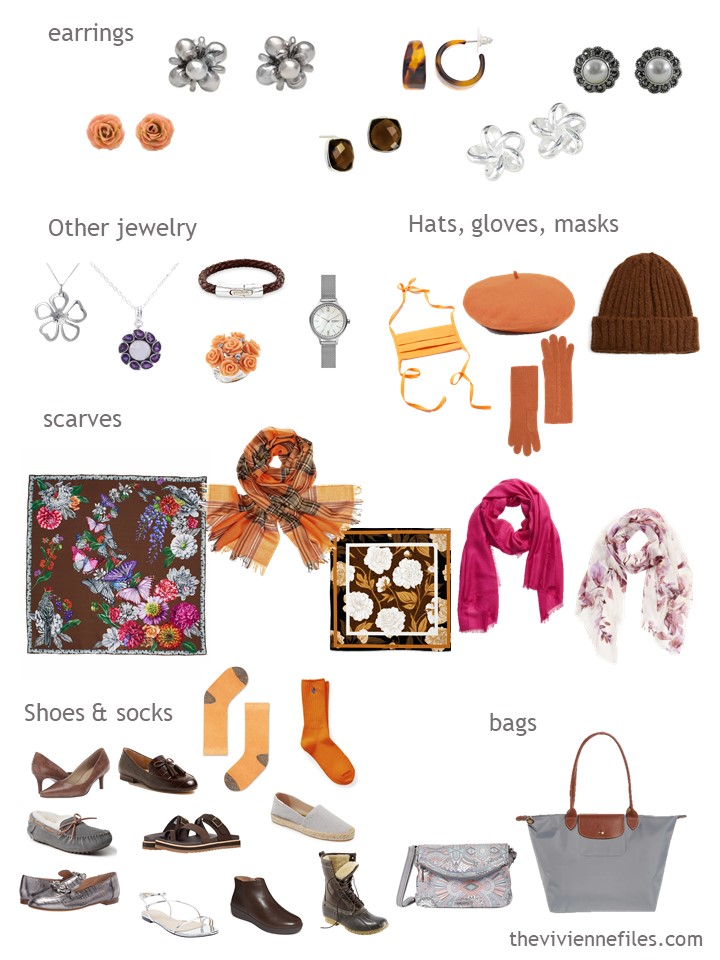 The biggest issue that she could have is a need for a brown bag and brown flats to wear with her skirt sometimes. The brown earrings with silver combine brown and grey (silver is grey, right?), and the 2-tone scarf seem made for her. And the necklace was just a whappage item…
What do we learn from all of this? If you really love 2 neutrals that are quite different, learn to be patient, and search diligently for things that work with both neutrals. Ultimately, you don't have to own the world's most infinitely "mix and match-able" wardrobe – you just have to be able to get dressed every day and feel beautiful and be happy. It's not a contest.
And finally! This most popular scarf:
Even if the colors don't suit, I suspect that most of us could wear a lot of this wardrobe without struggle!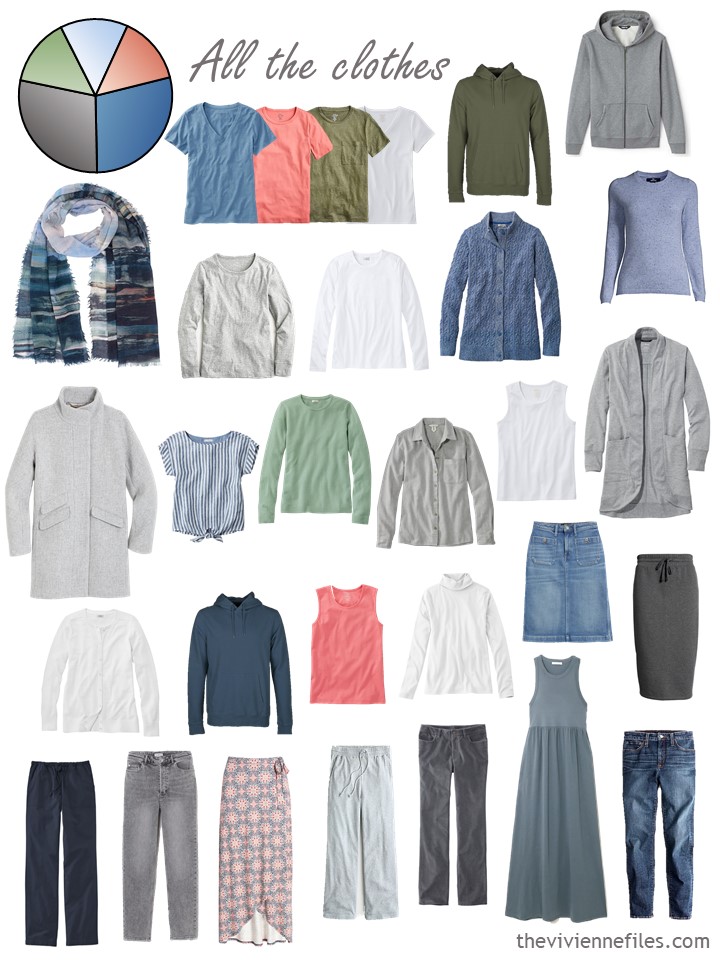 One of the best aspects of this wardrobe is the large number of "1st or 2nd layer" tops – these are pieces that are so versatile! When you know that you need a new sweater (or sweatshirt), it's worth remembering that you could look for something that could be worn on its own, or over other tops…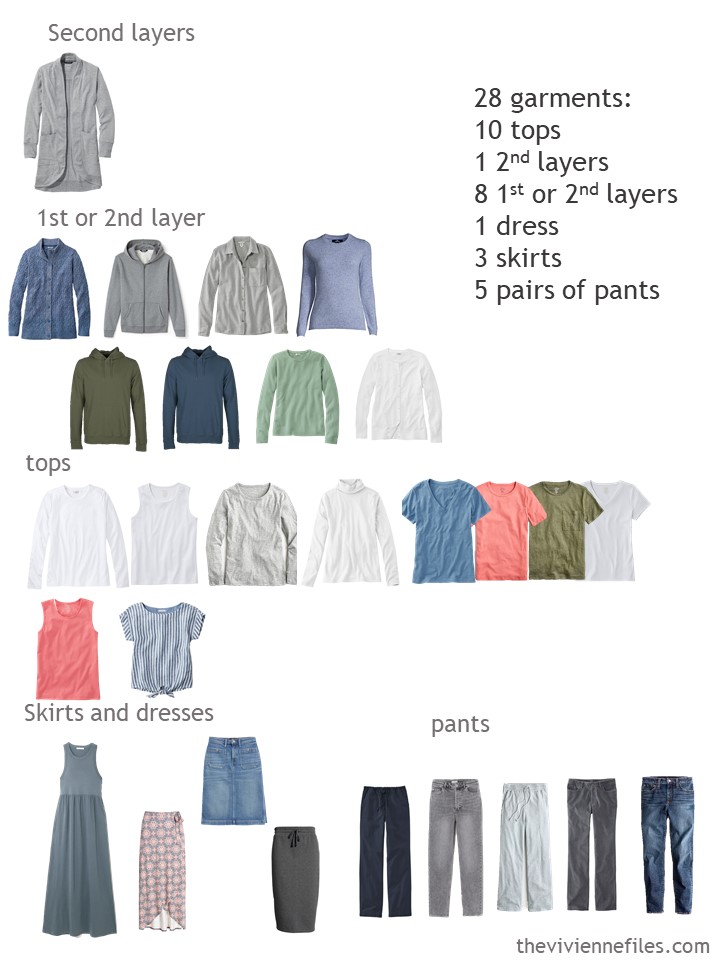 Sorting by color reveals what might be the only real weakness in this wardrobe – 1 sweater that has NOTHING else that matches it, 2 olive green garments, and 2 in coral. There's nothing inherent wrong with having a few stray orphans, so long as they go with your neutrals, but we have to look for something to learn here!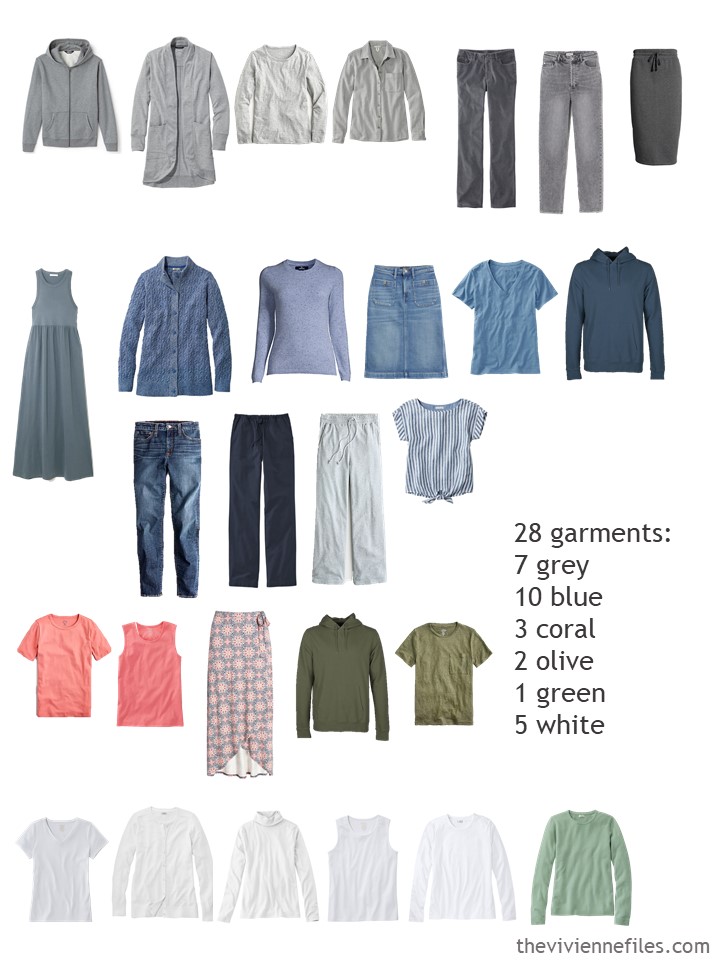 Okay – this heroine doesn't have a simple grey sweater. Easily fixed. She only has 2 print garments – a plaid flannel shirt that looks equally good with blue or grey is the obvious December answer!
That poor stray green sweater? There's a denim shirt that matches it…
Yes, this heroine has 1 skirt that is good for cool weather, but I thought that a denim dress would be enormously useful for her. And a coral sweater will make it possible for her to wear coral all year 'round. (could the print skirt be worn in cooler weather with tights, boots and a coral sweater?)
White jeans? I don't know. I just think that white jeans are surprisingly useful, and I thought that they would be pretty with both her neutrals and her accent colors…
Her accessories are great fun: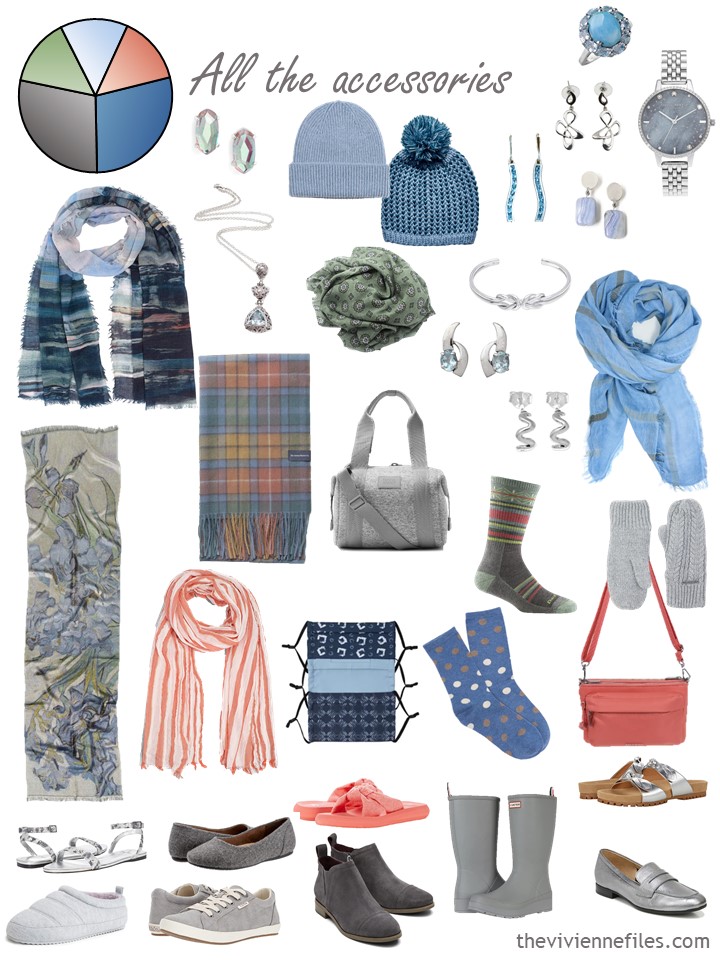 Sorting her accessories makes it clear that her earrings skew very blue, as do most of her other accessories! And she has plenty of sandals, but her only loafers are silver…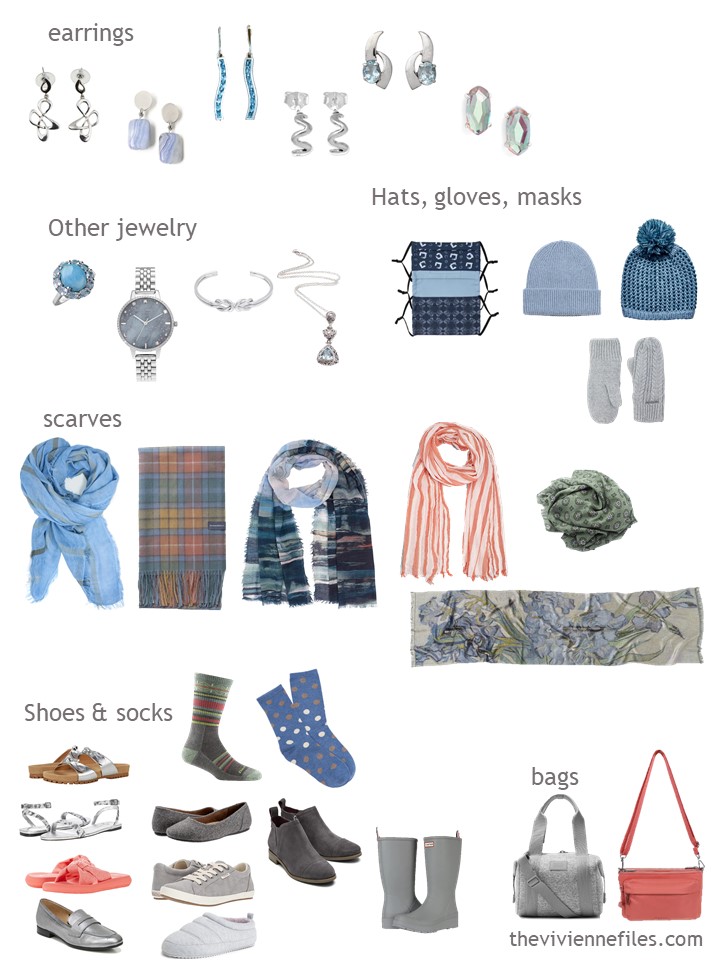 At this point, coral earrings, and light green ones, make good sense for her! A simple grey bag, and some comfy clogs will help her get more mileage out of everything she owns.
And I could NOT resist this cowl scarf. It has hints of blue. I swear I think it has hints of coral and green! It might end up being her favorite accessory for months:
And thus, with successes, marginal successes, and quite a few lessons, we wrap up this year's "6 Scarves, 12 Months" series.
I will share next year's scarves on New Year's Eve this year… I'm looking EVERYWHERE….
love,
Janice
p.s. Seven years ago, I tried to clarify the difference between the French 10-piece Wardrobe, the French 5-Piece Wardrobe, and Project 333. It's interesting for me to note that I still own a LOT of the clothes that I show here!