December 6, 2014
Everywhere you look, there's a "number" wardrobe that's recommended to make life easier! I am as guilty of that as anyone, because I like nice, tidy, finite wardrobes, and I'm crazy about numbers.
But what do all of these number ideas teach us?
The French 10 Piece Wardrobe
To me, this idea translates into a core wardrobe with lots of versatility. It is the canvas upon which you demonstrate your personal preferences, whimsy, and style.
Ten pieces of clothing is a pretty excellent number for those of us who are out in public 5 days a week, in that it provides a week of "tops" and a week of "bottoms".
If they're carefully chosen, these ten items can give you 25 base ensembles from which you can go crazy with accessories, jackets, or cardigans.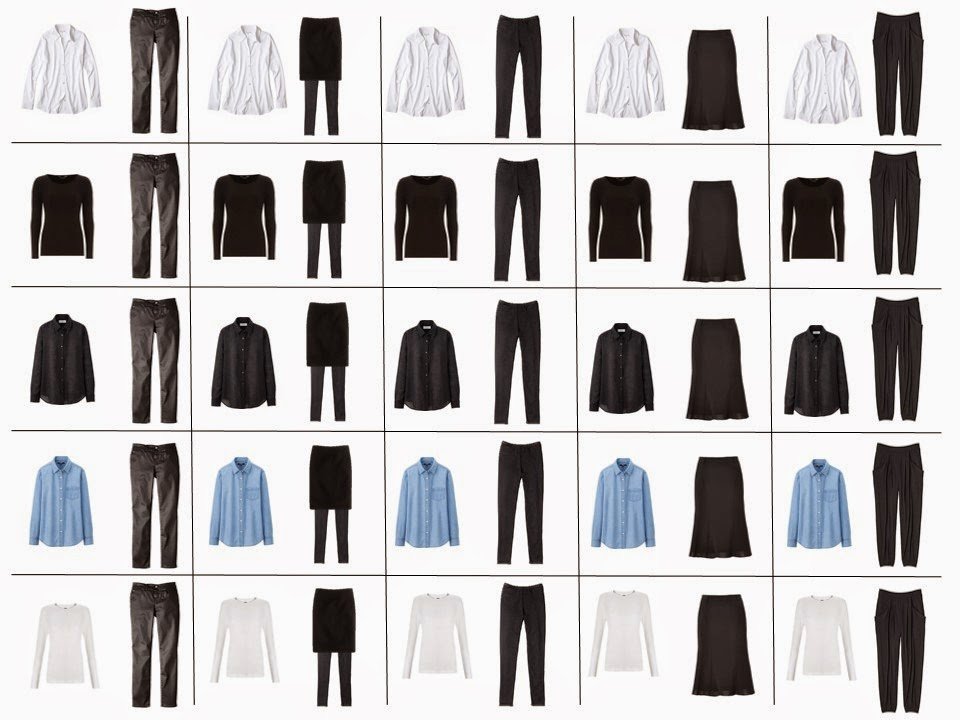 The French 5 Piece Wardrobe
I think the general premise of this idea is that you buy five items for the season (autumn/winter, and spring/summer). Now that I've concluded that my short-sleeved summer dress purchase must be relegated to summer, my purchases fit that criteria.
This is a handy guideline for limiting the number of "punctuation" pieces that you buy. Core neutral garments don't count in this purchasing number, so it's only the really statement clothes that must be limited to five. By adhering to this limit, you force yourself to be more selective, and you FREE yourself to buy nicer things than you might have bought if you just ran around willy-nilly picking up something every week or two.
In terms of mileage, a dress might not be the best item to include in a French 5 Piece Wardrobe, but this dress is so easy to wear that it will be out and about every week. And I have all kinds of accessories that go perfectly with it, so it will never look the same twice! (see my accessories that are currently part of my Project 333 here)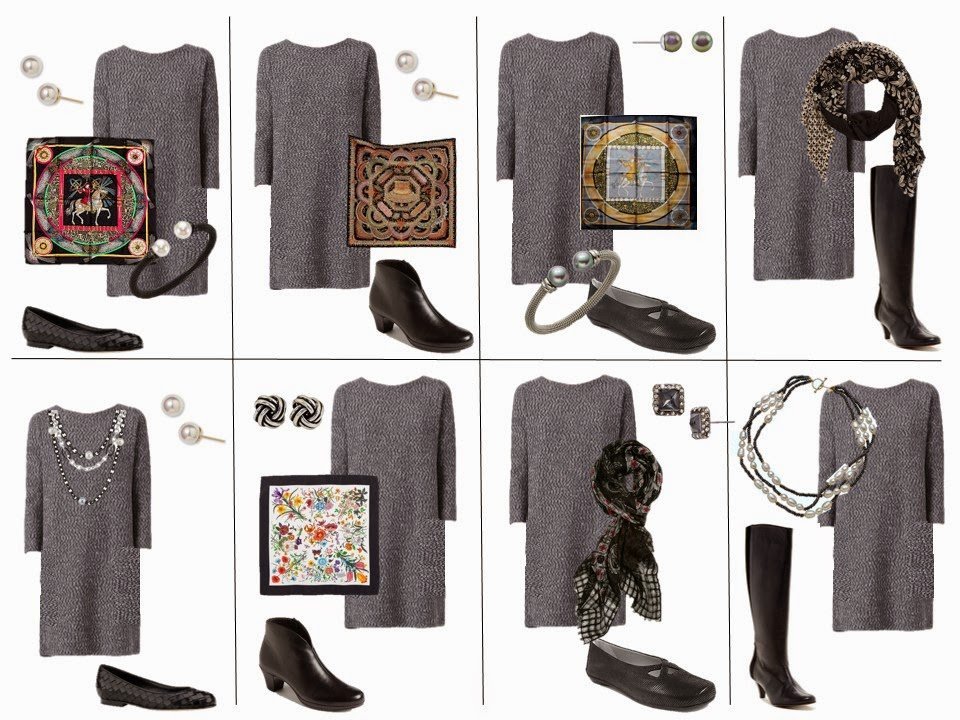 My very snappy star cardigan has at least 10 possible options – more like 20, since it would also work well with my black shirt and my white shirt. Probably even the denim shirt would look fun with this…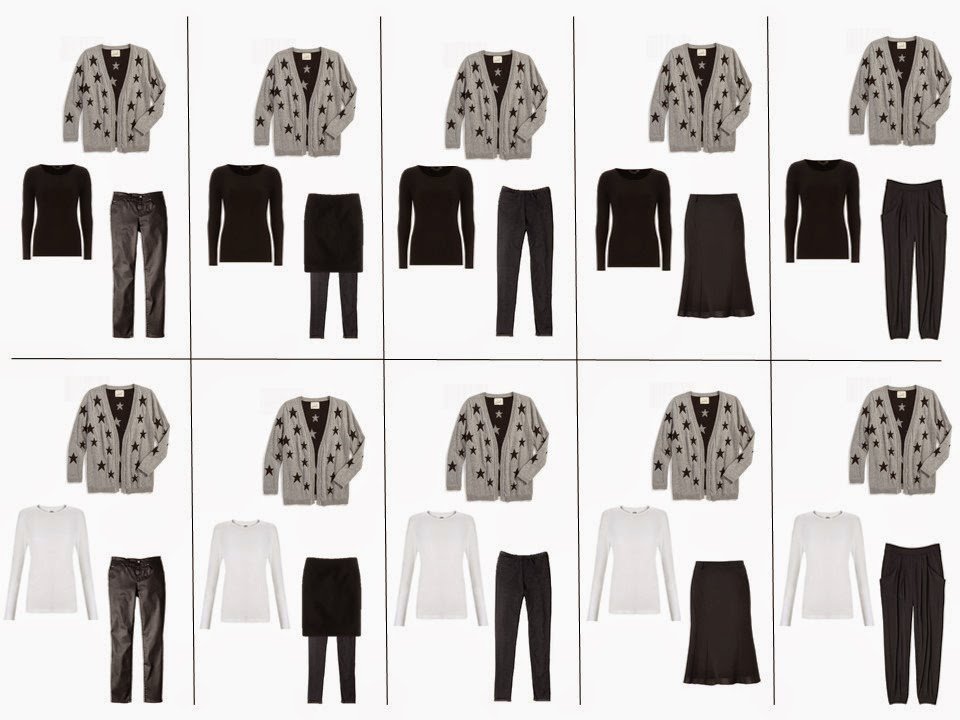 Although I can easily wear the star sweatshirt without an "under", this time of year it's much warmer to wear 2 layers. So any shirt with a collar that peeks out will be paired up with the starry fun – another 15 possible ensembles.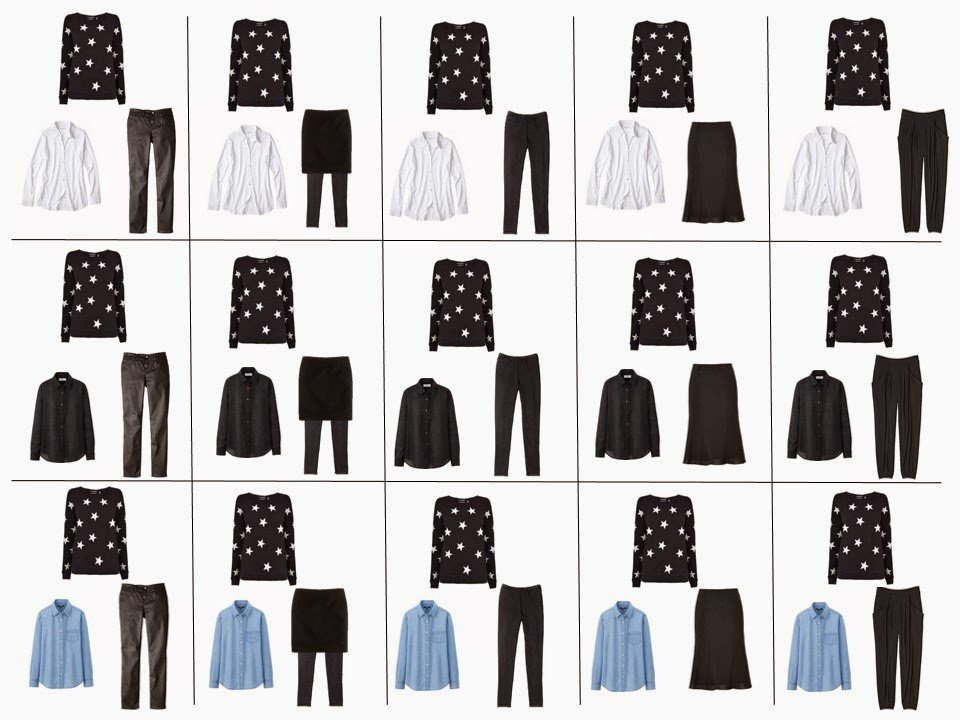 Same with my new red sweater – any shirt will work. Although I'm not quite sure about the denim shirt with the red sweater – I may not feel comfortable with that. The joy of the red sweater is that it gives me a really easy way to wear one of my scarves with red in it (like the new one I bought on vacation). And it looks really appropriate for both the Christmas holidays and Valentine's Day!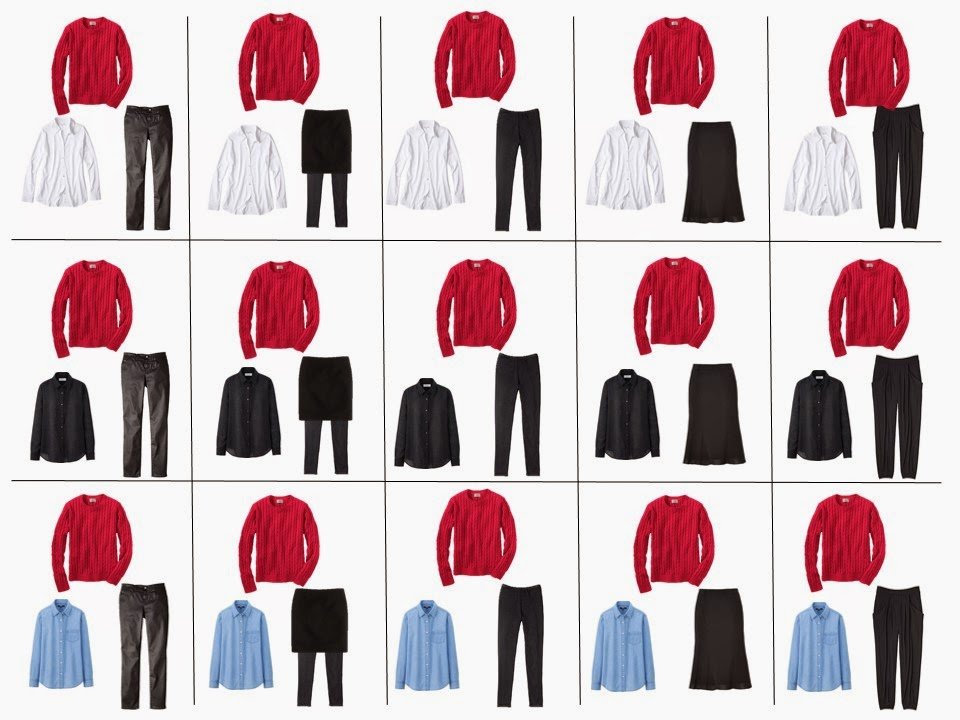 And if I toss a cardigan into my French 10, my red tee shirt suddenly will be out and about. But I'm not about to violate the 10-piece criterion here!
The best person to explain Project 333 is Courtney Carver, who invented the whole idea, so I suggest that if that idea appeals to you, read about it here.
love,
Janice