November 12, 2021
Ah, I'm going to need a second to remind you of the origins of The Common Wardrobe, and why I was so taken with the idea…
I'm sitting on the sidelines of a big party – about 200 people. These lovely young people (mostly) are my co-workers at an international advertising agency. We are in Madrid, or Berlin, or Chicago – it doesn't matter.
These people are creative. In big bright letters, they are the brightest, most imaginative people I've ever known. And when you look at them, you can tell; they wear sweaters that they knit in their spare time, or shoes made by a friend, or a jacket covered with wee patches that they did to cover holes…
But under all of this amazing color, pattern and print, they were almost all wearing some of these clothes:
This held true for years, and when I see people out on the streets today, I still see these 12 garments a LOT. Why these 12?
So I've been thinking…
I'm going to think through the role that each of these garments plays in the larger "wardrobe" picture, and then try to replicate a similar wardrobe for my heroine, who loves charcoal grey and all shades of blue…
After pondering her first step – the tee shirts – our heroine is off to a great start:
I often saw the black turtleneck worn in order to highlight beautiful scarves or jewelry… And it is perfect for very cold days. A simple turtleneck, worn under a white shirt, looks surprisingly chic!
Our heroine isn't mad about black – obviously! – and she really prefers a less "fluffy" sweater; a merino turtleneck is perfect!
Another tee shirt? Well, it's hard to imagine having TOO many (except for a friend of mine who has over 200!), and adding a long-sleeved version opens up the possibility of a different neckline…
Of course, our heroine wants her tee shirt to be charcoal grey too!
Now, what might be the most important part of this entire wardrobe! (okay, maybe it's the jeans…) But trust me, if you have a really GOOD cardigan, there are few places where it can't be worn. This one could go over the dressiest of dresses, or over a tee shirt and jeans for a jaunt to the grocery:
Here again, our heroine can't quite face the fluffiness of cashmere; she finds the perfect cotton-blend cardigan instead.
Denim shirts – how does anyone live without one now? They are ubiquitous, but everyone seems to find their own way to wear theirs…
Our heroine found a denim shirt that's a bit lighter colored, longer, and roomier…
I can't encourage you enough – even if you NEVER wear button-front shirts – try to find one that will work. Petite sizing makes the sleeve length less of an issue than it might have been, and if you watch for a very roomy cut (no darts here!), you may have some luck.
They really are that useful…
Our heroine prefers her white tunic – the neckline looks the same, but she finds that she has more room, and less button gaping, with this:
The blue oxford shirt has always sort of confounded me – one sees them everywhere, they go with so MANY things, but I never have been quite sure what I personally would substitute for it… Pink? Black and white striped? There are LOTS of possibilities…
Our heroine has opted for a shawl-collar top that can be worn UNDER her cardigan, or over any of her tee shirts. Theoretically, she could wear it over her merino turtleneck on a bitter cold day…
Jeans! Of course you can skip these, or substitute, but there are so many options now…
Our heroine was able to find charcoal velvet jeans – not your everyday blue denim!
I have pondered for YEARS the possibility of a pair of beige pants; I'm still waiting for the ones that have whappage… But there's no denying that they're versatile!
These are essentially the same pants, just in our heroine's core dark neutral color!
And finally, black pants. I would be nude (from the waist down!) at least half the time if black pants suddenly all vaporized…
Our heroine, however, does NOT want another pair of pants. She's got this wardrobe in mind for upcoming holiday trips to visit family, and she knows that she will want to bring a skirt with her. Nothing blindingly dressy, but still something a step up from pants…
So with this wardrobe assembled for her upcoming family visit, what are her outfit options?
Well, pretty numerous, I'd suspect…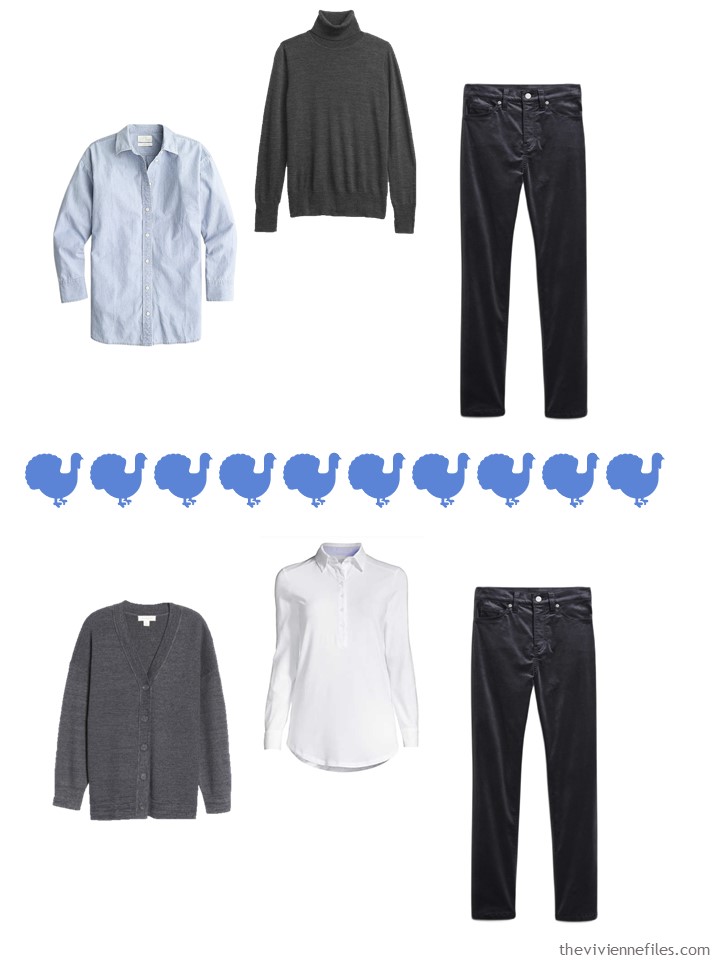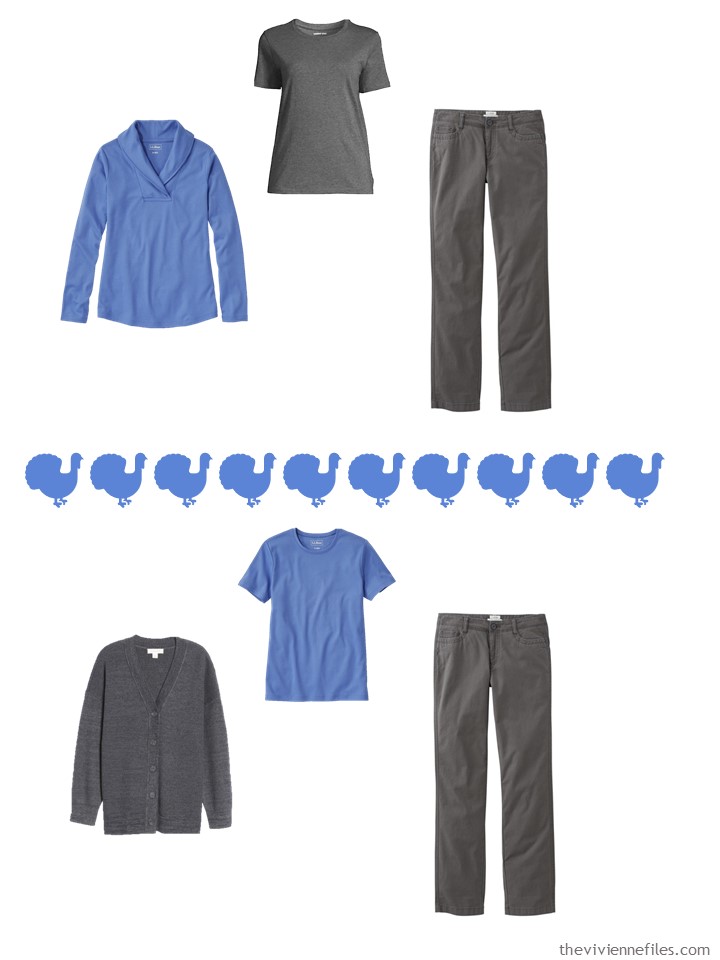 Based on my emails, I have a hunch that quite a few of us are going through big changes in our day to day lives… Getting sorted out for just what we need, and what we have, and what we need to find, helps us feel like we have a sense of direction for our fresh new futures.
And this doesn't just apply to clothes!
love,
Janice
p.s. Ten years ago, back in the FIRST year of The Vivienne Files, I saw a woman who looked lovely…