October 25, 2021
When I first wrote out this list, I was picturing that this week would feature really nice wool pants, or maybe a ponte knit if wool isn't your thing. Something that could span the "dressy to casual" spectrum with ease…
HA! Such things are almost impossible to find these days. And by the time I find a pair of that doesn't cost $1,400, comes in sizes larger than 8, and has photographs in which the model isn't hang gliding over the Great Wall of China – well, they're just ugly.
So, for our wardrobing visuals I'm using more corduroy…
But I MUST tell you about Red Thread. www.redthreadcollection.com
There are no sizes here – you take a couple of photographs of yourself (don't worry, their system walks you through EVERYTHING, and your phone will take the photos BY ITSELF when you follow their instructions). They are able, using your photographs, to find your perfect measurements for clothes. Honestly!
I was, as you can imagine, skeptical, but I ordered a pair of their narrow black pants. They're styled kind of like ski pants, with seams up the front and back of the legs, and 2 zippered pockets.
AND THEY ARE MARVELOUS. I just ordered a pair of wide-leg ones; I'm very optimistic.
Seriously, I now wear these pants every week for at least 2 or 3 days. Since I'm indoors with my mom most of the time, I need something washable, comfortable, but still flattering.
These babies pop out of our front-load washing machine without a wrinkle. Hang 'til dry and wear again the next day.
I don't get a commission from Red Thread, but if you all are able to find pants (yes, right now they only come in black, but if this company is successful they will certain expand that) that you love, I will be happy!
AND – I just now got a note from the Red Thread people – they're offering all of you a 20% discount on your first purchase! Use the discount code janice20 when you check out and your discount will be applied!
How nice is that?
NOW… On to some cool outfits!
Why NOT wear a pink hat?
If you're going to wear pants, wear yellow pants! For those among us who love yellow (and for whom our favorite neutral is navy, or brown, or gray) but don't wear it near our faces, this is your answer:
Maybe you are the heroine who blends subtle neutrals – don't forget the cool weather possibilities in a pair of ivory cords:
But woman does not live by corduroy alone; there's a world of knit pants out there (L.L.Bean carries them in a range of cuts) that are at least a couple of steps up from jeans…
So what might a Weekly Timeless Wardrobe for Autumn look like if your neutral in navy, and you're in the mood for a couple of bright accents?
This heroine works in retail, and being dressed brightly helps her be visible for customers, as well as making her feel cheerful as the days get shorter (and shorter, and SHORTER…)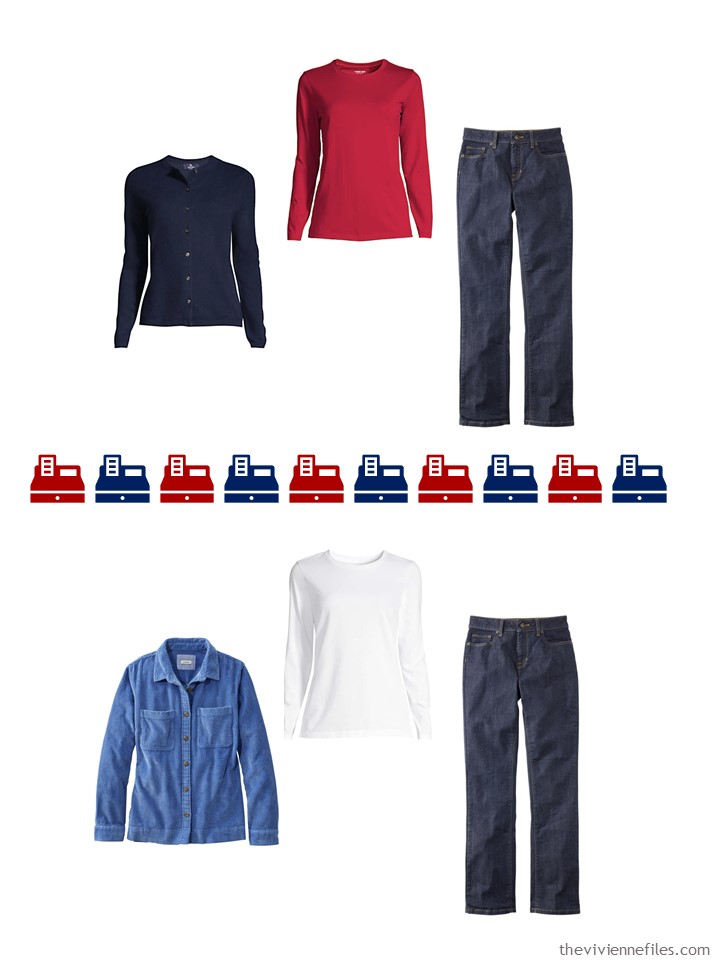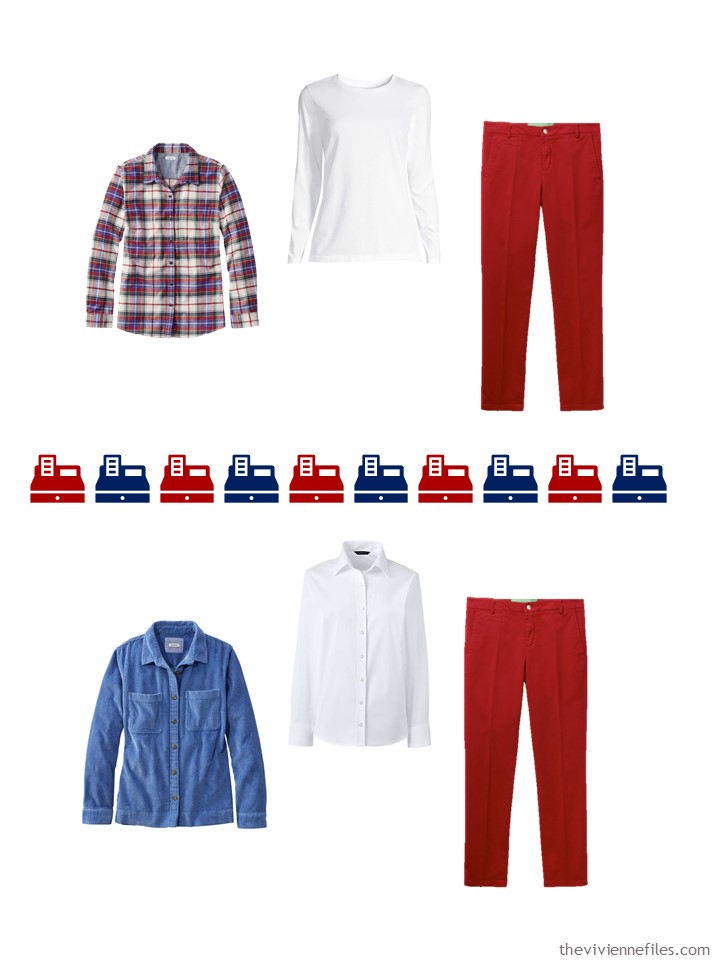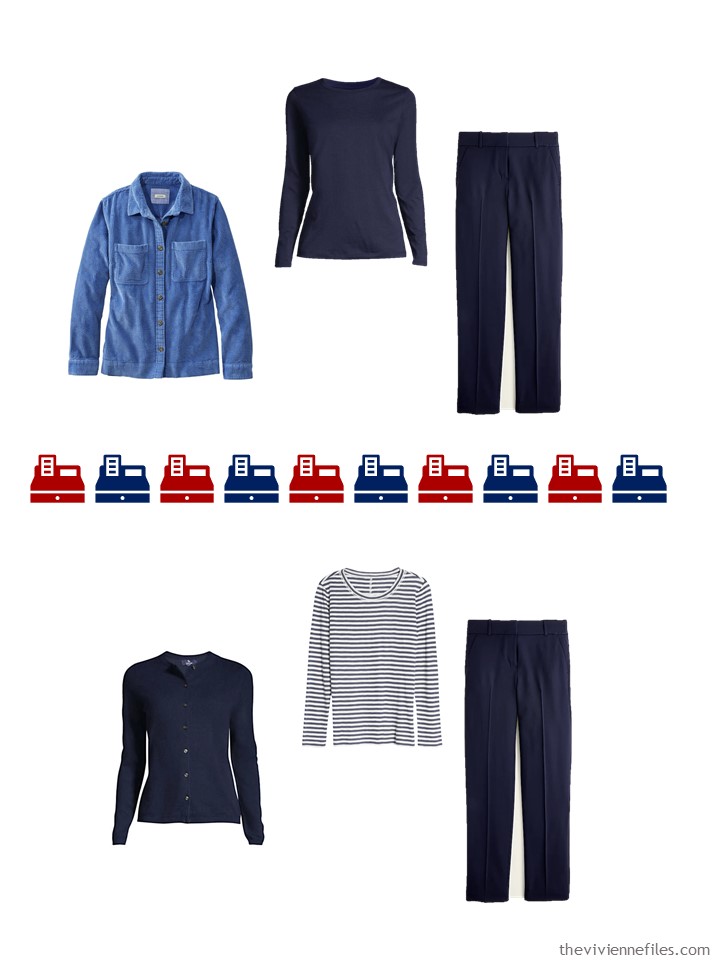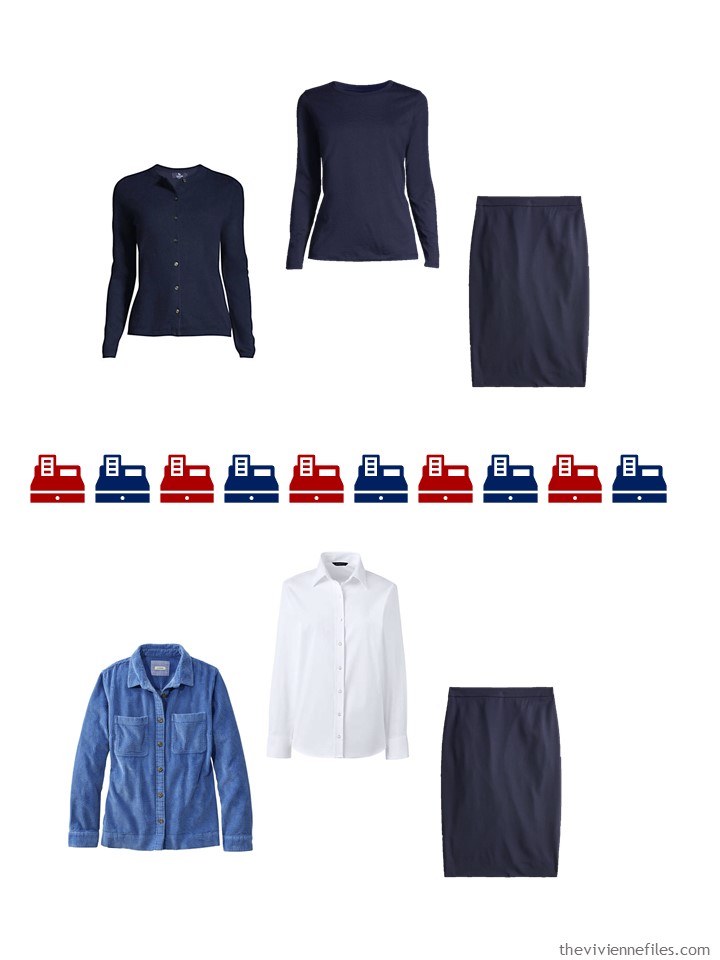 I think that on Wednesday, I'm going to accessorize last week's navy, cream and pink Common Wardrobe, and try to think of a way to standardize a list of accessories for each season. I'm still thinking that accessories are far too personal to make this work, but I continue to think!
love,
Janice
p.s. Three years ago, our heroine the new heiress decided to visit Ireland for a few days to think about maybe buying a home there… GOOD THINKING!
p.p.s. Another good thing about Red Thread – when your pants arrive, they come in a package that's entirely recyclable, contains NO plastic, and is the size of…. a pair of pants! I feel better about buying things just knowing that I don't have to find a way to dispose of 35 metric tons of styrofoam…