October 18, 2021
For AGES I didn't wear jeans, because I wore only black and white, and the only jeans I could find were blue…
Well, THAT has certainly changed, and our options are much more entertaining and versatile now:
Pretty much any color you want – neutral or accent – can be found in jeans if you're willing to look (and look, and look…)
But it can be well worthwhile – sometimes you want to do something for which wearing jeans is truly the best option, no matter your age nor silhouette.
This availability in a wide range of colors is glorious for those who don't want to dress in colors that are "traditional" for the season. If you're beautiful in pink and pale shades, wear them all year 'round, and stand out in the crowd!
If your outfit is explosively colorful, neutral jeans that pick up the closest thing to a neutral in your other garments can help keep you from looking clownish, as well as helping you choose the perfect boots…
Every week for a while now, I've been answering the question "What might a Weekly Timeless Wardrobe look like if…?"
This week, our heroine has to go BACK to her office. After over 18 months. She only has to be there 2 days a week, probably, and she wants to have a work wardrobe that will span all of her possible activities there, from serious meetings to casual days…
Maybe this?
I think you could put together a bad outfit from this wardrobe, but I don't see it! And she's prepared for everything from serious to silly…
If someone gets their shorts in a knot because you're wearing a navy cardigan rather than a navy blazer, they need to get out more…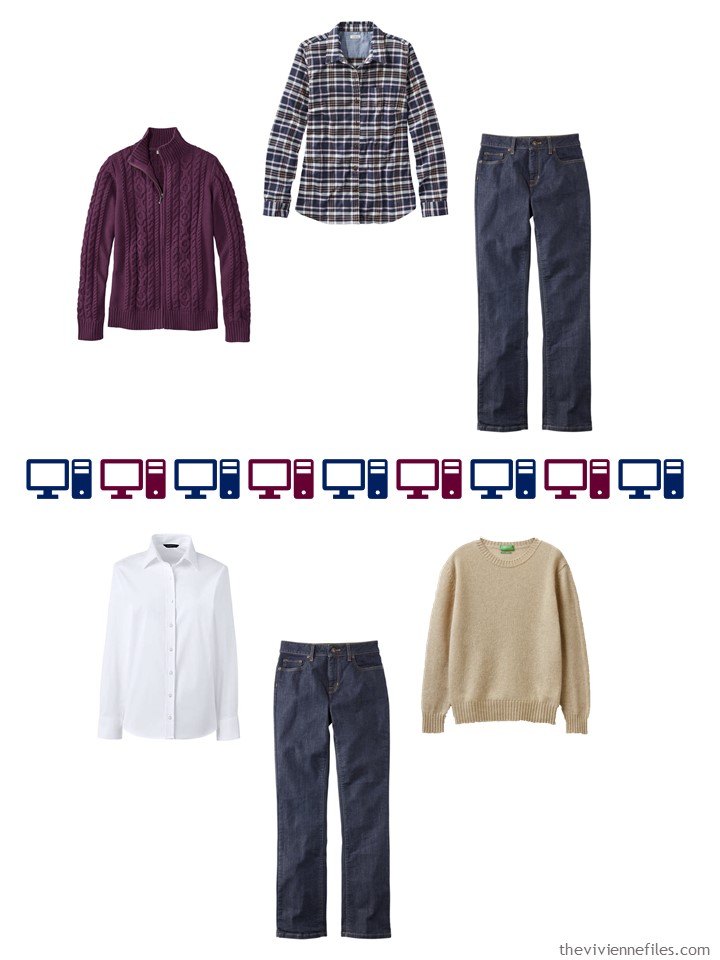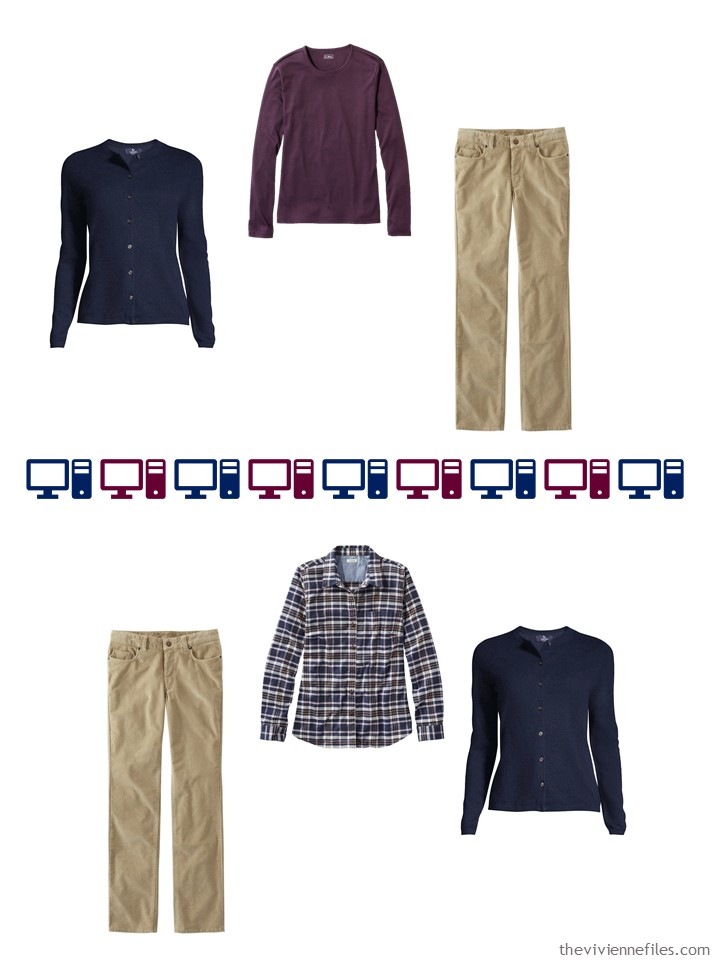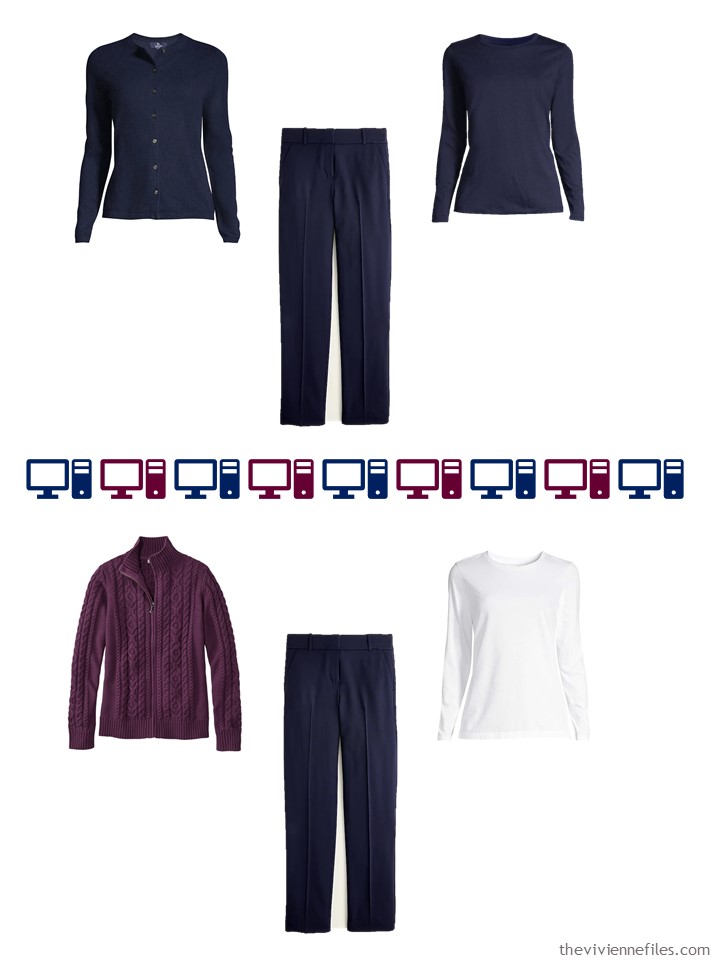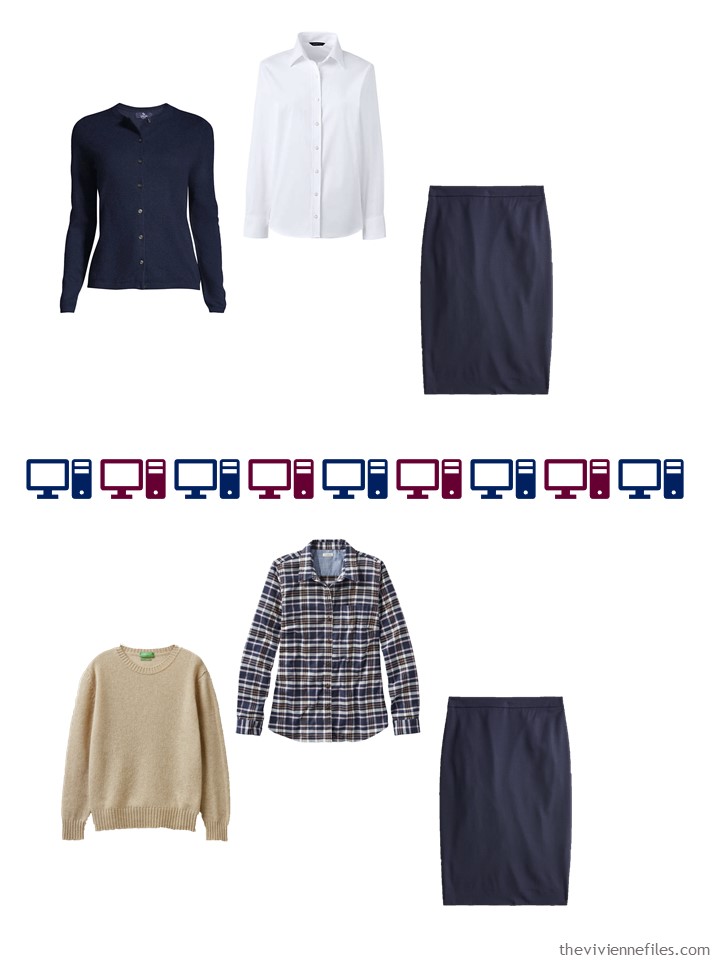 For those of you going back into office environments, are you finding that the apparel choices around you are more casual or more business-like?
So far, I'm actually hearing that a lot of people seem to prefer dressing up – maybe a reaction to spending over a year-and-a- half doing video conferences in sweatpants?
love,
Janice
p.s. Four years ago, we had another navy and burgundy wardrobe, for a romantic trip to the beach in autumn…