October 15, 2021
Maybe it's because I'm home almost all the time. Maybe it's because almost all of us have been home most of the time for MONTHS AND MONTHS…
But I'm looking at the essentials of a wardrobe. The core; the base; the springboard for all of the bright, memorable, snazzy things that we really love to wear…
And thus, I'm back to thinking about The Common Wardrobe – those 12 garments that I realized almost all of my co-workers owned, about 20 years ago.
These garments haven't gone out of style because they really aren't ever in style. They're available everywhere, at almost any price, and in styles that suit a lot of us.
And if you have these in your closet, you can get dressed. In an emergency, you can pack. You won't be a big influencer on Instagram with these, but I don't know that most of us have that as a life goal…
When I first saw all of these garments, on the backs of my international co-workers, they were generally worn with something VERY amazing accenting the whole ensemble. Stunning shoes (nowhere else in life have I seen more shoes from Miu Miu!), snazzy socks, hand-painted leather jackets, hand-knit sweaters etc.
But at the base of these outfits of amazement and wonder, I saw the core of classic neutral clothes!
That said, in the real world of NOT advertising "creative types," these clothes give you plenty of options for what to wear. For those among us who don't long to turn heads, all of these outfits below are fine. Toss in some jewelry, a scarf, a nice 2nd layer or outerwear, and you're good to go: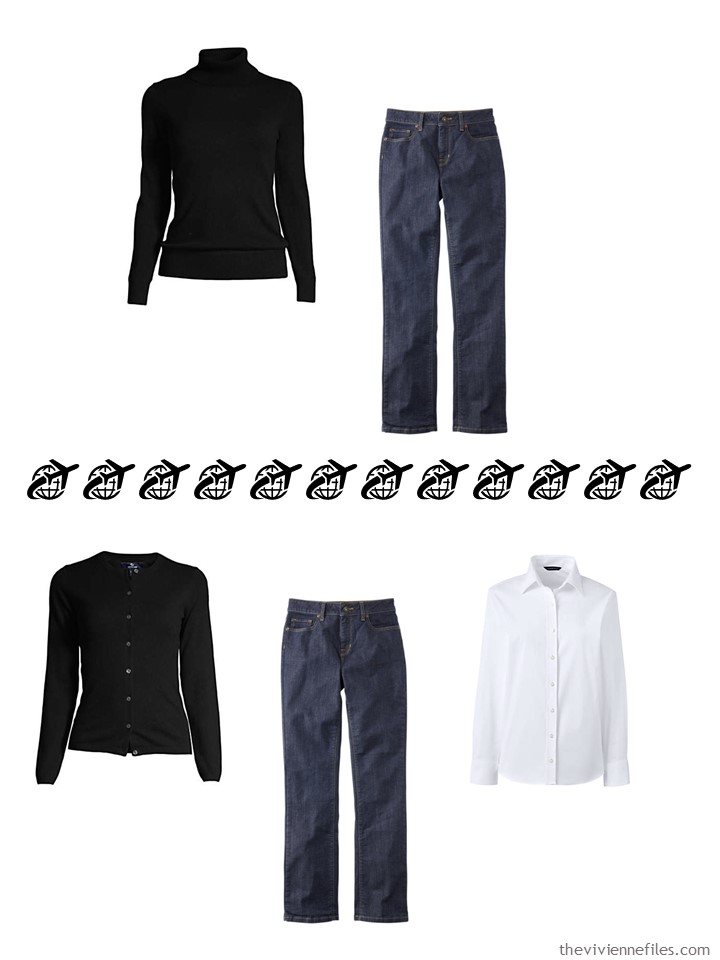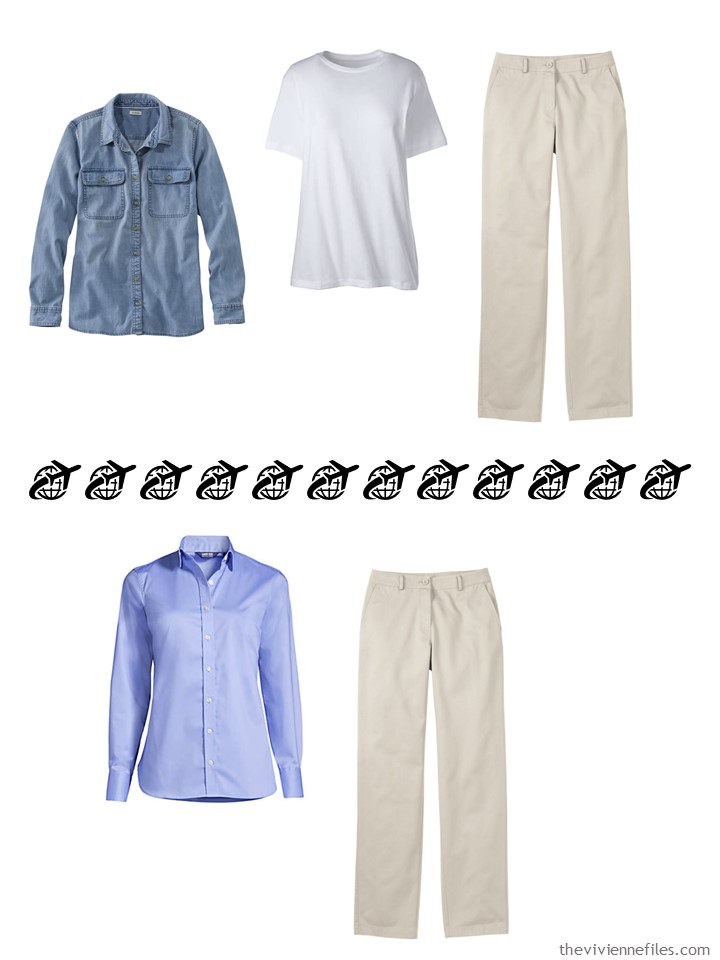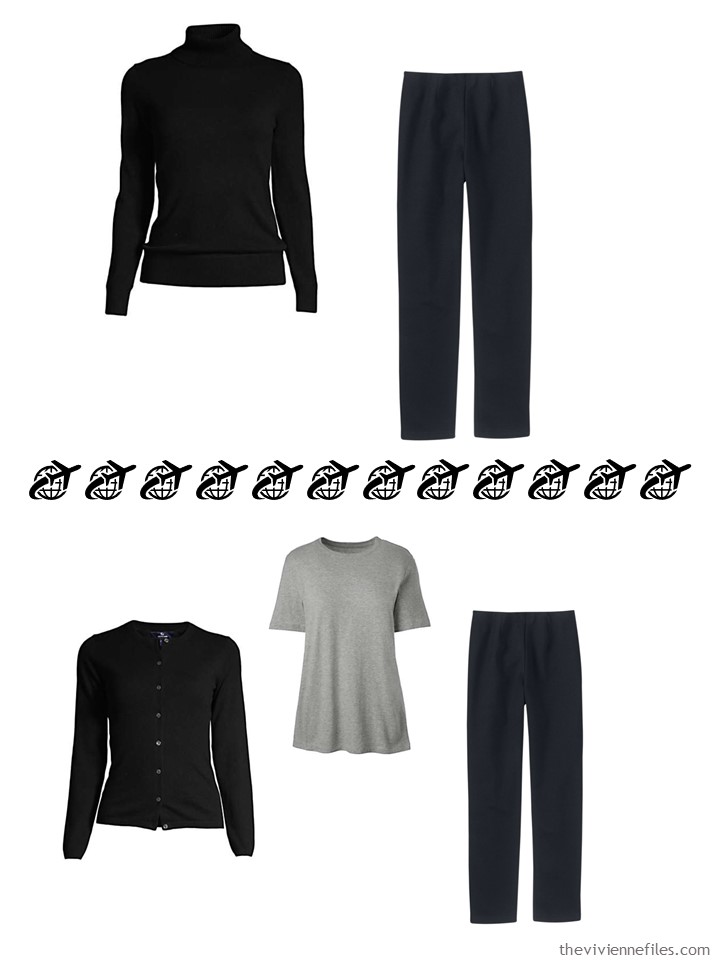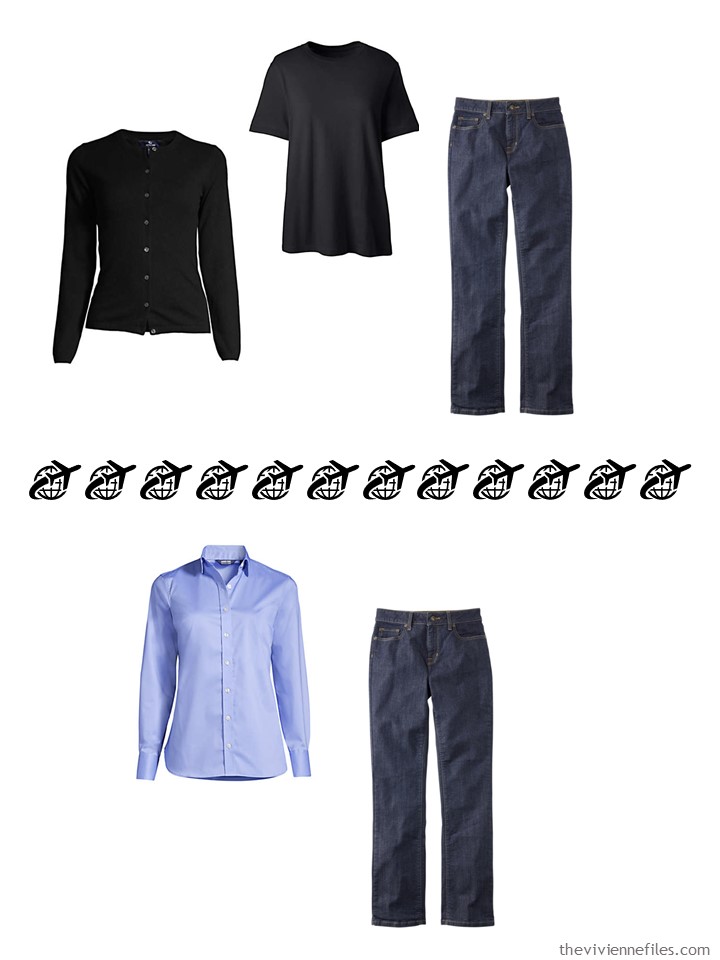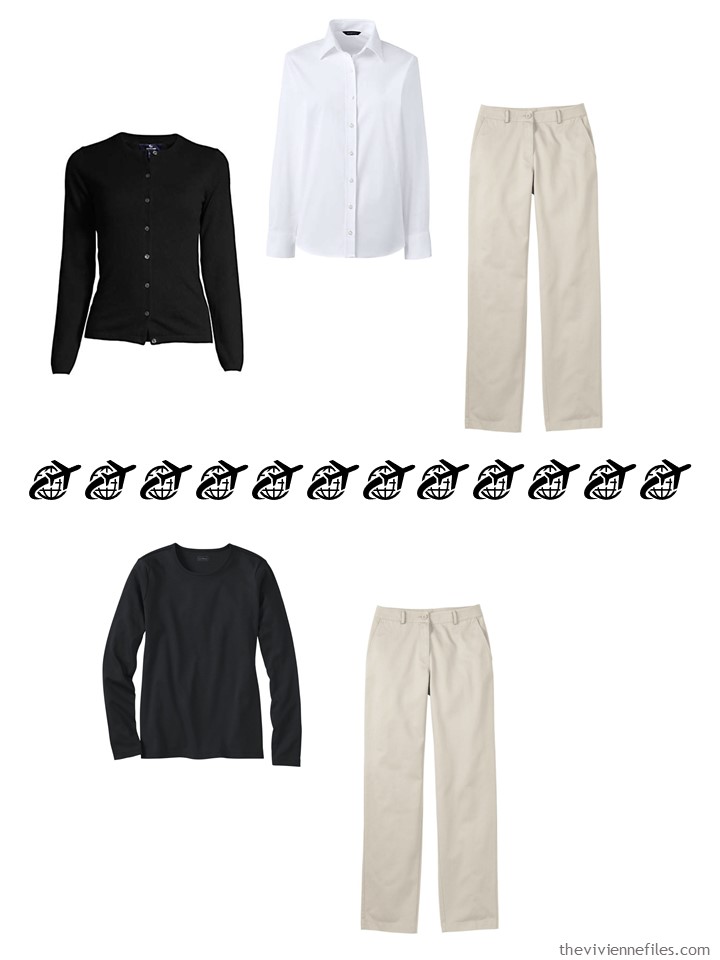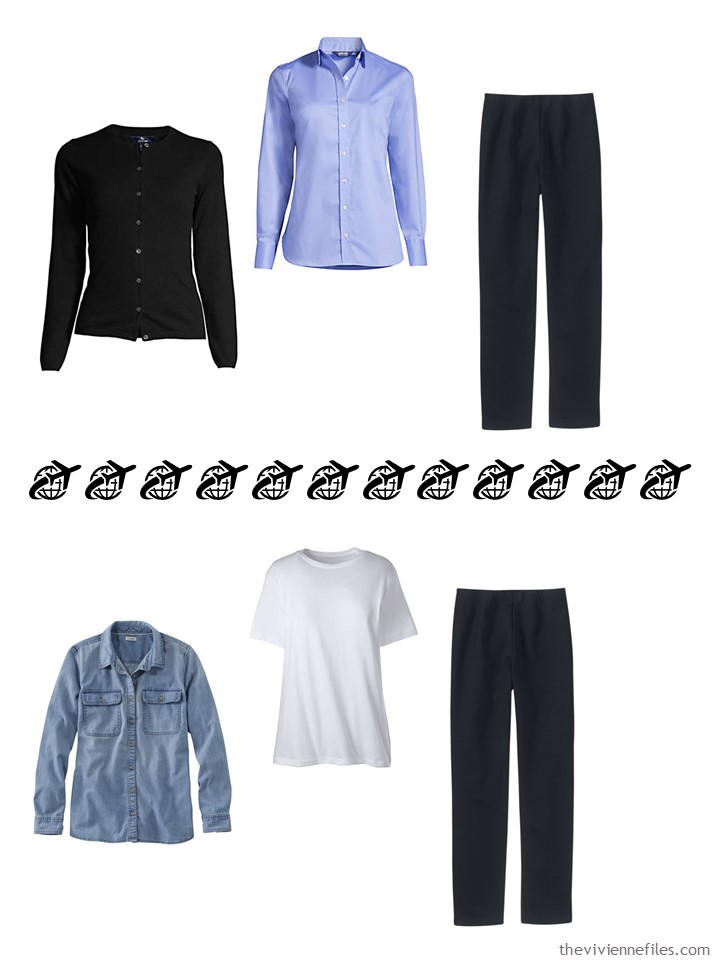 So this wardrobe is a fine guideline for a lot of us if we're struggling to remember what the easiest core of a wardrobe might include. But what if we want to make this more personal – more suited to our personal tastes and preferences?
Hmm… I think the first thing to do is make sure you know WHY you want to adapt this (or any other wardrobe) to your own needs. Do you want a core of basic neutral clothes upon which you can build your wardrobe? Are you looking to establish a base for your statement garments?
In that case, this is a good place to start!
Then, make sure you can articulate what it is about this wardrobe that you do NOT want to include. Are there particular garments that don't work well for you because of the cut? The color? Something else?
For me, I looked at these twelve pieces for quite a while, and then realized that I could substitute 4 things – 33% of the wardrobe – while staying with the overall goal of things, and then have a perfect Common Wardrobe for me.
If I have a black short-sleeved tee, I don't really need a long-sleeved one also. What I would REALLY prefer is another 2nd layer in black…
I'm not mad about the idea of a light blue shirt. I could substitute a pink shirt, but what I would really want is something in black and white – preferable striped!
Similarly, a grey tee shirt isn't my favorite. Yet again, I'm going to want a stripe! While normal women don't consider stripes to be really basic, for me they're essential. There is NOT a week that I don't have at least 2 striped tops in the laundry…
And lastly, as much as the idea of a pair of khakis interests me, I really want a skirt. Really really really. I find wearing tights to be quite comfortable…
So, after this "piece by piece" thinking about the original Common Wardrobe, I built my own personal one!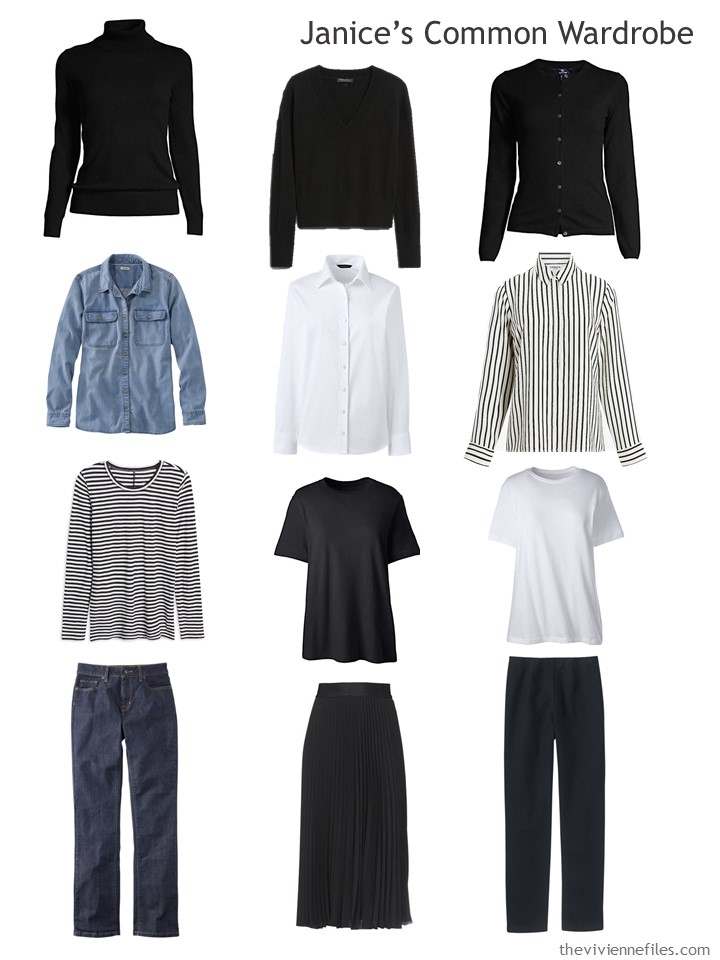 Black cashmere turtleneck – Lands' End; v-neck cashmere sweater – Banana Republic; black cashmere cardigan – Lands' End; denim shirt – L.L.Bean; white shirt – Lands' End; striped shirt – Express; striped tee shirt – Caslon; black and white short-sleeved tee shirts – Lands' End; jeans – L.L.Bean; pleated skirt – Shirtaporter; black knit pants – L.L.Bean
So this all looks (at least to my biased eyes!) quite nice, but will it do what it's designed to do? Functionality is always the way that you can determine if you're accomplishing what you've set out to do. The whole point of these exercises is to give us all workable wardrobes…
Clearly I would have a ton of outfit options from this bundle of clothes – I could fling these into a suitcase, along with 3 pairs of shoes (short boots, loafers, ballet flats) and tear off around the world. But what about being able to leverage my more "non-neutral" clothes?
Let's take a look at a few of my favorite things, or reasonable cousins thereof. And while I don't own the scarf, I could be tempted…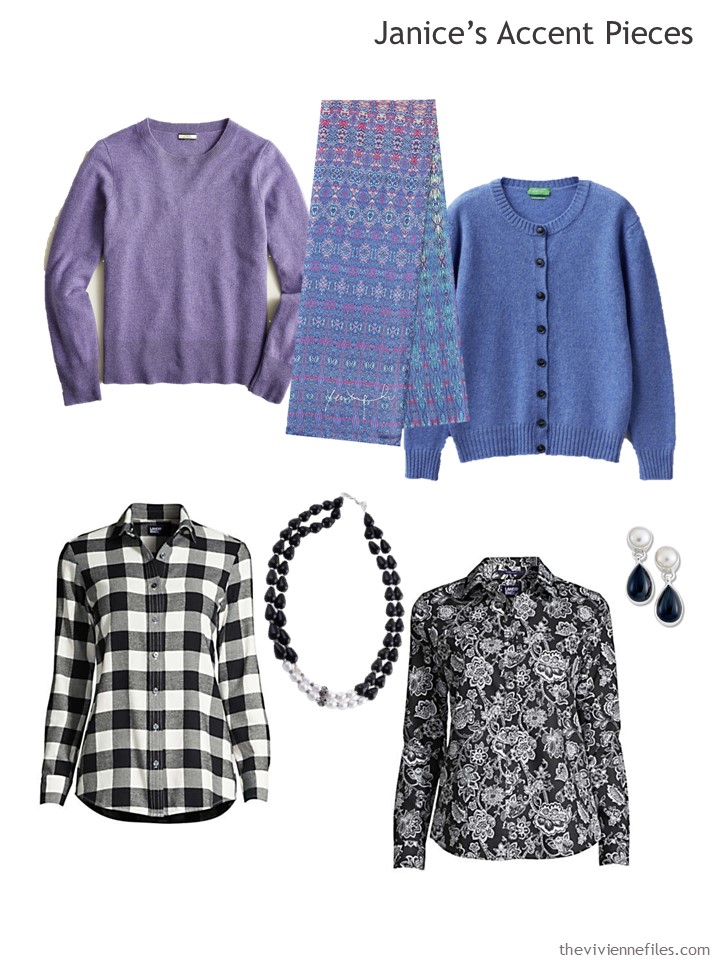 Heather grape cashmere sweater – J.Crew; peacock silk scarf – Yen Ting Cho; blue cardigan – Benetton; plaid flannel shirt – Lands' End; pearl and onyx necklace – Narayani; floral shirt – Lands' End; earrings – Samuel B.
I know you're not actually stunned to see that I can easily wear my bright (well, bright for me!) sweaters, as well as my patterned shirts, with my chosen wardrobe core: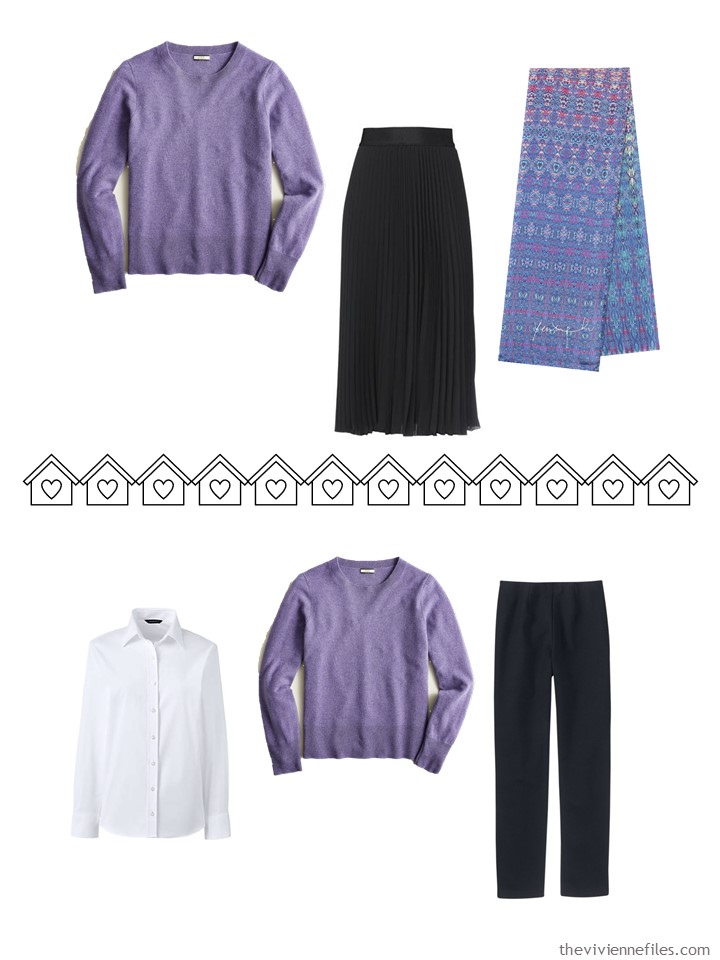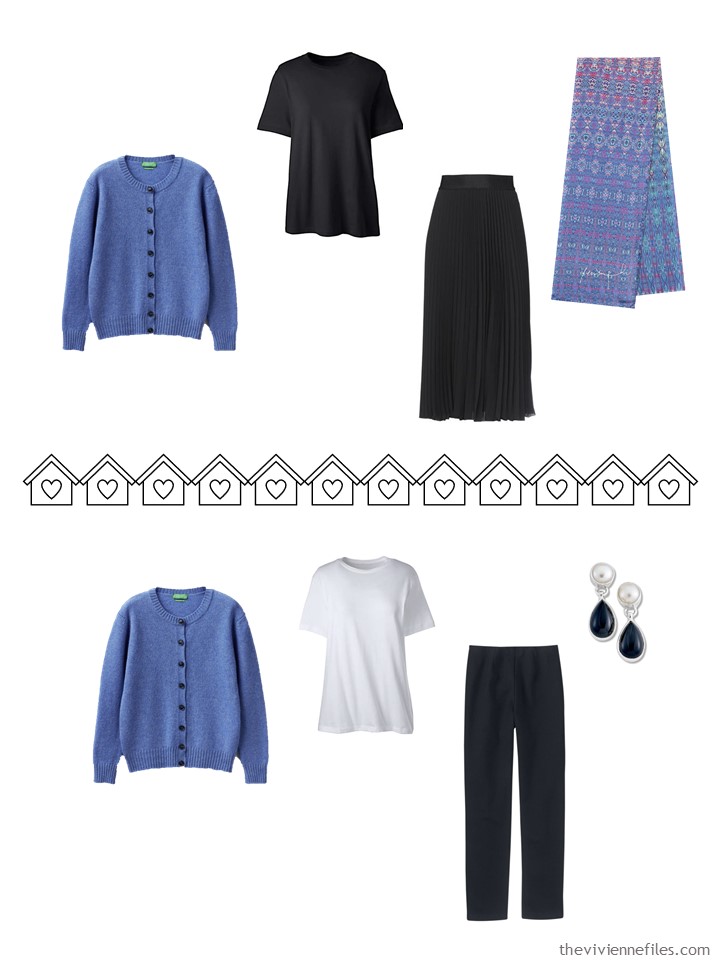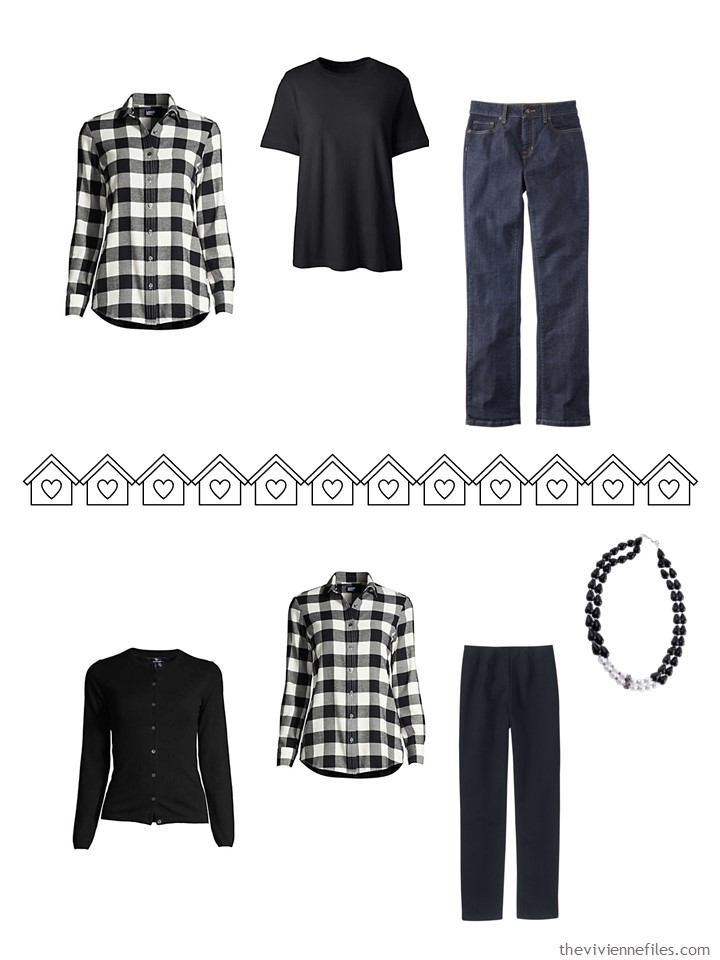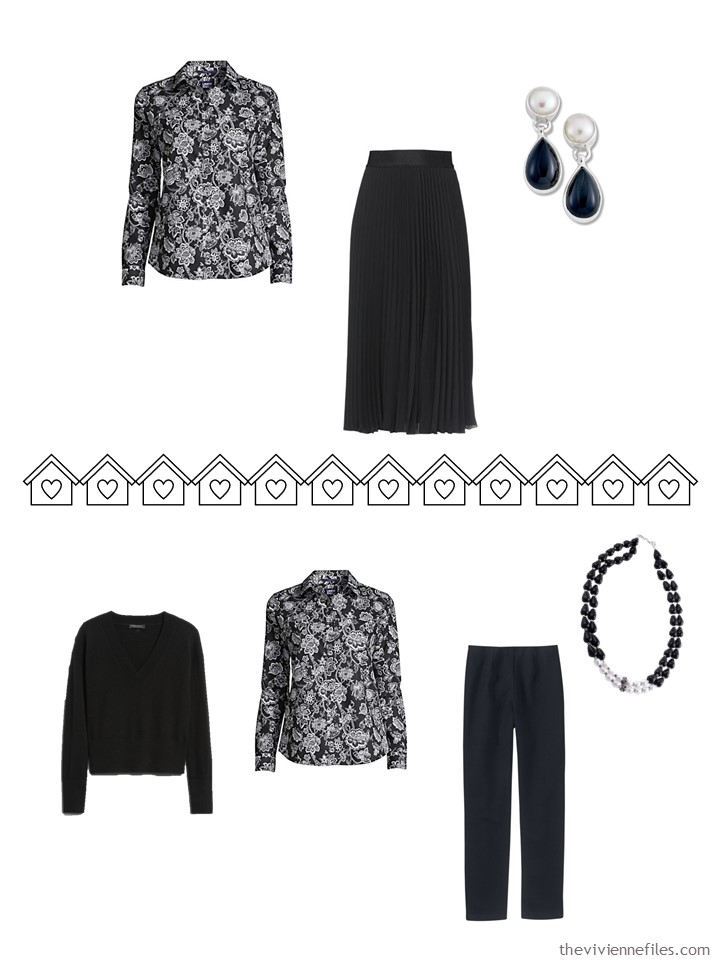 Is anybody else struggling to get themselves organized for the upcoming change of season? Or is it just a function of the combination of my new apartment and my family projects?
love,
Janice
p.s. Five years ago, our heroine had TWO HOURS warning to get downtown and ready to attend a fund-raiser!
p.p.s. If anything here is weird, funky, or just plain unworkable, please let me know. The internet in our apartment (and I suspect our entire building) has been disagreeable to the point of making me beat my head on the desk…