July 23, 2021
I've been asked for wardrobes including only skirts for a while now… So when a question was sent to me about packing for a three month visit to Poland, using only skirts, I figured it was time to address this!
A long trip can be daunting – about 20 years ago, I traveled for work for six weeks, on a trip that included six countries, and temperatures from shirt-sleeve warm to light snow!
This is what I packed:
My clothes were mostly from Eileen Fisher, and by the time I got back to Chicago I was SO SICK of every stitch of them!
But I was traveling alone, with a gigantic laptop, and so this was how I carried all of my clothes:
I was lucky – as soon as I got to a new city, I sent at least 1 outfit of clothing out to be laundered, and I had at least 1 more outfit cleaned while I was there. Business travel can be nice that way…
But our heroine today had some pretty specific guidelines for us: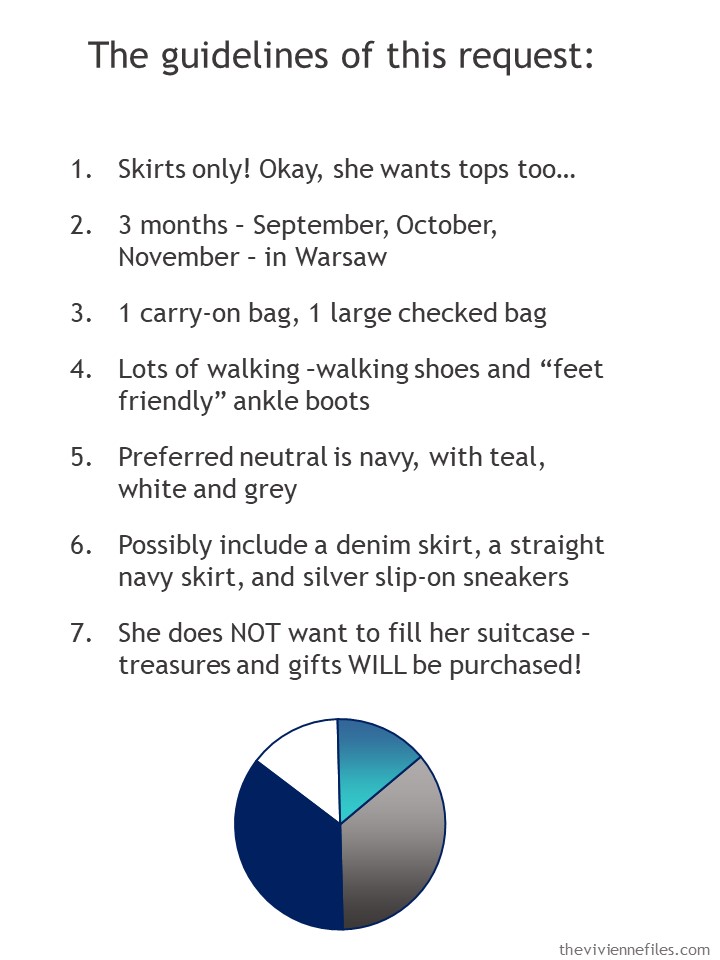 As soon as she said "large suitcase," I knew that I could include more than a dozen garments! I immediately thought of this template: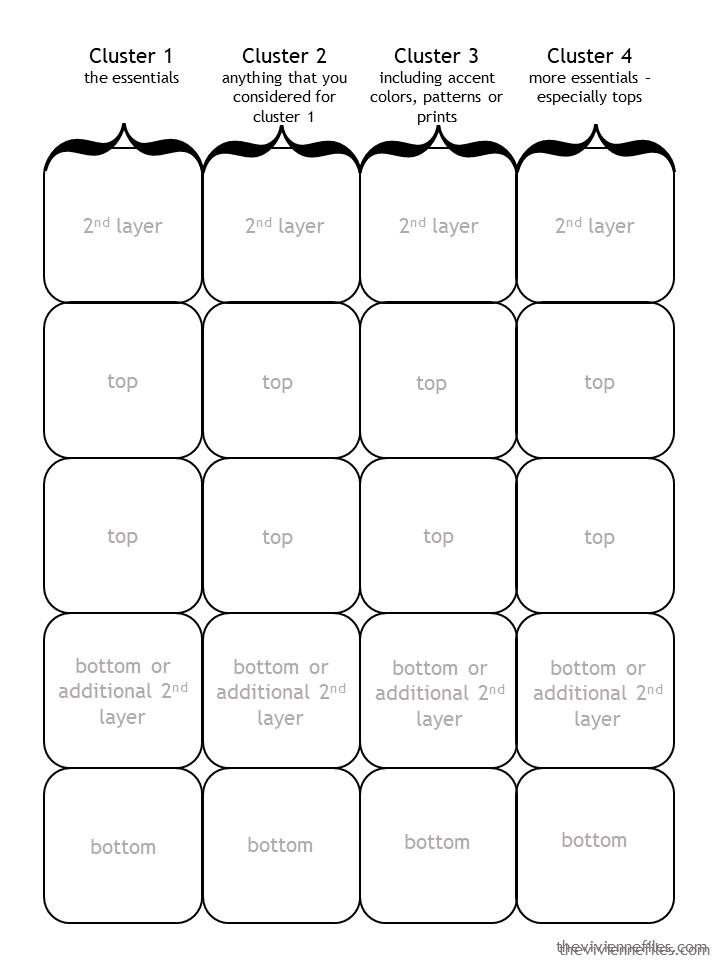 But I felt like this didn't include enough tops for 3 months, so I did a little wardrobe template jujitsu!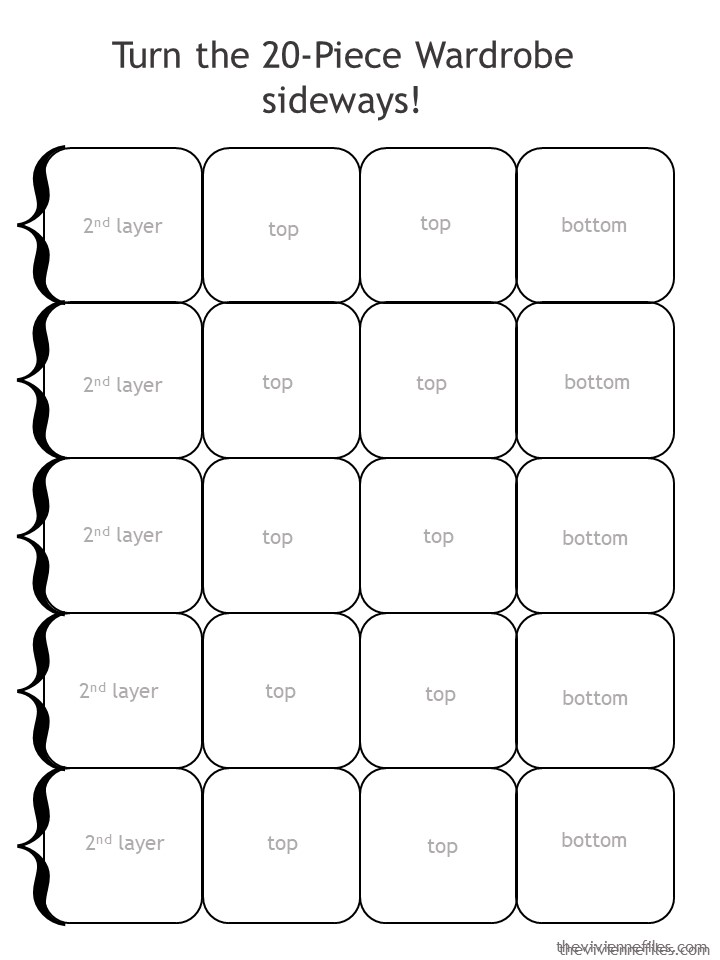 This will give her five skirts. Yes, she will have to wear each of them 18 times, on average. But with the beauties of Poland to keep her entertained, a wardrobe full of diversions and whimsies isn't necessary!
So let's just jump in with a few requested garments, and some obvious additions:
With just these 8 garments, one could travel for at least a week or 2 – laundry assumed!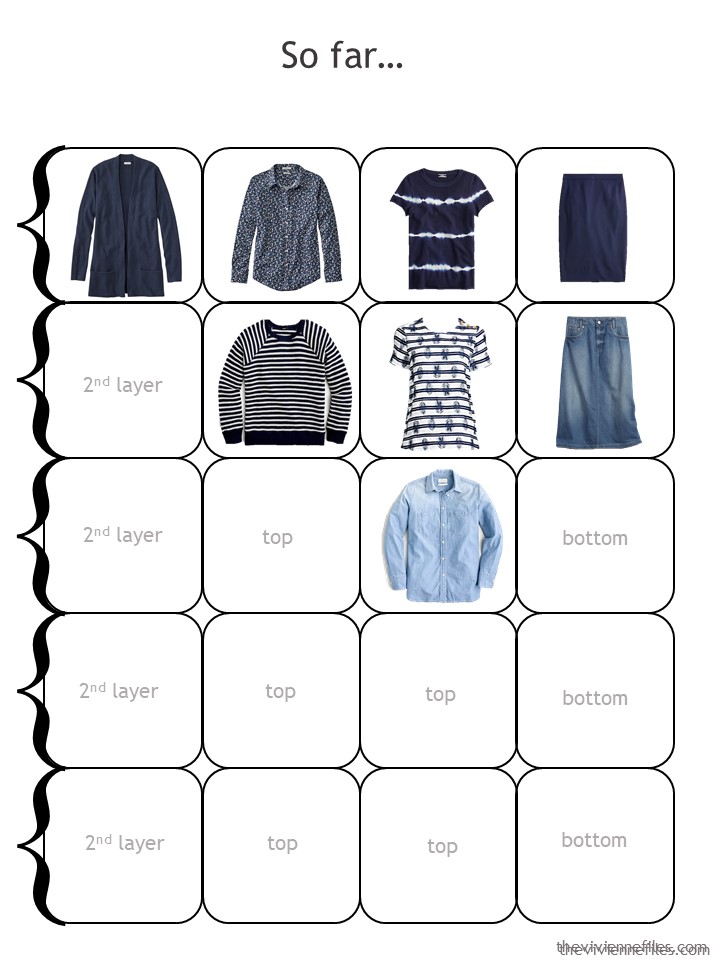 Next, I thought that we should be looking for the grey additions to her wardrobe. It's a little bit early to look for grey – it tends to show up more when autumn REALLY kicks in, in October… But if one must pack now, one must adjust!
Her wardrobe plan already looks interesting, and feels versatile: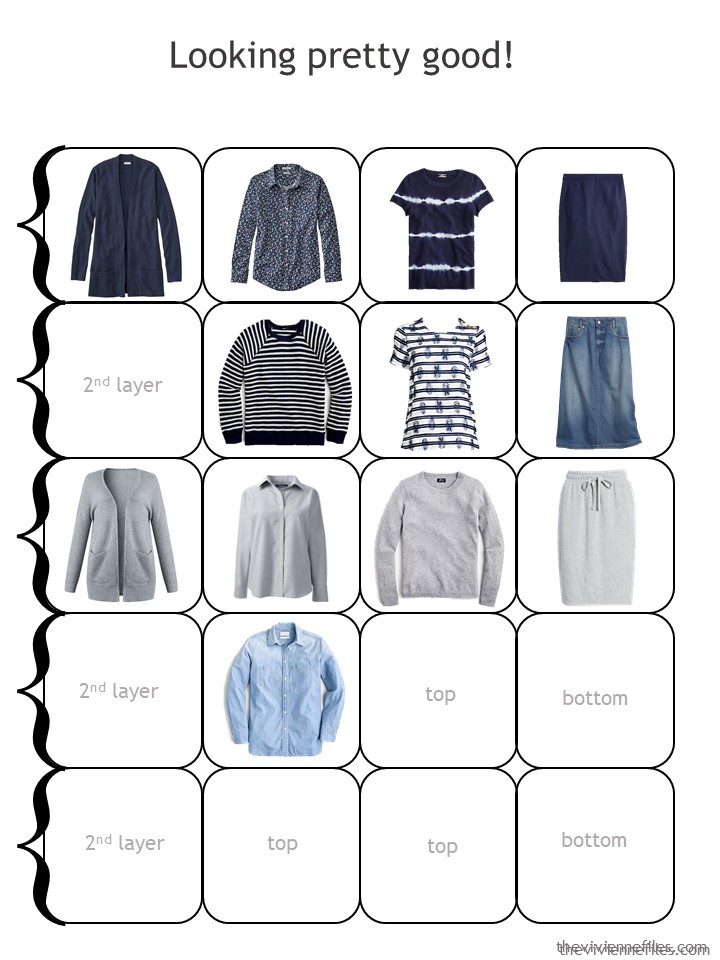 If I'm looking for a skirt for cool weather travel, I immediately think of wool, corduroy, or velvet…
And I tossed the corduroy shirt-jacket in on a whim; it might be a wardrobe outlier, but I'm pretty smitten with it these days. I don't really know why…
Yes, it would be lovely if the teal pieces matched. We don't always get what we want, and it's smart to learn to work around these wardrobe challenges!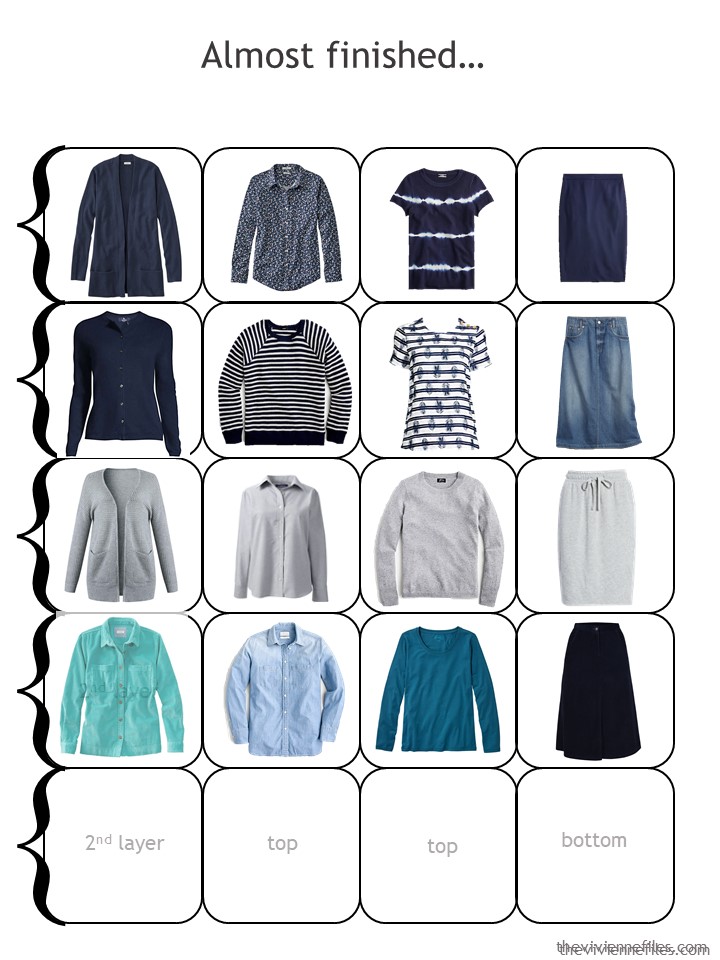 The final garments in a wardrobe are always hardest for me – the possibilities begin to seem endless, and you don't have room for them all!
This wardrobe could certainly use a white tee shirt, or a white shirt or blouse. If a printed blouse in navy, grey and teal were to magically appear in the world, it should absolutely go here.. But I concentrated on teal, and a navy pleated skirt!
I adore pleated skirts – that swish around your legs is delightful…
THIS is a travel wardrobe! And if she tossed in 1 more garment, it could also be a 21-piece Garde-Robe du Mois…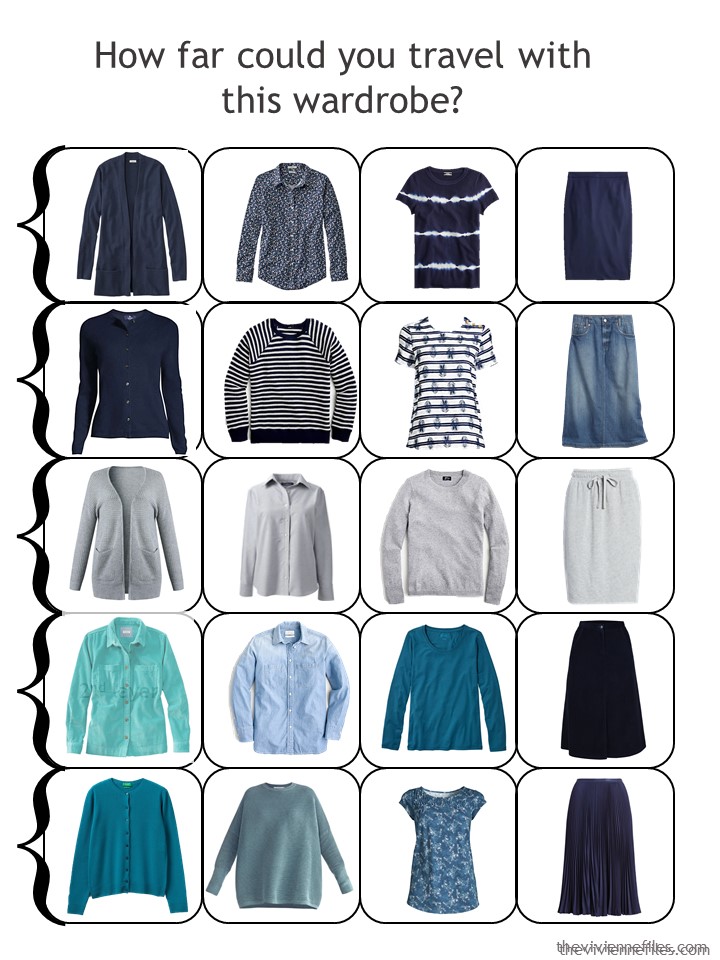 Obviously there are a lot of ways to wear these clothes; but the purpose of a versatile travel wardrobe is NOT to dazzle the citizens of Poland with a variety of outfits!
This is more about silly things like catching the hem of our seersucker shirt on a fence at a construction site (in Athens, in my case!), tearing off the bottom four inches of said shirt, thus rendering it wearable ONLY under something else…
Or spills. Or clothes lost or destroyed in laundry. Or things that are inexplicable too large, or too small, or just plain uncomfortable – out of nowhere!
These are a few ideas: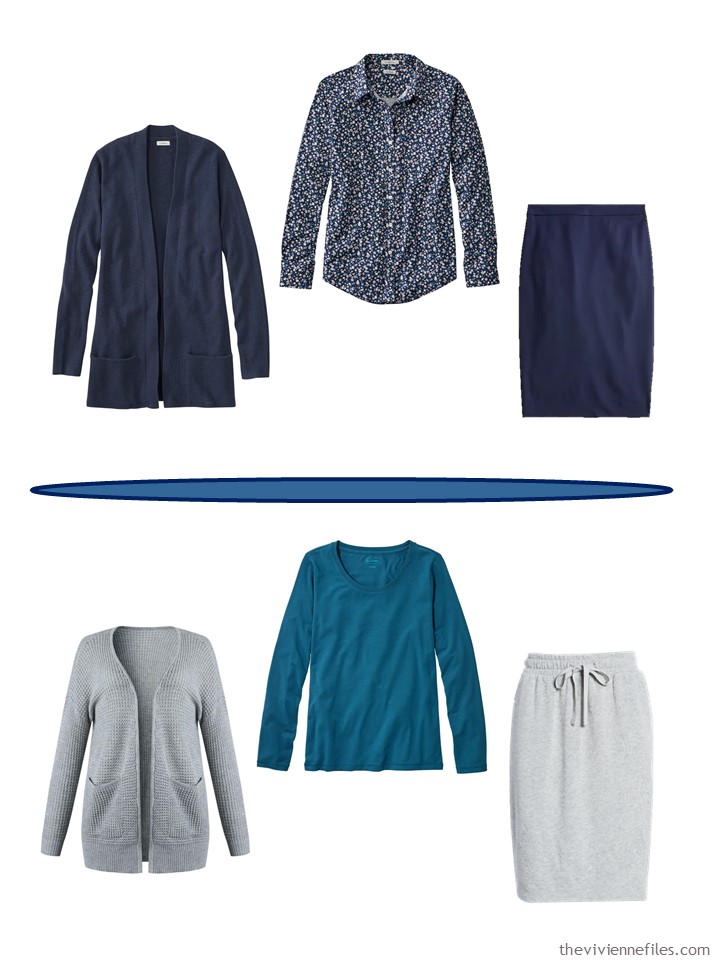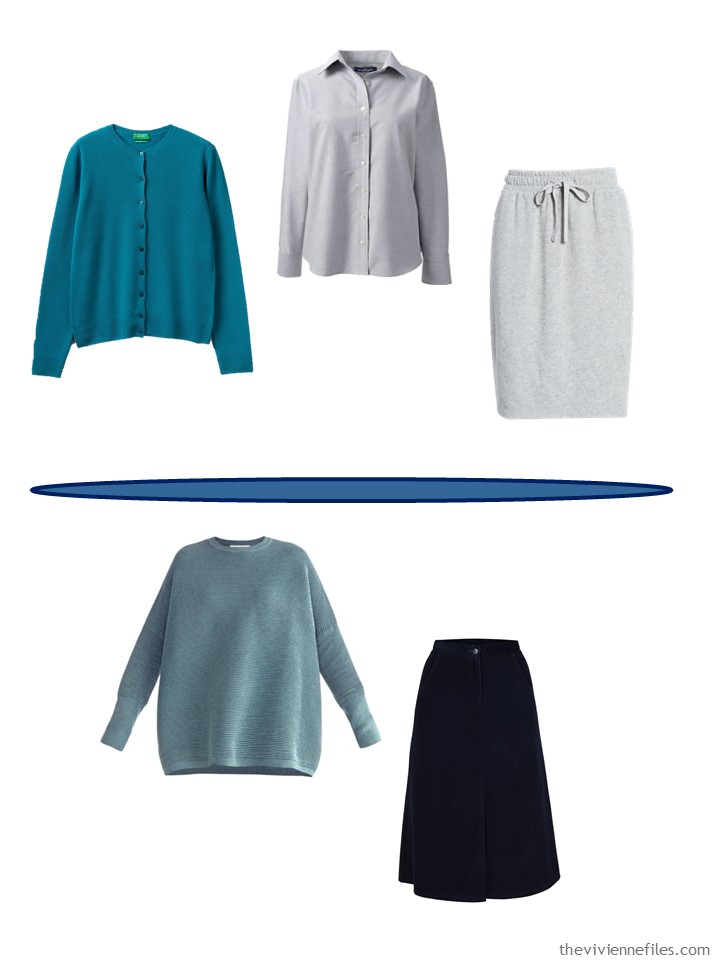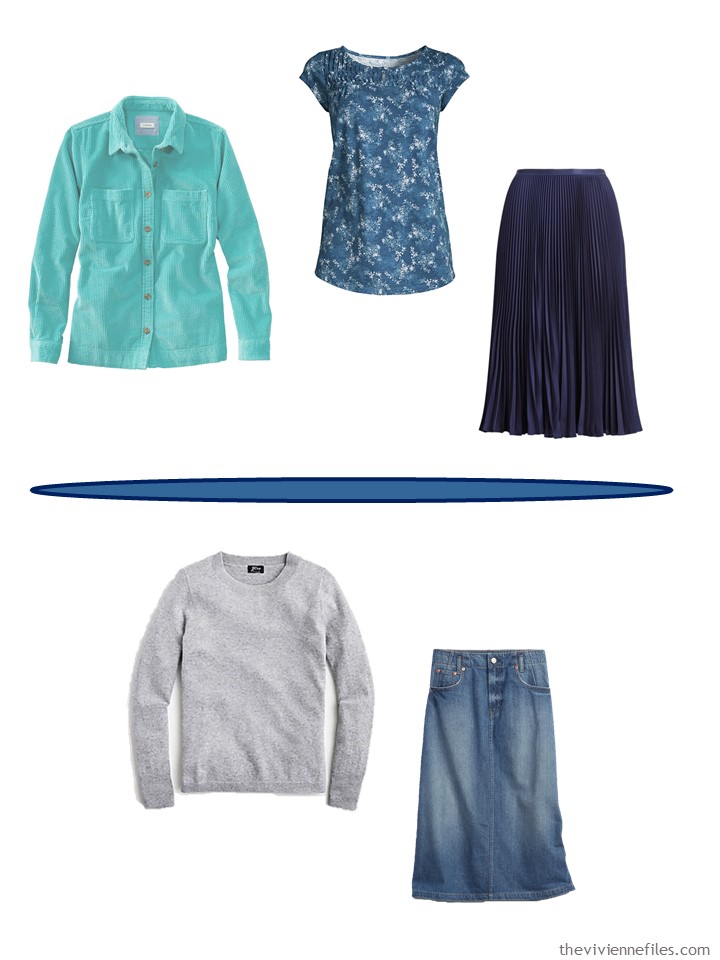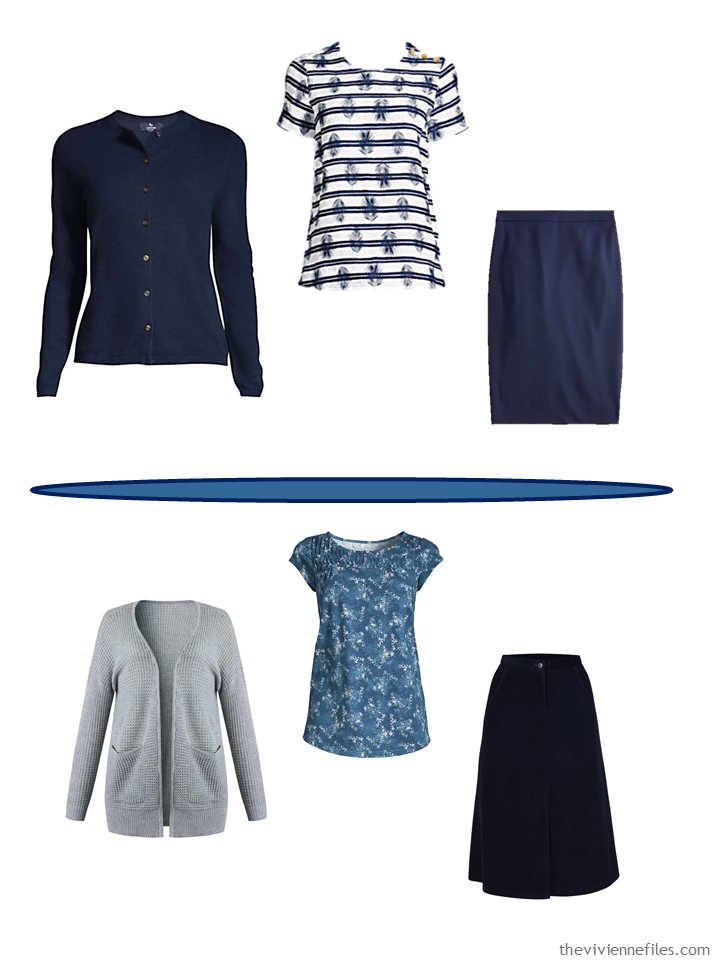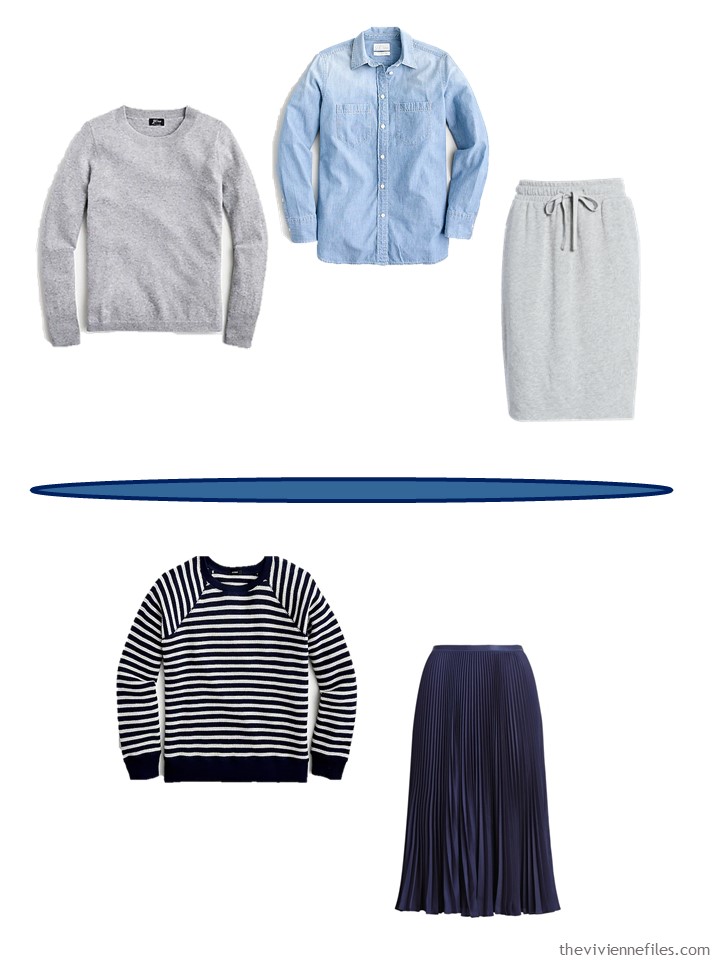 I'm SO excited for this heroine, and for all of you who have written recently about upcoming travel…
love,
Janice
p.s. Seven years ago, I built a wardrobe around the colors of pigeons! I think they're annoying, but beautiful…