July 28, 2021
It's fun to look at cool weather accessories when the upper Midwest of the US is under a heat bubble…
Let's flash back to Friday, when this wardrobe, for a multi-month trip to Poland, was our focus:
We were told specifically that our heroine already has silver slip-on sneakers, and intends to pack short boots. The conversation in the Comments made it clear that she would also need warm, waterproof boots…
So to get enough accessories, chosen to go with this wardrobe, let's look at a bunch of outfits and see what might be pretty with each of them!
Starting – I'm ALWAYS going to suggest a watch. I think it's not lovely to constantly look at one's phone – and I'm a big offender at this…
So she has her short boots (these are waterproof!), let's get her some snazzy silver sneakers!
When I travel, I love to have a small but not ridiculously teeny crossbody bag. I've seen some that are adorable, but that are so small that they wouldn't hold a doll's cell phone! Let's be practical…
No, a down jacket is NOT an accessory, but I wanted to get this in here because it's an important part of travel in cool weather. Uniqlo carries down jackets in a range of colors (it might be a few weeks before they are in stock again!), and they pack down to the size of a paperback book; many of them come with a "stuff sack" into which you can pack your jacket. I have one that's been a life-saver for me!
I think that masks may be with us for a long time… we might as well have nice ones that look good with our clothes, right?
Fun socks that won't be seen by anybody but you? Sure!
I love to pack at least a handful of scarves – they give me a feeling of variety that I won't get from a limited wardrobe! Same with jewelry – it doesn't take up much space, but it gives you a feeling of change and just plain prettiness that's always nice.
Even if you travel in the dead of winter, you need sunglasses! And this necklace is screaming at me… sigh…
Nothing new here – just showing that once the core of accessories are together, they should work with everything our heroine packs.
If an outfit is only 2 colors, why not mix patterns with a scarf and mask? And yes, this is a man's scarf. WHAT distinguishes the gender of a scarf?
Except for the boots, these accessories won't take up all that much space in a suitcase. Carefully wrapped jewelry can be slid down into your boots, of course; check around for extremely inexpensive fabric drawstring bags to pack things that might scratch or tangle…
These images might be my favorites that I ever do!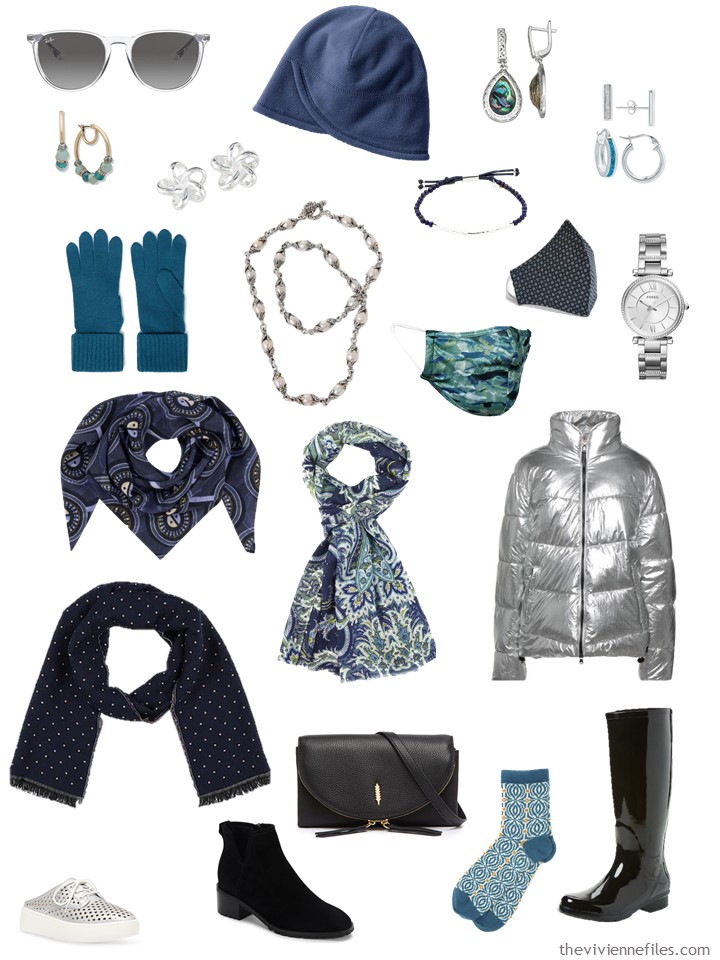 I have no travel in my future, but I can certainly enjoy thinking about our heroine wearing these as she becomes familiar with Poland!
love,
Janice
p.s. Seven years ago, we considered the merits of teal as an accent color for The Common Wardrobe. We still love teal; we will ALWAYS love teal!