June 11, 2021
I can clearly see that I want to do at least 2 more of these after today! The denim/chambray/soft pink idea MUST be investigated, as well as… what other color?
But today, we look at black, and then at my nemesis, green!
First up – a wardrobe that I could envision buying if I lost every stitch of clothing that I own… the pink skirt would be a real adventure for me, but why the HECK not try it?
This may not qualify as a completely "Whatever's Clean 13" wardrobe – I can see some of us feeling uncomfortable wearing the blue tee shirt with the pink skirt. But if one could find the right scarf, necklace, or bracelet to tie them together, or if one just plain and simply LIKES the 2 colors together, why not? (it's today's mantra…)
Still, there are a lot of outfit possibilities here!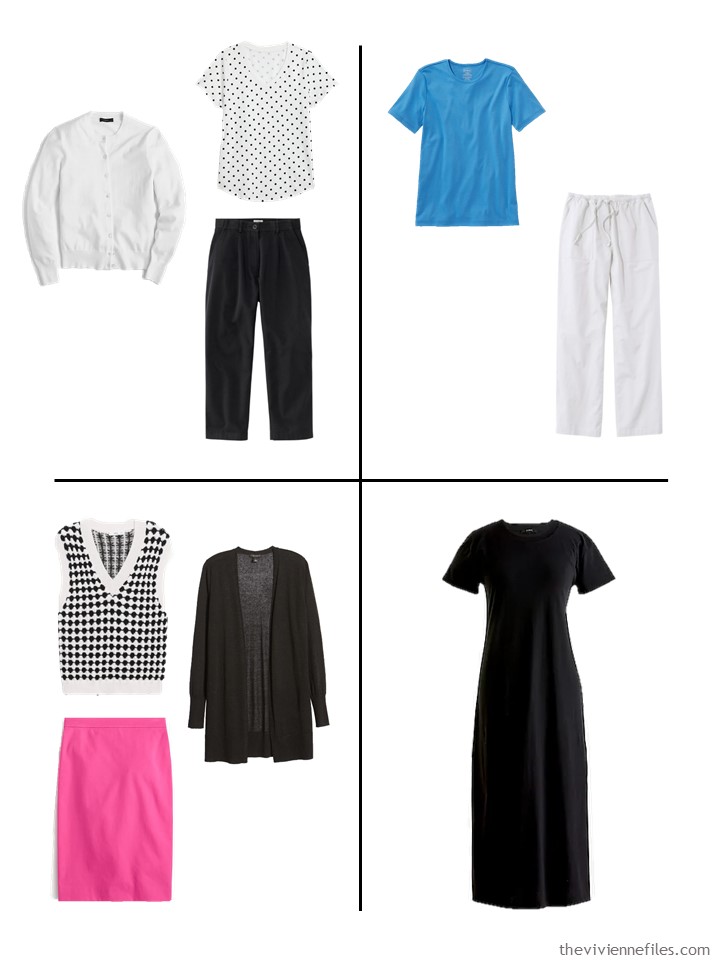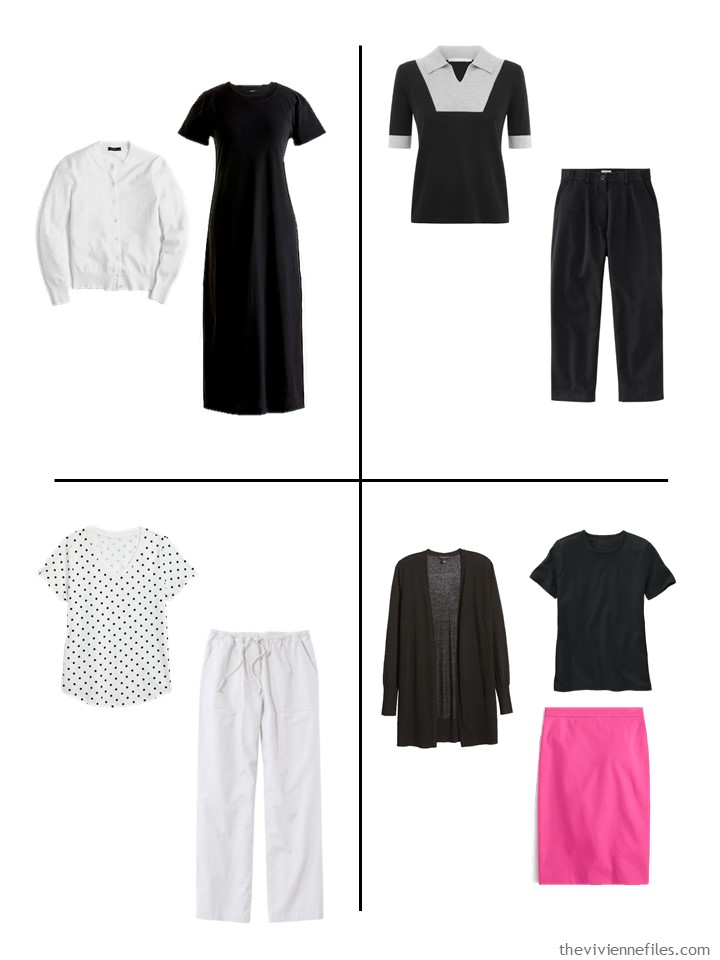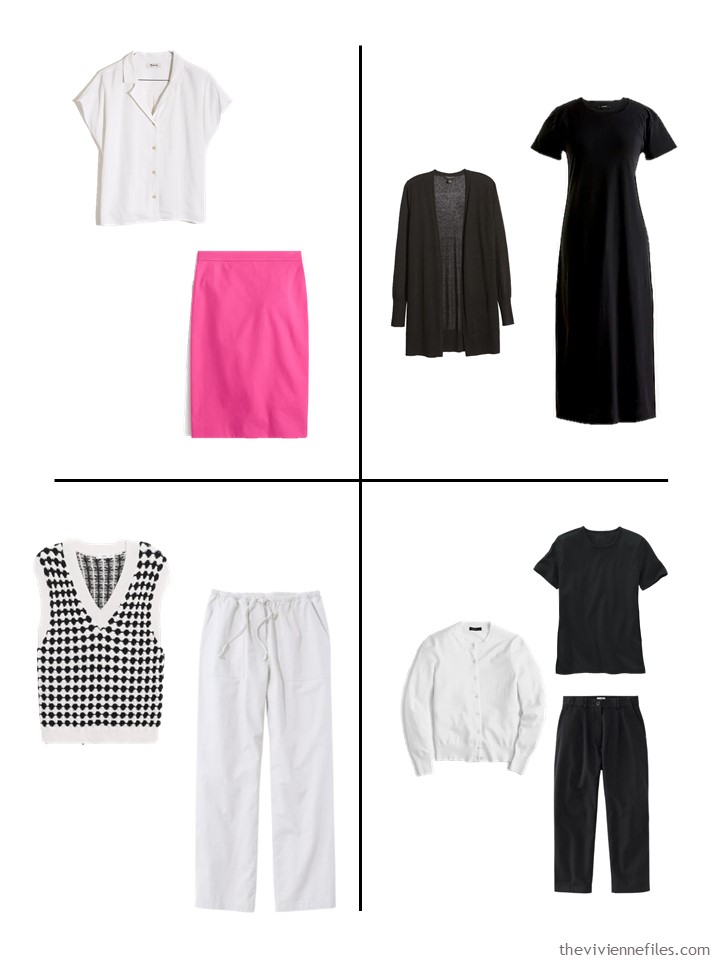 Before I show you my best effort at a green (and beige) wardrobe, I want to share with you a few of the guidelines that I use for choosing garments to include on The Vivienne Files:
It can't cost the earth! I seldom will show something too far over $100, unless it's spectacular. The world is full of blogs that will show you things that you can't afford – that's not what I want to do…
I won't include something if it's only available in 1 or 2 sizes. While a garment might be a perfect example of what I would like to see in a wardrobe, if none of us can actually OWN the thing, it makes no sense.
I won't show anything that comes from a company that I don't trust. There are some really sketchy websites in the world!
So when I was working on this green wardrobe, I learned that finding a good cardigan, with a good flat photograph, was difficult! Here are a few that I was immediately drawn to, but rejected for a variety of reasons (like I don't think you should pay the equivalent of a rent payment for a sweater!)
If you're inclined to buy one of these, I'm not going to stop you! (I can't even imagine what my commission might be on some of these…) The Loro Piana especially is so lovely…
So with that disclosure, here's what I've chosen:
Yes, all of these colors don't match. Most of them blend nicely, though. We could learn from young people about being more relaxed about mixing colors..
And there are still plenty of outfits in this wardrobe: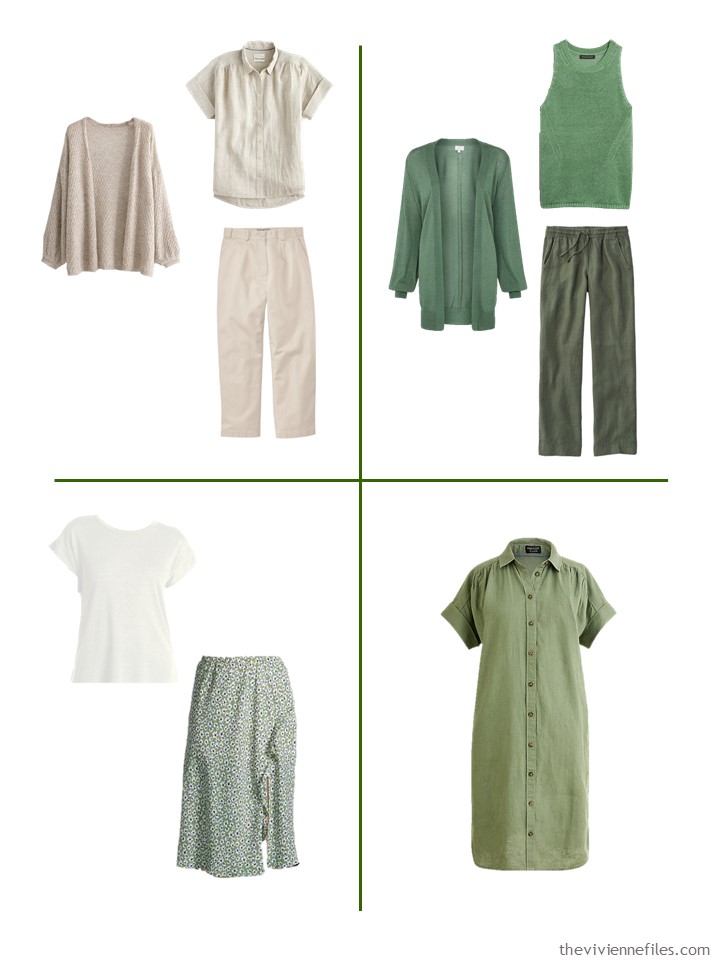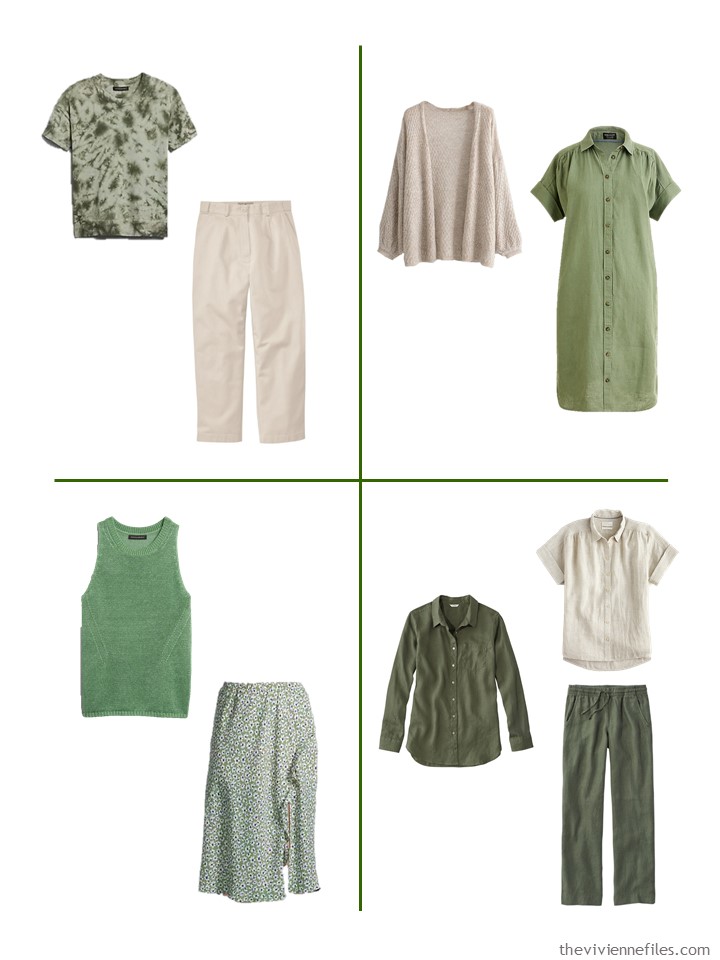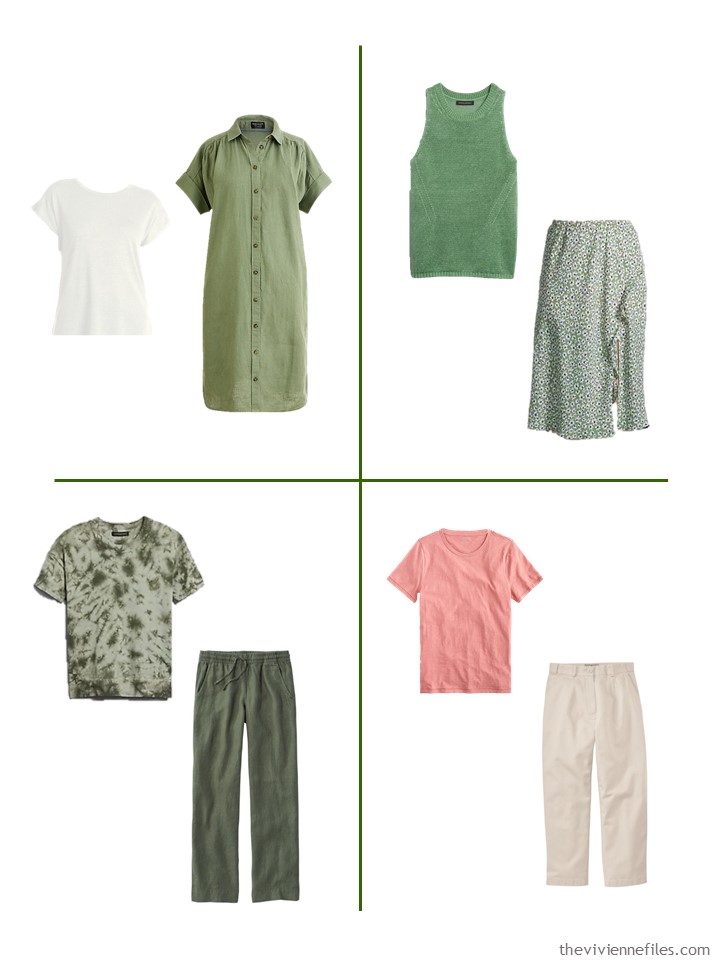 I feel a little bit bad about this wardrobe, but I also like to remind myself that any obstacle that I run into has to also be an issue for most of you! Between finding the right size, the right price, a fabric that you like and can comfortably wear, and then finding a color and cut that makes you beautiful… Well, it's not easy!
So next Wednesday I'm going to pull together the denim and pink wardrobe – what other color(s)?
love,
Janice
p.s. Five years ago, I looked at our "Six Scarves, 12 Months" wardrobes to see how versatile they might be at the halfway point…