June 14, 2021
No, you do NOT have to show your bare arms! But I often find that the most useful garment in my suitcase might be a simple tank top – it can replace a sweaty pajama top, or serve as a layer under something that has too much "show through," or it can bring a sliver of color to an outfit – I've even worn one over a button-front shirt as a vest!
In all modesty, my arms are still pretty glossy, but that doesn't mean that I want to share them with the world…
And sleeveless does not necessarily equal tank top!
I have 2 sleeveless button-front tops that I've had for years – black and white dotted, and black and white striped… I wear them under a light black cardigan and they're just right…
If you want to break up the long line of color in a dress, and wear it with more than a few buttons open, a neutral top can be the answer:
A sleeveless top and shorts can be perfect when the weather is hot, and then when evening approaches, it's not too bulky to wear under a pretty print shirt:
Maybe you have a neutral "suit" like this – a matching shirt and pants or skirt. You can, of course, wear any color jacket or sweater OVER these pieces, but don't forget the potential of different tops UNDER your shirt. Imagine black, white, light blue, lime green?
Maybe you want to wear black accessories with your checked dress, but you feel that they look too heavy? A black top peeking out of your neckline can balance everything:
Here's a linen "suit" that would be madly useful for all of those dressy-ish things that might come up this summer. Layer over pink, white, or another soft pastel, or wear with a lacy cardigan over…
For reference, and for new readers (welcome!), here's the master list…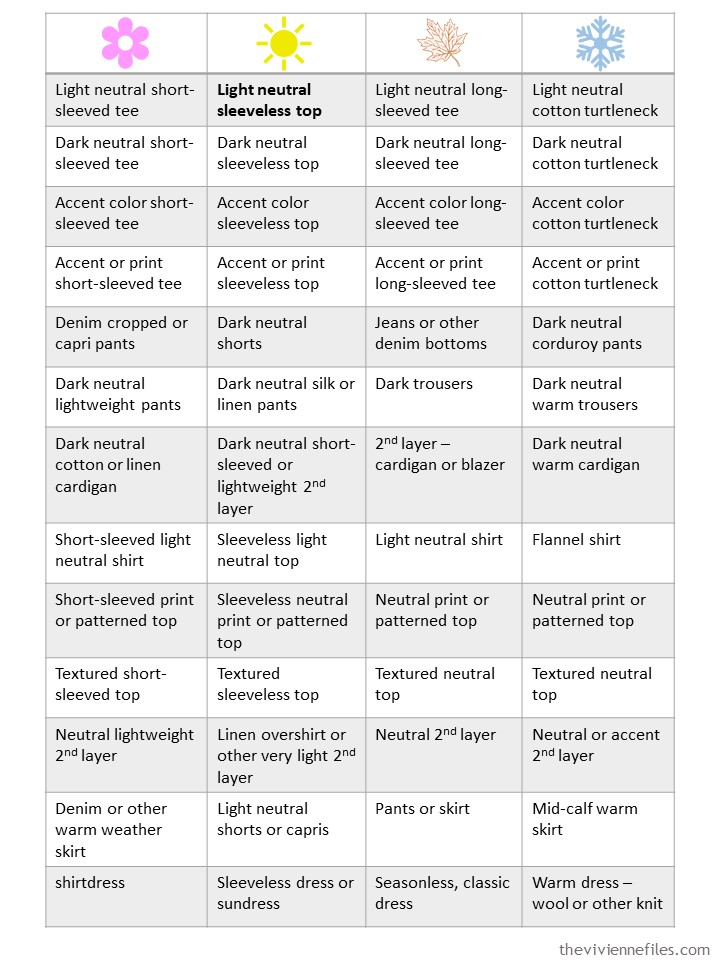 This subject might come from out of the blue, but I'm really eager to know what you all think of platform shoes. When I was looking at espadrilles for this post, many of them I saw had 5 inch heels and 3 inch platforms in the front. I really do NOT like being unable to sense the pavement under my feet, so I'm not a fan. But what do you think?
love,
Janice
p.s. Six years ago, we looked at the possibility of a Whatever's Clean 13 wardrobe in navy, beige and GREEN!!!