May 17, 2021
I know that I describe this top as "textured" in order to be consistent with the way that I described things like cabled sweaters… What I'm looking for here is a warm-weather top with some visual interest – something more than just a tee shirt…
A print makes perfect sense for spring and summer, so don't be terribly bound by the idea of texture!
A simple pleated top in a pretty color can change the look of anything with which you wear it!
I actually saw a man on the street the other day in a seersucker suit, white shirt, pink madras tie and pink pocket square. Pink socks and white bucks…. He looked amazing!
Even if you're wearing shorts, a sweater can be about a million times more dressy than a tee shirt:
Smocking DEFINITELY counts as texture! And while maybe only 3 or 4 of us could wear this top successfully, I wanted you to see it because of the beautiful fabric!
If you like Liberty London fabrics, keeps an eye on J.Crew, because they often feature their fabrics…
Here's another case of making shorts look just a wee bit more appropriate for a range of activities; this is the kind of thing that I would wear to a work-related outdoor function…
And I really like this last outfit – it's not complicated, but it has a lot of interesting things going on. The handbag is almost certainly intended for evening, but I would cheerfully carry it during the day!
For those of you who want a look at the master list – here you go!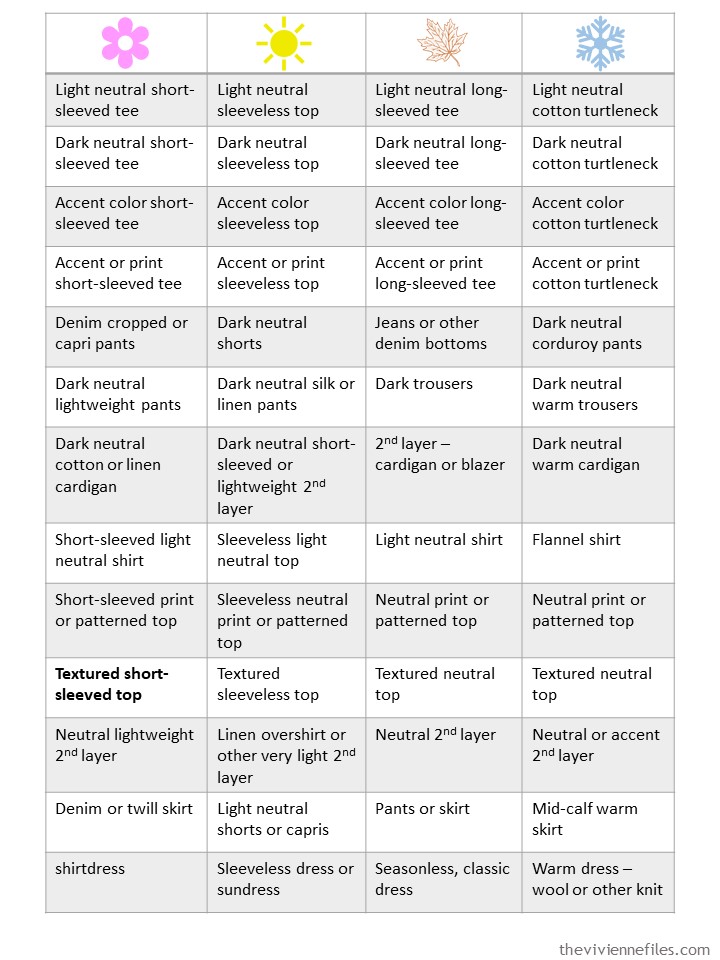 I'm looking at the concept of using these first 10 garments (and of course the entire 13 for the season!) as a checklist for a travel capsule wardrobe…
love,
Janice
p.s. Seven years ago I shared with you a lengthy review of a French-language wardrobing book; I'm STILL confounded by how this book doesn't really live up to its potential…