April 2, 2021
What rudeness on the part of Mother Nature – we will need our parkas today to go outside!
But we carry on with our Starting From Scratch building of 6 wardrobes – this months we're stocking up on tee shirts, and adding in a few accessories too! This exercise has made it really clear what additional pieces are needed in some places… It's interesting (at least to me!)…
These wardrobes were all somewhat out of balance in that they didn't have enough tops, so we're adding a few! Plus a pretty necklace and a simple, almost neutral scarf:
The first thing I've learned: this wardrobe either needs to embrace the purple and gold, or walk away! This gold tee shirt looks forlorn here, although it comes together perfectly well in outfits with black or grey:
You will quickly notice that EVERYBODY GET A WHITE TEE SHIRT today… I'm a believer!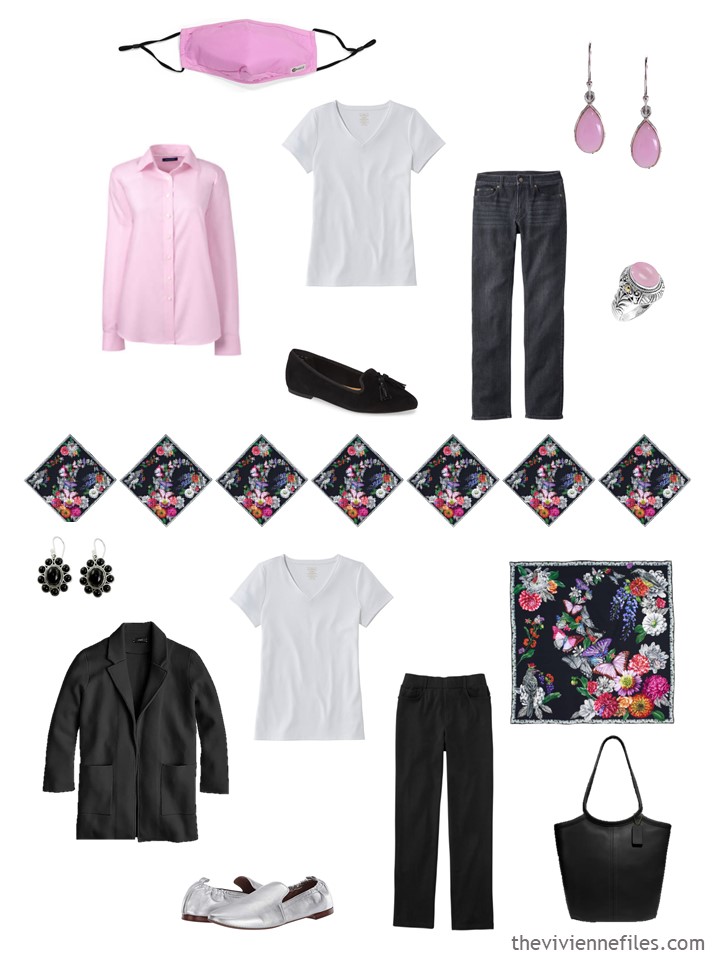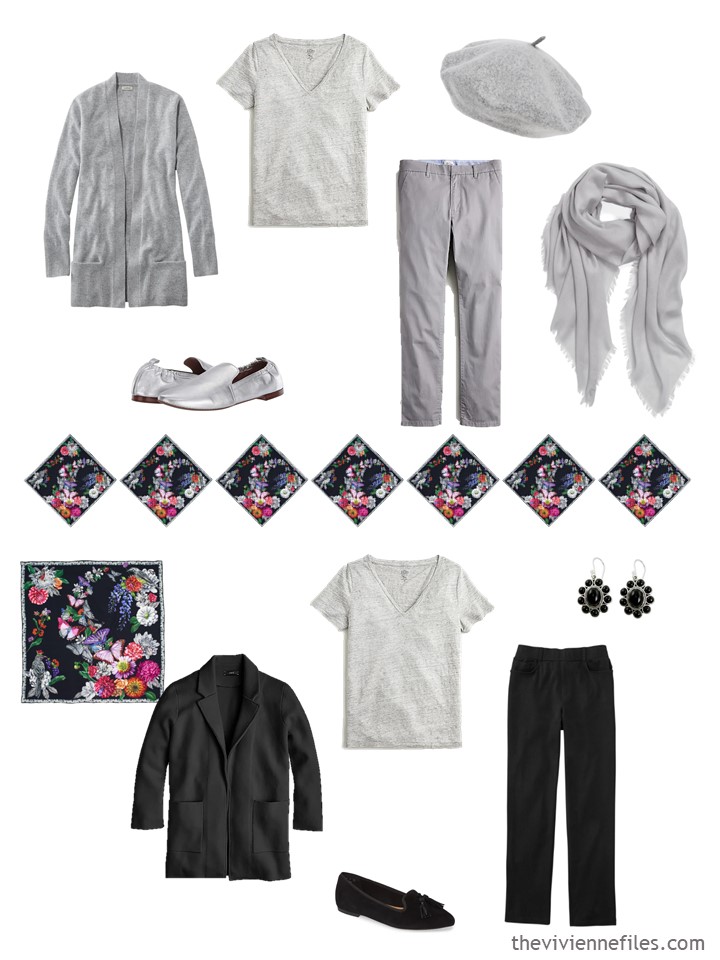 This first outfit is great – I'm not convinced by the 2nd one. Something as simple as gold socks could make all of the difference…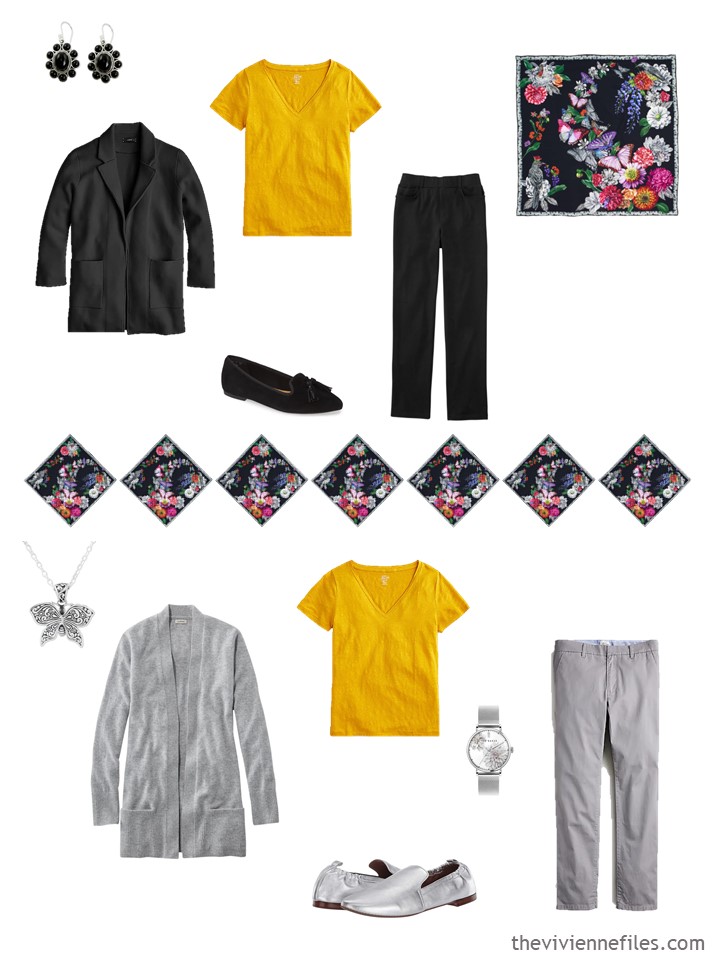 These colors continue to delight me – especially as Spring keeps delaying her arrival!
This wardrobe was in good shape for accent colors, but didn't have a navy tee shirt! Sometimes we overlook the most obvious things that would be tremendously useful.
I'm loving this wardrobe, but I can clearly see that this heroine needs a navy cardigan and pants! Or a classic navy blazer…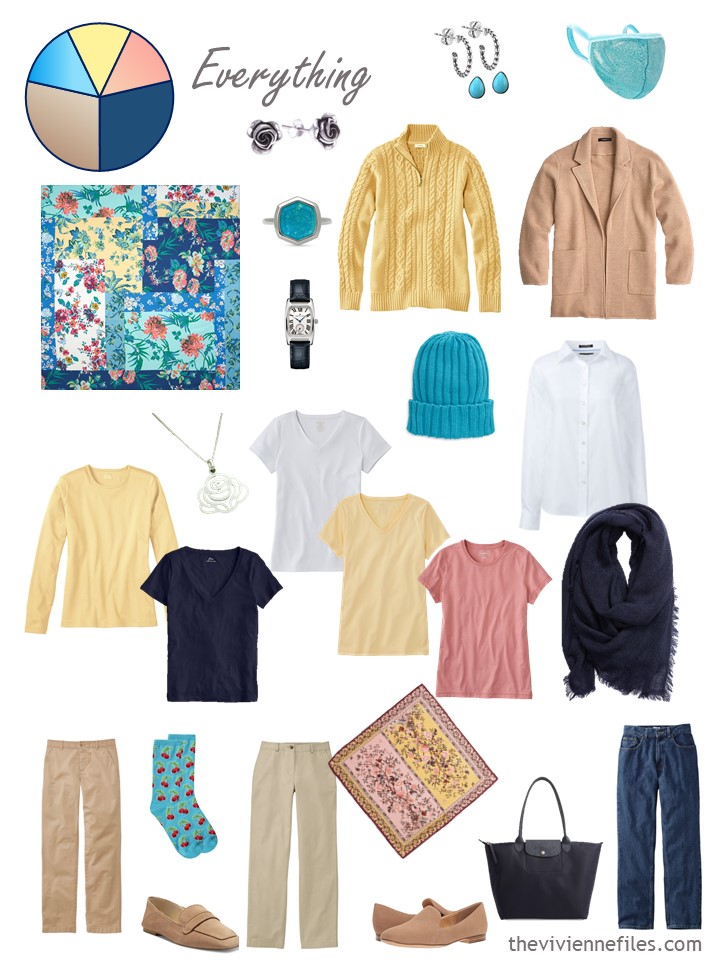 All three of these tee shirts fit into this wardrobe as if it was planned! Imagine that…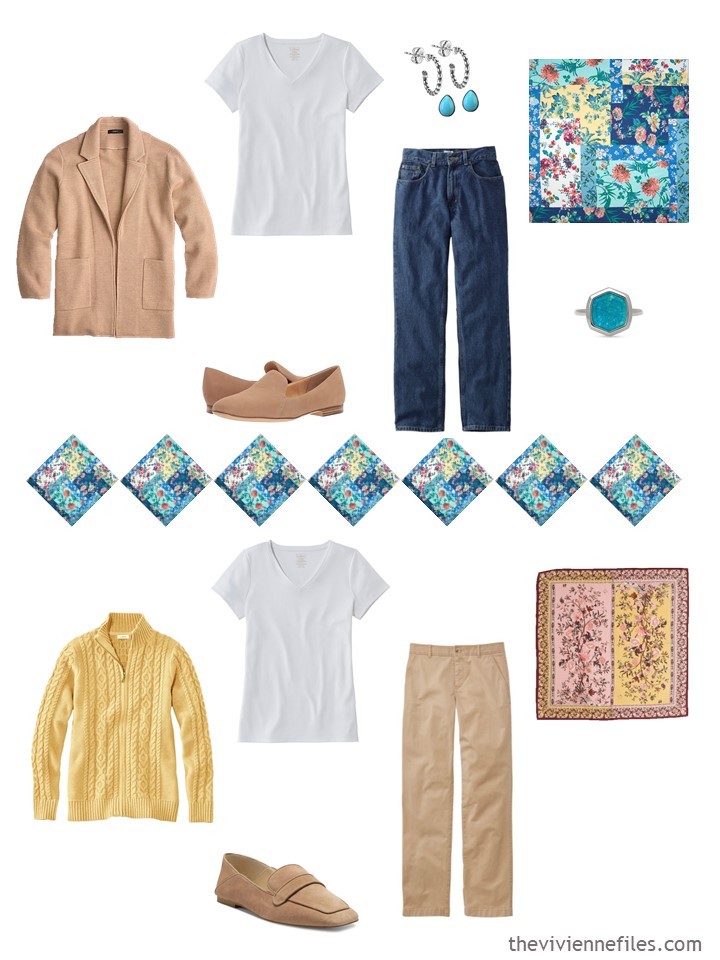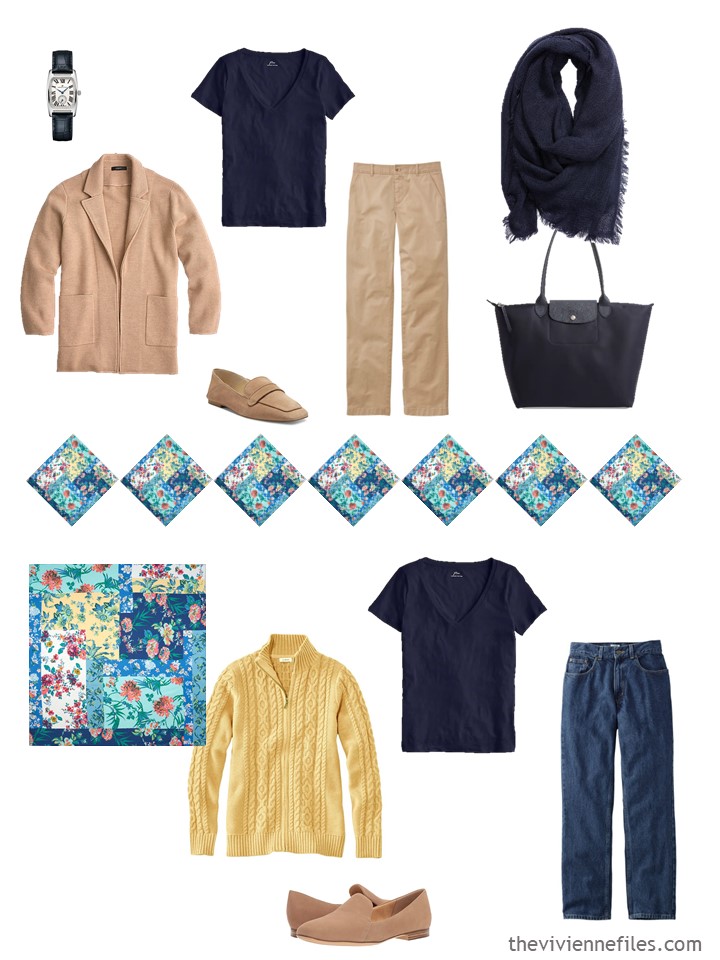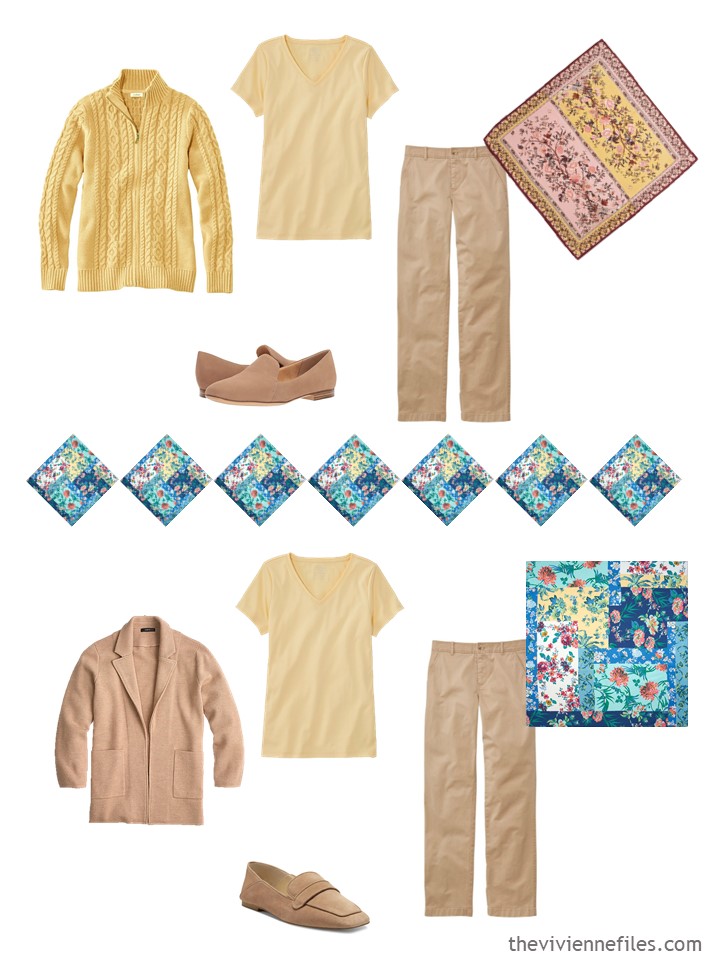 Although a ruana might not be something you'll want to wear in August, the colors are perfect for all year!
This particular heroine was in need of some neutral tops! But we'll also treat her to an amazing amethyst necklace, and a simple scarf…
You'd be hard-pressed to put together a really bad outfit from this wardrobe: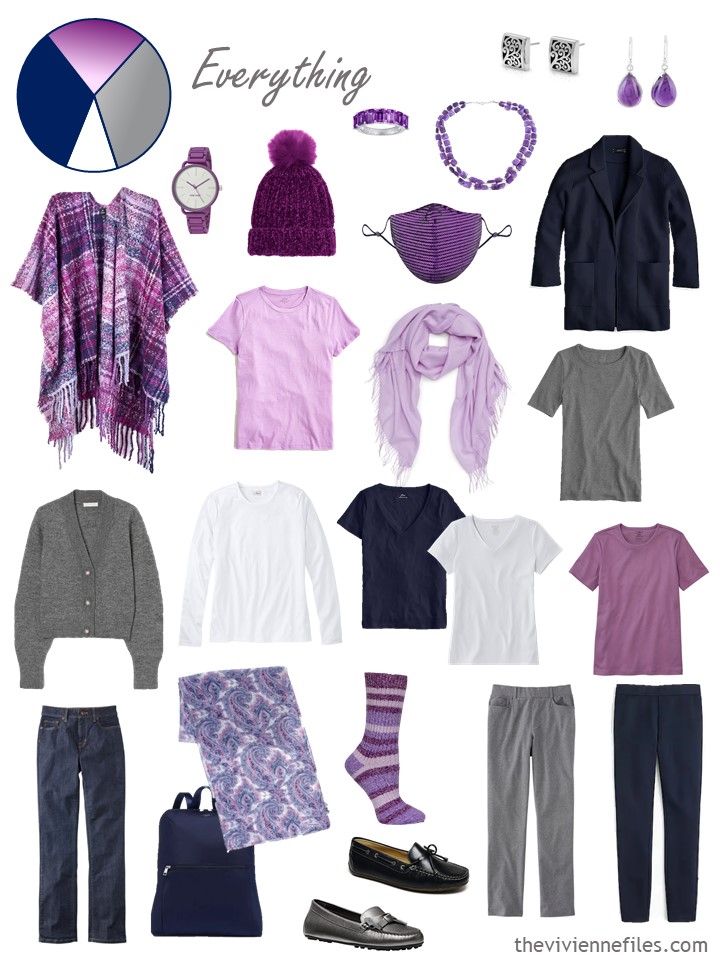 This might be the easiest color palette ever!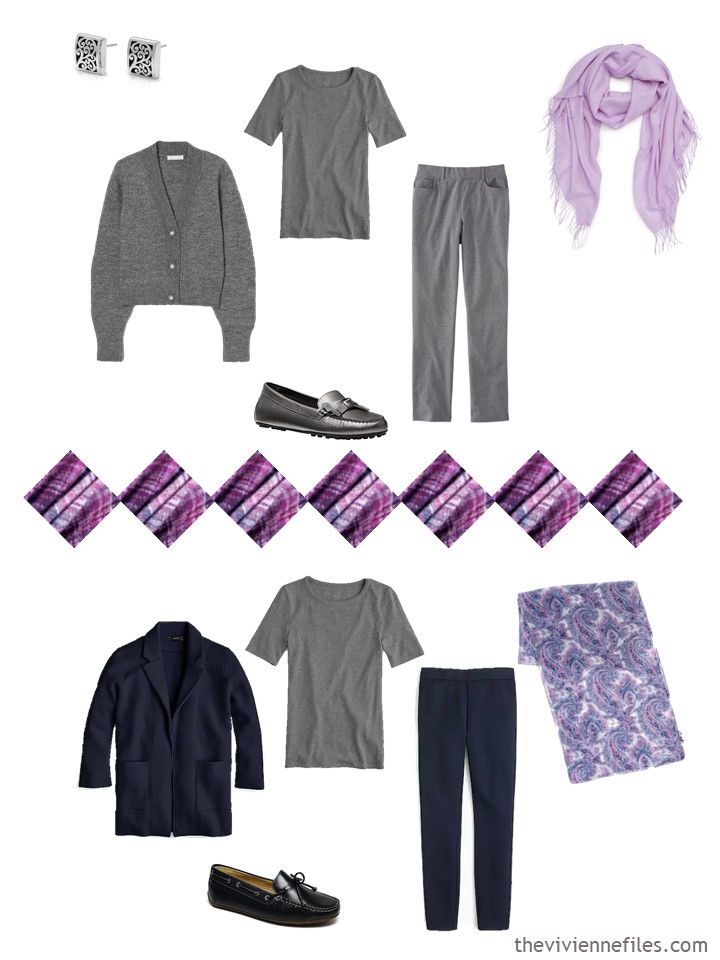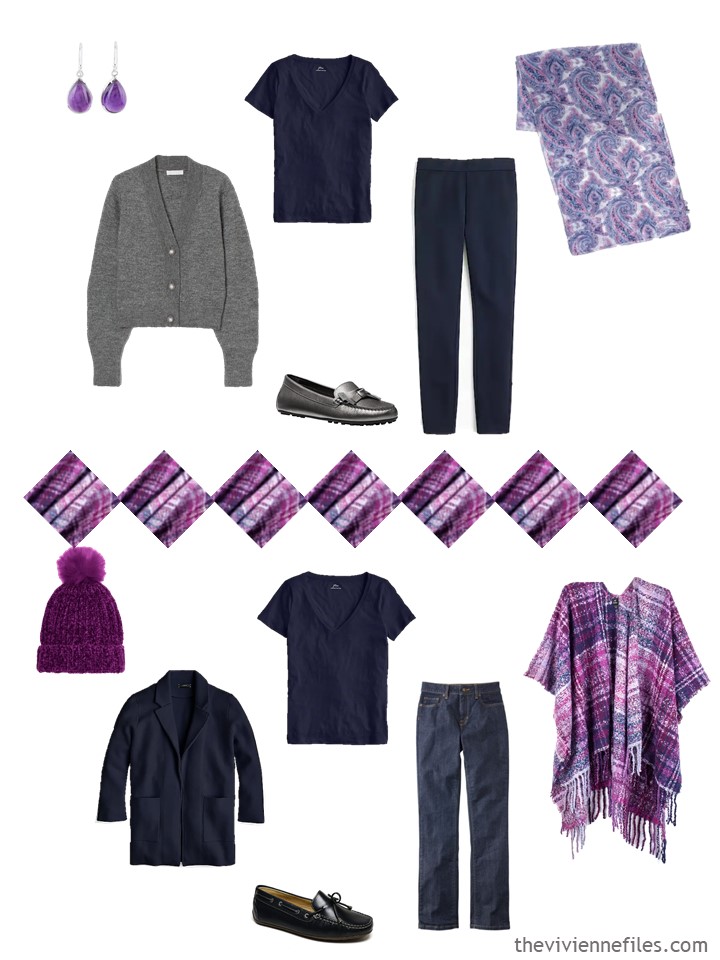 This next wardrobe could make me wish that I had red hair and green eyes…
I love these tee shirt colors! And the jade necklace is timeless…
Don't discount the number of times you will wear a neutral, solid scarf. This isn't the scarf that works to tie colors together, or accent a neutral outfit, but sometimes you just want another bit of your neutral to calm things down and keep you warm!
If you travel with this wardrobe, you will look amazing but NOT blend into any crowd!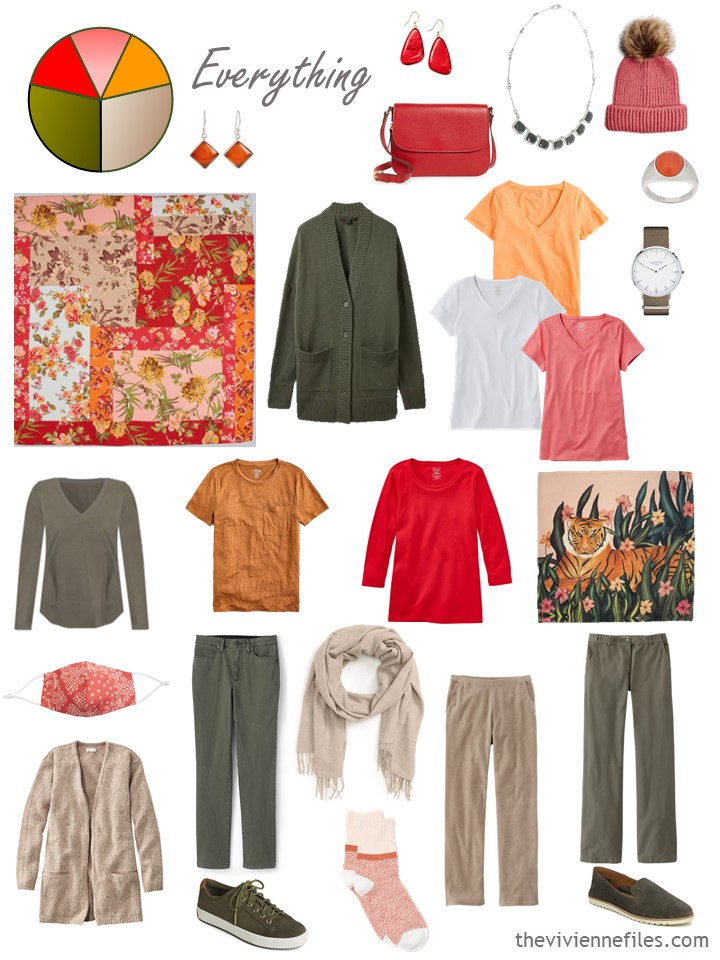 Things I learned here? This heroine really needs a pair of beige shoes! And I'd love to find a pair of olive earrings for her…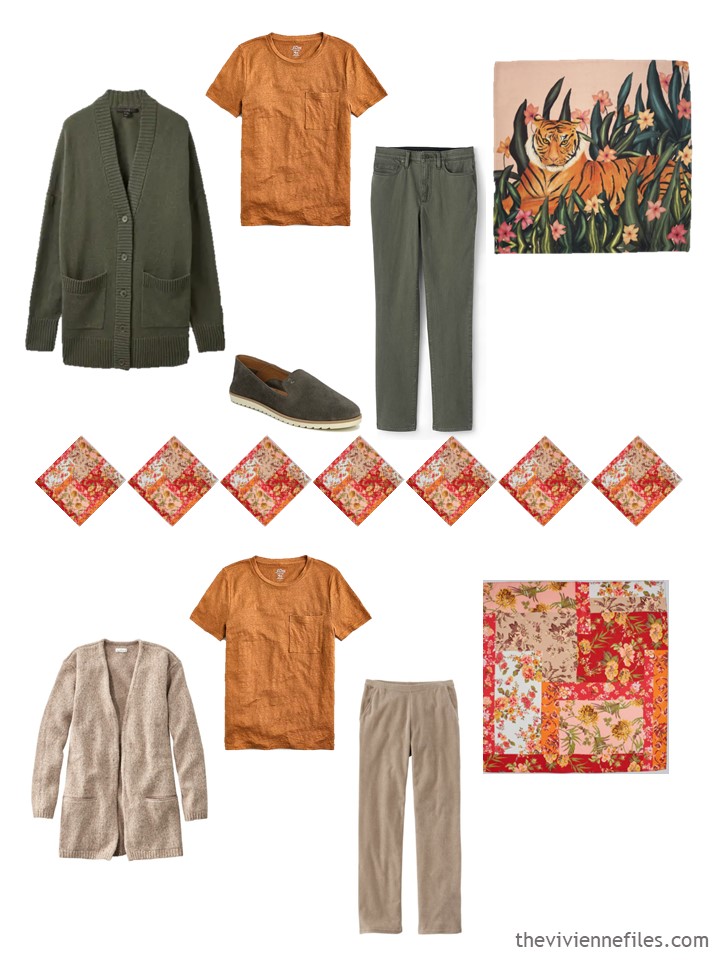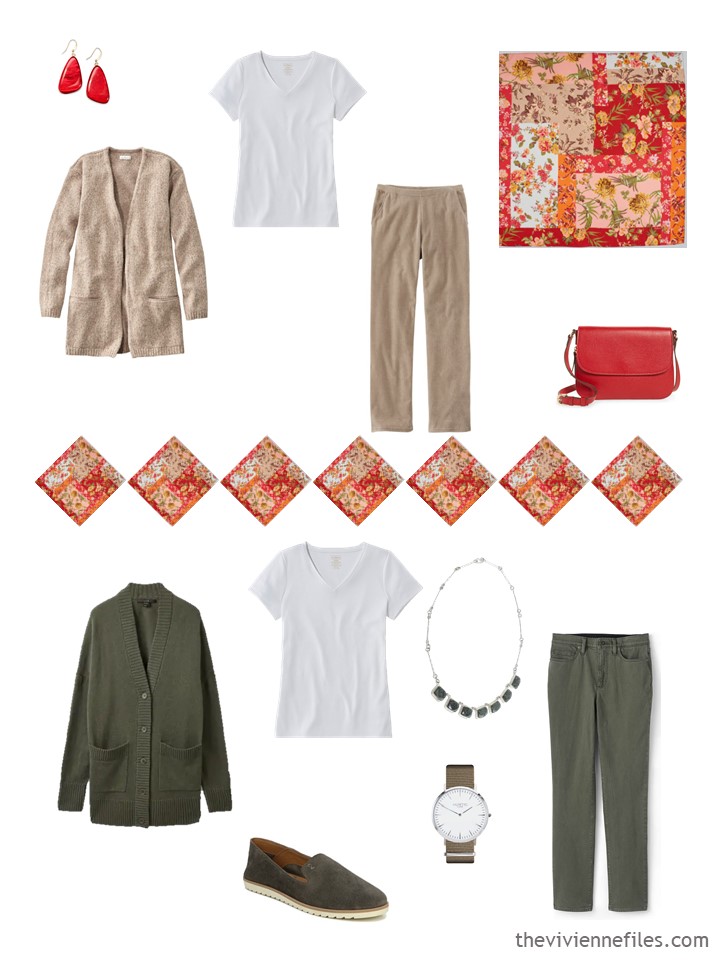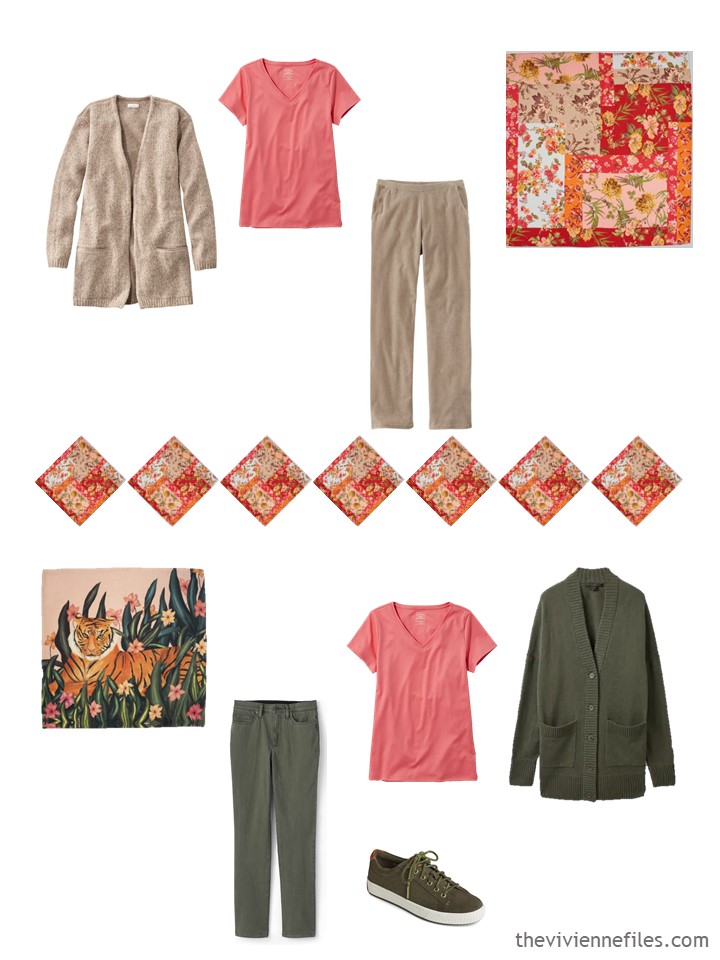 Dear oh dear… I'm learning a LOT from this next wardrobe!
First – brown is the devil in a wardrobe. Harder to find than a carrier pigeon…
Second – copying the accent colors from the first scarf might have been a bit… reckless…
So in the absence of brown, we shall concentrate on grey and do our very best, right?
Yep, this wardrobe has a few pieces that are stray, but it may yet all come together… Wardrobes are not built in a day!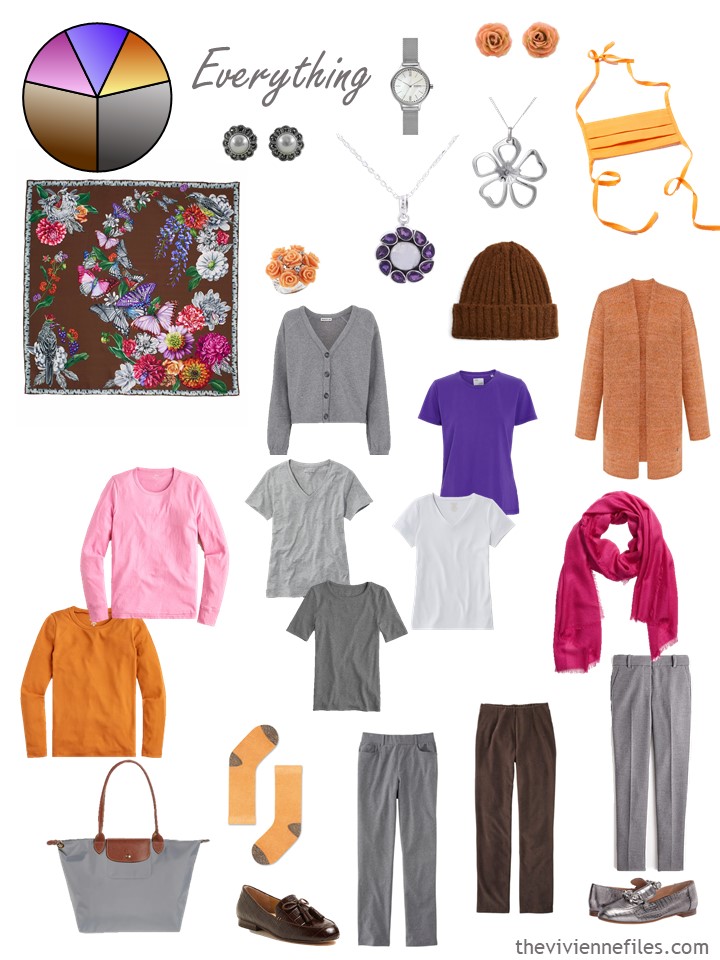 It's clear that every wardrobe could use another "suit-like" pairing of pants or a skirt with a blazer or cardigan… The current cardigan in each wardrobe are doing some heavy lifting!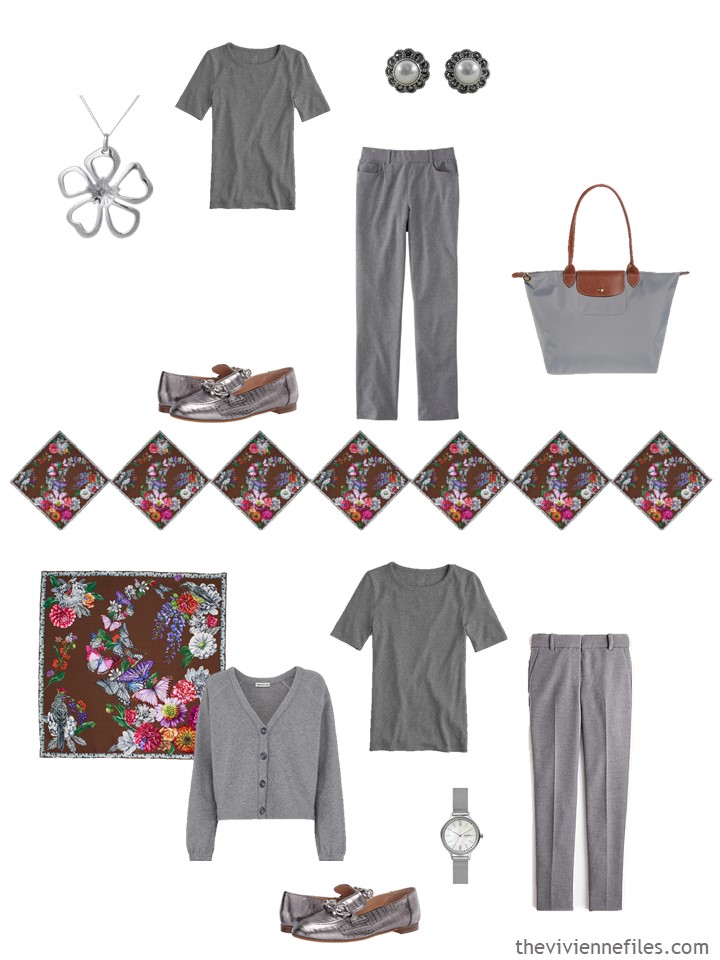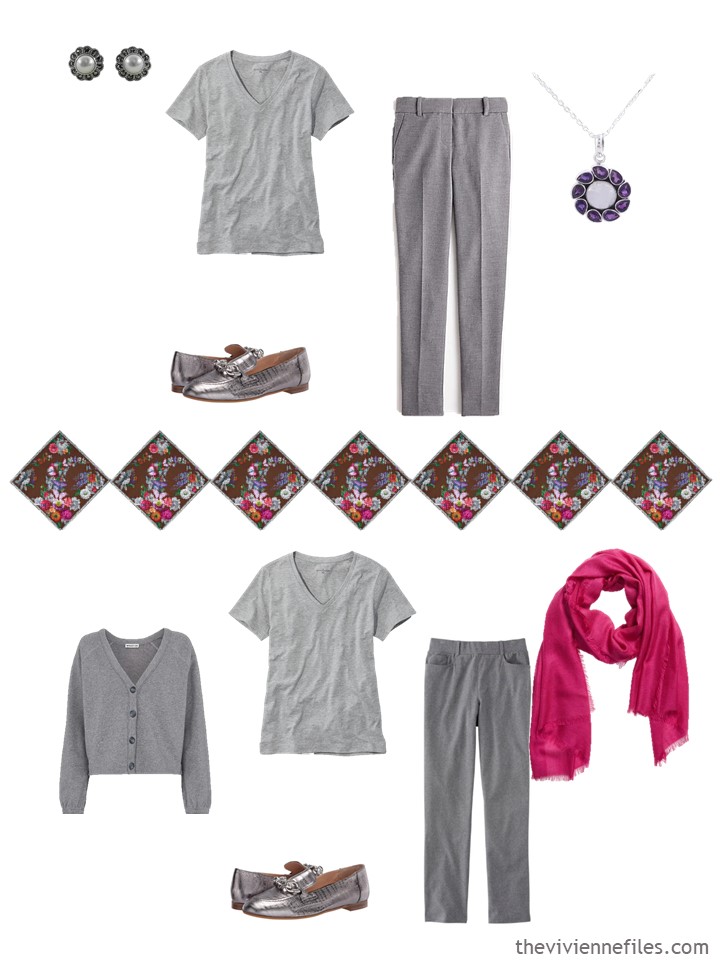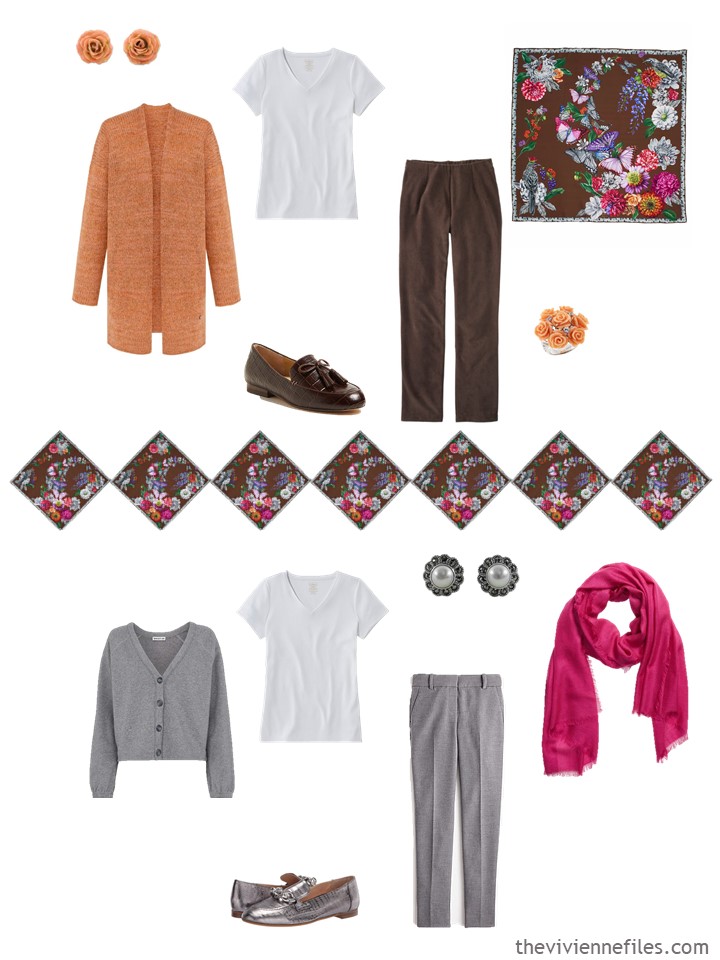 And finally our very restful palette – it continues to appeal…
The tee shirt colors that I found were glorious! The scarf is a different shade of blue – nothing wrong with that! And the necklace is stunning… quite the juxtaposition to wear with jeans and a tee shirt.
Travel with this wardrobe would be a delight – relaxed clothes with a coherent color palette and feel: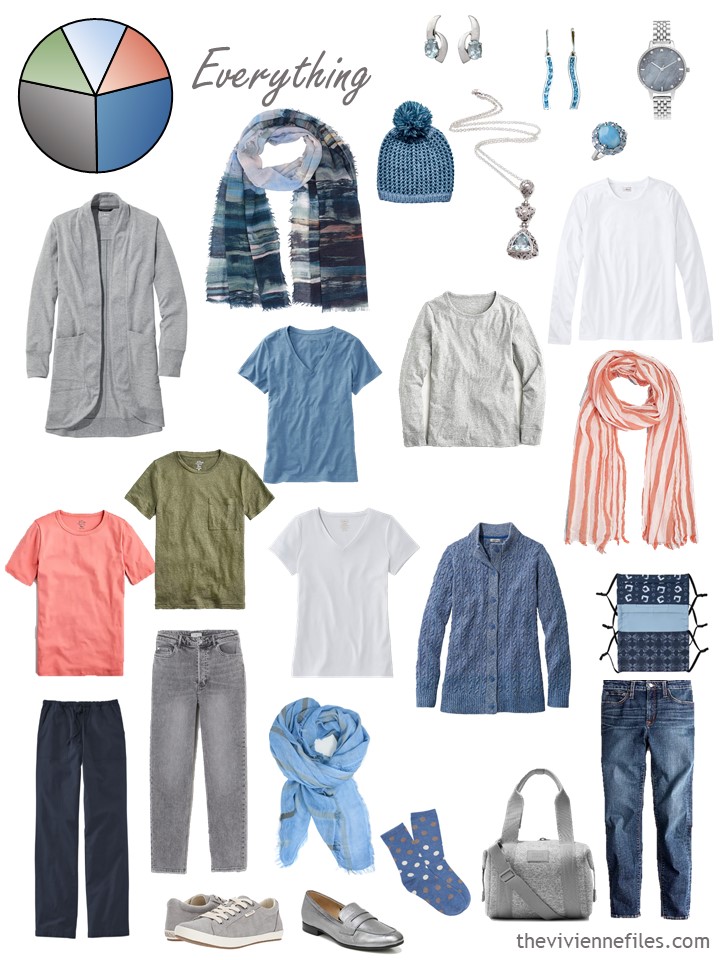 I would love to find this heroine a pair of blue shoes – not bright, nor light, but not quite navy. Maybe denim-ish?
But what easy outfits to pull together: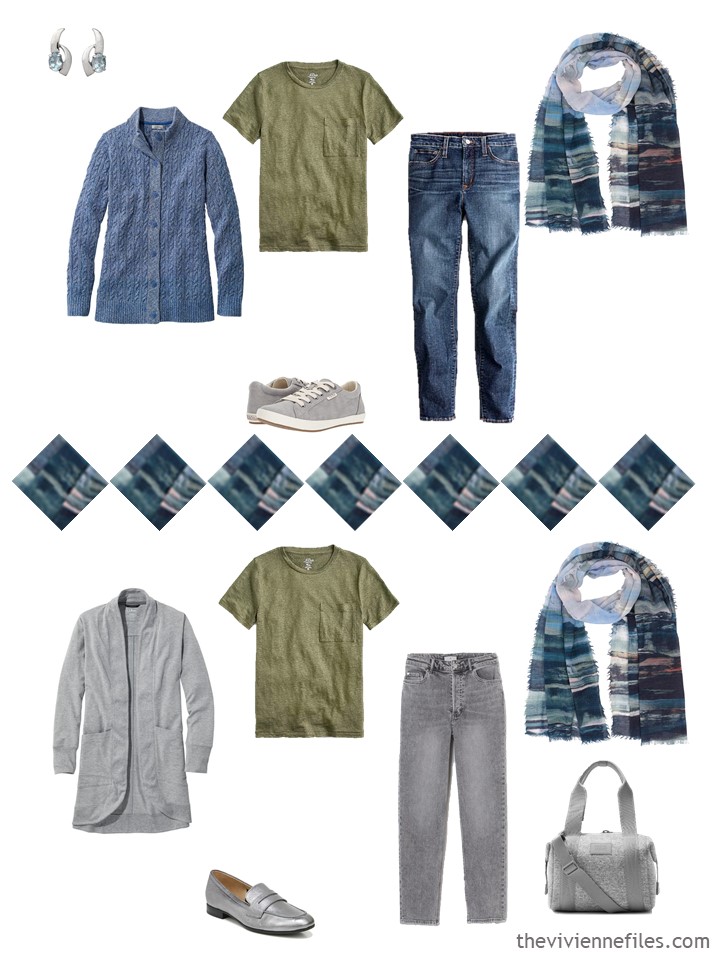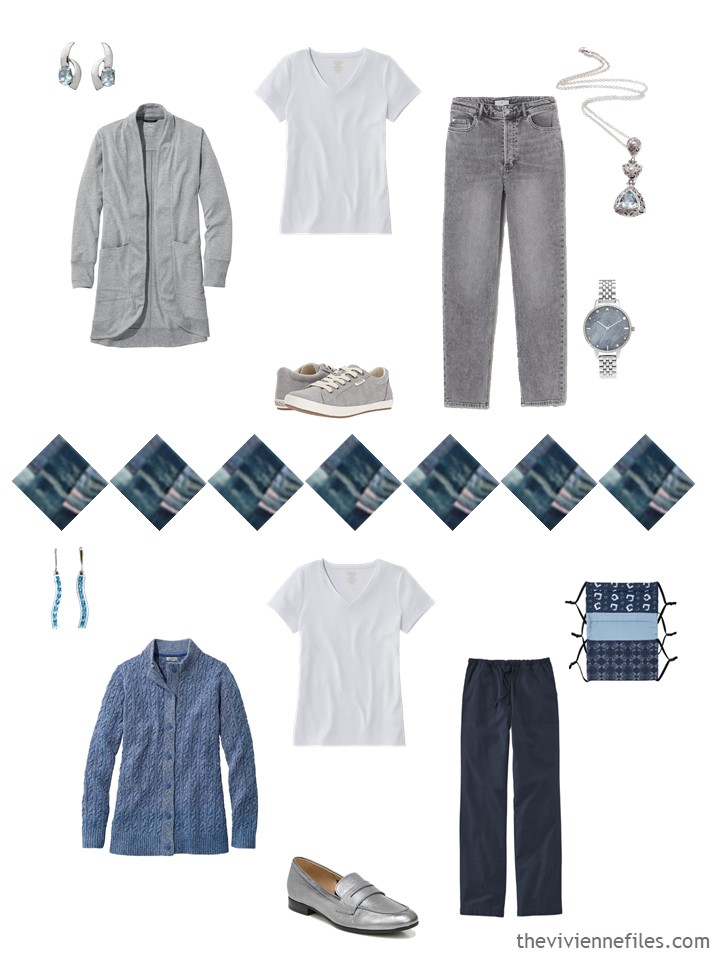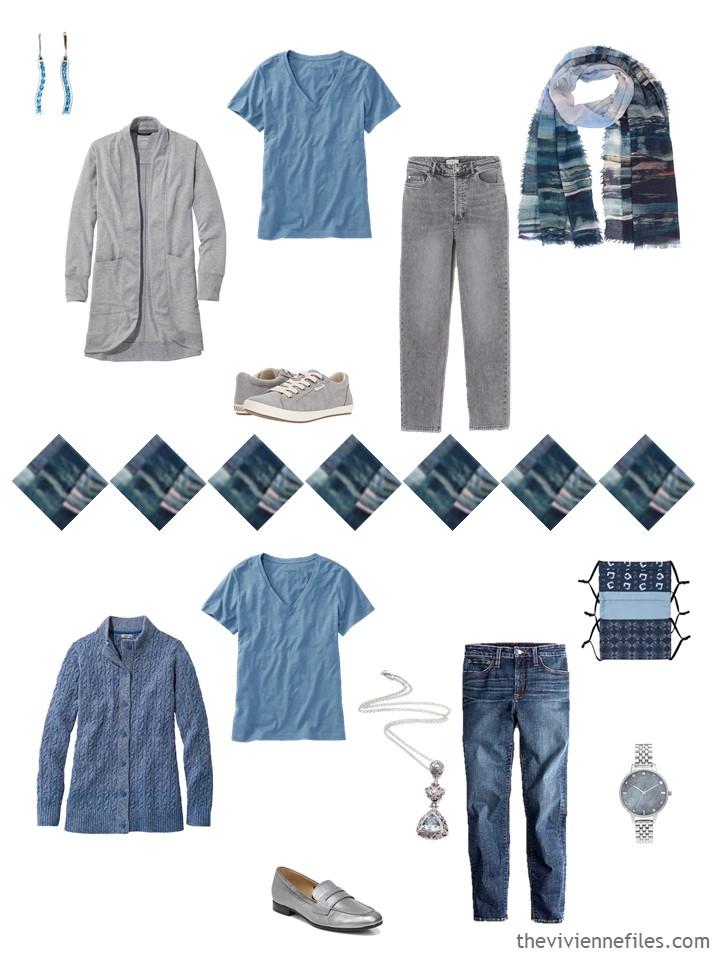 I've completely lost my way in terms of which of these wardrobes appeal to me the most – I think I'm too close to them! One can't choose a favorite child…
love,
Janice
p.s. Five years ago, I was packing a carry-on bag for Paris – and I show you the real nitty-gritty of how I fit things into my suitcase! This post could have been written for almost any trip I've taken in the last five years….