Remember, my bag is a hard-sided Tumi carry-on, very much like the great-grandmother of this beauty:
My bag is pretty "whacked" on the exterior, but remains in very secure, solid condition! One of my better investments, I have to say…
One of the things about rolling bags that makes packing difficult is that the interior bottom of the bag is bumpy – the bars for the handle run through the bag and make the "floor" of your packing area bumpy. So the first thing I always try to do is use unwrinkleable things, like workout clothes, to level the floor.
Here, I've taken running tights, rolled them into long cylinders (fold in half at the knee, and then roll a few times), and then placed a pair of these into each of the "ruts" in my bag. I then put my tee shirts and skorts on top of the tights, in order to further flatten out the bumpy surface. (running tights are NOT like regular tights – they're more like yoga pants, i.e. completely INAPPROPRIATE for wearing anywhere EXCEPT while exercising).
So far, it looks like this: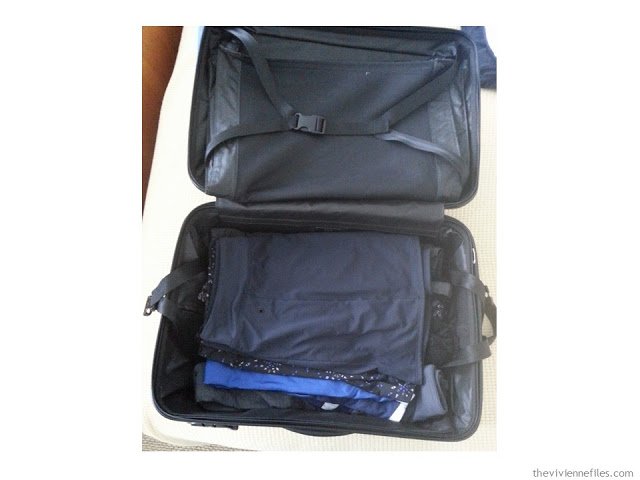 Hmm, running tights to smooth out bumpy bottoms…. makes sense!
Next, I take all of my scarves, and my lone tee shirt, and put them into a packing cube which unzips on 3 sides. I really want a cube that opens up this way, so that I carefully place things into it and try to minimize wrinkling: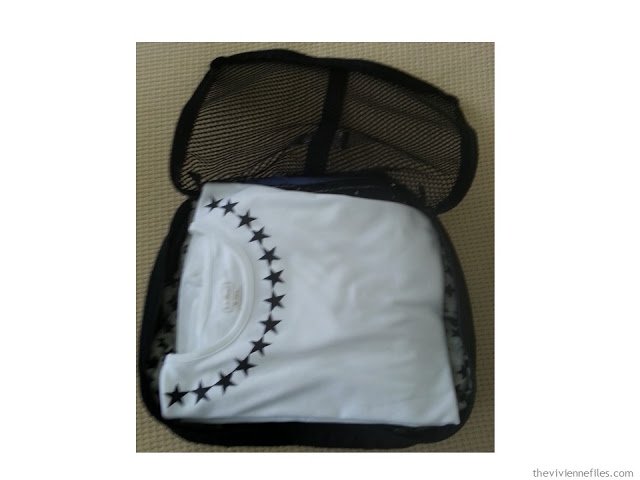 All zipped up, you can still see what's in here. I put the tee shirt on top for a bit of protection if something bizarre happens in my bag. I'd be hacked off if the tee shirt gets damaged, but I'd be MORE upset to have something happen to my scarves!
This style of packing cubes might not even be available any more; I've had them at least 15 years. They're one of those things that you think is a silly purchase, at the time, and then 15 years later you realize that you were a genius the day you bought them.
One thing I don't use for vacations is compression bags – yes, you can get a TON of things into a suitcase if you squish them down really tightly and suck out all of the air. But there are 2 issues:
Your bag weighs a TON, because it's so densely packed, and
all of your things are wrinkled to the point of almost permanent unwearability.
I use them for dirty laundry, for the return flight, for which the whole airtight thing is wonderful; it's great to be able to squish down all of your dirty stuff and find a bit of space in your bag for purchases. We also use them when we're relocating and checking enormous duffle bags. So yes, I own them, and will lay one of top of this bag before I zip it up, but no, I never use them for leisure travel normal packing.
Next, I use a cube from Standard Luggage for lingerie, tights of the hosiery family, and my flowered pajamas! These cubes only open on one side, which makes them unacceptable for me to use for clothes that I want to keep tidy. But this lovely thing has a Velcro tab on the back that makes it "hangable" over the bar of a hanger! So I can get it out of my suitcase, (along with everything else) and put said suitcase up on top of an armoire, or hide it somewhere else. Unpacking completely, and thus NOT tripping over my bag during my entire vacation makes a tiny hotel room feel much bigger.
One thing that you can't see in the Standard cube is my silk pillow case. I know, I know, that sounds so "Princess and the Pea," but my hair tangles like head-borne macrame, and using a silk pillow case can easily save me 5 minutes a day untangling the Gordian knot with which I often wake up. Plus it's supposed to be good for minimizing my wrinkles! If you're going to go down this path, make sure you buy your pillowcase in a color that won't probably blend into the hotel's decor; mine is graphite gray! (Mine is from Soft Surroundings; available in a lovely array of 10 colors)
These cubes from Standard can also be fastened together using the Velcro tabs. So if B packs his "smalls" in one of these, we can hang them both from 1 hanger…
Shoes, the bane of all travelers! I take 2 very soft, low-cut but comfortable pair of flats. I pack them in a big drawstring bag that came with a pair of shoes (about 10 years ago); I lay each pair of shoes with the toe of each shoe tucked into the other shoe's heel, and then I stack them, stuff them, and roll them tight. 2 pairs of shoes become a fairly compact fabric and leather burrito!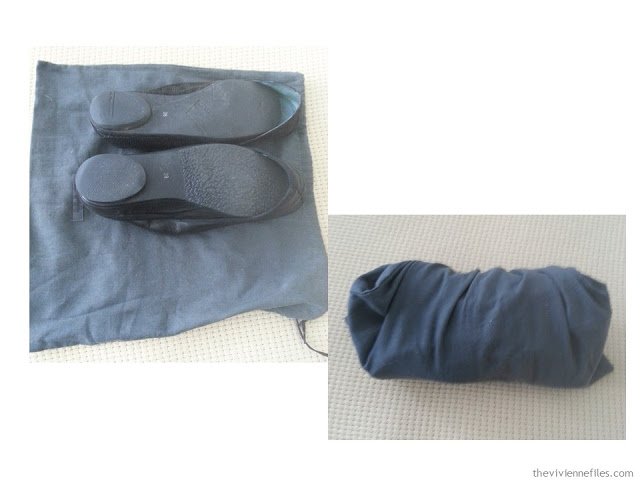 I travel with a TON of jewelry; I take literally every pair of earrings (because I only wear small studs), as well as a couple of bracelets, 3 or 4 necklaces, a few rings, and a handful of headbands. Everything fits into a zippered fabric bag that I bought from a seller on Etsy, 5 or 6 years ago. The bag is attractive enough that I could use it as a clutch bag, and padded enough that my things are a bit protected. Still, I make sure that I squeeze this bag into a spot where it won't take much of a beating…
Etsy has a ton of things like this bag available, but make ABSOLUTELY sure that you're buying from a real, individual craftsperson, and not a sweatshop in another country posing as a lone skilled seamstress. I so wish that Etsy hadn't loosened-up their seller guidelines…
Now, to the packing….First, I draped each dress lengthwise across my bag – each dress is just about as wide as my bag! I suppose I could have alternated the necklines and hemlines, but I didn't….
Then, right on top of the dresses, I put my shoes (my running shoes are underneath, in one of the gulleys formed by the bars that hold the handles), and both of my cubes right on top of my dresses, like this: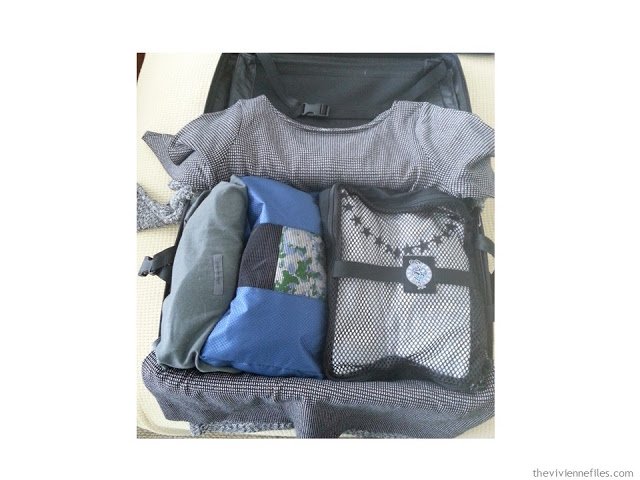 Then I fold (very carefully and neatly) the necklines of my dresses over the bags, and then I fold them hemlines up, too. I can then secure this whole bundle with the straps in the bag, and voila:
There's still room on top of THIS for my toiletries, and the bag still closes easily. My toiletries have never leaked in my life, so far, but I will probably put that bag into another Ziploc bag, in a moment of wisdom and good judgment!
Everything else will be in my Agnes B. handbag. I'm still debating about taking my tablet – I don't really read all that much on the flight over, and it's kind of fragile, even in a case. I will buy books in Paris, so I'll have something to read on the return flight. My handbag ALWAYS has a wee plastic container with some candied ginger in it – I am the goddess of motion sickness, and I swear by the efficacy of ginger.
I'm home all day today – any questions?
yes, I'm getting very excited…
love,
Janice