March 30, 2016
Belovedest and I are going BACK to Paris on Friday! Yes, I was just there in December…And I'm going to try the strangest variation on packing yet – since we're only there for 6 nights, and since I always fly back from Paris in the same outfit I wear for the flight over (with a change of tee shirt), I'm just packing three dresses, which will cover the 5 full days that we're there. Two pair of ballet flats, and a stack of scarves…. This is going to be interesting!
I'm sticking pretty close to my uniform for packing – tee shirt, cardigan, scarf, and pants that won't collapse after 8 hours of sitting. This cardigan is going to be really handy on this trip, as I can wear it over all 3 dresses, depending on the weather. If it's really cold, I can wear both the cardigan and my jacket. My legs don't generally get cold unless the temperature drops well below freezing, so I'm not worried about wearing dresses with tights…
My jacket is a MUCH older version of this, and my suitcase is maybe the grandmother of this one – my bag looks like it's been through a trash compactor a couple of times. I prefer to think of that as luggage patina… but it's a tribute to how well made the bag is – it just won't fall apart, no matter how bad it looks!
This is all of the "normal" clothing that I'm packing – a clean tee shirt for the trip home, and three black and white dresses! It's hard to tell from this, but the dresses are really pretty dissimilar, one from the other. This is an experiment, I admit…
(none of the dresses are still available – sorry!)
Here's where the real fun of this trip is going to be – mixing printed and textured dresses with accessories!
(It's really by accident that all of my jewelry is from Majorica – as much as I love their high-quality fake pearls, I didn't really plan to do this…)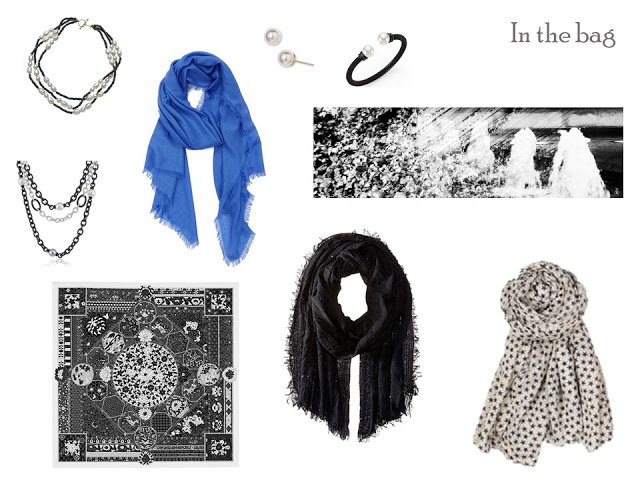 pearl necklace – Majorica; pearl and chain necklace – Majorica; blue scarf – Nordstrom; pearl stud earrings – Majorica, pearl bracelet – Majorica; rectangle scarf – Image Diary; square scarf – Hermès Collections Imperiales; sequined scarf – Echo; stars scarf – Becksondergard
This is a big reason that I'm packing so little – we're planning to go to the Luxembourg Gardens every morning to run. (well, B will run, and I will do my rehab exercises…) We plan to rinse out our clothes and wear them on alternate days. Happily, workout clothing dries really quickly, so this should work out well. But still, by the time you've got shoes, and gloves, and a jacket, it still adds up.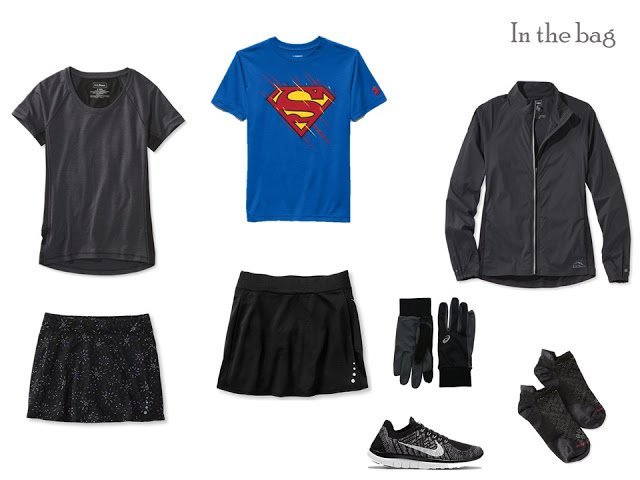 Grey top – L.L.Bean; print skort – L.L.Bean; Superman tee – Under Armour; black skort – L.L.Bean; jacket – L.L.Bean; gloves – Asics; shoes – Nike; socks – Smartwool
The L.L.Bean workout gear is really great – especially the skorts. I've had running skorts in the past that were so short that they were more of a "butt ruffle" than a real garment; these are long enough that the legs of the shorts stay in place, and the skirt covers everything you want covered – even when you're moving. It's nice to be able to not worry about inappropriate exposure when you're exercising!And this is everything that will be in my suitcase (well, I'm taking pajamas, and toiletries, too):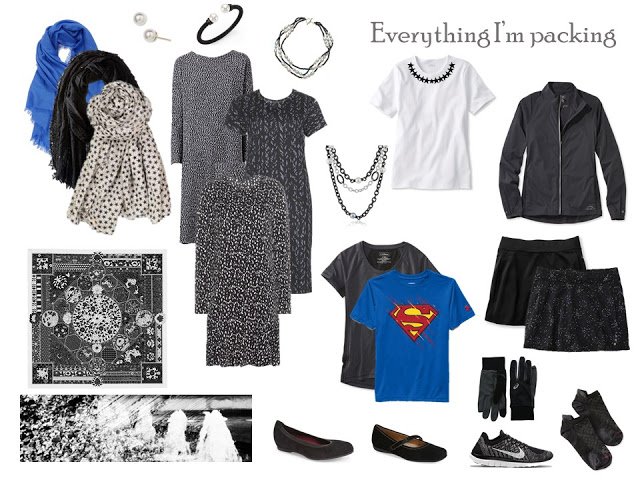 If all goes according to plan, my suitcase will have a bit of wiggle room, so that I can make a couple of purchases that have been requested by friends. I don't have anything on my shopping like right now, which doesn't mean for a heartbeat that I won't buy something!
And this is the entirety of my stuff that I'll have with me; I particular like the two tee shirts that I customized, using my iron-on skills!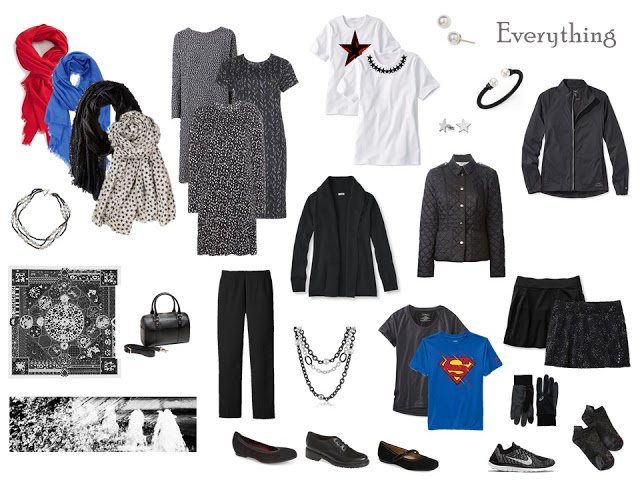 Is this plan madness? We shall see….
Tomorrow I'm going to show you how it all goes into the bag, and what odd little packing accessories, packets, sleeves, and assorted gizmos I use… (I know that I said day after tomorrow, but that's April first, which means "One outfit per month!")
love,
Janice