April 1, 2016
What fun! I was really eager to get to these outfits, and see how the assembled capsule wardrobes continue to grow. For April, I was thinking of an outfit that provides a transition between seasons, and gives us a couple of solid basic garments (and some fun jewelry!).Capri or cropped pants are the kind of garment that can be worn twice a week for the next six months, so it's important to get these into your wardrobe early. I chose really basic neutrals for all six wardrobes, so there's lots of different ways for them to work for you.
A sweater might seem sort of counter-intuitive going into warm weather, but these sweaters are all either linen or cotton, so they can be tossed over your shoulders as necessary, without looking bushy or fluffy or otherwise inappropriate. At least in Chicago, April gives us no guarantee of warm weather!
Ballet flats might not work for everyone, but you can certainly substitute with any comfortable shoe that's got a feeling of openness, and the potential to be wearable with both skirts and pants.
The early months of outfits are available here – January, February, and March. And these are the scarves that I'm using as the leitmotif of each capsule wardrobe: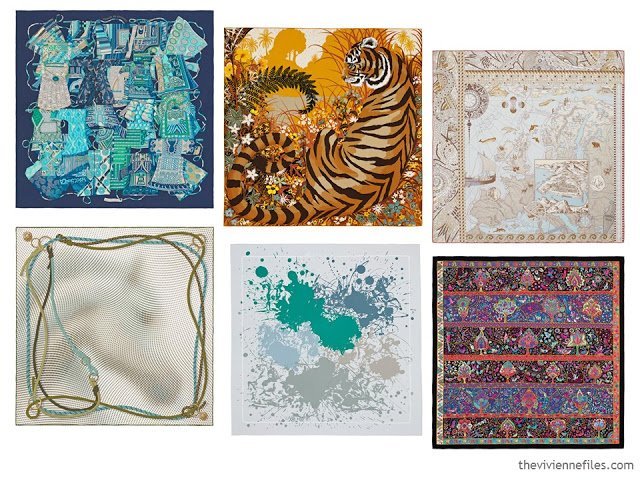 Navy– Hermes Voyage en Etoffes; camel – Hermes Tyger Tyger; beige –Hermes Le Voyage de Pytheas; olive – Hermes Cheval Mirage; grey – Hermes Cheval Surprise Remix; black – Hermes Au Pays des Oiseaux Fleurs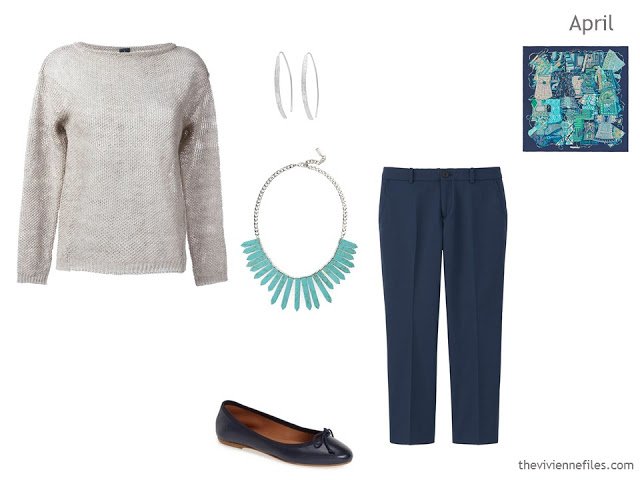 sweater – Eleventy; earrings – Pichaya; necklace – BaubleBar; ballet flats – Summit; cropped pants – Uniqlo
Adding this simple outfit (and cool jewelry) the the previous months' outfits gives us a wardrobe like this: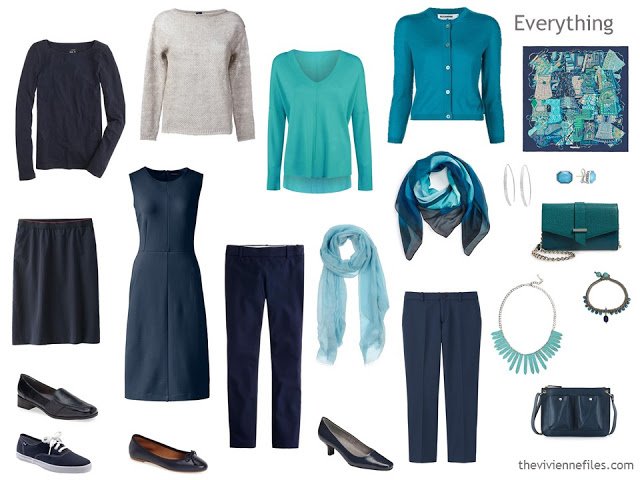 And so on…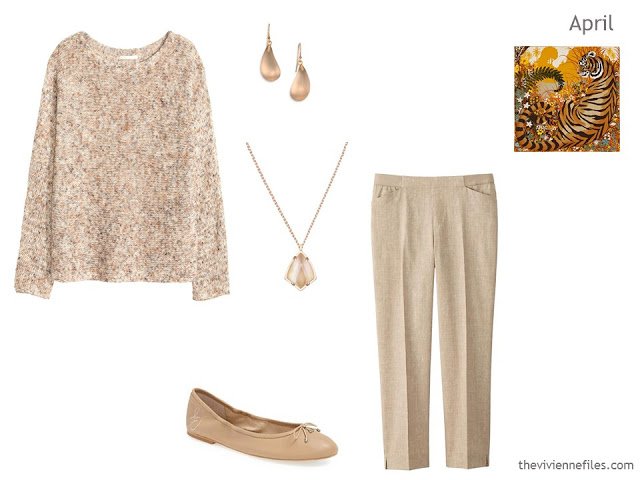 Sweater – H&M; earrings – Alexis Bittar; brown mother-of-pearl pendant – Kendra Scott; ballet flats – Sam Edelman; cropped pants – Uniqlo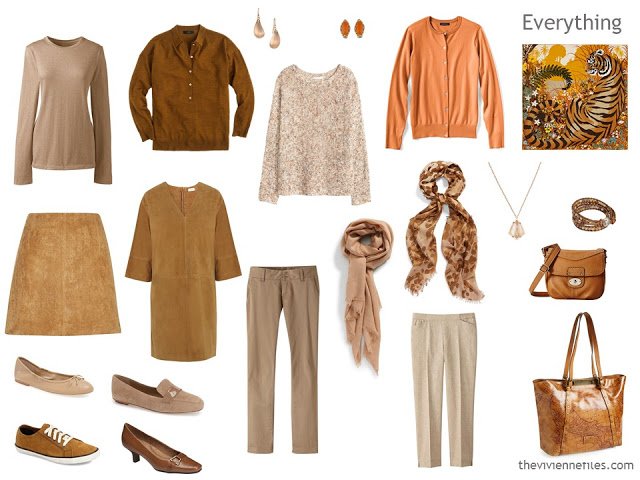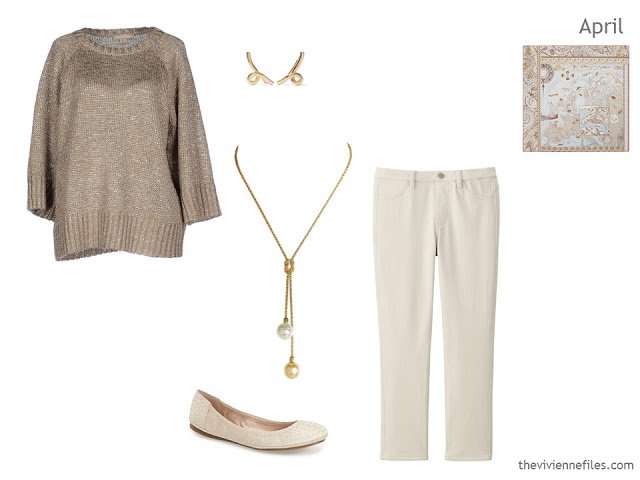 Sweater – Michael Kors; earrings – Jennifer Fisher;
necklace – Majorica; ballet flats – Vince Camuto;
cropped pants – Uniqlo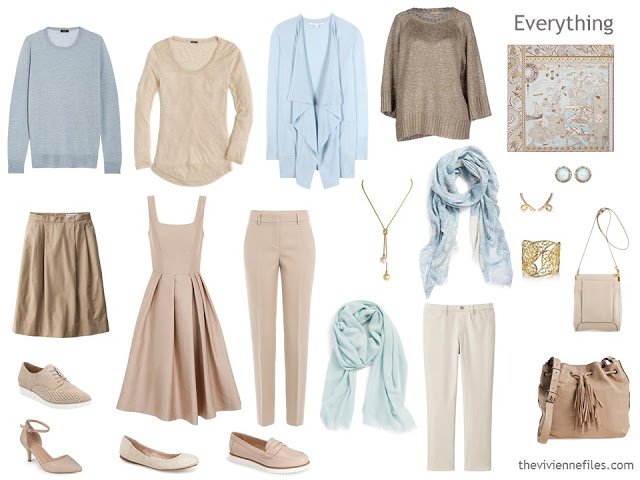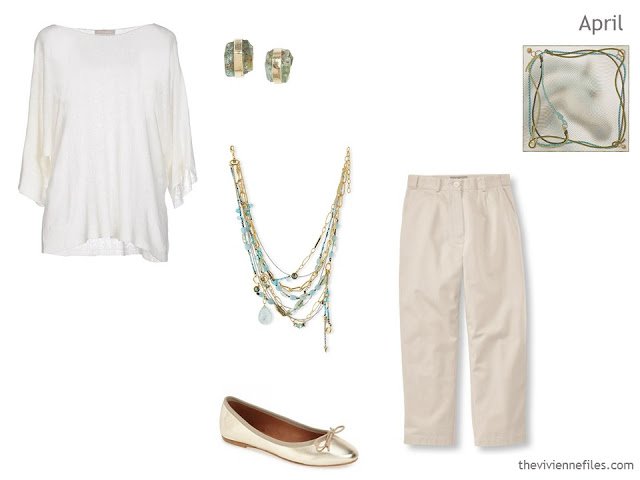 Sweater – Stefanel; earrings – Melissa Joy Manning; necklace – Alexis Bittar; ballet flats – Summit; cropped pants –
L.L.Bean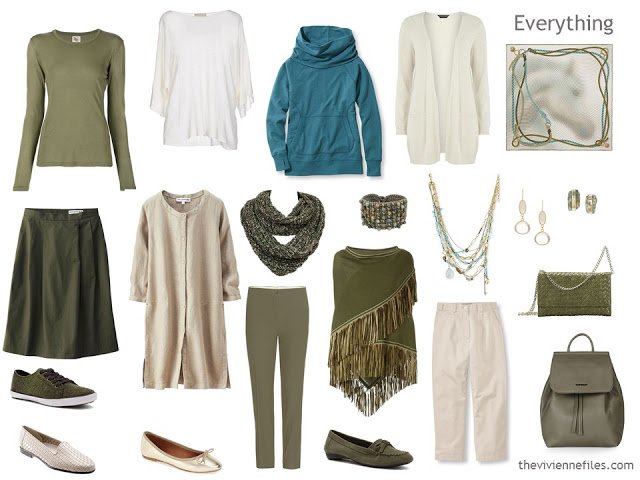 Both the earrings and the necklace were chosen because of their feeling of fluidity; I thought with a scarf that looks like splashed paint, a bit of the liquid would be perfect!
And notice how the trim on the shoes feels like it's the same color as the watery greyish blue sweater? I love these kinds of details…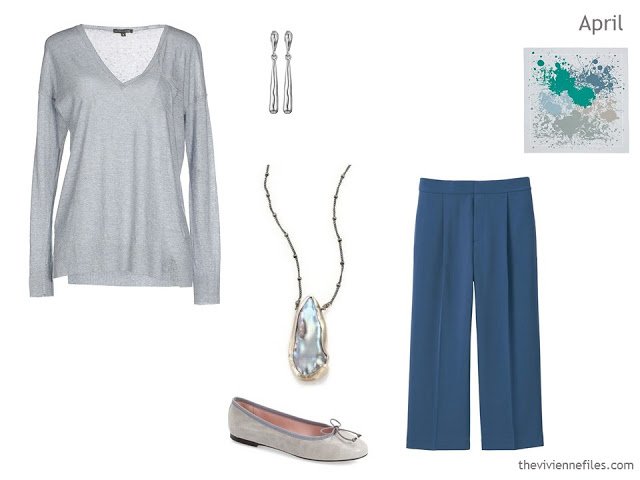 Sweater – Scaglione; earrings – Karen Kane; necklace – Chan Luu; ballet flats – Patricia Green; pants – Uniqlo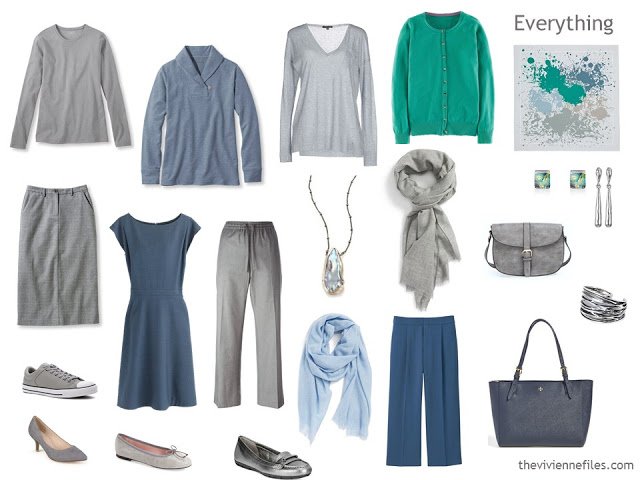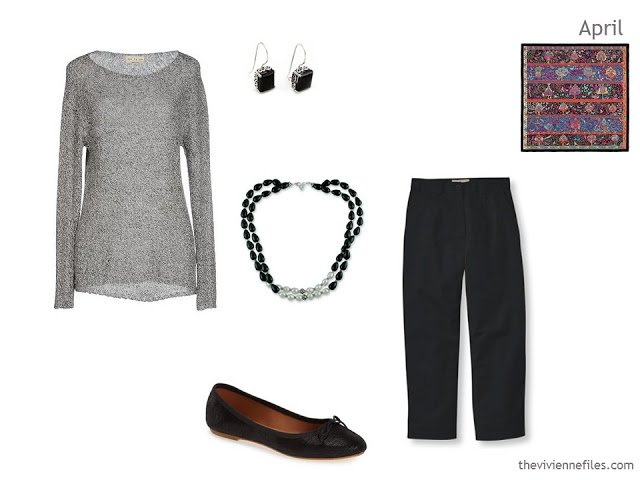 Sweater – Ma'Ry'Ya; earrings – Sukartini; necklace – Narayani; ballet flats – Summit; pants – L.L.Bean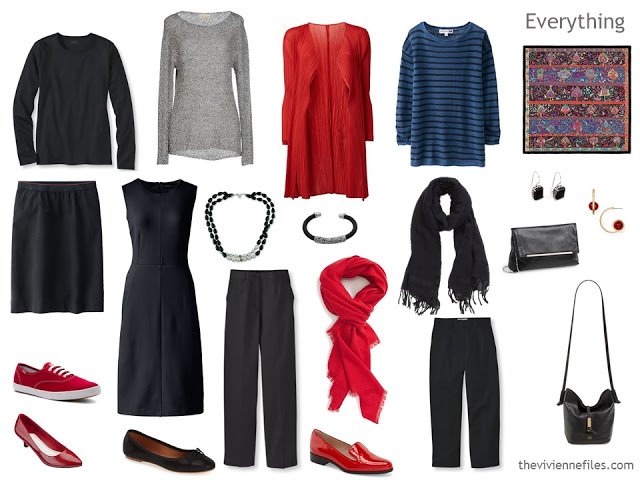 I feel like these more neutral outfits bring a bit of balance to each wardrobe; the earlier outfits often included strong "statement" garments. These more "core" pieces are a versatile addition that gives each wardrobe more flexibility. Adding a necklace was a deliberate choice to provide a new way to wear the dresses in each capsule, and earrings are added just because I like earrings….
love,
Janice