September 14, 2020
Well, THIS is Interesting….
She went to Cambridge, met with the lead actors, sat with them through a read-through of the entirety of Hamlet. It was great fun – she loved the people and the setting and their whole approach.
She thought it was finished when she got back in her car and left Cambridge…
Remember, this is the painting that she's using as her inspiration: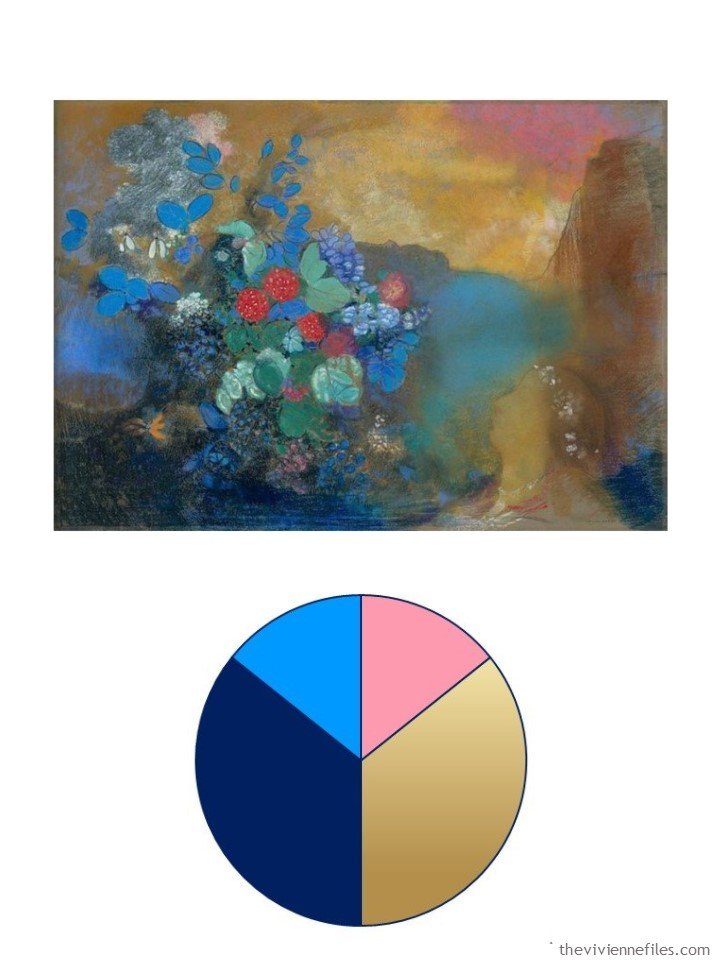 When she packed for her initial visit, it wasn't too tough; wear 1 3-piece outfit, pack 2 more 3-piece outfits that go with each other, as well as what you wear while traveling. In theory, you could have as many as 36 outfits…
WELL… The director has an ill family member, and now must quarantine. And now our heroine has been invited to direct the play!
Not that she's ever done this sort of thing, but these are the times that challenge us all to step up and stretch our skills and abilities, right?
So she's going to be staying there for a bit – in a lovely wee hotel room, with delightful service and excellent food. Not a bad way to pass time while immersed in Hamlet!
She's going to be methodical about her packing – she's driving back and forth, so she isn't really limited for luggage space, but she doesn't want to be overwhelmed in her room, nor in her mind each morning as she gets dressed.
Thus, she starts a 4 by 4 Wardrobe using the core 9 navy and camel garments that she wore for her first trip. (she's feeling a bit like that trip was a job interview!)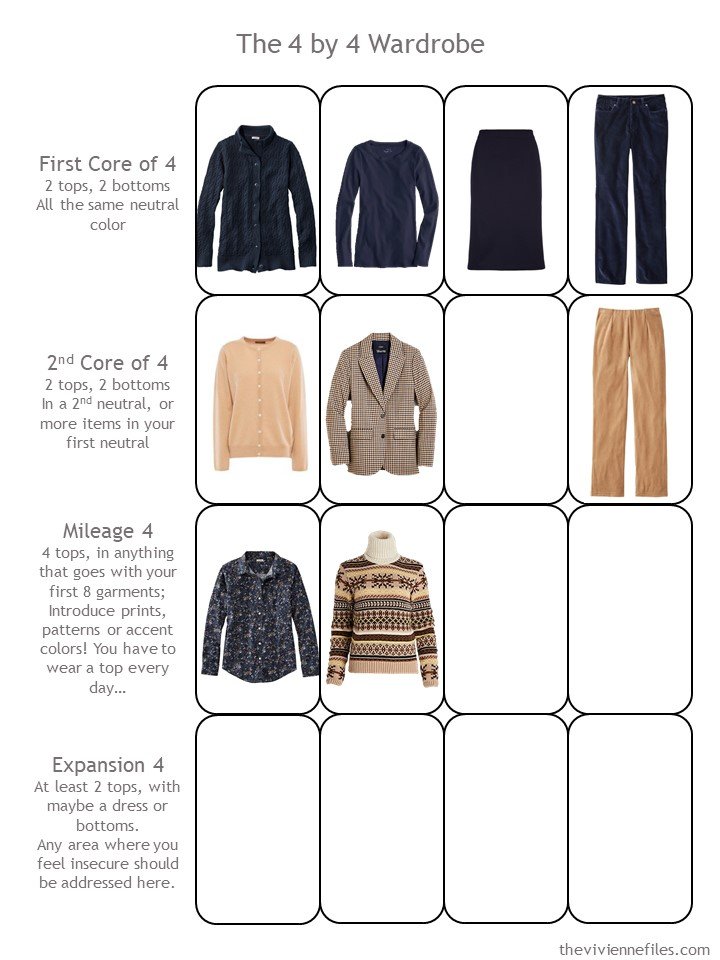 Ah, that incomplete 2nd row cries out for something, doesn't it?
NOW, she's ready for some accents!
I'm going to repeat myself here – if you KNOW that you're going to buy more than 1 thing from a mail order company, seriously consider ordering everything at once! Even if shipping is free in cost to you, it's not free to the environment….
After thinking about what her next few weeks hold, our heroine realizes that she's going to be staying at the hotel for weekends, so she may as well grab a pair of jeans! Since one of her neutrals is navy, taking jeans that have a strong navy "feel" to them makes sense.
Okay, enough for being practical – she WANTS a pink sweater! Not that a pink sweater isn't practical, but accent colors always feel like they're more fun than neutrals…
You didn't hear it from me, but this sweater above is marked WAAAAAY down… in 14 colors….
She really would like something else that feels decided relaxed, even though the colors in this classic top are such that she can wear it with any of her pants OR SKIRTS! She likes that potential versatility.
Oh dear…. she's got 15 of her 16 garments, and still no shirt to wear under her pink sweater!
She searched and searched and SEARCHED for a striped, or floral, or other kind of shirt that would work nicely. An ivory background with pink and blue tattersall? Or a navy shirt with pink and blue flowers?
Not to be had!
So, she does the smart thing – she brings her best white shirt! There's nothing a good white shirt can't do…
NOW, when she assembles her 4 by 4 Wardrobe, is has a lot more variety and includes clothes suitable for a wider range of activities: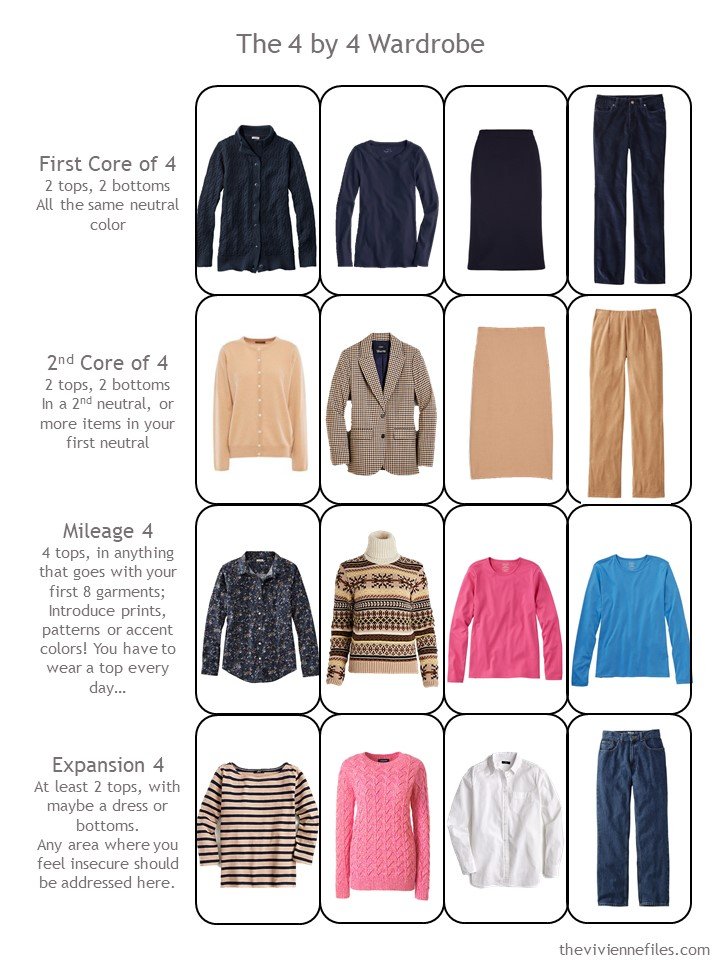 She's pretty methodical – before she starts folding and carefully arranging her suitcase, she double-checks that she has enough possibilities to keep herself clad and attractive for at least a few days at a stretch. (hallelujah for a hotel that cheerful and competently does your laundry!)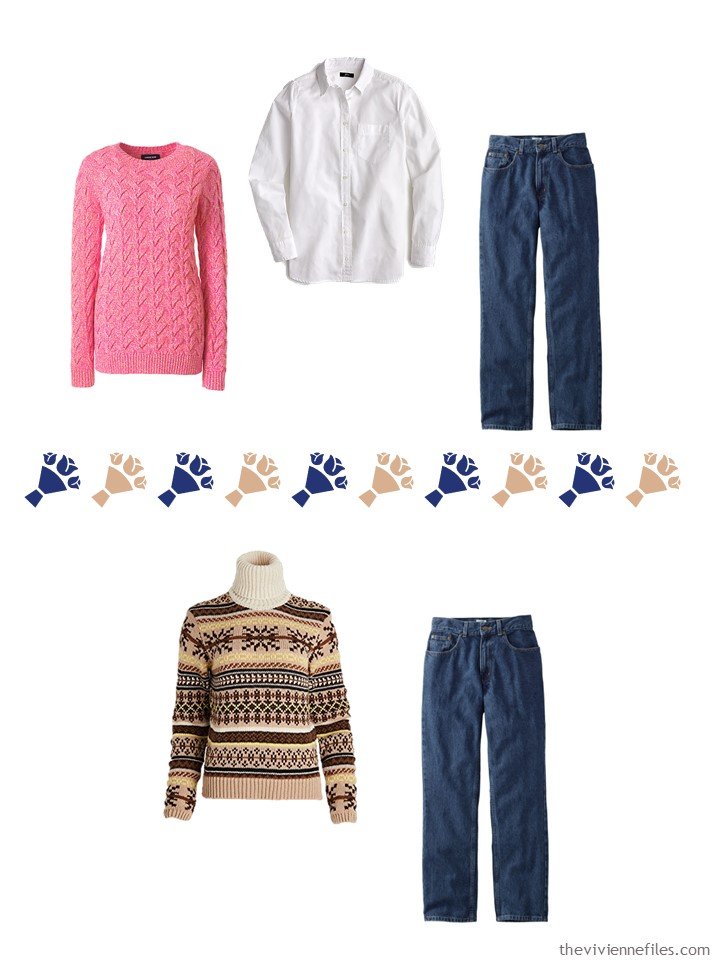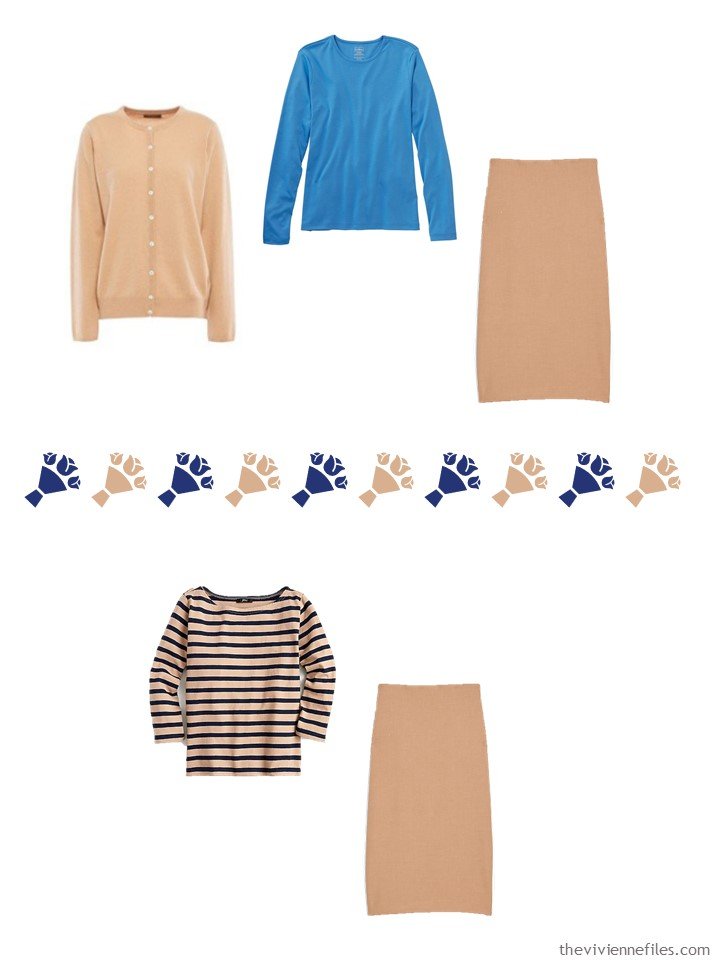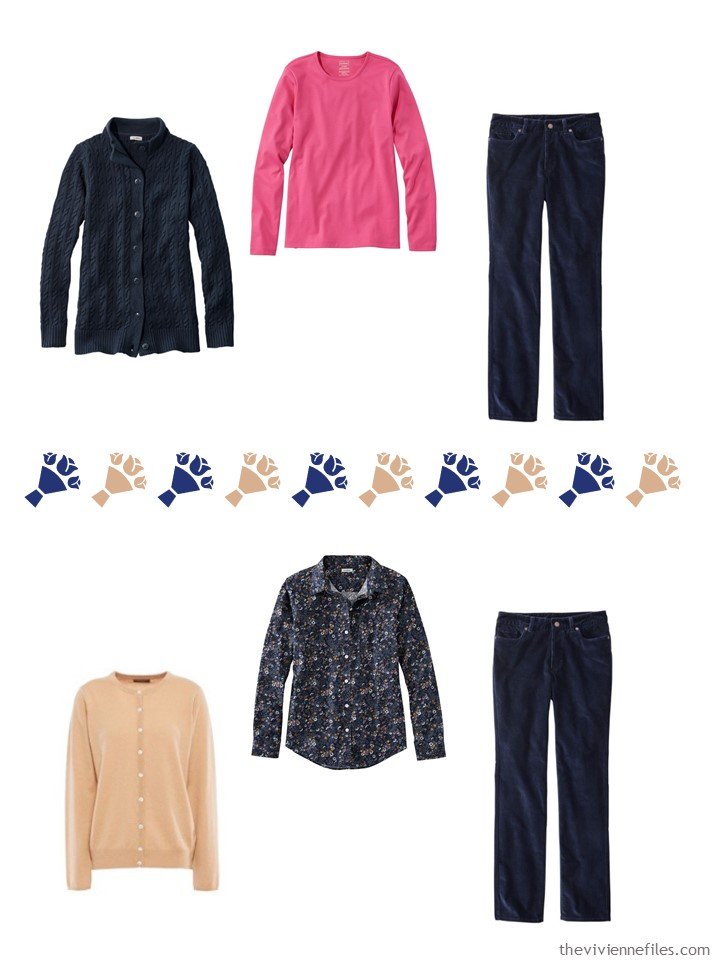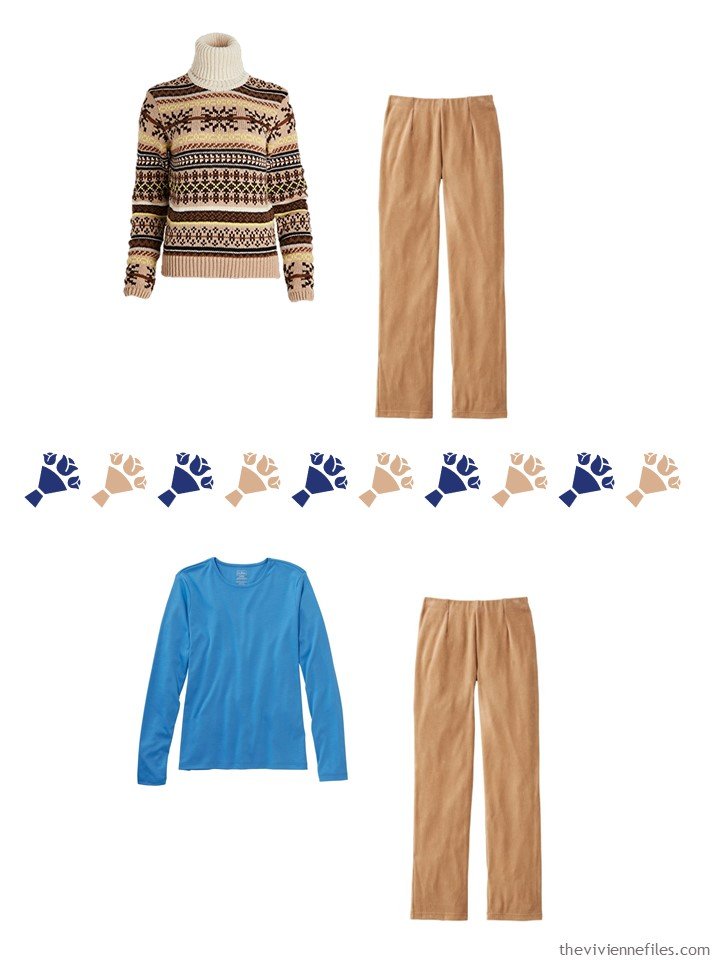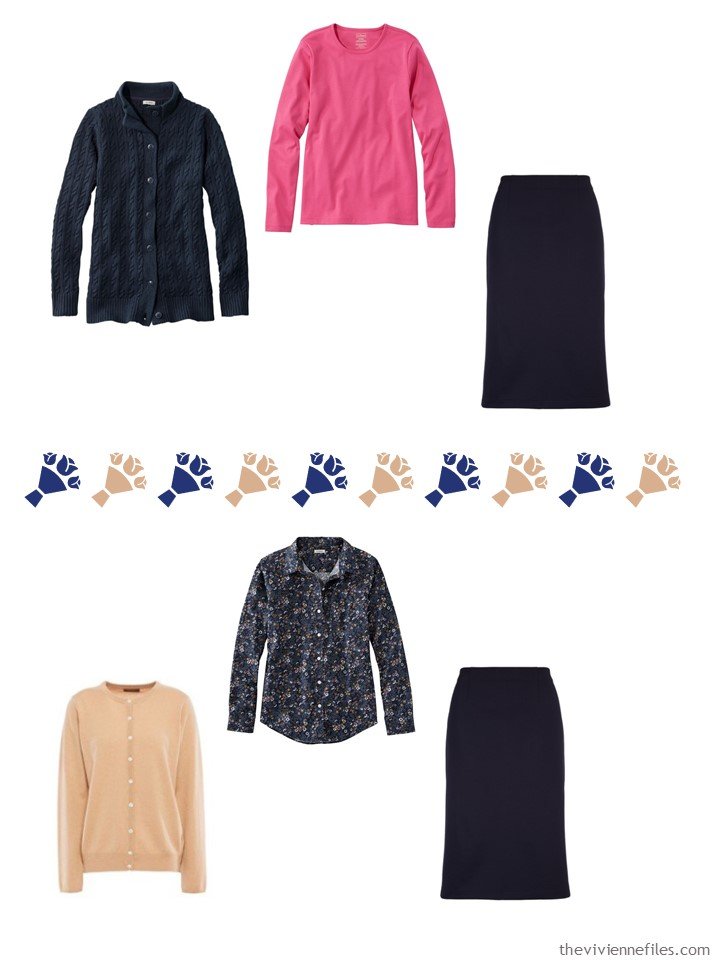 Packing as well as possible is one way to free oneself for focusing on the tasks ahead, and not having to worry too much about things like clothing!
Does this heroine needs accessories? I'm feeling like this is a resounding YES…
love,
Janice
p.s. 3 years ago, a different heroine was headed to the lake house, clad in navy and burgundy….