August 6, 2020
Accessories! My favorite things in any wardrobe… except maybe a glorious sweater, or something velvet…
I'm going to use just the Spring Weekly Timeless Wardrobe, and 1 Cluster of accents, for this; I've got a reason, trust me!
Remember this amazingly useful bunch of stuff?
If we add these seven Accent and Extra garments, we will have a nice tidy 20-piece wardrobe. In my world, that feels a lot like 4 5-piece clusters! (or, of course, 5 4-piece clusters! you could find a few other combinations, I'm sure…)
These are the 20 Spring garments to which we will be adding accessories: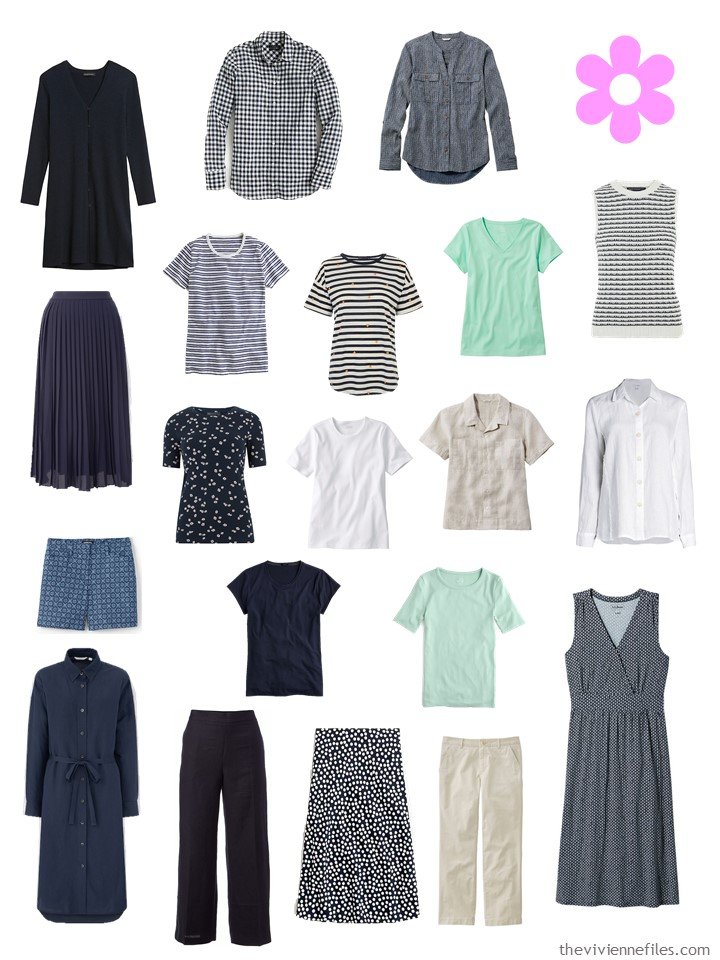 As has been my habit lately, I'm going to assemble six outfits from this fun little wardrobe, and then add accessories to each outfit.
For this first one, I'm envisioning the linen dress unbuttoned to mid-torso, with the tee shirt underneath. Rolled sleeves, of course. I'm still so smitten with this scarf; I love the variety of colors of hydrangeas, and this scarf captures that variety perfectly…
Sunglasses are ALWAYS important…
I'm feeling more and more like one of these magnifying pendants might be a smart addition to my wardrobe. In an emergency, you could even use it to start a fire!
I'm very fond of this bracelet…
A brooch isn't usually on ANYBODY'S list of "must-have" accessories, but I really think they make a big impression. I must remember to wear mine more, when I start going out into the world again!
I see this 2nd scarf tied in our heroine's hair… And yes, you certainly may wear sneakers with a dress. The weather is lovely, and you're relaxed…
Okay, here are the THIRTEEN accessories that I've added to this wardrobe. THIRTEEN, as in the number of weeks in a quarter of a year…
And of course, 13 accessories + 20 garments = PROJECT 333!
Who expected this to show up so nicely?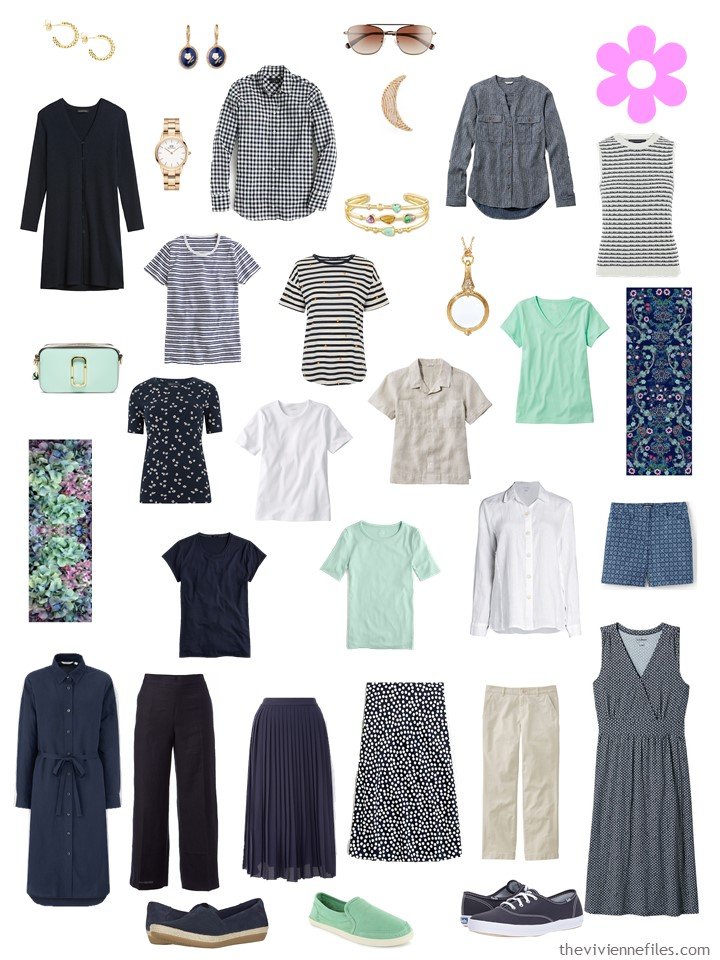 I'm going to look at accessories for the other 3 seasons; this should be fascinating when it's all pulled together into one big wardrobe!
love,
Janice
p.s. Just 2 years ago, the artist was Renoir, and the palette was soft grey and blue…