August 11, 2020
Ah, winter… My favorite season, with my favorite clothes!
Let's look back – our mythical heroine has chosen this Weekly Timeless Wardrobe as her starting point:
And she's very smitten with camel, right now. So she's going to supplement her 13-piece wardrobe with these additional seven pieces – they give her a refreshed color palette, and a lot of new options:
Our heroine is thus starting her winter with these 20 garments (and, of course all of the other garments from the 3 other seasons!):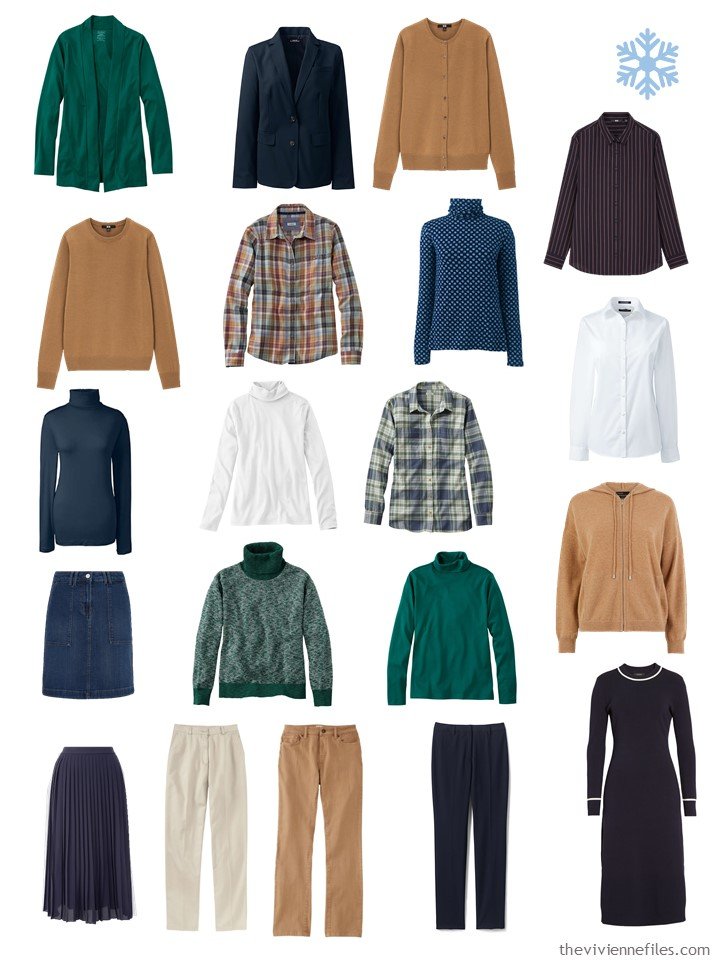 So let's assemble, for our heroine, a half-dozen representative outfits from this wardrobe, and add some accessories to each outfit!
First up – WARMTH! I can vouch for the waterproof, comfortable warmth of Bogs boots – my winter boots are from them, and are critical in the dead of winter. If you need serious below-zero warmth, these won't do, but if endless slush is your issue, these are your boots!
We might as well have some nice coordinating masks, eh?
Is anybody else finding that their masks sort of get… limp, and saggy, after a few months? It's not surprising, I guess. It's quickly getting to be time for "Masks, The 2nd Generation" at my home!
I don't feel that this heroine has to get dressed up all that often, but a winter wardrobe will often need at least a little something to wear through the holiday season:
Sometimes, all you need is a bit of beautiful jewelry! And boots…
Good gloves are such a nice treat for yourself; you enjoy them every day, in cold weather. And good boots always make everything you wear with them look better!
If your wardrobe includes navy and green, a Black Watch plaid scarf is a natural!
How would you wear this? Scarf under the lapels of the blazer, necklace under the collar of the shirt… And maybe she could wear her navy loafers from her Autumn accessories, if the boots aren't strictly necessary.
These are always my favorite images – the collected accessories have such a nice harmony together:
Now we have a Project 333 Wardrobe for Winter – I think I could manage 3 months with this!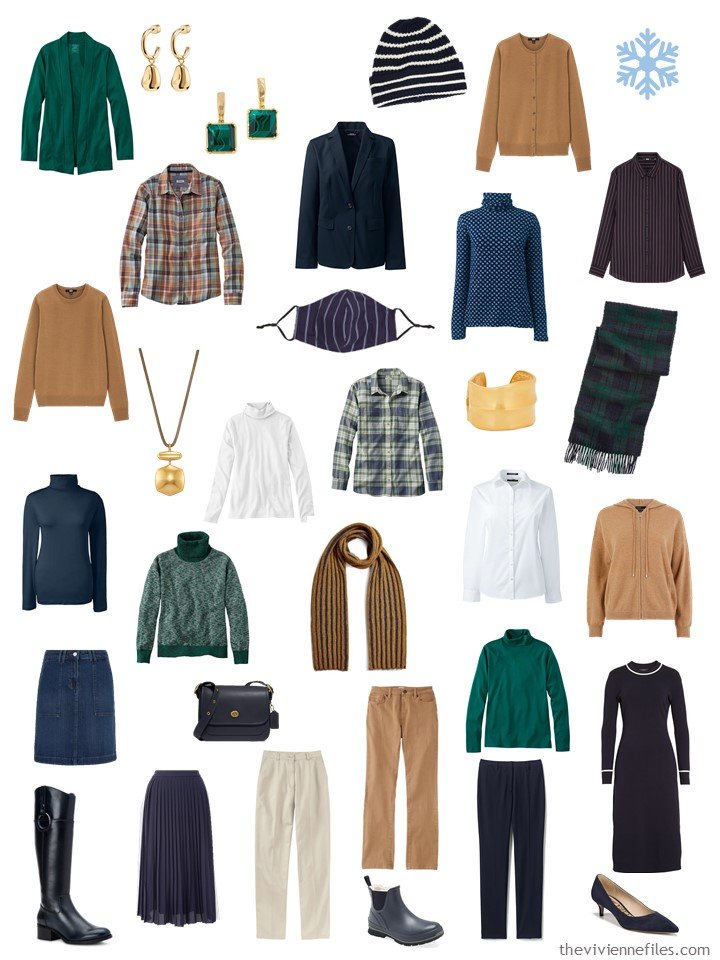 I'm going to get back to these wardrobes on Wednesday, and see what it ALL looks like, together.
Any questions about all of this that I can address for you?
love,
Janice
p.s. Five years ago, I wrote a "partner post" with one of the really important bloggers in our niche – Susan of Une Femme d'Un Certain Age…