August 10, 2020
Ah, Autumn clothes! Is there a more fun season for beautiful clothes?
Let's do some building around this Autumn Weekly Timeless Wardrobe core:
Just for the sheer fun of it, I found some burgundy (ish?) garments to add to this 7-piece Accents and Extras!
Now, our Autumn 20-piece wardrobe is together – it looks VERY fall-ish, doesn't it?
Let's start enjoying accessories!
When you're wearing burgundy, garnets seems like the most obvious stone to look for in jewelry. Garnets don't have to be insanely expensive (although there are some eye-wateringly dear pieces out there, of course!).
And a couple of timeless navy leather accessories…
This cotton scarf is small – a neckerchief, I believe they're called… They bring a bit of color, and a hint of swashbuckling style, to a simple dress and classic cardigan:
We have a marled sweater, and a striped skirt…. so a mixed-print scarf should be perfect! It's bold, but since it's only in 2 neutral colors, it's not insanely bright or clashing:
When you lay it out flat, this scarf looks light, but when it's bunched or folded, it will blend with the cardigan and tee shirt perfectly! Add a subtle garnet bracelet and some shoes and you're all set!
If you're among us who do not wear belts, you could always scare up a second handbag, or a necklace, or snazzy navy and white shoes (f you can find them!):
An eye-catching burgundy necklace doesn't have to break the bank!
I love these 13 accessories! There's something satisfying about navy and burgundy; I can't put my finger on it, but I suspect it goes way back to a back-to-school outfit that I had when I was 8 years old!
Do you fondly remember any of your school clothes?
I could travel for a REALLY REALLY REALLY LONG TIME with this suitcase. Of course, right now I could travel for months with my handbag; if I have medication, passport and credit cards I'm all set…
(Can you tell I'm getting homesick for someplace OTHER than home?)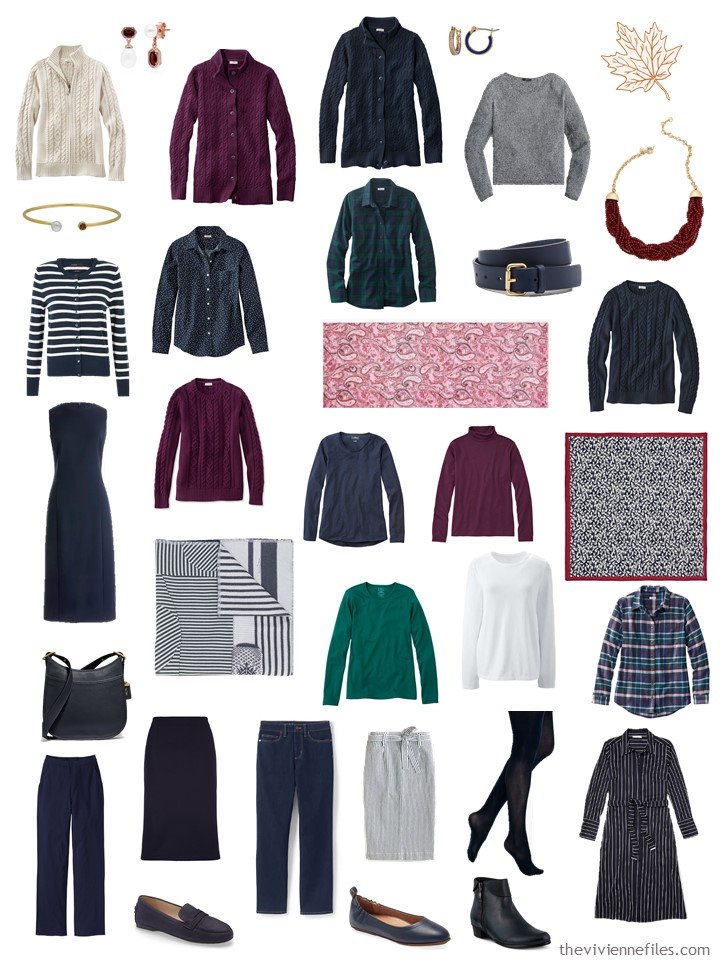 love,
Janice
p.s. Eight years ago, I was singing the praises of a cashmere twinset; I've not changed my mind!