June 29, 2020
Today's my 60th birthday!!!! The entire weekend has been a series of carefully choreographed get-togethers with friends and family…
And I feel EVERY SECOND of my age right now!
But let's look at getting our summer wardrobes sorted to our satisfaction, eh?
First up, this beautiful little top would be perfect for most of us who are using white or khaki as our summer wardrobe neutral:
I always have a few thoughts to share – mostly I'm always a big supporter of doing what you most want to do, and not buying and pretending to wear things that you don't love…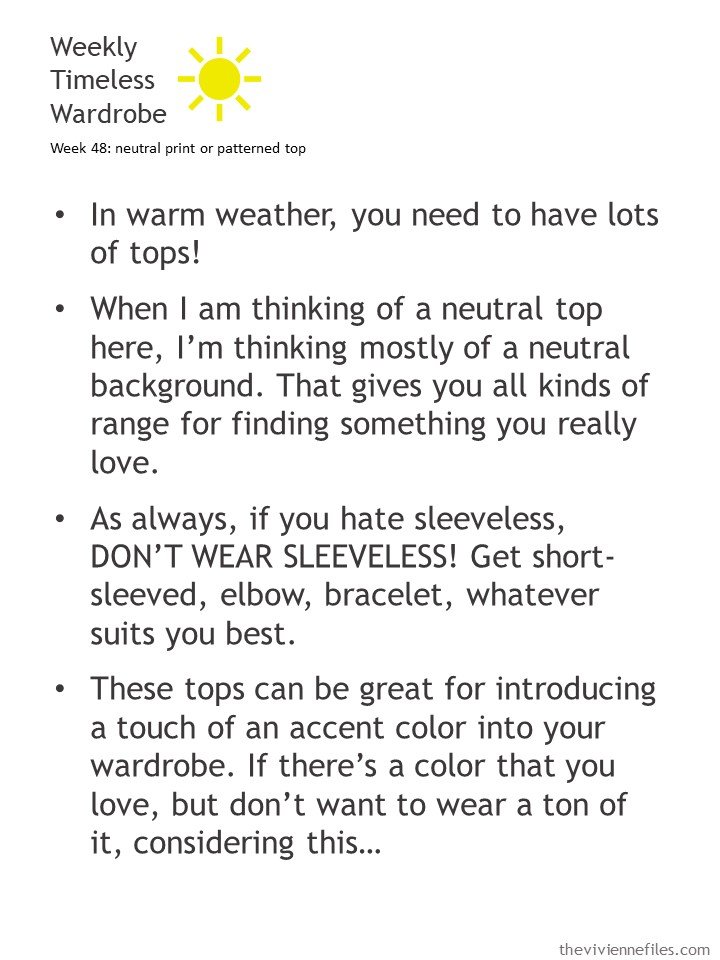 Speaking of accent colors – this kind of tee shirt is perfect for introducing something out of your comfort zone (in this case, orange). There's enough orange in the print that it doesn't look completely nutty to wear orange sandals, but there's not SO MUCH ORANGE that you feel like you're channeling your favorite fruit…
For the leopard print lovers, this is the perfect time to indulge! And if you're working to coordinate brown and black in your wardrobe, animal prints are an easy way to do that:
You might be concerned, when you see a top like this, that you'll need something else yellow in your outfit to make it all work. But if you stick with the neutral colors in the top – in this case the grey and white – you can just enjoy the yellow!
If the accent colors are included in a tie dyed top, you can stick with neutral grey and white for the rest of your outfit and look great. It's fun to have a little bit of yellow in your wardrobe for the hot weather, but most of us aren't eager to invest in a whole wardrobe in yellow:
Seriously, if you're going to wear a top with yellow roses on it, is it wrong to wear yellow rose earrings?
If you're the kind of woman who enjoys keeping things lively, you could even wear your print top with print shorts! Shorts in a DIFFERENT print! It's not for everyone…
In my personal, gradually evolving 13-piece wardrobe (in my dreams), I wold love to include a simple, timeless dotted top…
We've only got 4 garments to go – we're going to finish at the end of July! That seems just about right; I want to look at the collected 13 summer garments, and maybe even the 52 garments for a year, during August. Then in September we can think about the Weekly Timeless Accessory Wardrobe!
love,
Janice
p.s. Five years ago, we started with a painting of fluid beauty, and assembled a fall wardrobe in brown and orange for autumn….