April 16, 2020
Urban Heart…
She misses the city. So much. Just to sit with a cup of coffee and watch the people walk by – the stories, the personalities, the style…
And she's tired. She wants to be able to get dressed without any exertion! So she pulled out her favorite scarf, and her favorite dresses, and started to pack:
Black. White. Gold. No muss, no fuss…
Her favorite dress is a bit roomy – she can easily layer a tee shirt or other shirt under it! In unreliable weather, this is SO helpful. And in a travel capsule wardrobe like this, it is really ALL about the accessories, isn't it?
She start packing – 2 more black dresses! The "fit and flare" dress is perfect with cardigans, or alone with a gold wrap for evening.
Her denim dress can be worn alone, or with a sweater over it. Maybe just tied around the shoulders…
And then the fun – her favorite hair ornament! Amazing earrings and a bracelet that always makes her smile. And her gold evening bag and wrap… swoon…
2 pairs of shoes, and she's ready to go!
When she unpacks at the hotel, she reviews what she has with her (if she forgot something, she might need to go shopping!) and sees that she's well set for the rest of her baby vacation: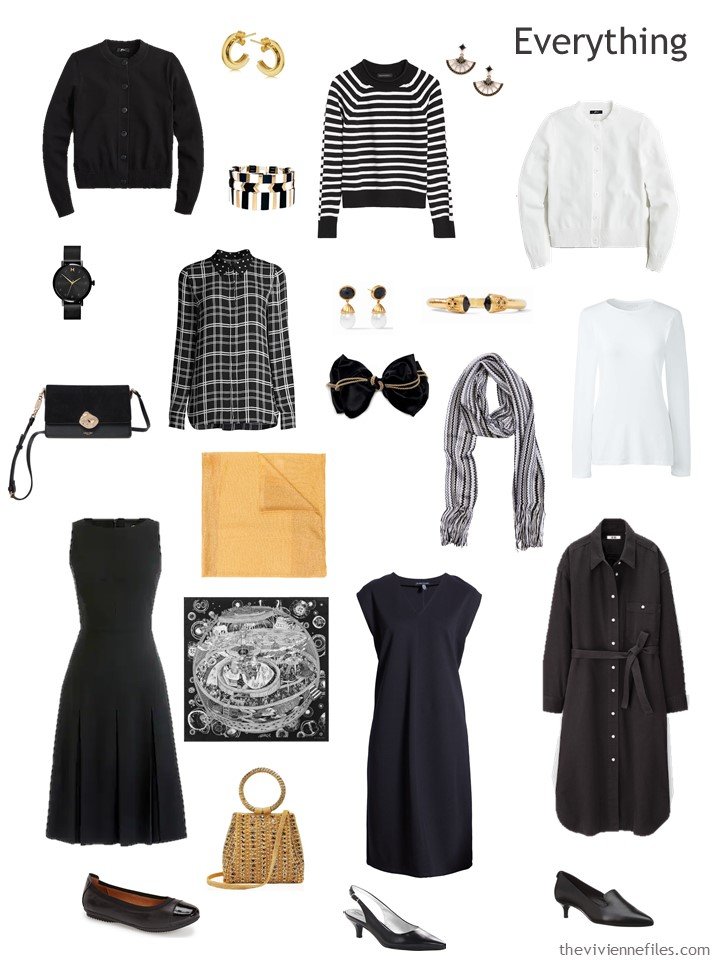 Dining out? Ready!
Museums? Ready!
Sitting in a café for hours, watching the world walk by? Ready!
A concert? Ready!
As is often the case, unless she's considering playing rugby or going to a black-tie event, she's prepared for everything else.
And she LOVES the idea of wearing dresses all the time – she's spent months in sweat pants, and it's time to get pretty!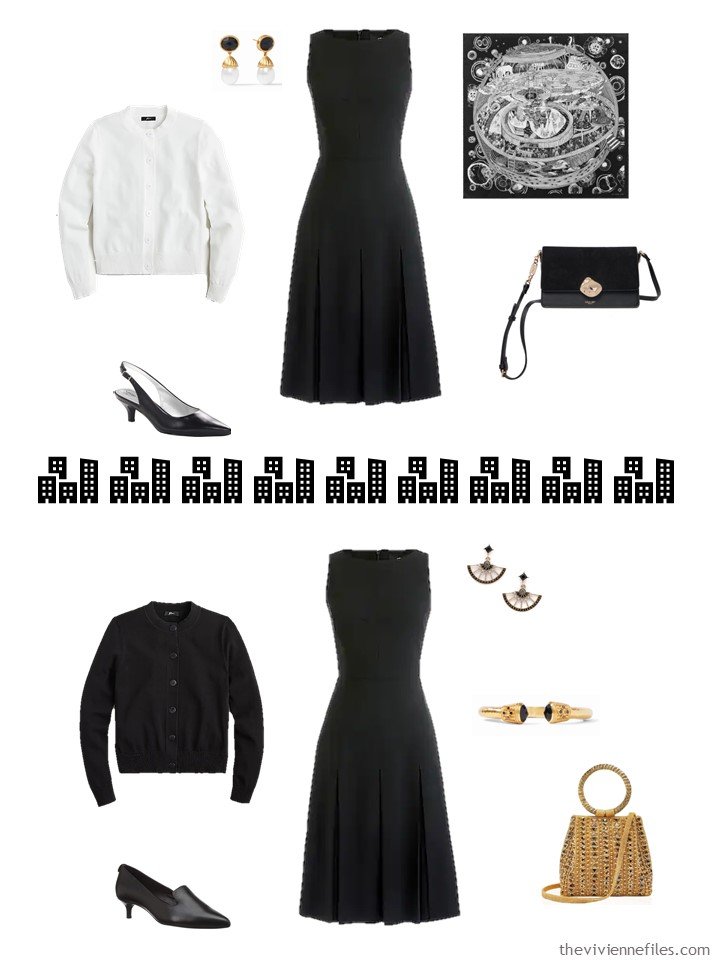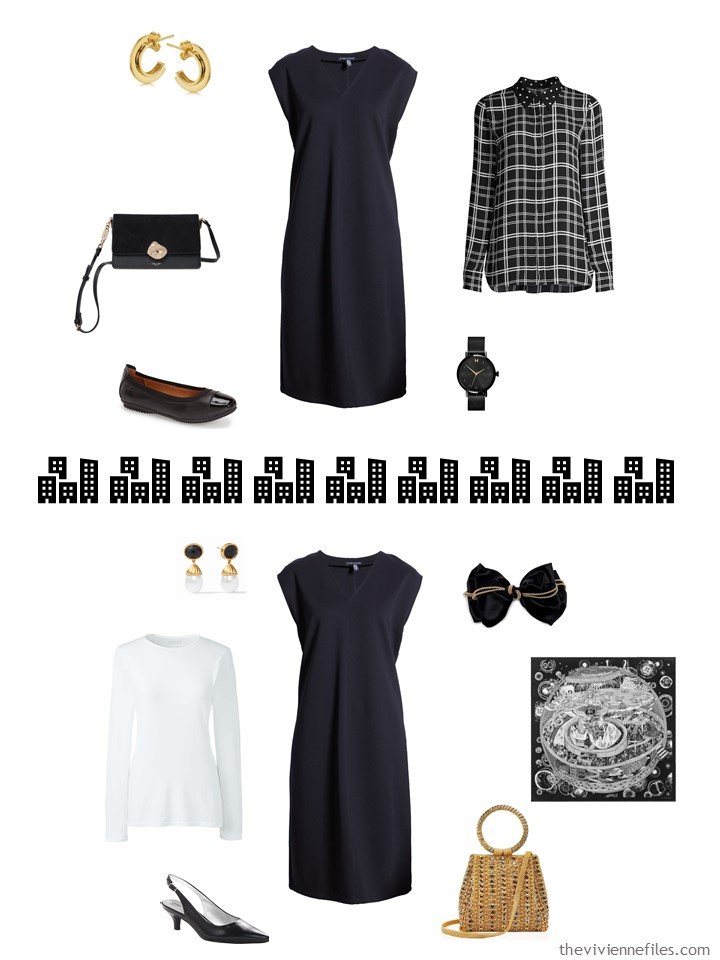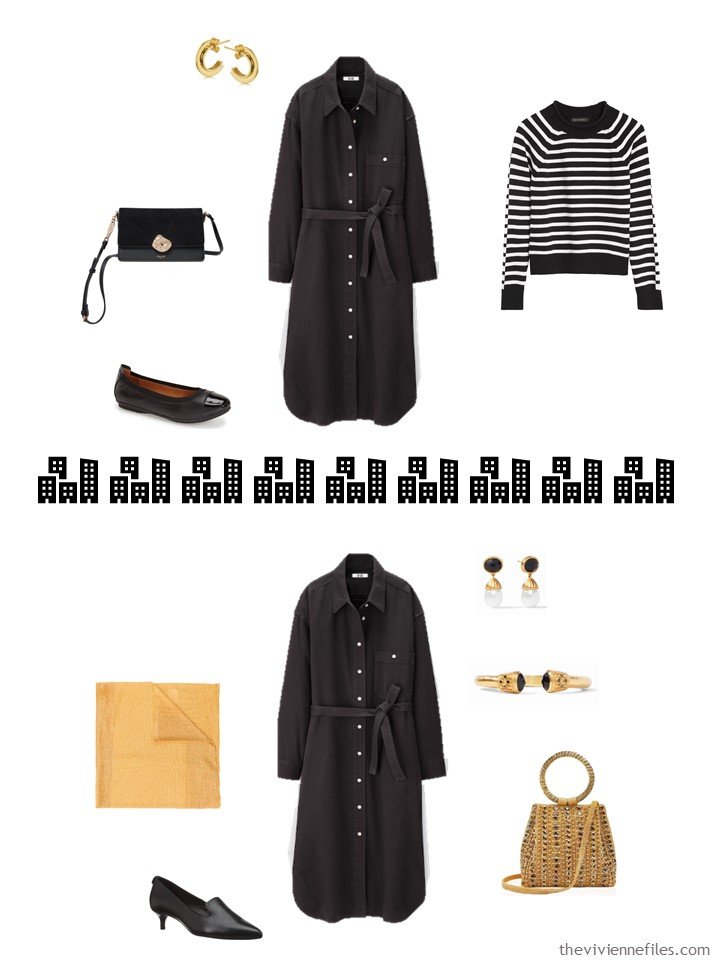 This heroine is me, more or less. Some days, you just have to let yourself have your own personal dream.
I hope you liked it!
love,
Janice
p.s. 2 years ago, our heroine traveled with a wardrobe of (such an ODD combination) olive green, charcoal grey, blush and gold. It worked…