November 18, 2019
As much as I love a good sweater, nothing says winter to me like a flannel shirt!
But get a good one – as classic as possible. A well-made flannel shirt will last for years…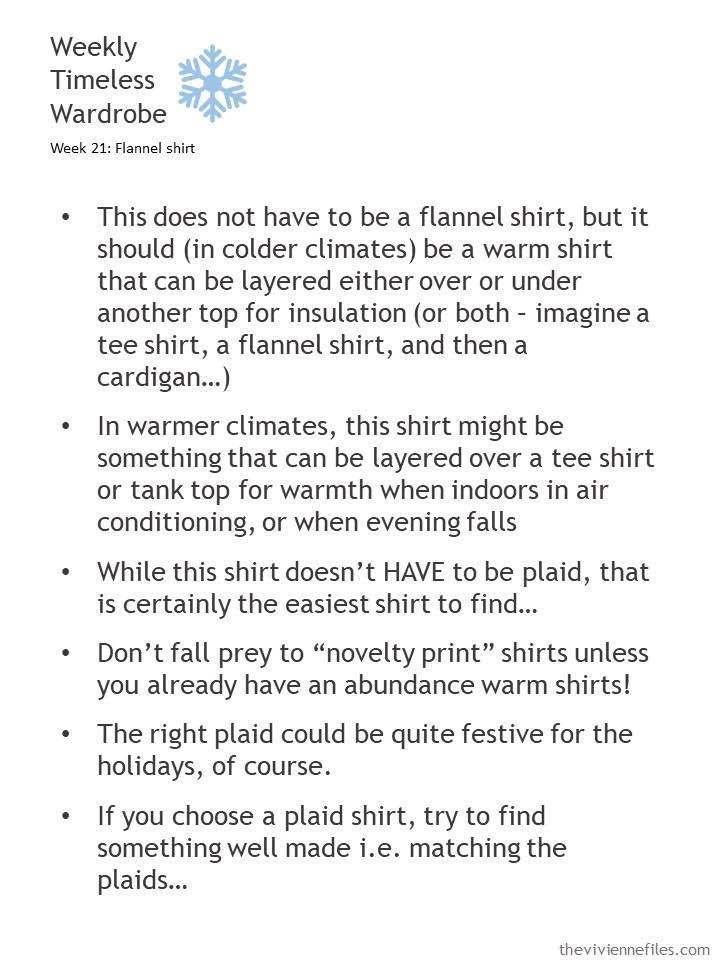 These shirts do NOT have to be plaid; finding a solid color that you love might take a while, but if it's what you want, it's worth the effort…
For the upcoming winter holidays, a shirt that includes a festive color might be all you need for those casual activities like cookie swaps, caroling, or walking about looking at decorations!
Speaking of patience, if you look long enough you can probably find a plaid flannel shirt in any color combination you can imagine. They're out there…
Yes, 4 earrings. Some of us wear more than 2….
You may have noticed that each of these outfits carries with it at least part of an outfit from last week (and the week before, and the week before….). I do this on purpose, to show you how each new piece in an wardrobe will provide you with fresh possibilities by working easily with your existing clothes.
In your searching, don't forget to look for that elusive fabric "chamois." It's similar enough to flannel to work very much the same way in your wardrobe, and some of the options are lovely.
Also, you might find a variety of styles, like this tunic:
Don't shy away from wearing velvet pants with flannel – mix up things!
Ah, this wardrobe evolves, every so slowly, but with a plan and a goal:
Next week's search for print or patterned tops should be interesting; I can see either a tee shirt or a button-front shirt fitting this description!
Are you still enjoying this as much as I do?
love,
Janice
p.s. 3 years ago, inspired by Georges Broque, I recklessly mixed warm and cool colors in a wardrobe…