October 21, 2019
It seems like there's a Monday every week, doesn't it?
This is a rare "scarf-free" post for The Vivienne Files; when you're including printed or patterned garments in an outfit, you don't really need a scarf. But I won't stop you if you add one!
And doggone it, once and for all, garments that are WINTER themed – like snowflake tops – are NOT reserved for only the period of time up until Christmas! I have a wonderful cardigan with reindeer and winter themes – not a Santa to be seen – but I get smart-alec remarks when I wear it in January or February. Seriously…
The only guideline for choosing a turtleneck in a print is that it looks good with 1 of your 2nd layers, and that you love it. If you would like it in a scarf fabric, it would make a good turtleneck!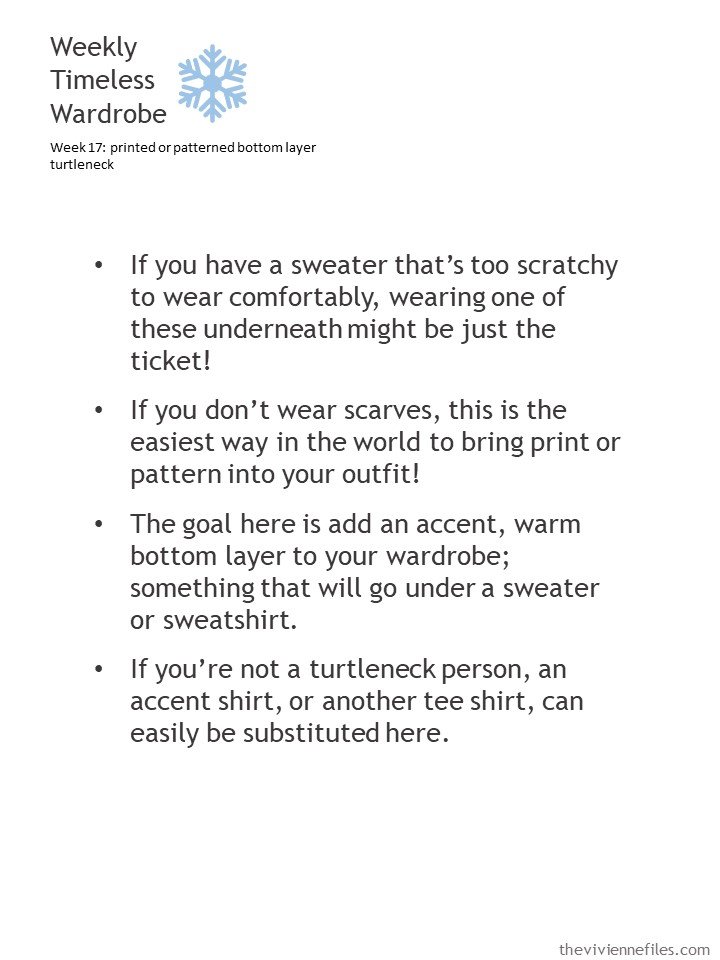 To keep things simple, and to show the versatility of the neutral garments that I used last week, I'm just replacing the turtlenecks, and changing up the accessories. Not a scarf to be seen!
Just like the rose pink from last week, another soft, warm pastel looks great with ivory:
Just a bit of plaid in place of last week's solid green turtleneck, and a whimsical brooch:
Grey is lovely with garnet, and a pair of accent socks is always a good idea! This is a complete change of mood from last week's soft aqua green…
Why yes, a houndstooth turtleneck, herringbone socks and spiral earrings! The unified color palette, and relatively small areas of pattern, make this kind of craziness possible…
I don't EVER wear animal prints, but this would be a good way to ease yourself into a trend:
Do you find yourself strongly pressured to wear the colors of a favorite sports team? (in this case, the Steelers, University of Iowa, etc…) This is a way to fit in with the fans, without investing in an entire outfit that you would never wear anywhere else:
At this point, we're 4 weeks into the Winter pieces of our Weekly Timeless Wardrobe. I like to show the most current 13 pieces, but you could (of course!) currently still have the 4 tee shirts from Autumn in a 17-piece wardrobe…
Just for your reference, this is the plan as I currently envision it. There's a bit of a possibility that this will change, but it at least gives you a sense of how this all fits together in my mind!
love,
Janice
p.s. 3 years ago, our heroine was going to the opera all alone – she just packed a tote bag and caught the train!