October 14, 2019
Yes, if you live where it's cold, you might easily want a stack of these turtlenecks! If you don't anticipate that much cold weather in your life, or you just don't feel that you're going to need more than a couple of these tops, you can skip this garment entirely, or substitute tee shirts or button-front shirts…
As always, you make the rules; these are just guidelines, within which you plan YOUR wardrobe!
One other bit of advice when purchasing these turtlenecks: if you're POSITIVE that you'll absolutely never take off your top sweater in public, you can certainly buy the tissue-thin version of these. But if you're like me and it's entirely possible that you're going to pull off your sweater in your friend's very warm home, or when sitting by a fireplace, a more "tee-shirt" weight turtleneck will let you still be completely decently covered when you get your hair re-arranged from the sweater static!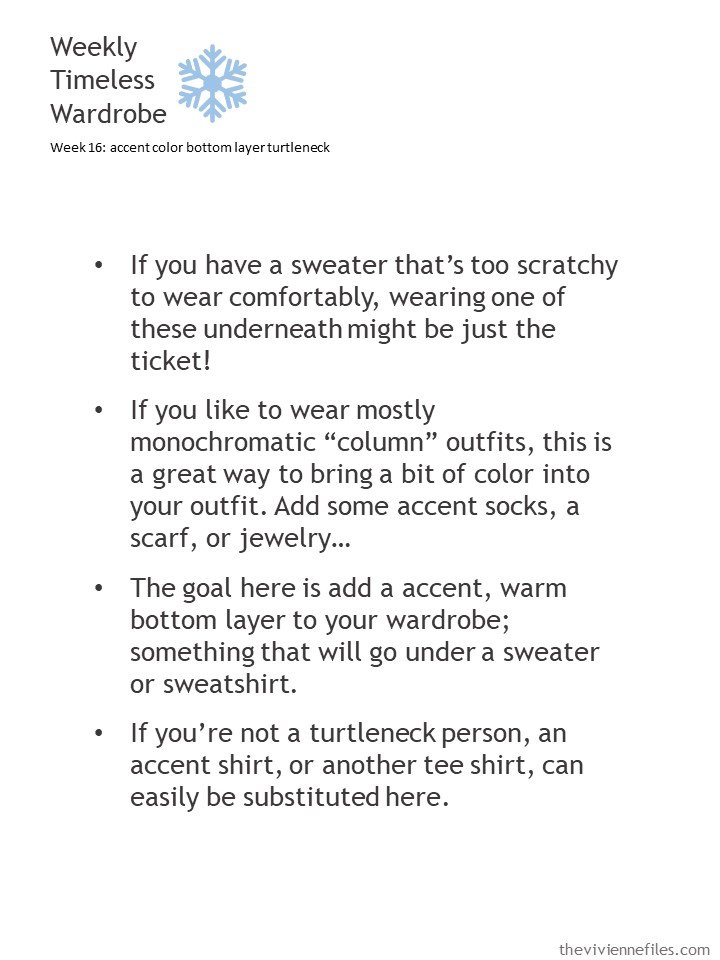 I love the way that this rose makes an otherwise really neutral outfit look romantic and feminine:
This is such a classic color combination, but I never get tired of it:
I wasn't at all sure what I was going to put with this grey, but then I found the scarf and it all fell into place!
Maybe you get tired of always wearing cool accent colors with black? I turtleneck and a really snazzy pair of socks can change everything!
I say it all the time – if you like yellow, wear it often! You'll really stand out in a crowd because not very many people will be wearing the same color…
If you want to find a way to wear a favorite scarf more frequently, finding a turtleneck that picks up one of the colors in the scarf will make it easier…
The 13-week wardrobe becomes more and more "cool-weather" oriented, and the guide-wheel turns inexorably toward winter…
Many of you have asked if I have a full-year plan for this wardrobe… Well… Of course I had a pretty good overall picture of where I was going, but your question has compelled me to actually put it down in print!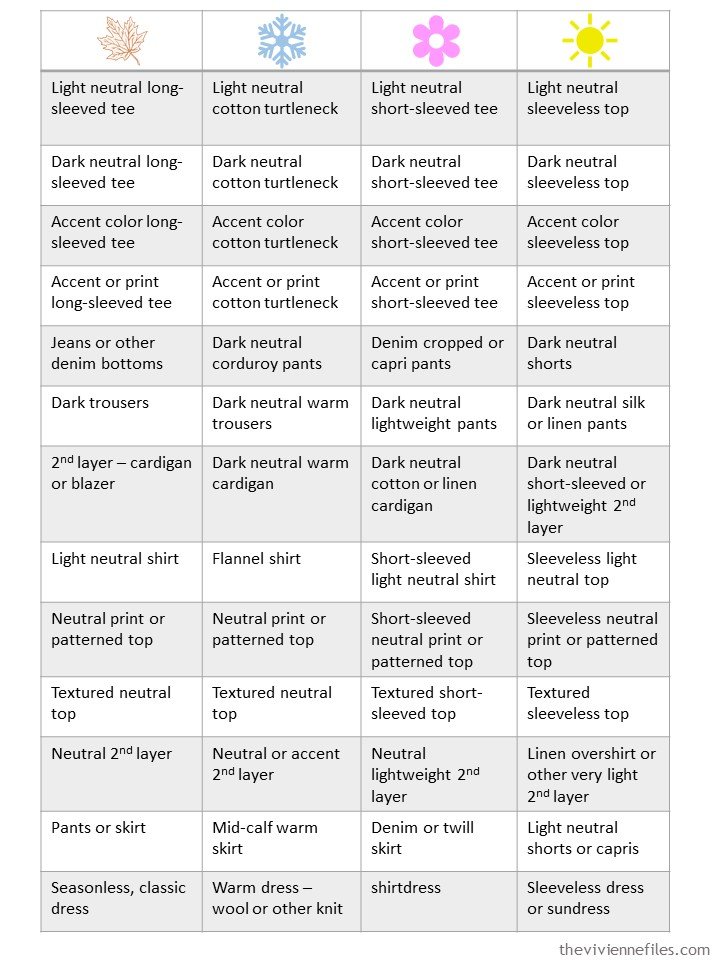 But you do understand that some of these will be more clearly and completely defined as we move forward, right?
love,
Janice
p.s. Four years ago I was traveling, so I flashed back to a handful of great navy-based travel wardrobes…