October 7, 2019
Planning for autumn makes me so happy!
Even if you're not crazy about these, it's worth getting maybe 1 or 2 if you have a fondness for big chunky sweaters that make you itch! These are like cotton "itch-proofing…"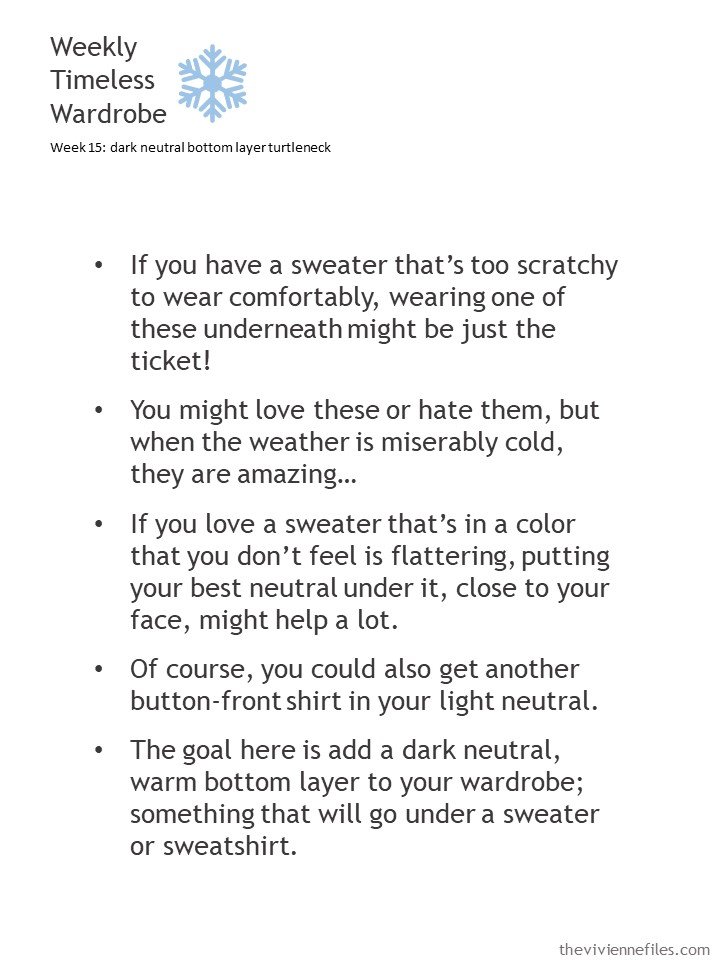 If you have a sweater that's a bit… bold… the turtleneck can be a simple base. In this outfit, it gives you a nice solid core upon which you could wear all kinds of sweaters, cardigans, or a flannel shirt!
A cotton turtleneck can keep you nice and snug outdoors…
A cardigan and pants that don't match can feel awkward. Add in a cotton turtleneck that doesn't match either and you've got a nicely blended outfit. Notice that the scarf and the cardigan are from the same brand; if you're trying to find additional pieces in a certain color, it's wise to start with the brand of your "orphan" garment to see if they've done anything else in that color! It's rare that a manufacturer/retailer will make just 1 item in any color…
You can itch-proof yourself from your fabulous sweater and create a nice monochromatic base for the world's most amazing scarf…
A black turtleneck and pants is the base of half of my winter outfits! Here, you have a nice calm base upon which you can mix prints with abandon!
Is the vee in your v-neck sweater too deep? Plunging necklines don't always appeal…
2 weeks into the winter wardrobe, I've now switched the first 2 tee shirts for their cousins in cotton turtlenecks. (notice how our little guide-wheel in the bottom left gradually shifts to reflect the balance of the wardrobe…)
As I work on this, I'm also getting ready for a trip to England and Ireland, where the temperatures are quite a bit cooler; looking at sweaters is SO getting me in the mood….
love,
Janice
p.s. 3 years ago I updated a simple Common Wardrobe with shades of purple and grey…