September 23, 2019
How fun! We finish the first 13 weeks – the Autumn segment of The Weekly Timeless Wardrobe… with a dress! (I love dresses… I find them the easiest, and possibly the most comfortable, thing to wear…)
If I still worked in an office, I'd have this dress in a New York minute:
Of course you might not want a dress, which is your choice. There are always options; you should insist on being yourself!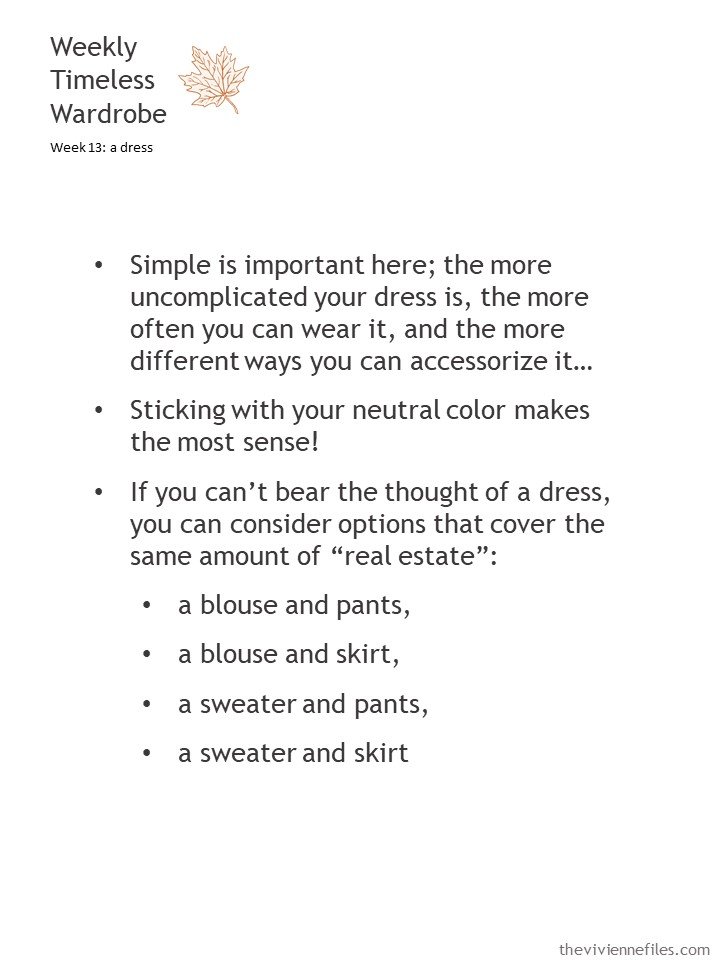 Yes, many of the accessories that you've used when wearing your earlier garments from the Weekly Timeless Wardrobe are equally useful with your dress…
It's NOT too early to start thinking about what you're going to want to wear for the winter holidays; the best dresses will be in and out of stores before you can blink twice!
Once you have a scarf that you love, you will find lots of ways to wear it!
A scarf can be the thing that ties your entire wardrobe together! Which is not to say that you wear it every day (unless you want to!), but more that you make clothing choices with that scarf in mind. This sort of unifying idea can really help keep your wardrobe focused…
If you're a fan of sweaters, a sweater dress is worth considering! I have one that I wear at least once a week in the cold weather…
For those who know that they will never wear a dress, it's still worth thinking about what you will wear for a "dress" event. I'll say it a dozen times – the best things come and go in the stores really quickly, and the sooner that you start looking for what you will need, the better are your chances to get something that you will love!
And what, exactly, have we accomplished during these 13 weeks? How about assembling a really versatile capsule wardrobe? Doesn't this feel like "Whatever's Clean 13"?
I've always liked the number 13, for no good reason… It's surprising how much I run into that number on The Vivienne Files!
love,
Janice
p.s. 3 years ago our heroine the diplomat was packing for a trip to Europe, based on a Diego Rivera painting…