August 19, 2019
Wait! Don't just skip over this because you've never had luck in the past finding button-front shirts that fit properly. They DO exist… (and of course, these outfit ideas would work beautifully with light neutral blouses or tee shirts…)
Not all that long ago, I got a job working in a bakery. It wasn't exactly the job of my dreams, but I wanted to work there for a few months so that I could learn more about how everything was done. It was fascinating…
I had to wear a long-sleeved, button-front white shirt every day. Happily, I found that Lands' End Petite sized 12 fit both my strong torso and my rather short arms. So don't give up!
I've given some thought to what you need to keep in mind when you're making this choice: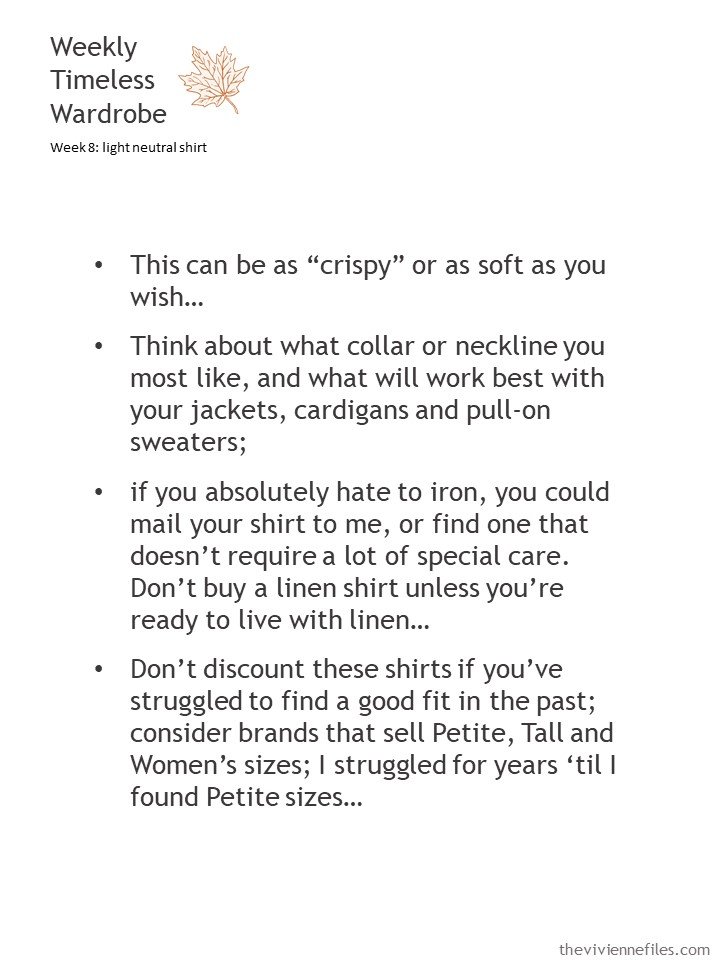 Once you've figured out your size, you can keep in mind what you might be able to do with a pink or light blue shirt… They're flattering colors, and quite versatile. Of course these kinds of shirts are perfect for work…
You can wear different tones of the same color…
When you find shoes that match your big splurge sweater, consider them…
For those of us who love warm colors, a yellow shirt can be so nice to have!
These shirts are great when you want a visual "oasis" of calm in a colorful outfit!
Shades of blue can work really nicely…
When traveling, having 1 of these shirts handy gives you something to wear under a sweater (and then you can wear the sweater on its own another time!). These shirts are also great over a tee shirt…
These aren't the kind of shirts that will amaze and delight you, but they help your wardrobe be efficient and effective. Sometimes, you have to invest in the basics, right?
love,
Janice
p.s. 4 years ago, I was pondering what would be included in a wardrobe of bags…