July 9, 2019
Ready for another week? This week, we're going to the darkest logical version of last week's top…
As always, (I don't think I can emphasize this enough!) this is a guideline, not a carved in stone life rule. If you don't wear dark colors, or you don't wear tee shirts, or you don't wear long sleeves, this will NOT apply to you exactly like this. You can choose a substitute, or skip this week entirely.
And this does NOT mean that you have to go buy something! This could be as easy as checking your closet for the appropriate garment and making sure that it's clean and in good repair before the cooler weather arrives. (right now, it seems as if it will never come again…)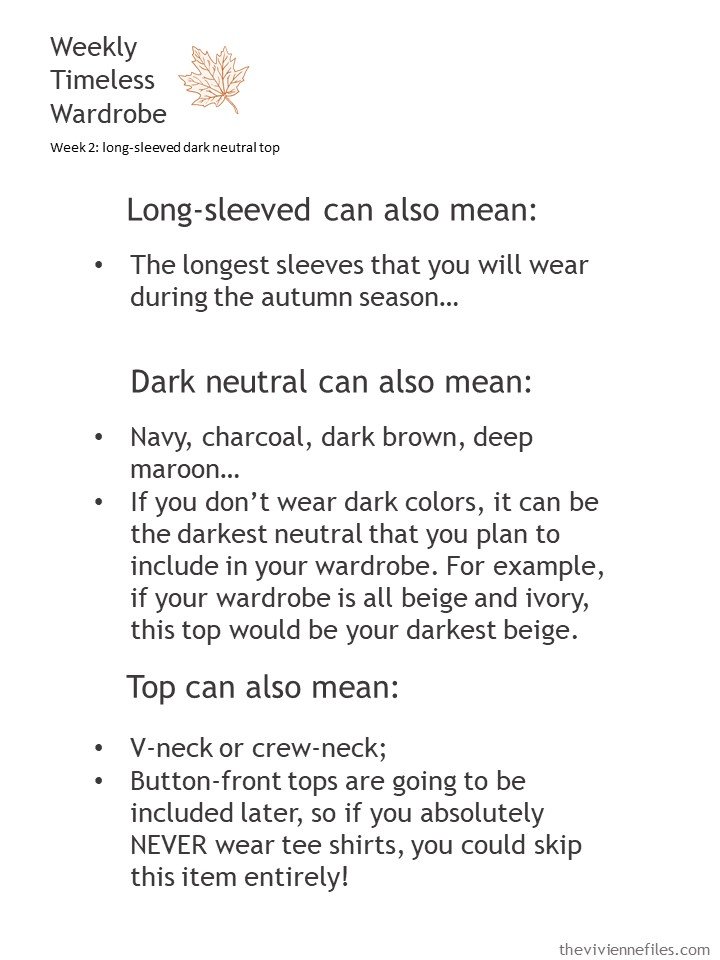 If both of your neutrals are relatively dark, this is a way that you can wear both neutrals together. Note the small touch of dark red in the scarf, and the excellent burgundy moccasins.
If you like to wear a range of shades of the same color, but you're self-conscious about wearing light color above the waist (I feel your pain…), a dark tee shirt can be the perfect solution! And I'm having a hard time resisting that phases of the moon scarf…
If you're going to wear an insanely beautiful jacket or sweater, a simple tee shirt can reign in the overall feeling of your outfit quite a bit. This kind of top is simple enough that the sweater gets all of the attention that it so richly (!!!) deserves.
If you own a solid-colored skirt, and would like to create a sort of "dress-like" look, a matching top is the obvious answer. And if you're not sure just HOW dressy an even is going to be, wearing a plain top under an embellished cardigan gives you the option to peel off the cardigan if you feel overdressed. Push up the sleeves of your tee shirt and you're just wearing a dress!
If I were going to pack just one garment (Buddha forbid!), it would be a black tee shirt, for most every trip that I take in any but the hottest weather. I'm a committed fan….
love,
Janice
p.s. Flashback to when our heroine was working the night shift…