March 6, 2019
Remember this mostly neutral wardrobe? I'm going to revisit this with different accent colors on Friday, but today this wardrobe still needs to be accessorized! This is the scarf upon which I based this wardrobe:
And these were the garments:
So, to experiment a little bit, and to change up our normal system, let's just choose a bunch of great accessories, and see how it all works out…
(I'm going to fill in a 6 by 4 Accessory Grid, just for the heck of it…)
First up, earrings! Some neutrals, and a couple of pair that pick up 2 of our accent colors:
A watch and some bracelets, with the same balance of neutral and accent colors:
Necklaces, and (why the heck not?) a brooch! Brooches on denim jackets look really cool…
Of COURSE you're going to get scarves! Making sure not to forget to pack in that original inspiration scarf, of course!
We need a bag or two, and some shoes. Let's start with a few accents…
And then some neutrals, too!
When you put all of these accessories in 1 place, it looks like everything should be great – what could go wrong with THIS MANY accessories?
(bonus points if you can see where I made the big mistake…)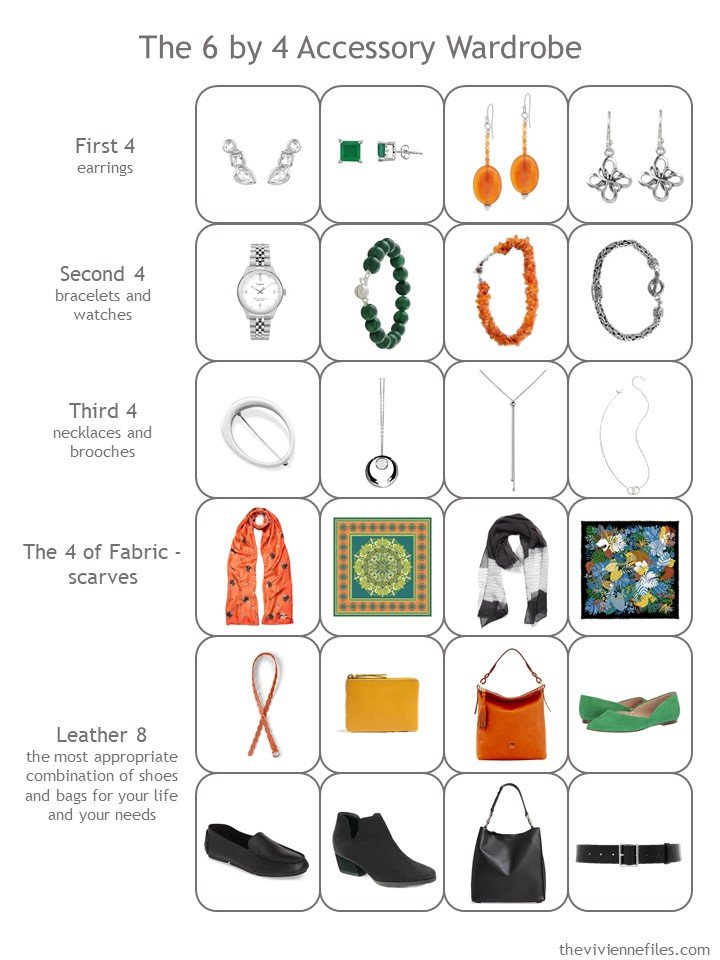 From here, let's revisit all of the outfits from this wardrobe that we looked at before, and see how this works…
Black pants – no problems!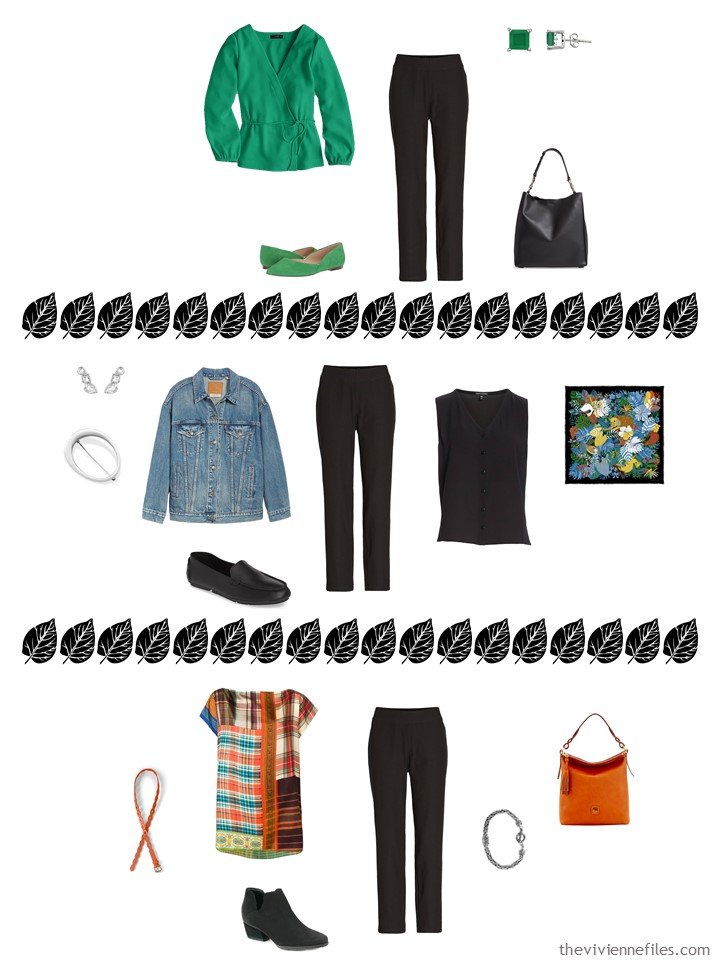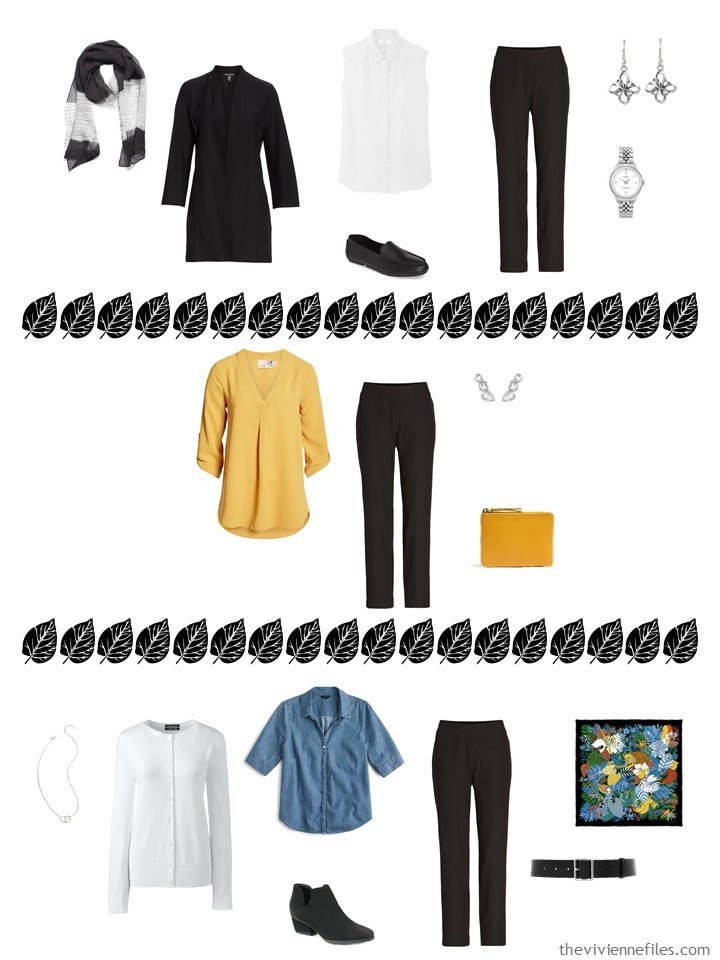 Jeans outfits all look good too…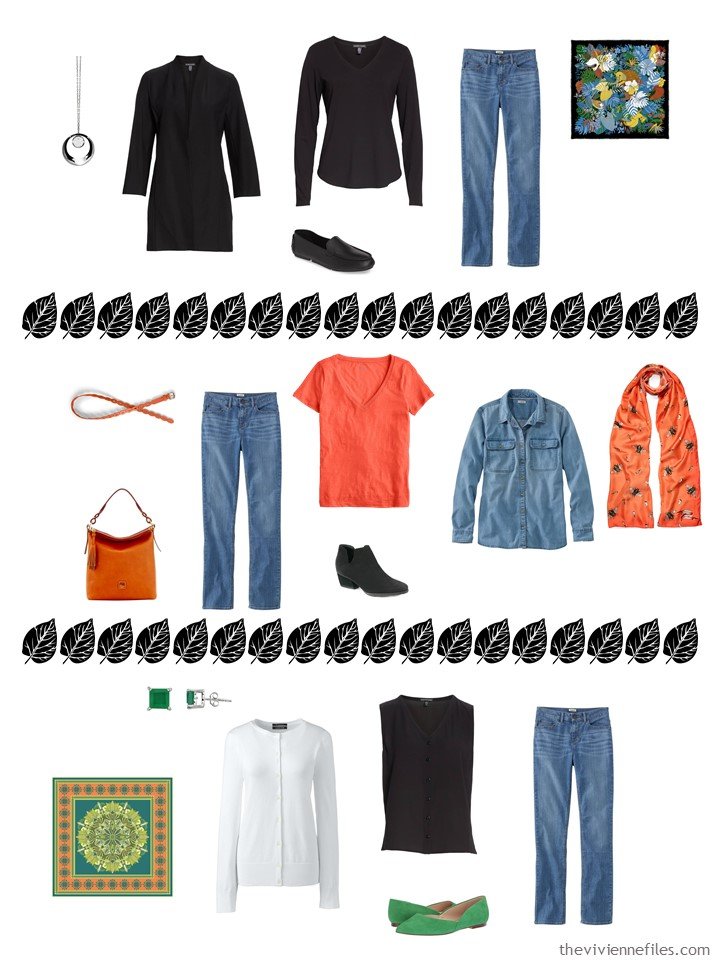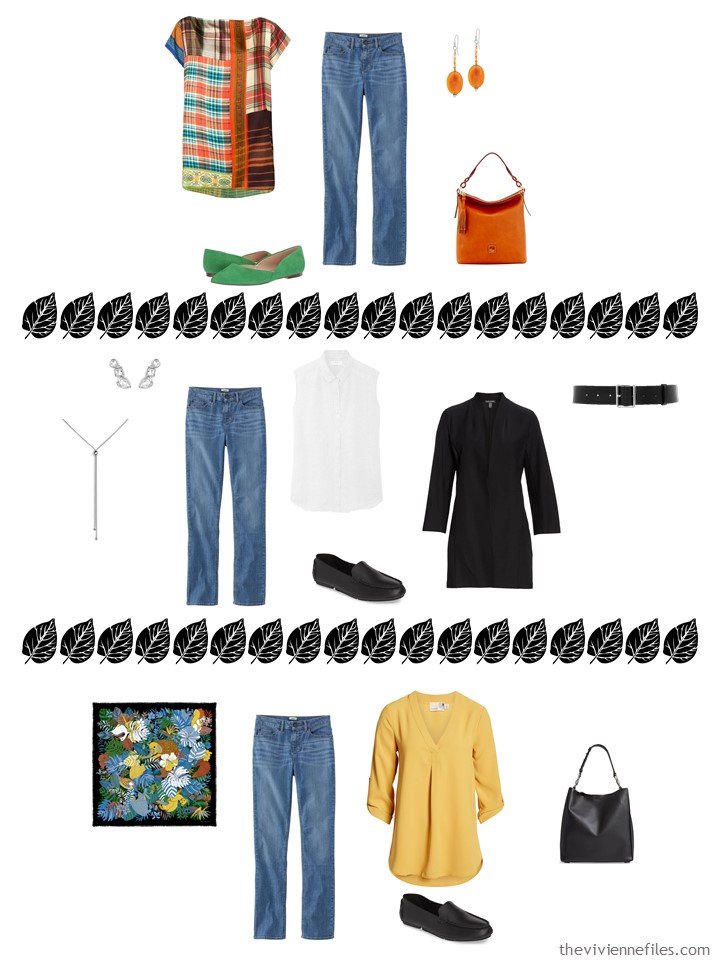 White jeans outfits seem… okay…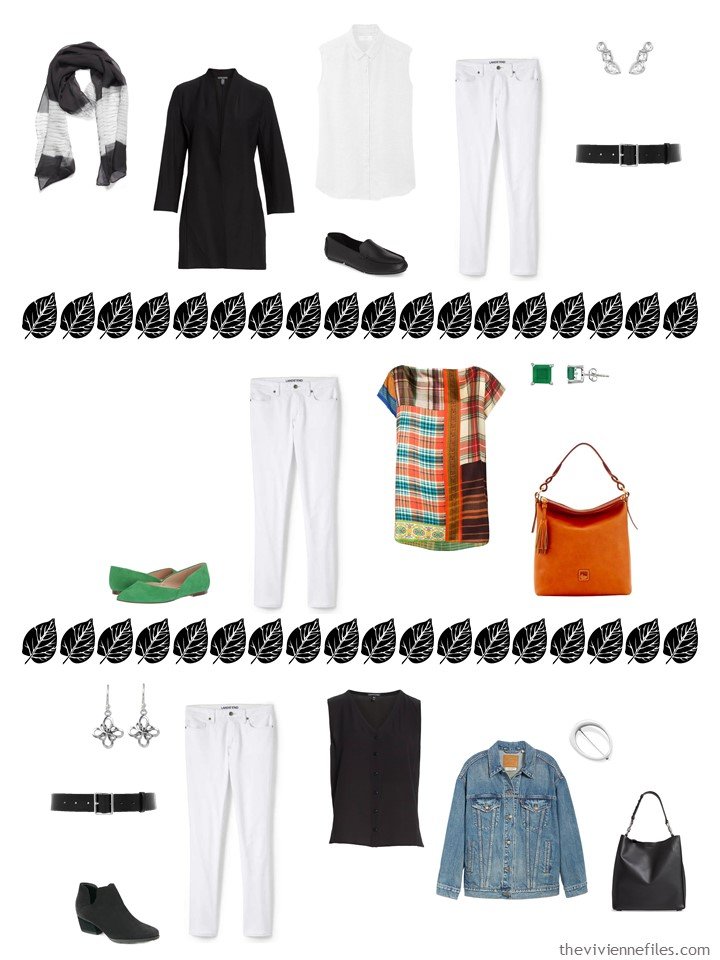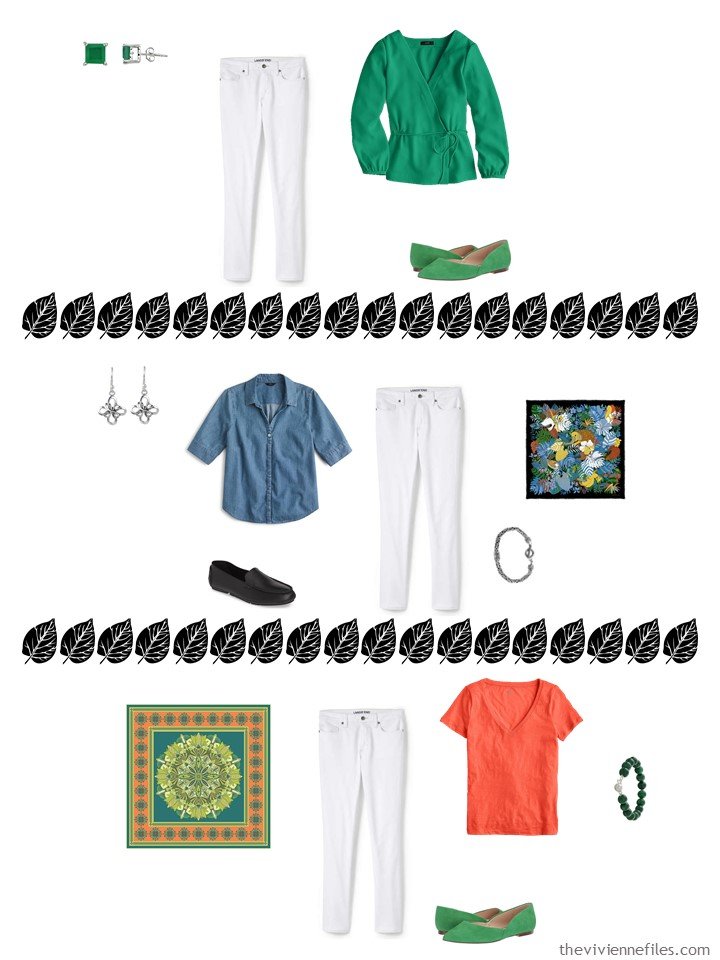 But dear oh dear, our heroine here is going to either not wear her shorts all that often, or she's going to dash out and buy a pair of sandals… (blue denim sandals would be fun, wouldn't they?)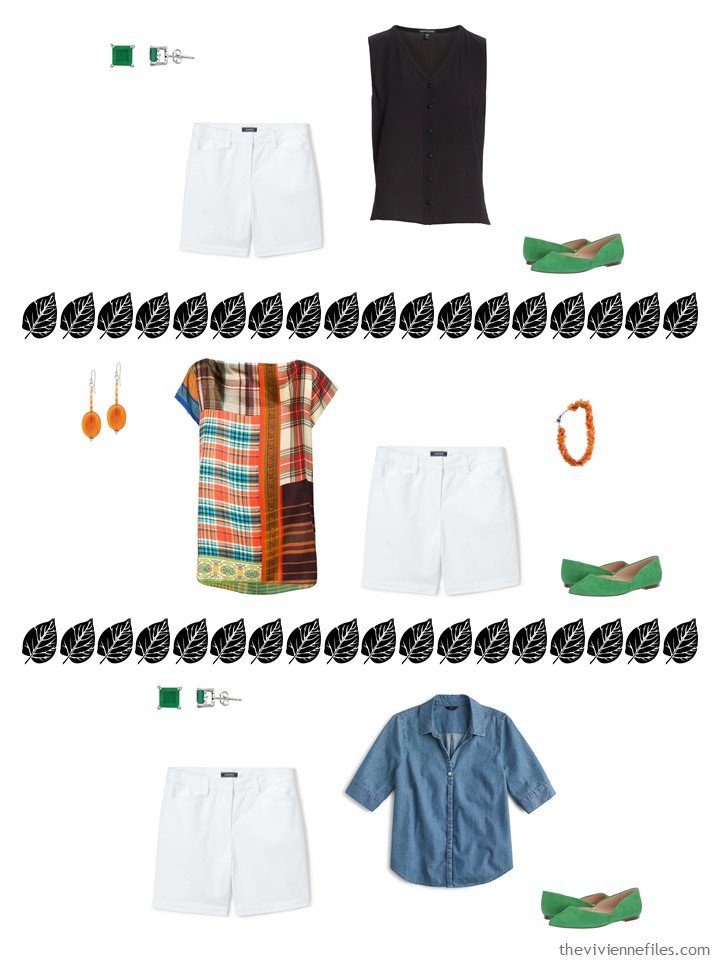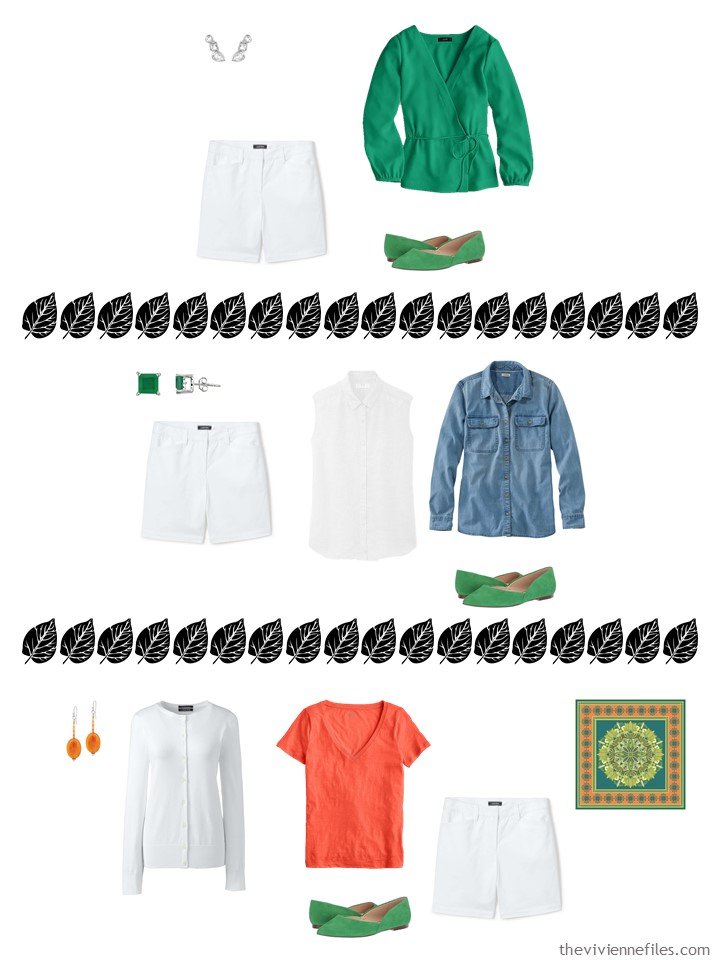 Yes, our heroine could wear the living dickins out of her green flats with her shorts, and maybe, possibly, the black loafers (but I don't see that looking really balanced, somehow…). Realistically, she needed to pack either sandals or some sort of canvas shoe – sneakers or espadrilles – to wear with her shorts.
And what does this teach us? I was seriously tempted to ditch the orange belt from this wardrobe and go back to pick up a pair of sandals, but I decided to share my mistake with you, because it's an easy one to make. If you don't reference back (and forth) to your clothes when you're choosing your accessories, you could easily forget something that you would really like to have with you!
What's your worst packing mistake? My worst one recently was a completely failure to pack ANY SOCKS OF ANY KIND for a trip. Same black socks day in, day out, for a week. Hand-washing was my companion, and borrowing gym socks robbed me of an excuse to skip workouts!
love,
Janice