October 3, 2018
Last week I left you with a (what I thought was) lovely wardrobe, but it didn't have any accessories! Well, I was trying to share a new idea about how to choose what to pack, so I didn't want to throw too much out there at one time…
So let's accessorize now!
First, let's remind ourselves of the clothing that we had in this 13-piece (Perfect-10 to pack) wardrobe:
In order to make certain that we have enough accessories, I'm going to take a handful of outfits that I previously assembled, and accessorize them. When it's all collected, we're going to have a few too many pairs of shoes (well, unless you like to pack lots of shoes…) and quite a few handbags. One could of course reuse any or all of the accessories; I just like to show you a variety of possibilities!
Let's start with her travel outfit – she had only garments and her beautiful scarf, so she needs (at a minimum) some shoes and a bag! I always like to find a watch (this one is SO perfect…) and a pair of earrings; I think many of us look more "finished" with earrings.
The next outfit I chose is her nice pants, accented with a pretty shirt and her blazer… (a perfect museum outfit – most of the museums in Dublin are free!) Classic loafers with snazzy socks are always fun, and I love a pretty brooch with a blazer. Another pair of classic earrings is always a good idea.
Even though our heroine is going to a relatively casual place (Ireland), she still wants to pack a dress; there are some lovely restaurants there! So to wear with her dress she has chosen to pack some low-heeled pumps, as well as a pretty handbag, and a scarf that she can wear with anything else in her travel wardrobe. Blush earrings finish off her "dining out" ensemble.
She knows that she's going to be wearing her corduroy pants a lot, and she also knows that the weather might be a bit… brisk… so she wants to be certain to have a warm scarf and gloves, as well as some sturdy boots and backpack for carrying a jacket or other travel necessities.
And of course – jeans! She's packing casual shoes – not exactly athletic shoes, but something along those lines. Even in Ireland, sunglasses might come in handy, as will a warm hat. A last pair of earrings can't hurt; earrings are tiny and light, but can make you feel as if you've changed up your outfit.
Now that she has everything assembled for packing, she feels really comfortable with her choices. Maybe too many handbags? Depends on how big her suitcase is, doesn't it?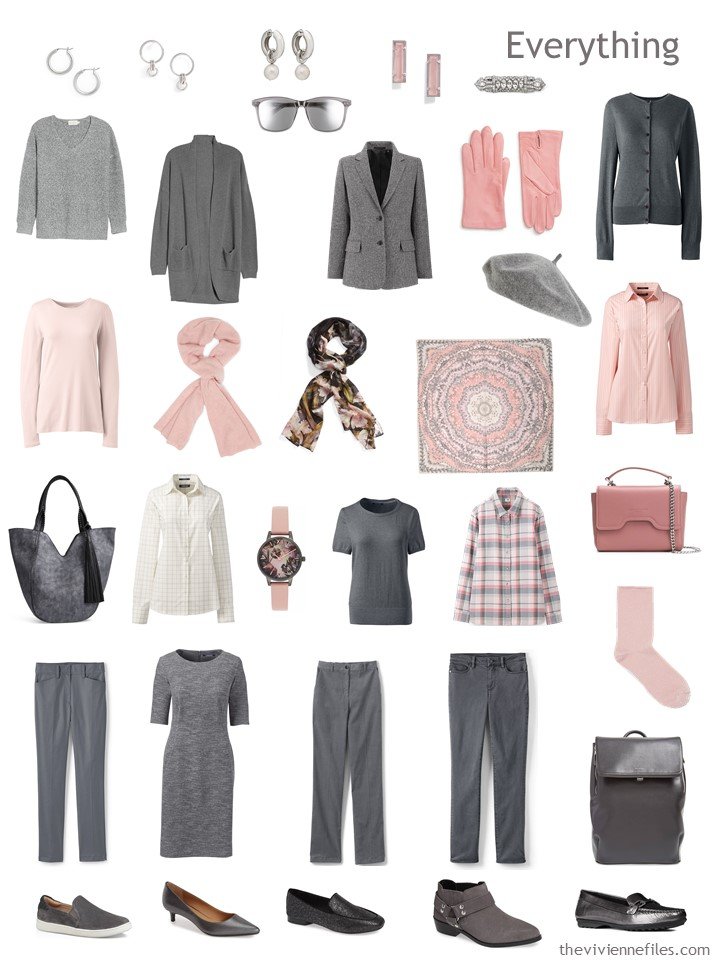 What's the most handbags you've ever packed?
love,
Janice