June 25, 2018
Our heroine is pretty loyal to her favorite store… Every time she goes in, she just feels happy; she loves the outdoor equipment, and the feeling of love and pleasure in nature that the company really encourages. And it seems that most times she stops in, she walks out with something!
So her warm-weather closet looks like this:
She doesn't really struggle to get dressed, but she feels vaguely… uneasy… when she looks at her closet. She would like more focus, and maybe a clearer sense of personal style than she currently has.
Where to begin? The fastest, easiest starting place is to sort everything by color and see if she can learn something: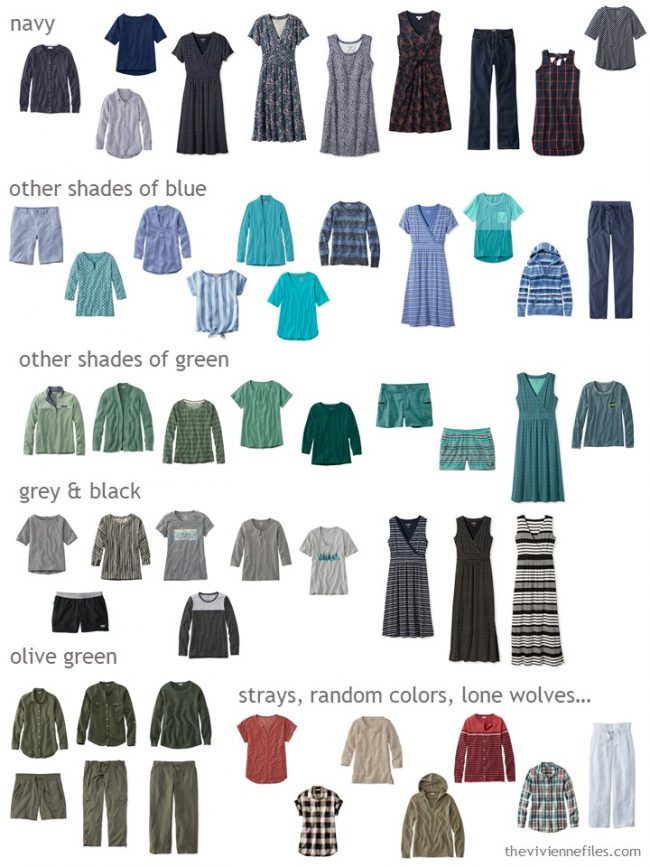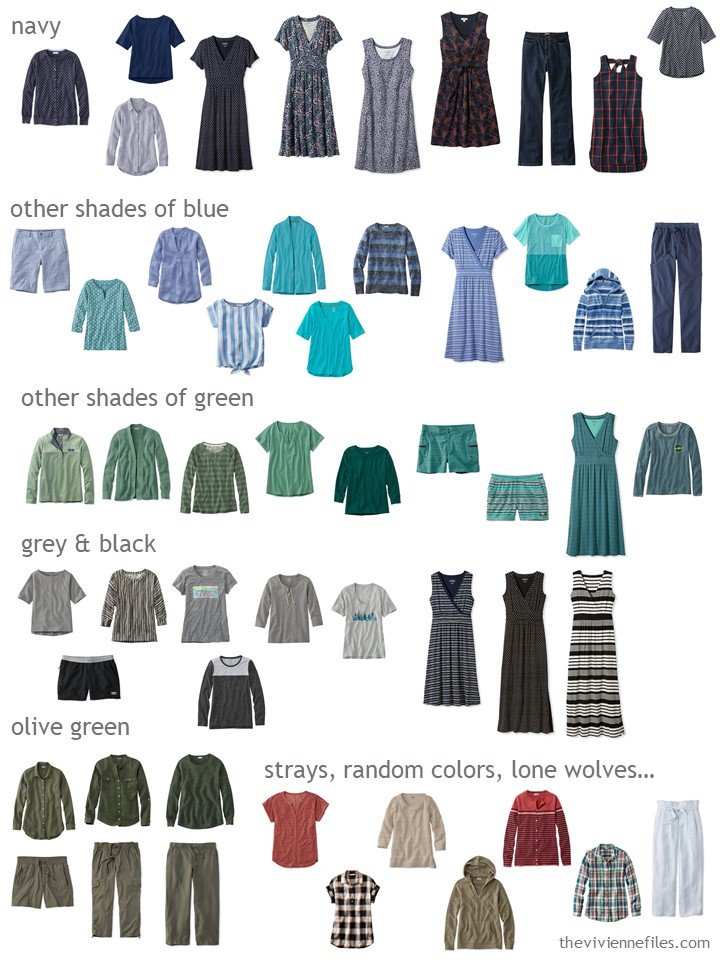 Oh. Dear. An equal number of navy and black garments doesn't give her a clear sense of her preferred neutral color. However, the large number of blue and green pieces DOES give her an idea of (maybe) what accent colors she prefers.
The first thing that I see that I would want to discuss with our dear heroine – she's got both olive green and more cool (leafy) shades of green in her wardrobe. Does she really want both of these, or (my fictional state of mind for a fictional heroine!) does she actually prefer olive green, but often settles for the more readily available cool green? If this is the case, a little bit of discipline will help a lot…
Another thing that our heroine can do in order to get a new, possibly insightful, view of her wardrobe is to sort everything by function: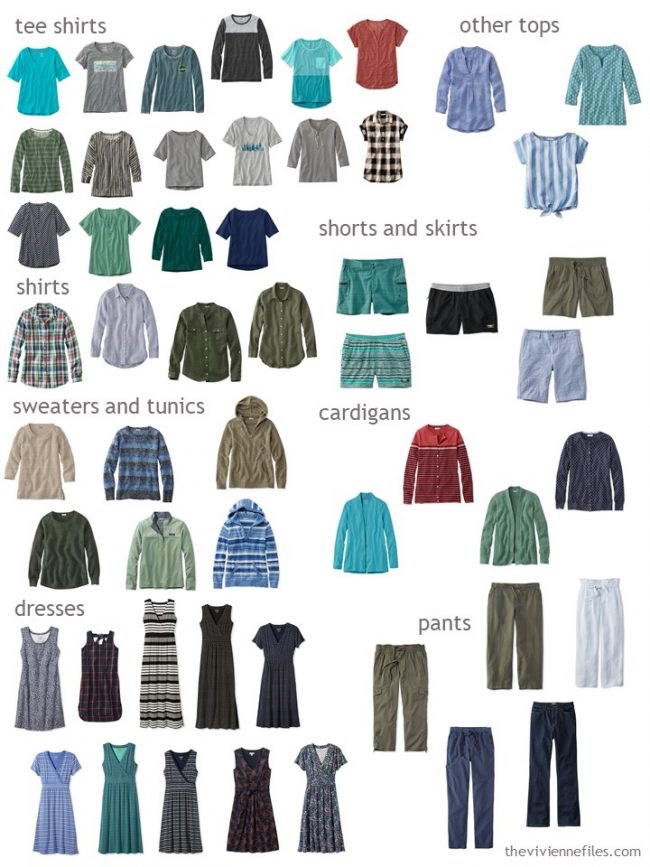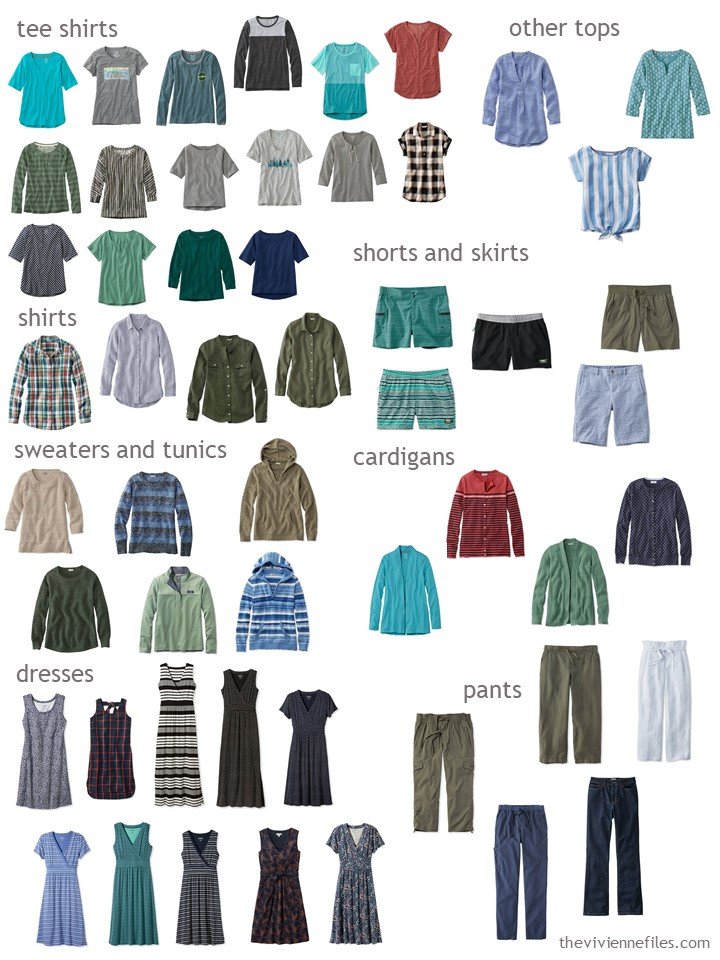 TEN DRESSES? This is either a real personal style statement, or a serious impulse direction…
Also, she has as many pairs of shorts as she has pairs of pants! Here's a moment to really look at what garments she wears most often, and try to come up with a clear mental picture of what an ideal wardrobe for her preferences and activities might be…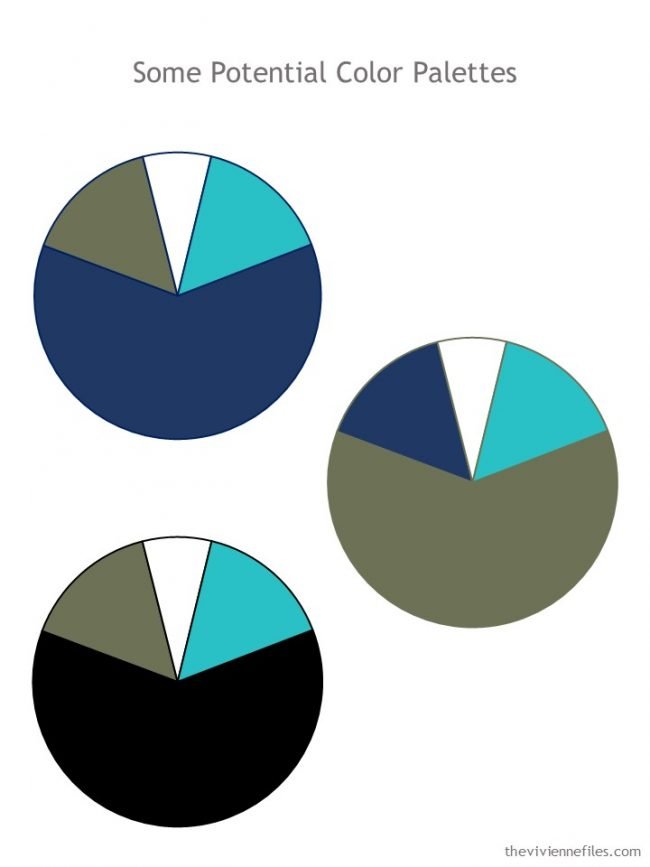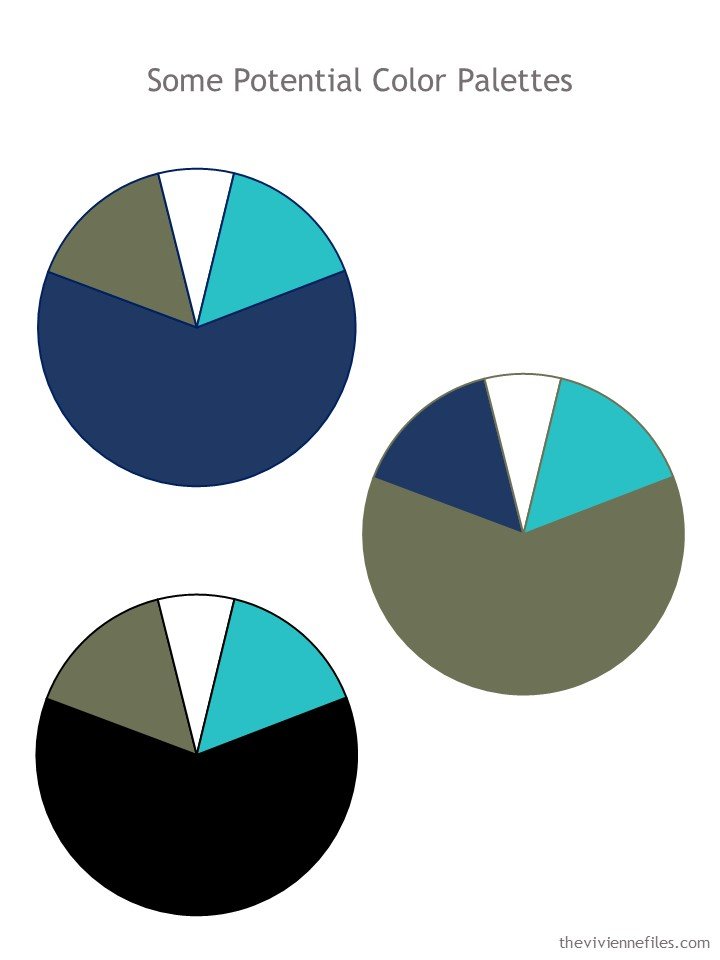 From her starting wardrobe, if we assume that my thesis about the preference for olive green is true, we can come up with at least these 3 potential color palettes. It's probably possible to pull together a 16-piece 4 by 4 Wardrobe from her current clothes, using any of these schemes… For example, here's a navy, olive, and turquoise wardrobe: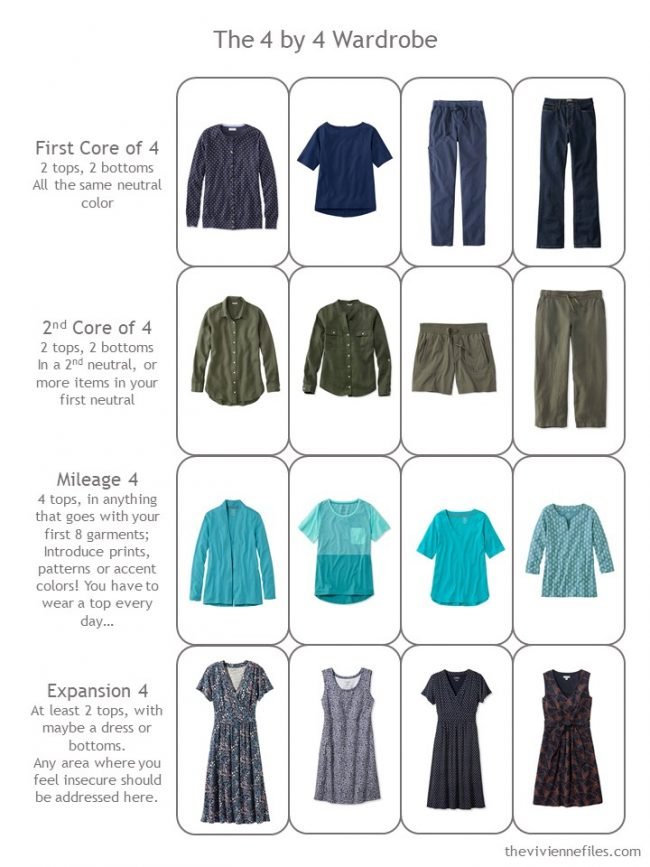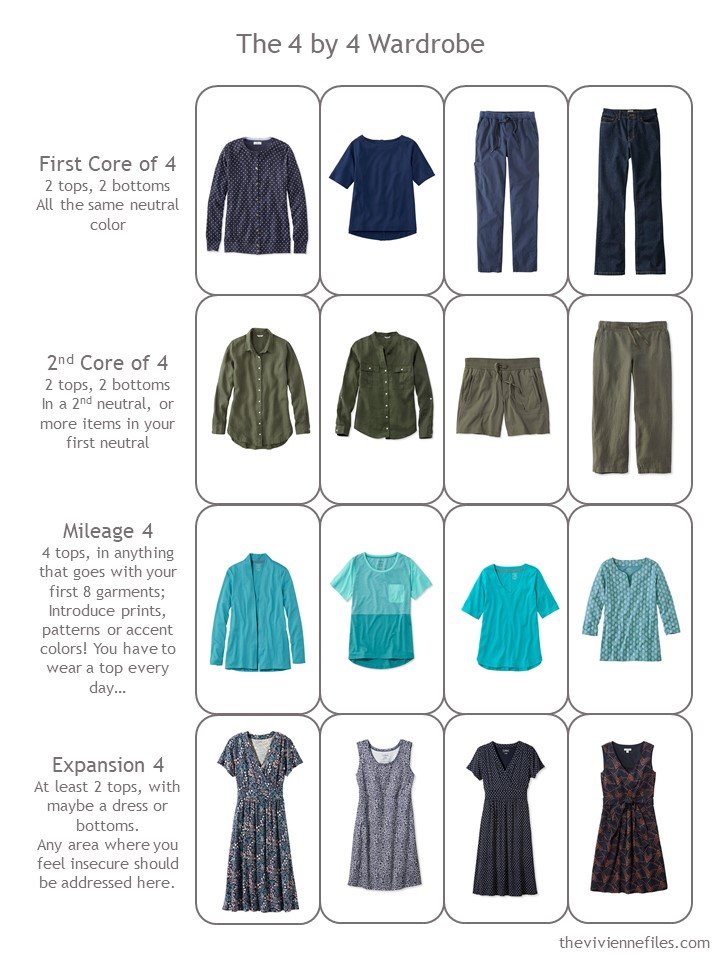 If this heroine is serious about cleaning out this closet a bit, she's going to have to make a few decisions. This is probably not the only way to look at this wardrobe, but I found that answering these questions made the rest of the wardrobe clean-out much easier: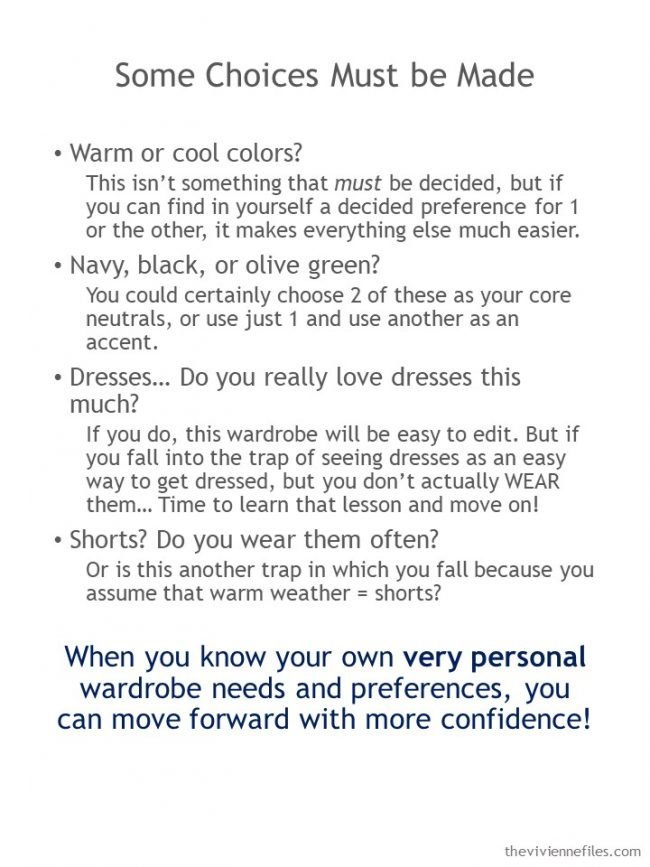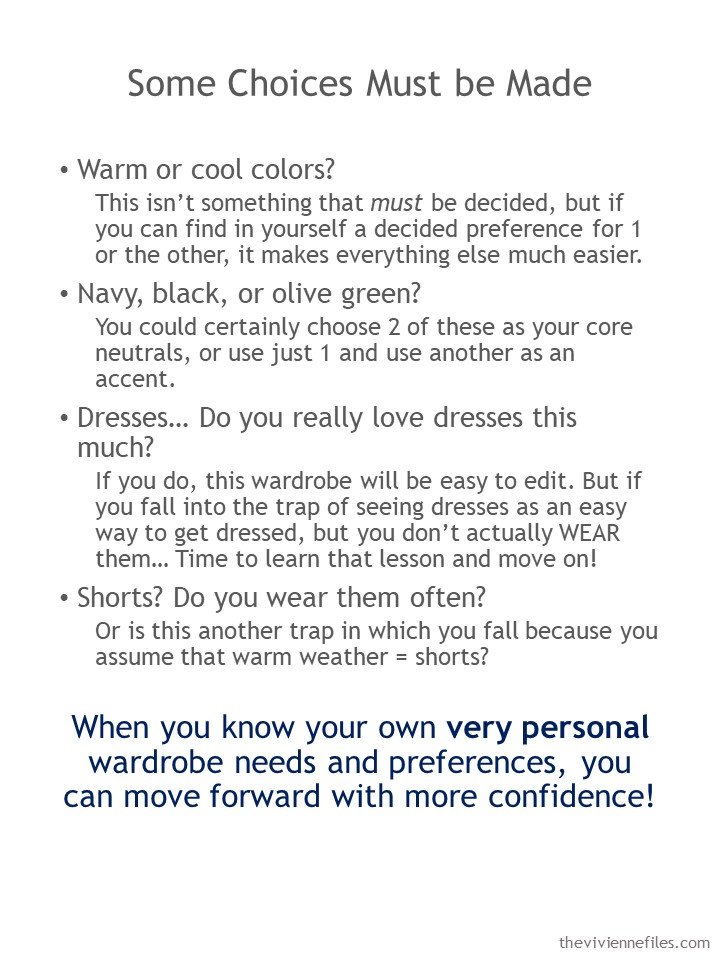 Since this heroine is NOT struggling to get dressed every day, I would encourage her to take as much time as possible to think about her wardrobe desires and preferences. There's no rush to go shopping, nor to purge things from her closet; she has plenty of time to identify colors, clothes styles, or adjectives that reflect her self-image and what she really wants from her wardrobe.
We shall pretend, (using fictional license) that she has been thinking about this for a while, and has decided that she only buys black things because she believes that she is supposed to! She buys logo tee shirts because she loves the store in question and is tempted to show that loyalty across her torso… And every now and then she buys something in some entirely unsuitable color (red, or beige) just because it's lovely, or because it is on sale…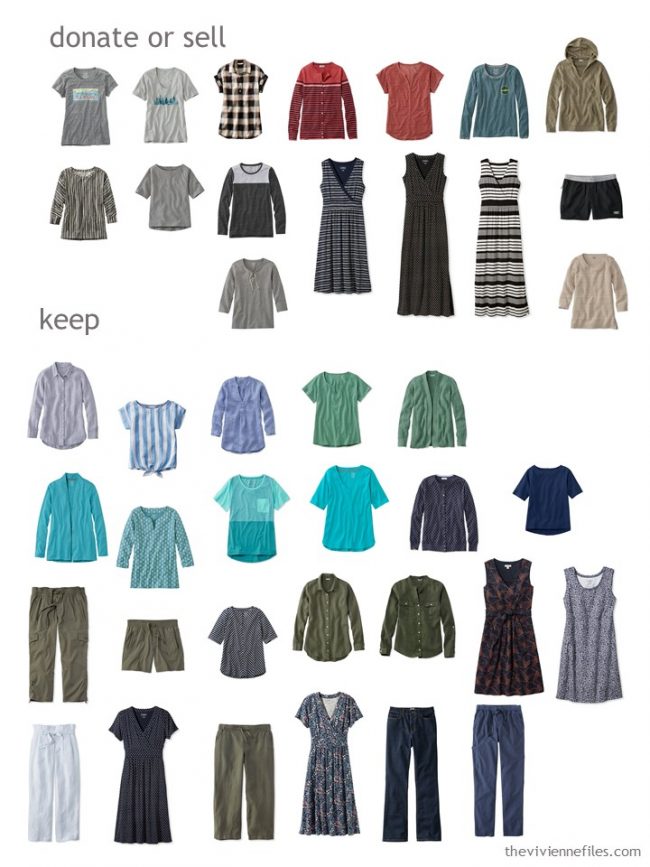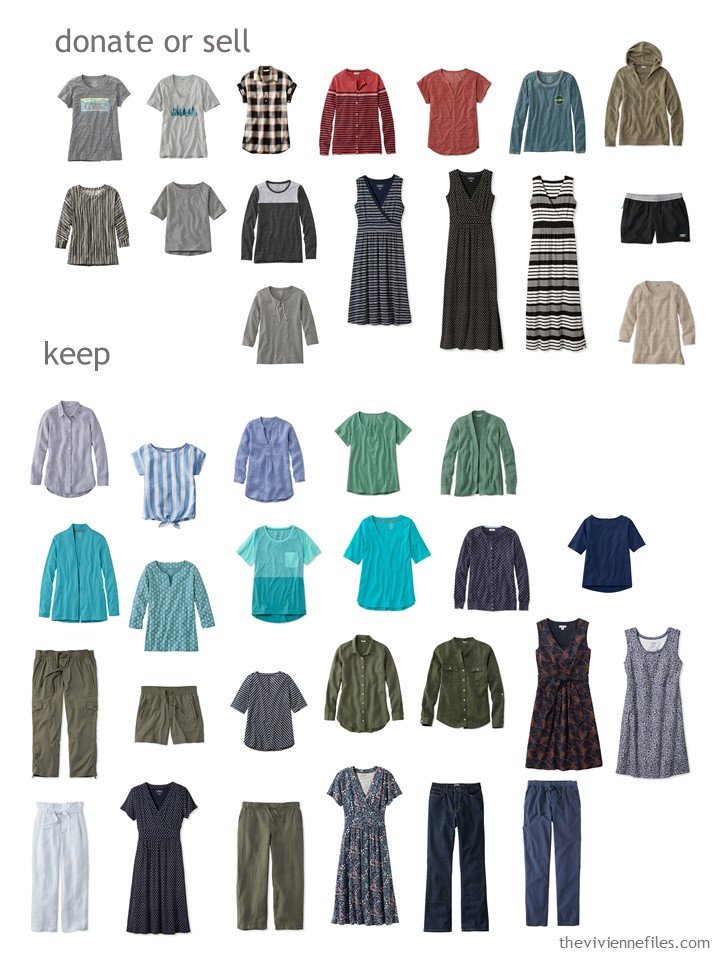 Yes, I kept the matching green cardigan and tee shirt in the cooler leaf-green, even though that's not a color that is in our heroine's long-term plan. Because they can be worn together, or mixed easily with navy, they are worth holding onto for a while. Same with the white pants, and the first 3 blue tops above. These 4 garments are a nice little mini-capsule that will be useful in hot weather. Just because you're not going to use certain colors forever doesn't mean that you MUST get rid of them the very first day!
This leaves us with a handful of things for which the decision isn't really clear-cut: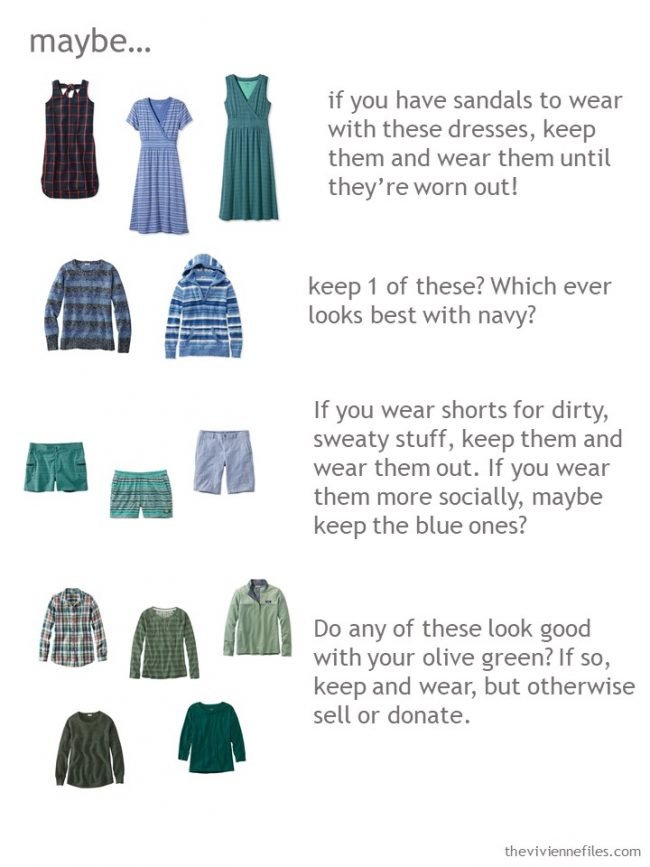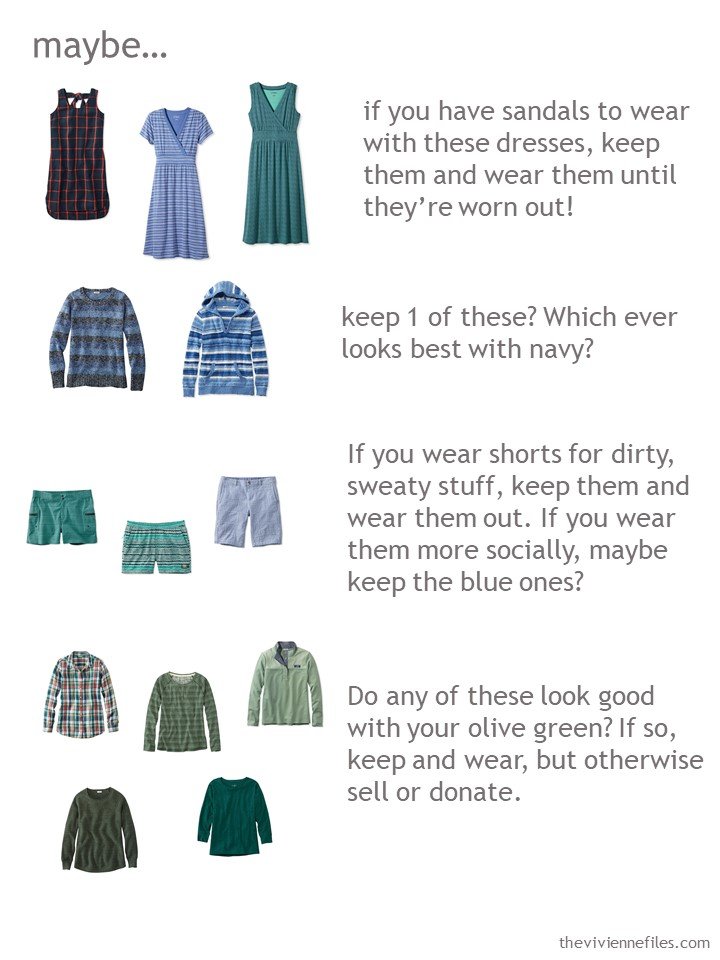 Realistically, if this was my wardrobe, I'd keep all of the dresses, 1 of the 2 sweaters, the blue shorts, and… maybe the bottom left green top. Possibly the plaid shirt. The other green pieces are still useful with navy, but this heroine doesn't need more tops to clutter things up!
Now that we've got a pretty tidy wardrobe started, we should think about the possibility that something is missing that might make a lot of difference.
As always, I see a need for simple, solid-colored, neutral things. They're not dramatically fun to buy, but they do the heavy-lifting in your wardrobe, and give your accent pieces a base upon which to build an outfit.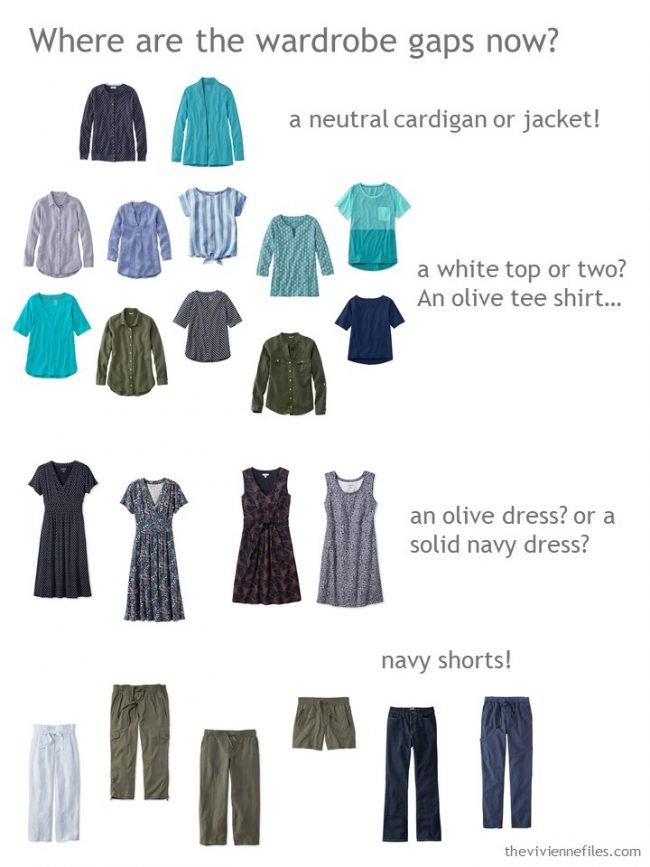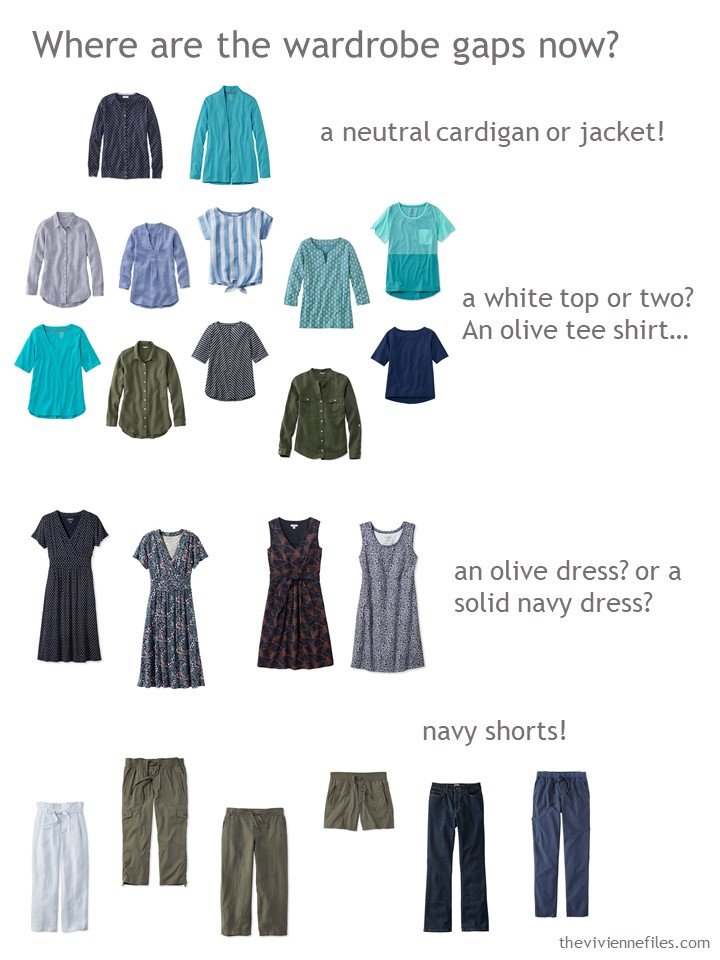 What might I add to this wardrobe?
These are all from her favorite store – they're just not those fun, playful or colorful pieces that catch her eye most of the time. A little bit of this discipline is worth cultivating; it makes your wardrobe a LOT more versatile and useful!
This is what her revised wardrobe looks like. It has a strong feeling of sea, sky and forest. She clearly likes a wrap-front dress style, a loose, no-button cardigan, as well as simple tee shirts. Her style is coming into focus!
These 29 pieces can be work in a TON of different ways: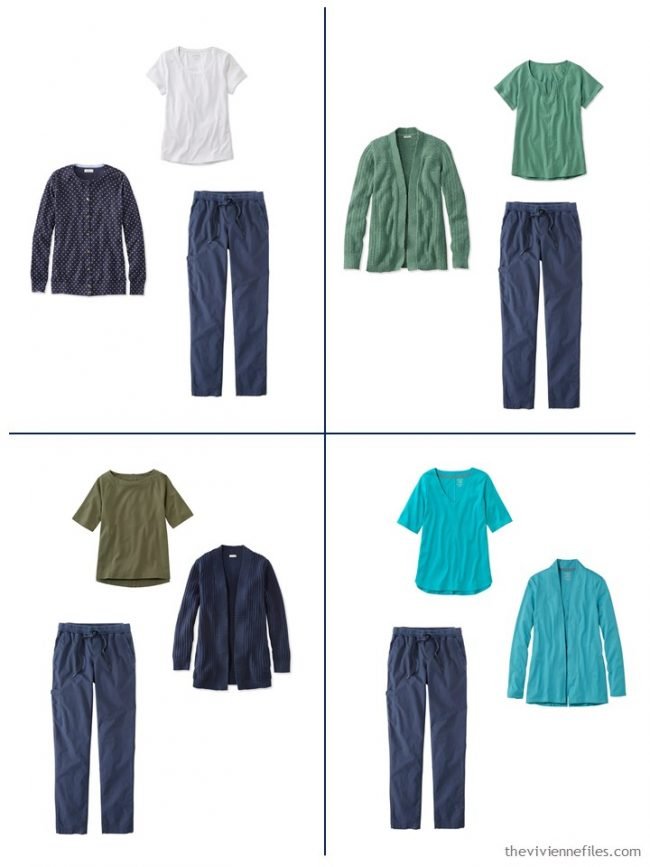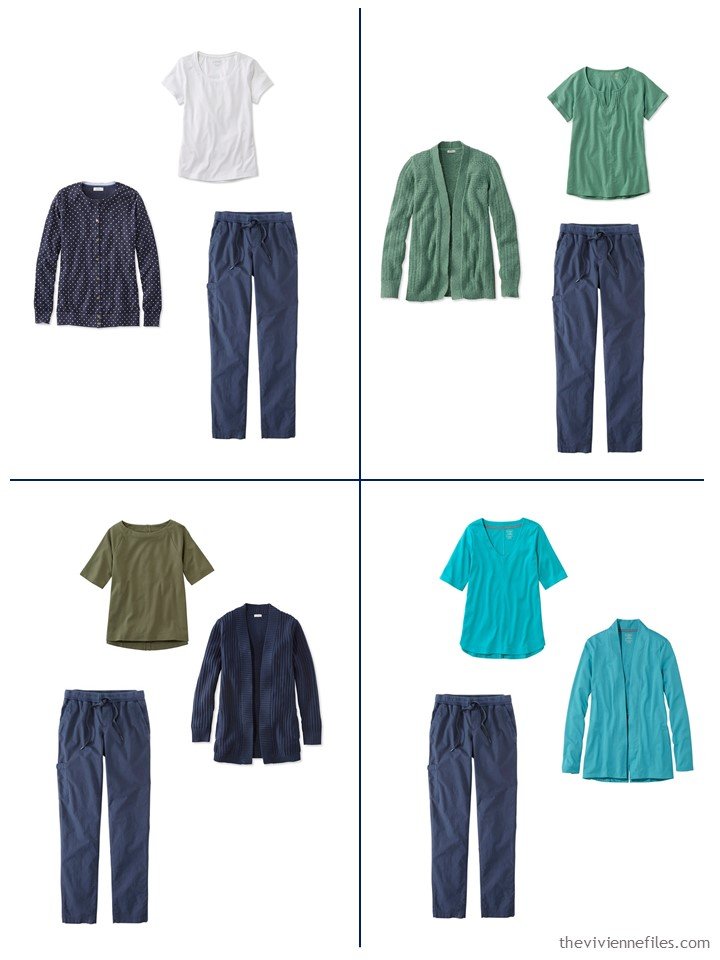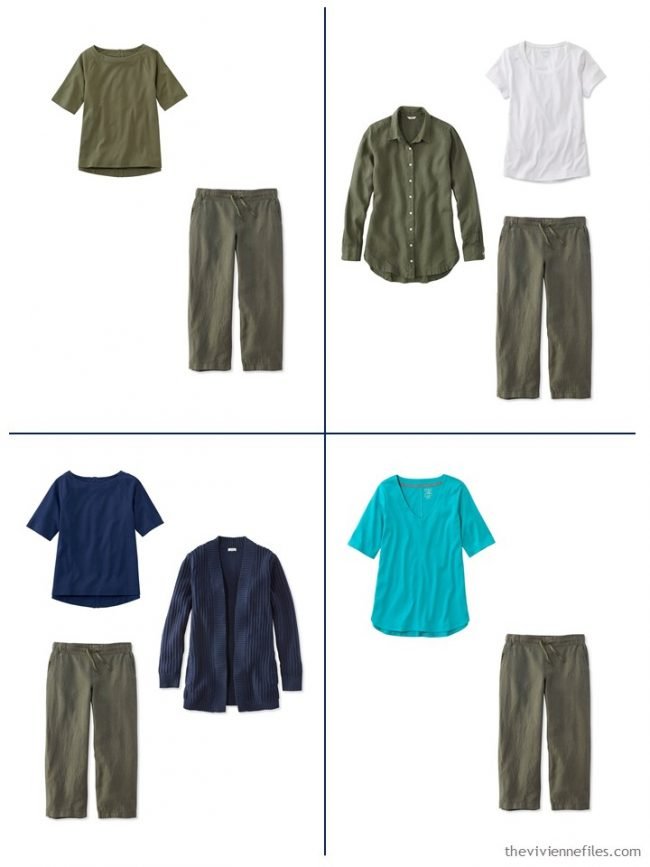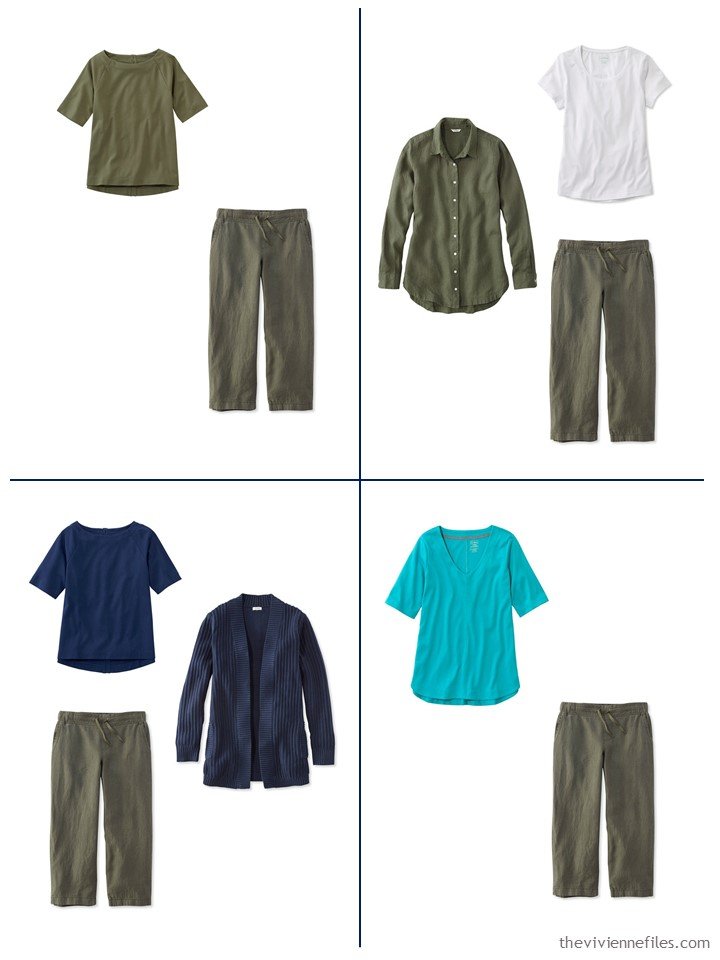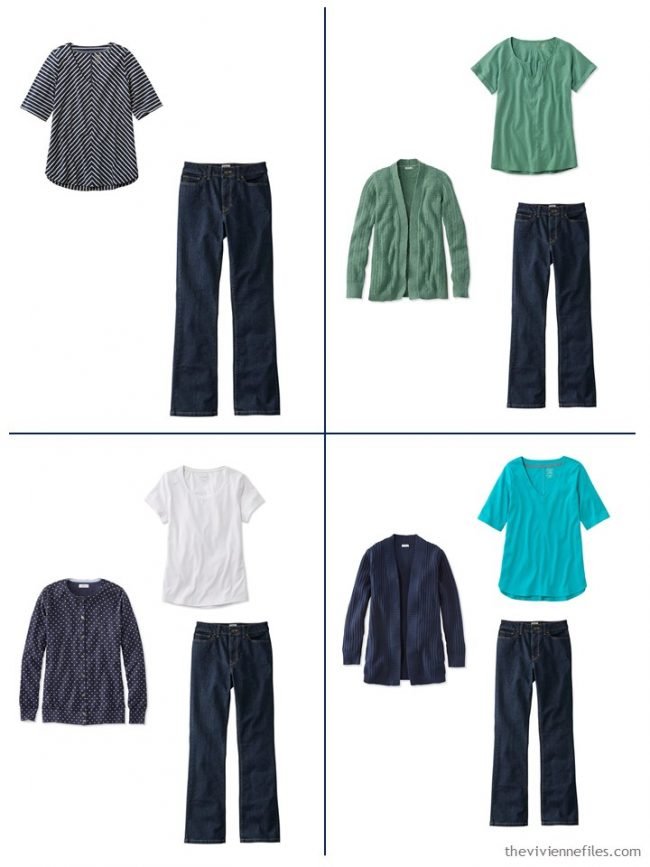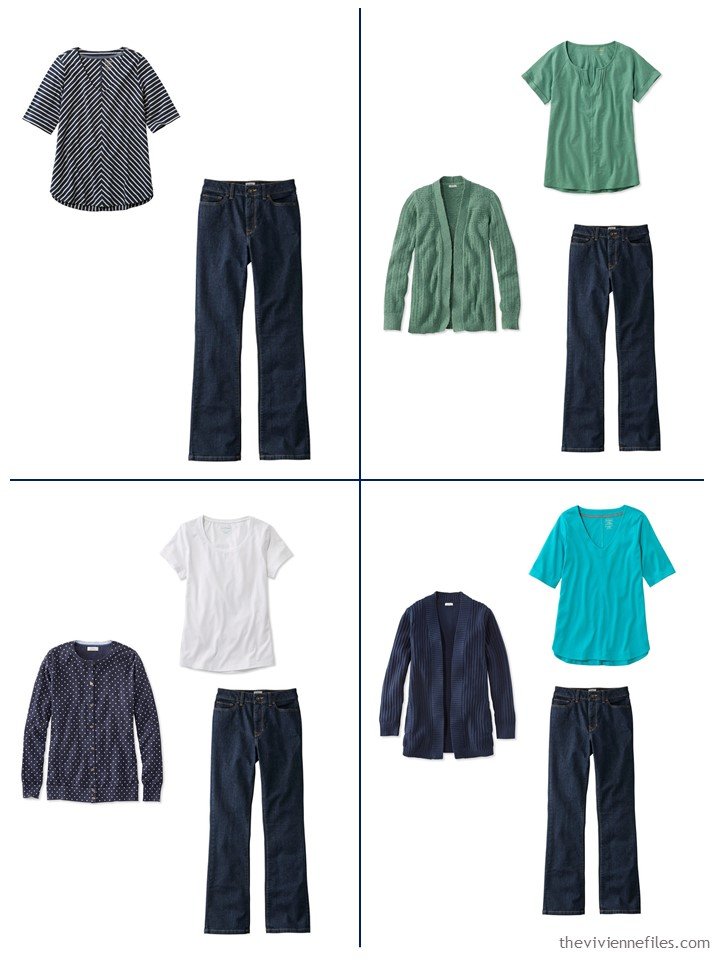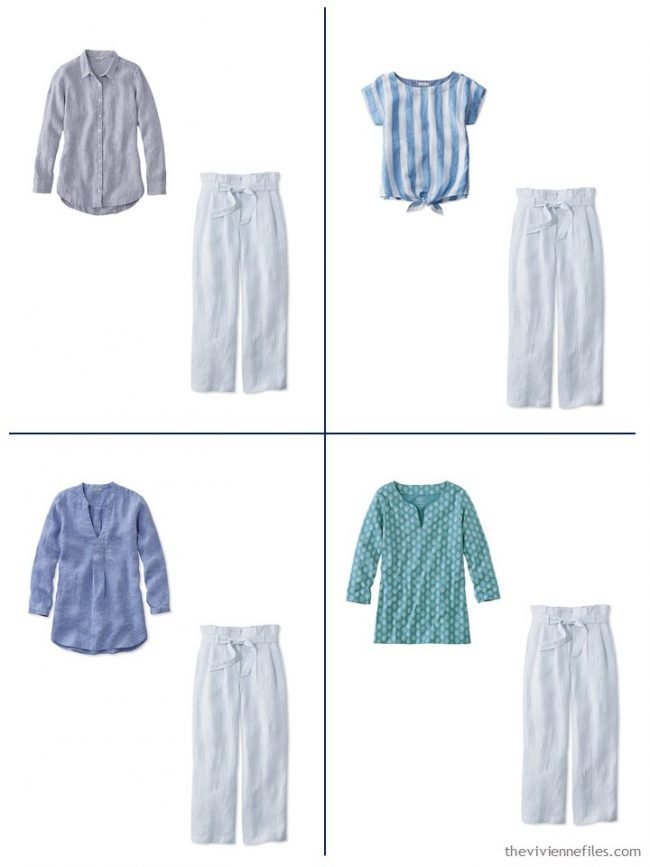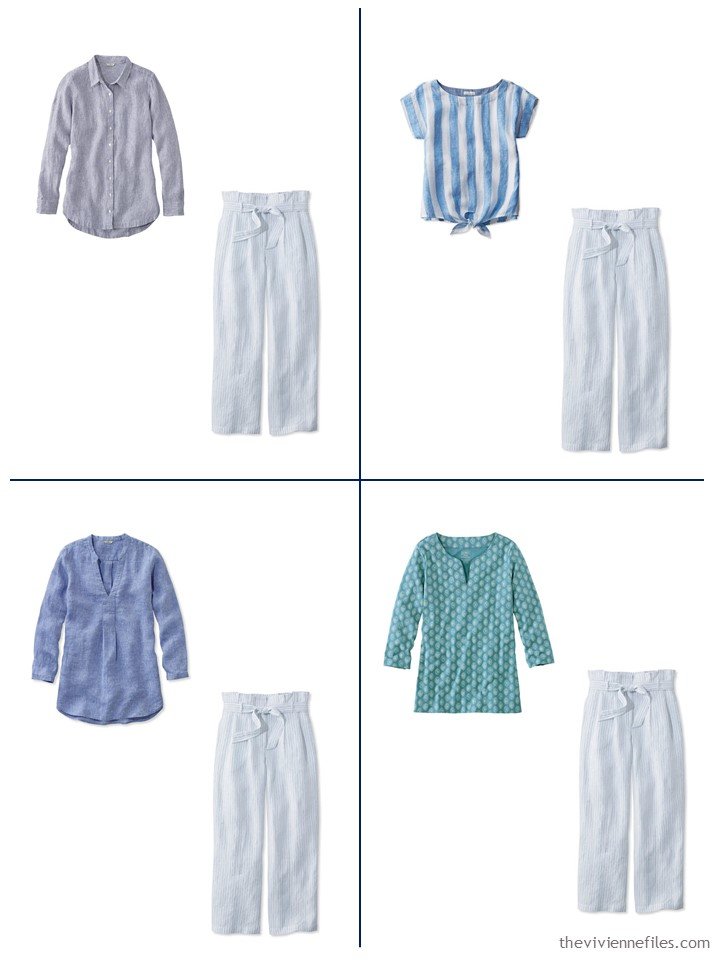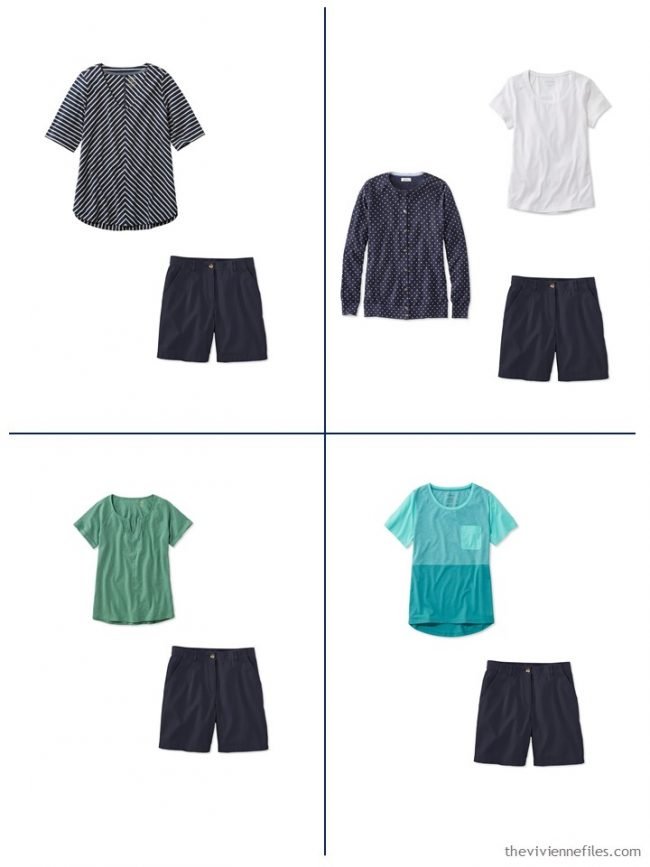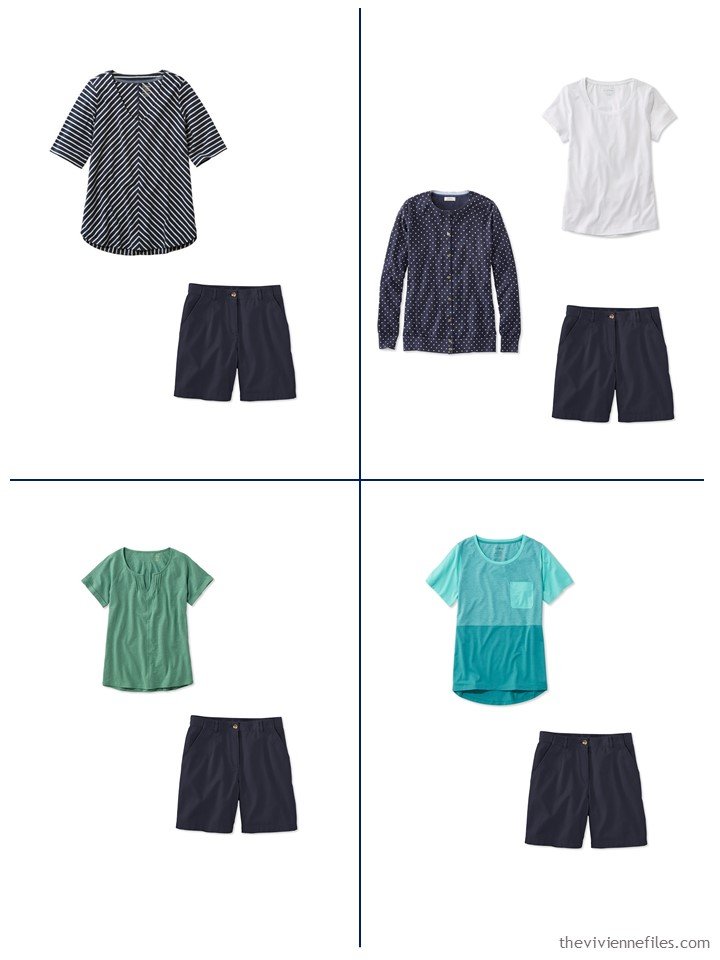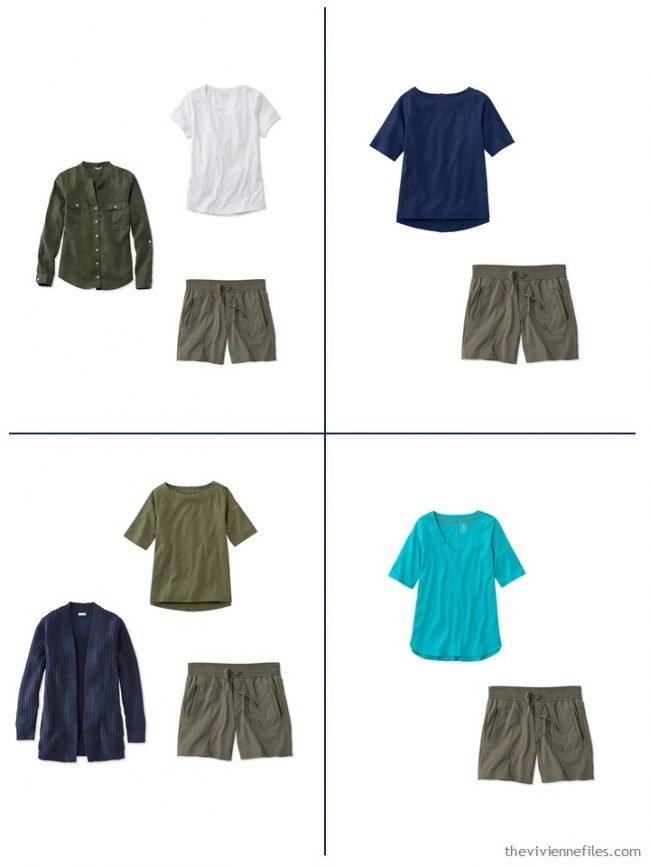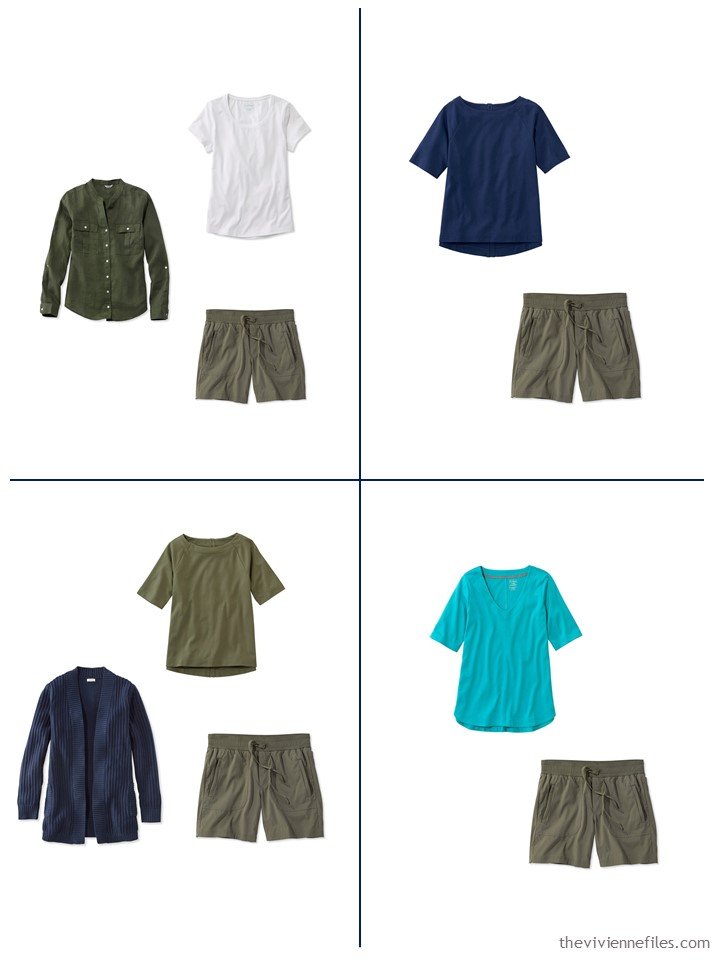 So what do we learn?
Focus on a few colors, at least for the core pieces of your wardrobe,
Balance the number of tops, bottoms and 2nd layers you have,
Figure out where your "useful soft-spots" are – in this case, the allure of dresses was an important thing to consider, and
Figure out where your "foolish soft-spots" are. I think this heroine might have an inclination to buy shorts even when she's never going to wear them. She should think about how this happens – trying to dress like her friends? seeing too many magazines telling her that she MUST have shorts?
These posts are a ton of work – just FINDING 53 pieces of clothing and cramming them onto 1 page is a fun project. But I love these because this is really where a disciplined and functional wardrobe starts!
love,
Janice
p.s. if you struggle to find a particular garment on the L.L.Bean site, send me a note or leave a comment and I will point you in the right direction. linking all 53 of these pieces would have driven me completely nuts!