March 29, 2018
I've seen him twice in the Pedway in downtown Chicago. The first time, he was wearing black jeans, some sort of white shirt, and a RED VELVET TUXEDO JACKET. In the middle of the day, in the middle of the business district. And he looked amazingly cool…He's average height, very slender, young, and quite nice. (Yes, the 2nd time I saw him, I had to stop him and compliment him…)The 2nd time I saw him, he was wearing a white shirt and black jeans again, but this time his jacket was BLUE BROCADE. It's a uniform, and it's his!
Of course this got me thinking how this might translate for all of us…
Say you have this outfit, and you love it:
This would be so easy to build – when you see a jacket that you love, you add it to your wardrobe! Any jacket, in pretty much any cut or fabric, could be worn with your white shirt and black jeans…
You would be free to buy a stack of jeans exactly like the ones that you like – just enough to have relatively clean ones whenever you want. (jeans are so forgiving…) And then you could add white shirts, blouses, tee shirts, or sweaters that appealed. Your only real criteria might be that they would fit under your jackets – you wouldn't want anything with massive shoulder pads or a deeply dropped underarm.
At this point, you have 25 different combinations. If you got really wild and changed up your black pants (velvet? cotton twill? corduroy?) you could have as many as 125 different combinations from just 15 pieces of clothes…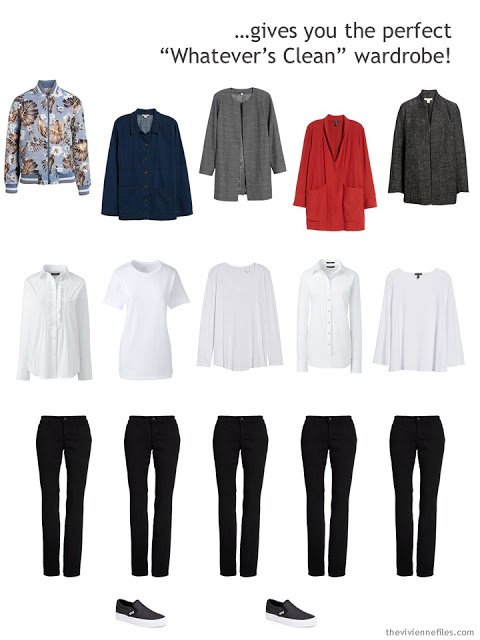 So often, many of us shy away from the idea of a wardrobe uniform because it sounds like it would be really boring… I can assure you, the lovely young man I met today was ANYTHING but dull! And imagine the gorgeous investments you could make in your wardrobe if you knew that you weren't going to need a lot of clothes…
What do you think? Could you do this?
love,
Janice