March 28, 2018
It's a frequent question – does the idea of a capsule wardrobe work when we're talking about clothes for athletic activities? Heck yes! If you like black, it's really difficult to avoid a capsule wardrobe, because so MANY athletic garments are black. But even if you source out different colors, there's no reason at all not to have a plan and a structure for the purchase of your sports apparel…And this works for any sport – golf, yoga, running, weight-lifting…
So let's start with a favorite outfit – a tee shirt and capri athletic pants, with a cropped sweatshirt to top it all off. I'll assume that you have the appropriate shoes and socks, as well as any sort of sun protection or hair control gear!
Since we're going to try to make this wardrobe as versatile as possible, I'm going to use the "Whatever's Clean 13" template to keep us on track. This is what your initial garments look like when placed in the template. (I'm working from coolest weather to warmest weather from left to right – but that's not a requirement!)It's worth noting that those of us who are opposed to wearing visible logos are going to have to be a LOT more flexible when it comes to our sports apparel. The best stuff often has visible logos, and if you're serious about your chosen activity, you are going to make the compromise and learn to live with it! It stinks, but sometimes we have to accept reality…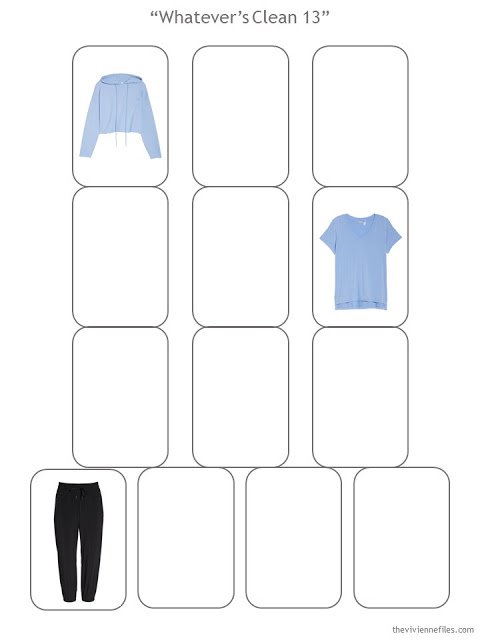 At this point it's worthwhile to decide on a color scheme. I'm including white with the black and blue, although grey would also be another possibility – it's readily available and doesn't show dirt as easily as white!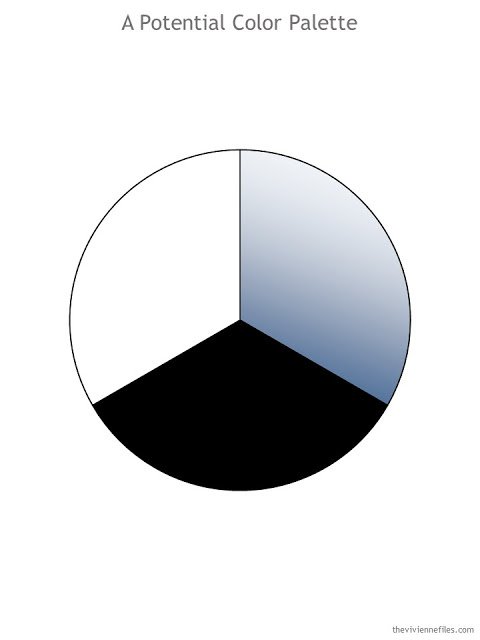 So let's add a 2nd outfit, for (in my case) a day when I'm going on a long hike, during which my legs will be plenty warm, but when I'll need quite a bit more warmth above my waist.
It's important that you think for a while about what sorts of outfits you're going to need. It might be as simple as needing 5 pairs of golf shorts, 5 golf shirts, and a couple of cardigans! But for those of us who do a range of activities, it is worth the energy to determine what kinds of garments are going to be most useful for you.
This template already shows quite a few options: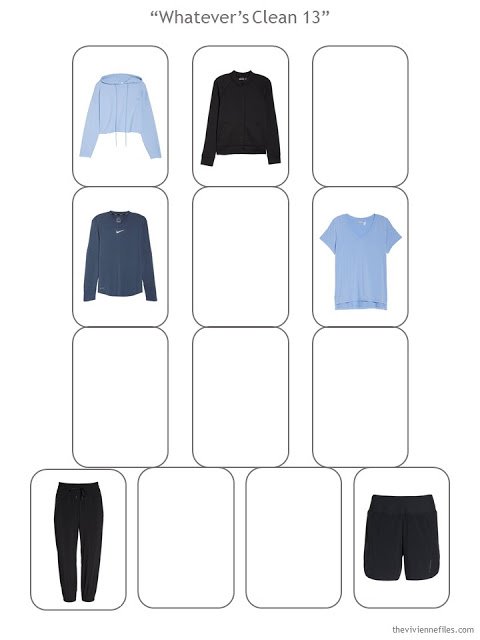 Maybe you're going to be doing something indoors, and all you need is a tee shirt and a skort. But you want a nice, cozy something to put over for your travel… (This jacket REALLY tempts me – I could wear it a ton!)
And while this tee shirt at first glance seems like its just simple, solid black, it actually has mesh-insert stripes! Those kinds of details make a difference in looks and in comfort…
Almost done! Still looking very coherent: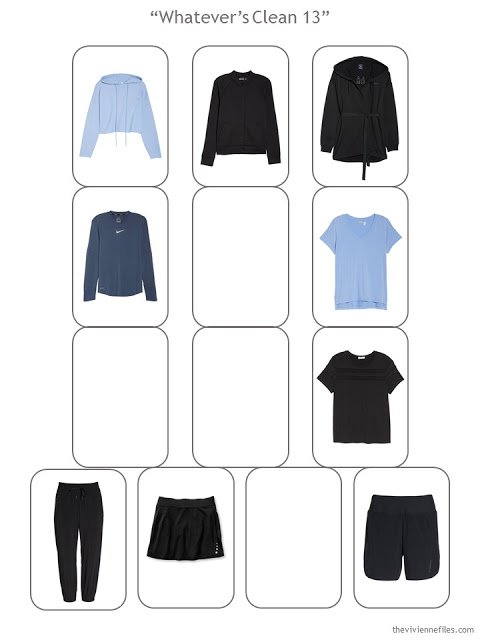 One last outfit! This wardrobe has neither long pants, nor a white tee shirt. While not the most amazingly original outfit, it's still comfortable and appropriate… ( think these pants are actually charcoal grey… which makes NO difference to how well they work in this wardrobe!)
At this stage, all we need are a couple more tee shirts…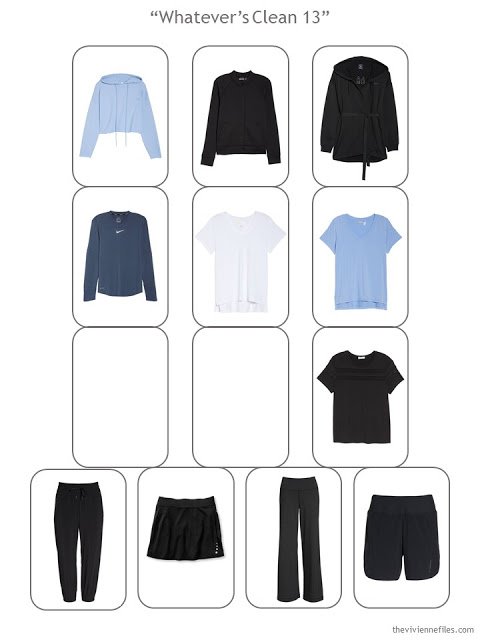 These two shirts (1) aren't the perfect shade of blue (oh bother…) and (2) I think that they're supposedly made for men. THEY'RE TEE SHIRTS, for heaven's sake! If you like them, buy them. Nobody's going to gender-check you, and I suspect that the difference between how these fit and how the shirts fit that are made for women is tiny…
And after a while, you'll end up with more "event-related" tops than you can keep, or store, if you're a runner. We regularly have to purge our dressers of dozens of 5K shirts that I KNOW are identical for both men and women…
If you like Hokusai, you're going to love these…
With the addition of these 2 tee shirts, you've got a tidy 13-piece wardrobe that's literally impossible to wear badly!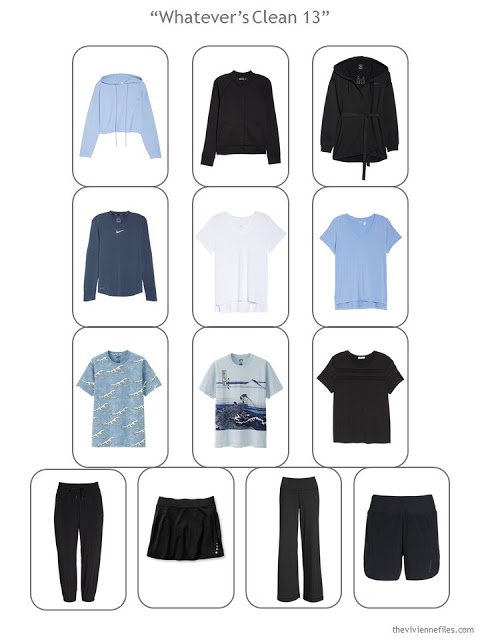 Just for fun, and just to prove to myself that this is indeed a foolproof wardrobe, I generated 3 random numbers, based on the number of jackets, tops and bottoms, and then selected the corresponding garments to see if they would indeed make a nice outfit! Here are 4 results from my little Excel experiment: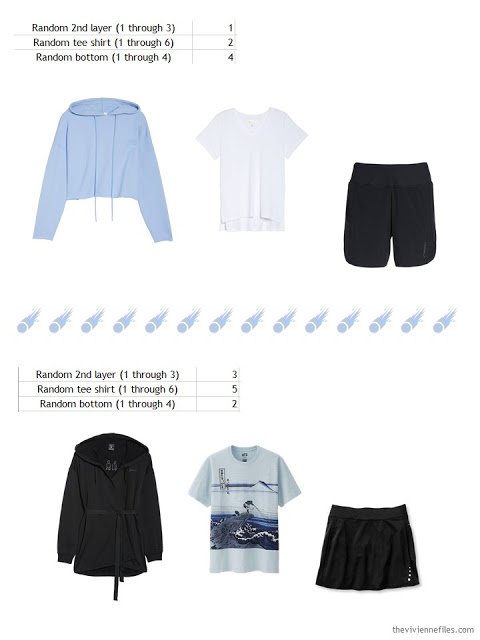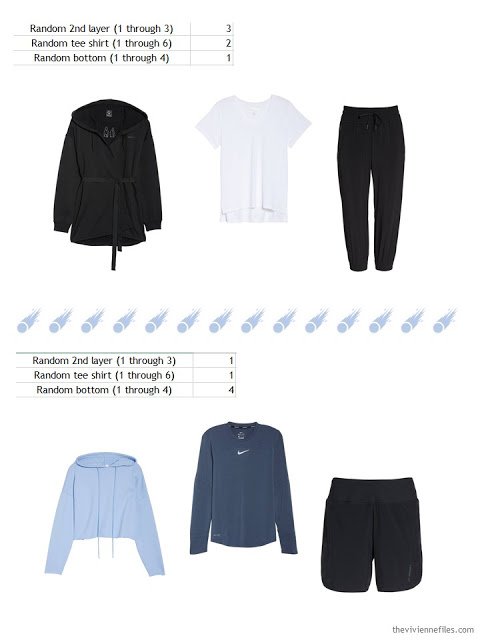 Has Excel ever been used before to assemble an outfit?
As I was working with this, it dawned on me that – at least for someone who lifts weights – black and blue is the PERFECT palette for sports apparel, in that it matches our bruises!
love,
Janice
p.s. Yes, I included no tights. I'm SO tired of seeing the explicit details of feminine genitalia on the streets… If you can find a pair that are modest, go for it, but please be aware of the potential for inappropriate revelations of a very personal nature…