She's worn navy forever, and really, legitimately loves it. She also really feels comfortable with bright colors – she doesn't mind the high contrast. But, for some reason she can't quite put her finger on, she's not quite "right" with her wardrobe…
This is what's she's got for spring:
She really doesn't know what to do to feel more comfortable with these pieces, so she just started getting dressed as normal, but changing 2 small things:
She pulls out and wears what she really "feels" like wearing, rather than trying to carefully rotate everything in her wardrobe. If she focuses on what she most likes, it might help her learn something, and
She keeps careful track of what she wears.
After three weeks, she sorts things out based on how frequently they were worn: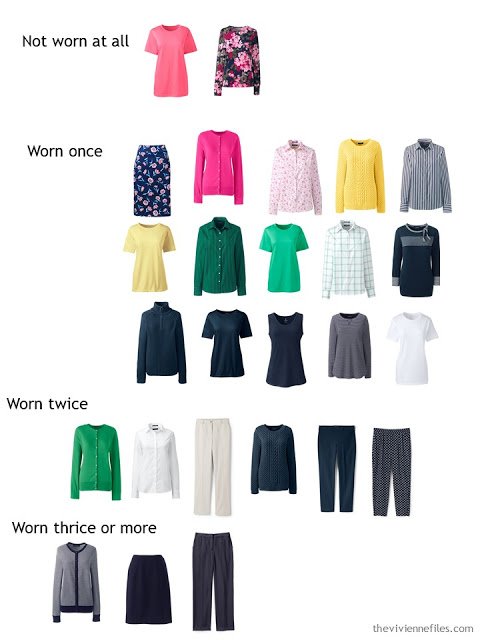 Right away, she notices that she really feels more comfortable wearing a monochromatic outfit on Monday, when she has QUITE enough to think about, and when it's somewhat nice to be less conspicuous!
And she loves yellow on Friday – a bright launch to the weekend…
But that pink… She never really felt like reaching for the bright pink clothes. The last Thursday of her experiment felt more like wearing something because she "should," and not because she wanted to.
So she made a cup of tea, put a shot of whiskey in it, and sat down to think about pink.
Everyone told her that pink and navy were perfect together. She had worn a LOT of pink as a child. It never prompted the kinds of attention that yellow and green did…
BUT SHE REALLY LIKES YELLOW AND GREEN. NOT PINK… (well, now that she's got THAT sorted out…)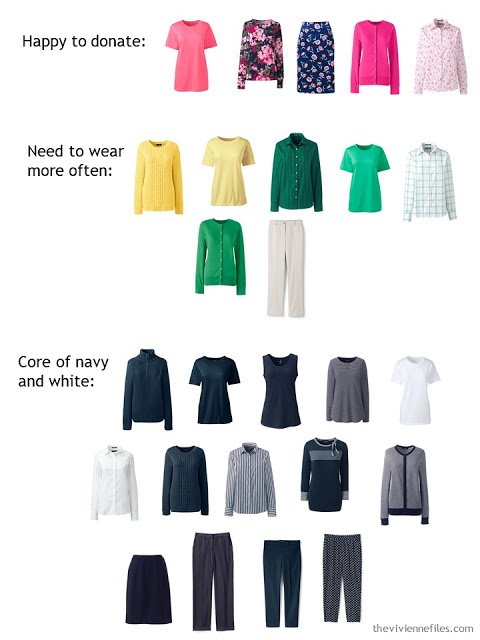 It's a wrench to donate those pink garments – she's worn pink with navy for a long time. But as soon as the garments are in a garment bag in the other room, her closet feels more… like her.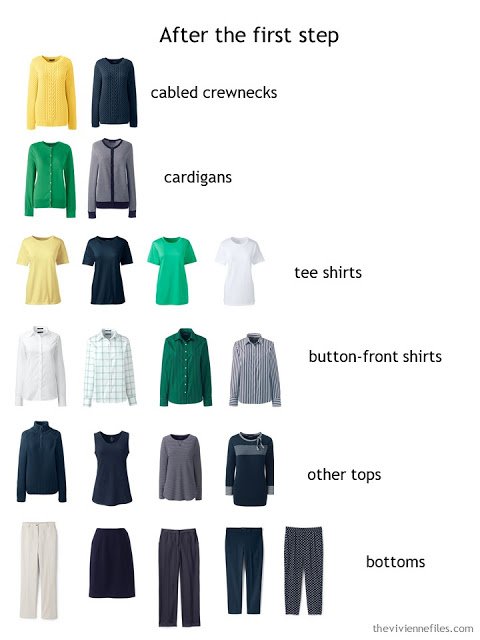 Now she's got a bit of space for a few new things… and she's going to be intelligent and methodical about what to get, while indulging her strong desires and preferences!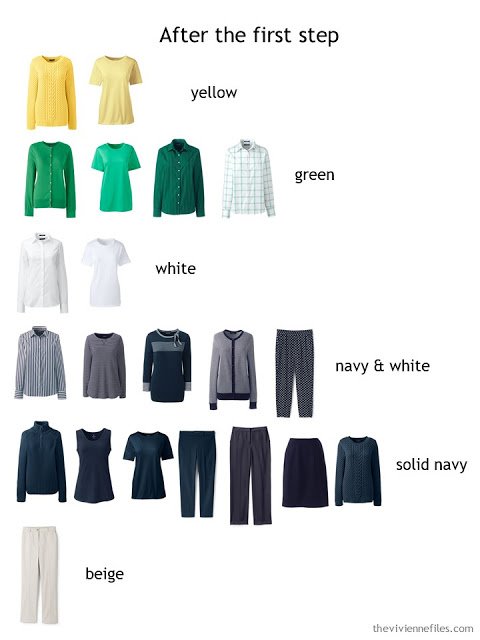 She spends about a week thinking about what she wants to purchase – she has plenty to wear in the meantime!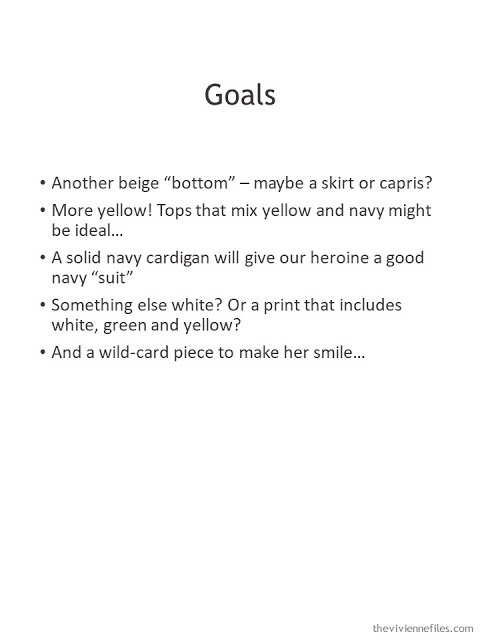 After some careful shopping, and breaking OUT of her Lands' End rut, she has added these pieces to her existing spring capsule wardrobe. She found that shopping in unfamiliar stores wasn't nearly as intimidating or time-consuming when she had a clear focus on what she wanted.
Her new wardrobe isn't a LOT different from her old one, but it feels much better to her!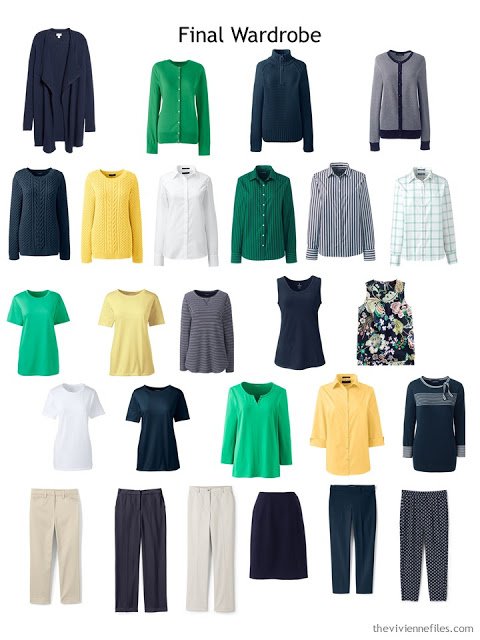 Just as she expected, her new pieces integrate perfectly into her existing wardrobe: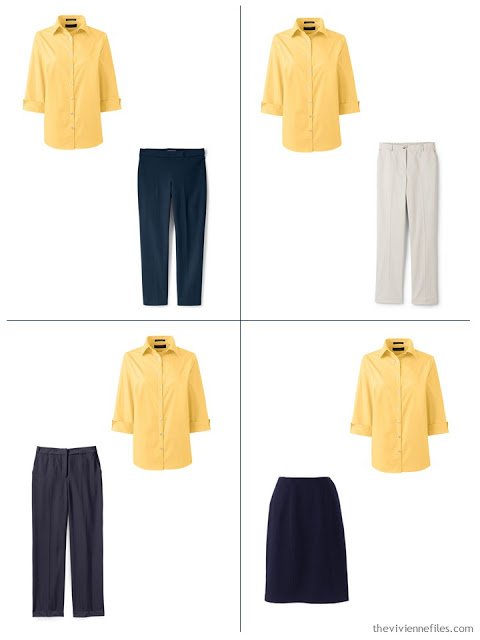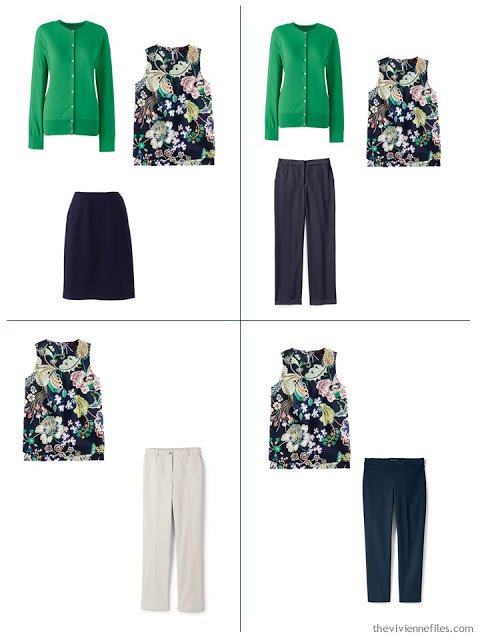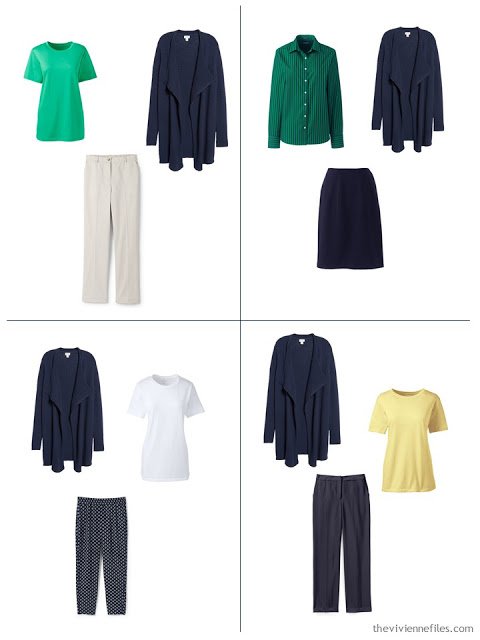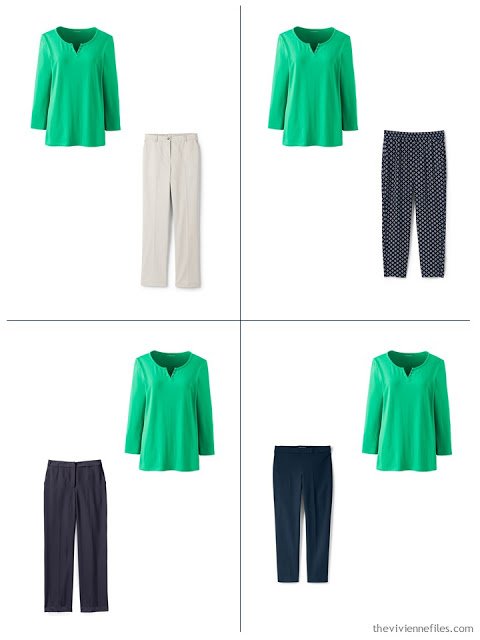 Tomorrow I'm going to make sure that this heroine has the accessories she needs for the upcoming season…
love,
Janice