February 20, 2018
This is almost the same wardrobe that we saw back on February 7th; I've made a couple of changes so that our new "dilemma" is clear…
This is her starting wardrobe; there's nothing really WRONG here – they're all perfectly nice clothes, but she struggles, and often feels that she doesn't look… pretty…
So she goes through the same exercise that we've seen before – does she have the right general assortment of pieces? Yes, this seems fine…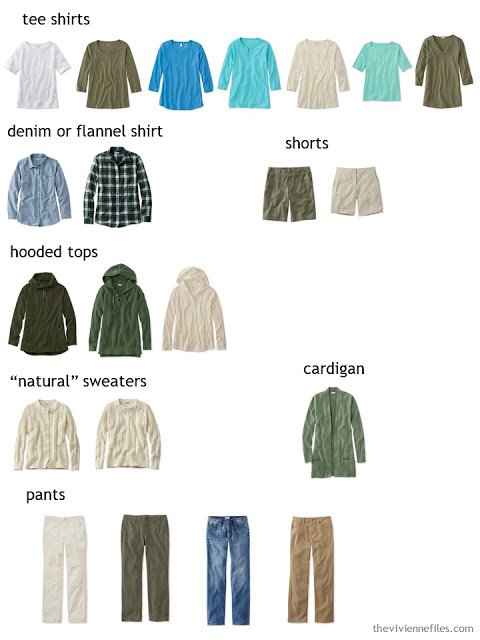 Is it the colors? She feels in her gut that she's got a color "issue…" She's always been told that she was an Autumn, but the colors feel muddy and heavy to her… She's got blue eyes, and freckles, and she feels more… light? than the colors that are suggested for her…
She realizes that she owns quite a bit of yellow-y olive green, which really isn't a color that she likes! She is happy with both white and beige, but her favorite accent colors are blues and greens and more blues and greens! And so, just for a bit, she's going to test-drive this palette: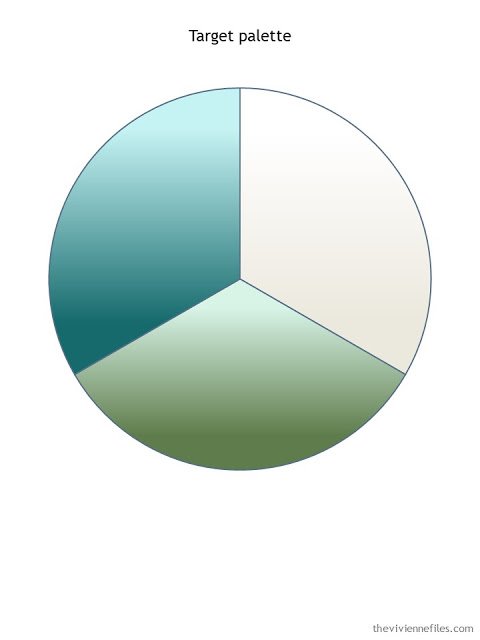 First thing is to get rid of those colors that feel dank and moldy…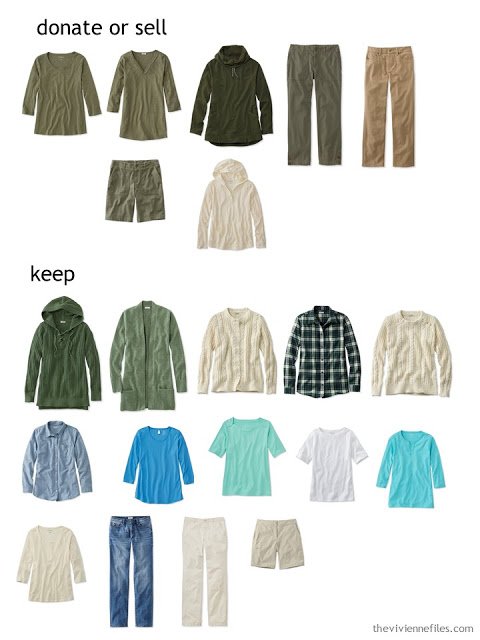 With her core of 14 pieces, and her colors, she thinks for a bit and comes up with some shopping goals for spring. She's going to need to replace those olive pants and shorts for sure! She could get more beige pieces, but she realizes that maybe… navy… just to try.
And she's going to pursue that "pretty" feeling that she's been missing! A floral shirt? Some bright stripes? Maybe even a dress, in one of her new favorite colors…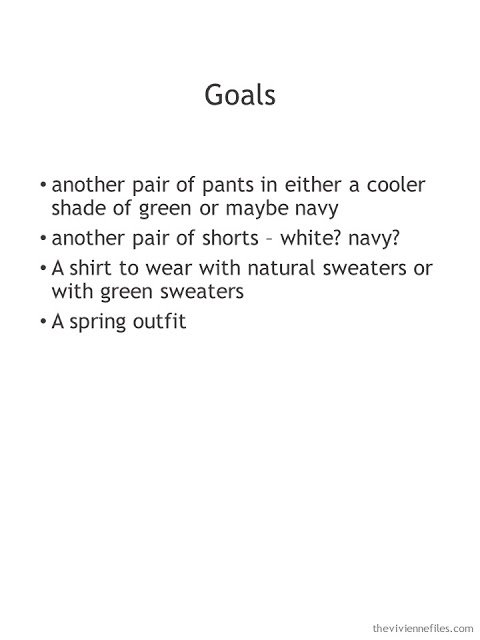 It really didn't take very long at all…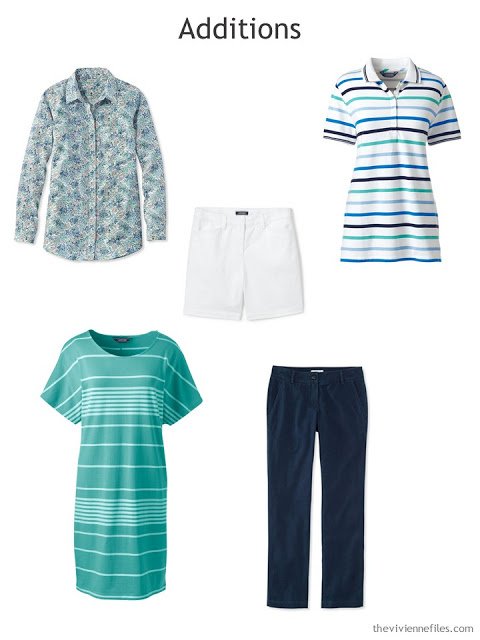 floral shirt – L.L.Bean; white shorts – Lands' End; striped polo – Lands' End; dress– Lands' End; pants – L.L.Bean
This is how her casual wardrobe looks now – it still has a balance of warm-ish beige with cool blues and green. But the beige is a great summer neutral, and she's really happy with her outfit possibilities.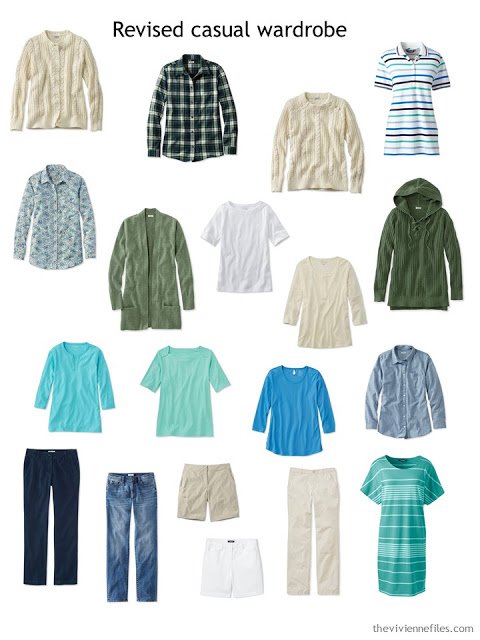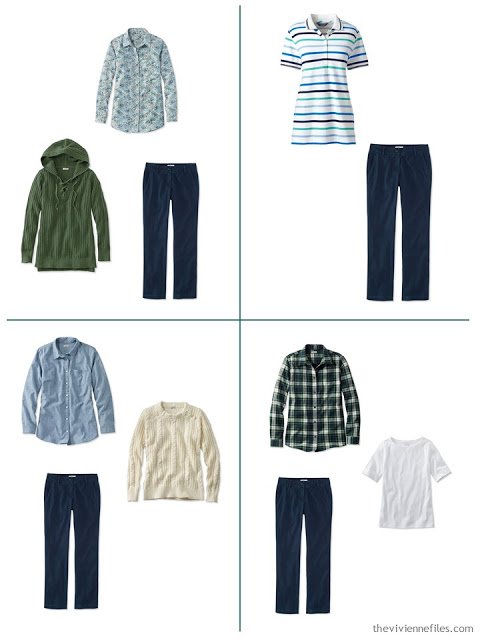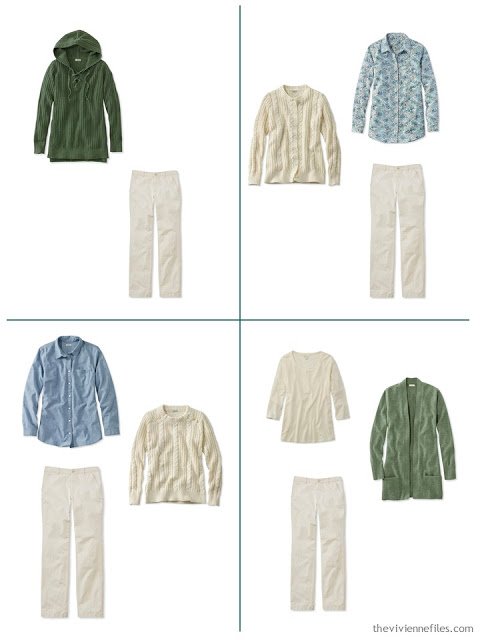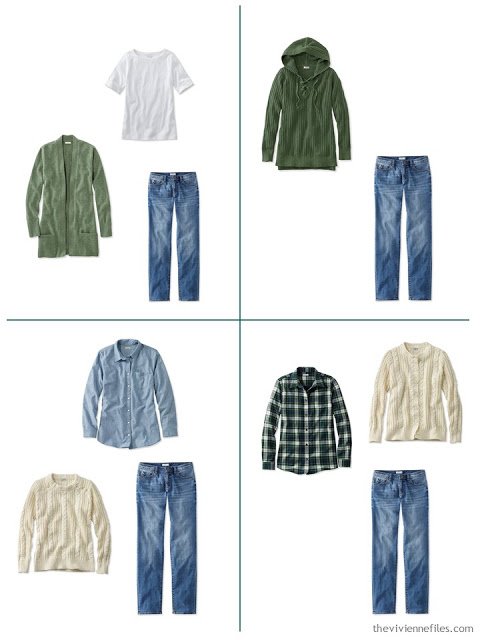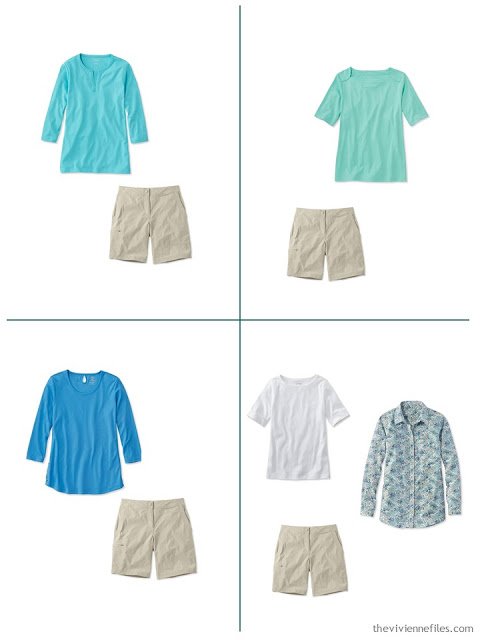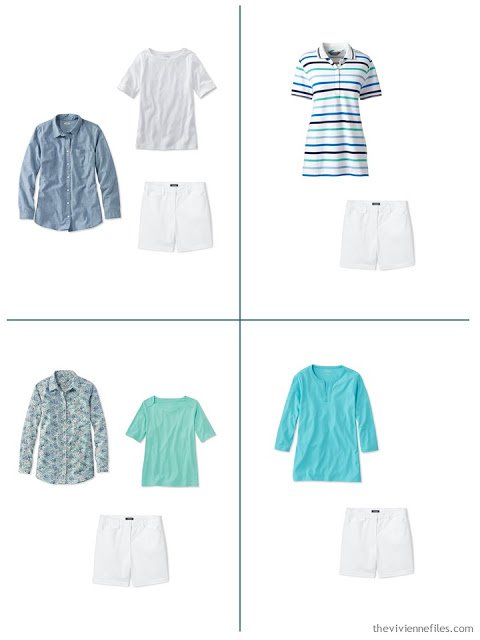 She has outfit options to wear from the coolest damp spring days, or for warm and sunny days. Maybe some accessories will make all of this even better, eh?
love,
Janice