February 27, 2018
When the weather gets warm, many of us get the urge to shop! And so let's think about limiting our purchases to whatever essential, core items we need, and then a French 5-Piece Wardrobe to freshen and update our classics…First, every change of season has me dreaming of tossing out all of my clothes and buying an entirely new wardrobe from Eileen Fisher. (NOT going to happen, but a woman can fantasize, and then use that fantasy to create a better reality, right?)This is what I'd be buying, if I was going to do such a madcap thing:
Of course, when you look at this wardrobe for a few minutes, you realize that you don't need to buy ALL 10 pieces to get the desired effect – maybe just 2 or 3 of the real signature pieces (that marled cardigan – sigh, and the striped skirt?) and add them to black and white pieces you already have…It's worth remembering that these pieces would result in more outfits if all of the printed or patterned garments were clustered in 1 "layer" of the wardrobe – i.e. if there was a solid black skirt, and the only printed pieces were tee shirts… But when you get to the point of having a dozen outfits from only 10 garments, you're in pretty good shape in terms of versatility, I'd say!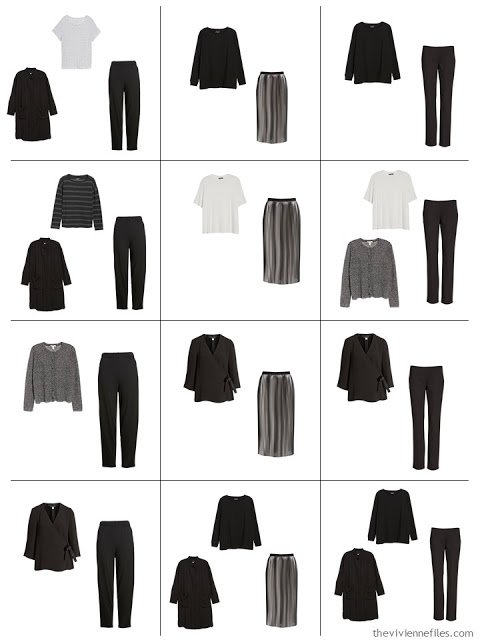 Now let's get to the things that add the spice – the salsa of your wardrobe, since this bright red puts me in the mood for chips and salsa…
I'm going to look at the Pantone 2018 colors, laboring with the hope that these colors will be readily available in stores. That doesn't always seem to hold true, but it's as good a way as any to choose accent colors…
A note about the whole "French 5-Piece Wardrobe" thing; some writers would have you think that French women only own 5 pieces of clothing, or that they only buy 5 things a year, or some other such odd interpretation of French life. I've swiped the term and re-defined it in a more realistic "buy 5 things that go together, and that will reinvigorate your current wardrobe."

If I were to buy a pair of bright shoes, I would look for something pretty timeless, and maybe even something that could be worn with both skirts and pants. This is the sort of thing that you'd want to wear frequently (and get your money's worth from) while you're in the mood…With these additions, you've got at least another 8 outfits… At this point – you could easily wear/pack these 12 pieces of clothing and be beautifully equipped for travel!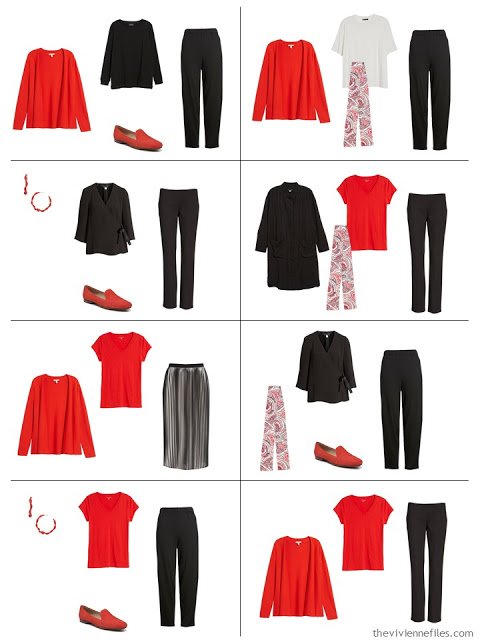 I'm going to be playing with this idea for at least a few more days – I'm really determined to help us all focus our spring and summer shopping and not waste money and resources…
love,
Janice