January 25, 2018
This is similar to the very recent wardrobe about traveling to Italy, but sufficiently different that I thought it was worth a look…First off, I'm going to take a clue from yesterday's thoughts about accent colors and include some muted, pretty colors with the same navy and beige that we've already used… (navy and beige are on purpose – I'm pretty sure that this reader is a navy/beige person; if I'm wrong, I apologize!)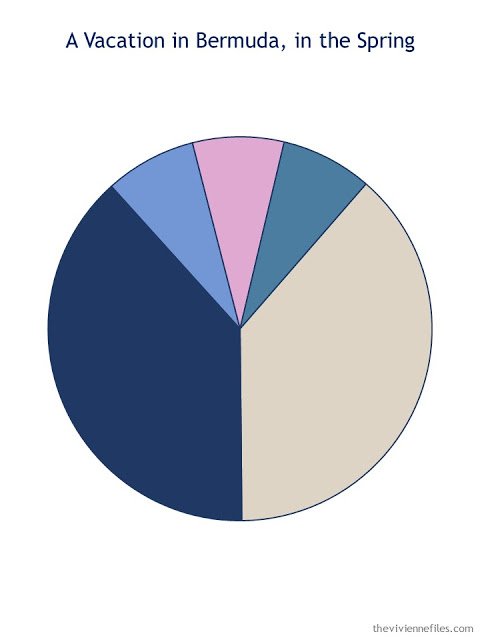 This is the easiest possible way to dress for travel – a "suit" in your dark neutral, with a contrast blouse, shirt or tee shirt, and a pretty scarf to tie everything together! I'm re-using a lot of the accessories from the earlier post to show how versatile they are… I changed the cardigan, top and scarf here, and it's a VERY different outfit…
realistically, both the Tuscany wardrobe and this could belong to the same woman, of course!
I really love this navy cardigan, because it gives that sort of menswear feeling to things that contrasts so nicely with a floral scarf…The other particular wardrobe desire expressed for this trip was something to wear for dinner… The general guideline for dinner there is "dressy casual," which is irksomely vague and oxymoronic…
(and yes, let's make just a bit of use of a heart motif, since this is a romantic vacation!)
With just these 2 outfits completed, our heroine is in a pretty good spot! She's got a few solid outfits available from just 5 garments: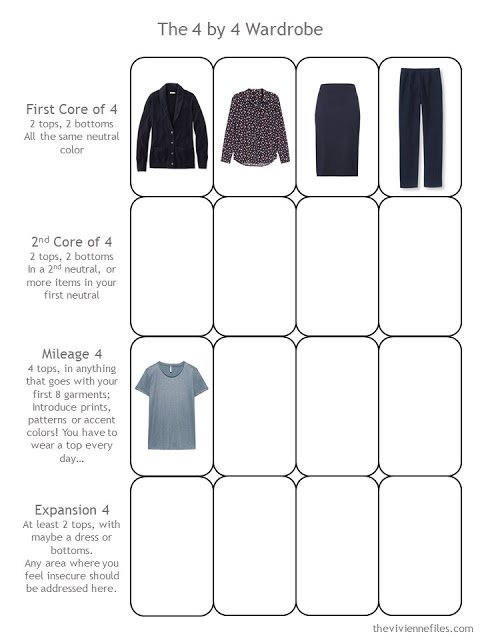 The big gaping hole in her wardrobe right now is something in her lighter neutral. Bermuda in the spring can have temperatures that vary widely, but will generally be more cool than warm – more sweater than swimsuit! I'm including cropped pants on the off-chance that she'll be able to at least walk along the beach sometime, or that it will be warm enough to expose her ankles…
At this point, things are progressing well… but it's very clear that a handful of tops is going to be necessary to bring both versatility and some "life" to this wardrobe!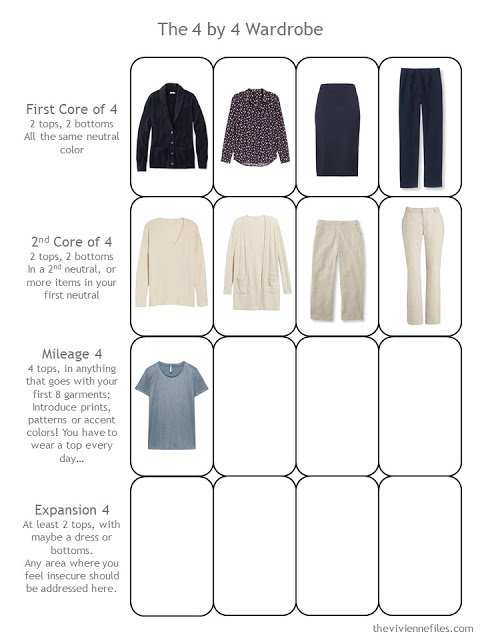 Since we're expecting mostly moderate to cool temperatures, a few pretty sweaters might be a great idea – especially since I managed to find ALL THREE OF THESE at the same place! That's sort of like blogger nirvana…
(the blue sweater has a neckline that works really well over a shirt… must remember that…)
And yes, the lavender and teal sweaters are the same sweater in different colors. There's absolutely NO reason to miss the chance to stock up if you find something you love… This sweater also comes in navy and beige – I could envision this heroine eventually owning FOUR of them…
If she wanted to pack and leave right now with just these 12 pieces, I think she would manage quite well, don't you think?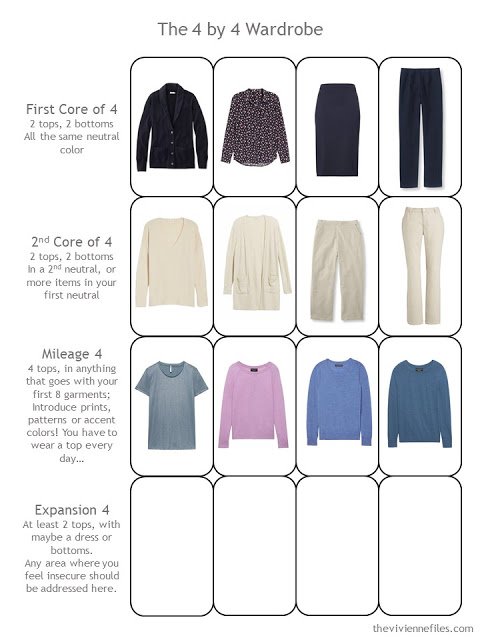 But… let's think a bit about what might be useful for her to have… A shirt that could be worn alone on a warm day, or under her blue sweater?
And a pretty dress that would be great with either cardigan, but that would be very eye-catching across the dinner table? Oh yes!
What if it's really cool sometime when they want to just walk on or near the beach? A warm top that can be worn with any of the bottoms might be wise…
And that whole question about "dressy casual" dinners? Maybe a pretty top that could be covered-up with a cardigan in transit, but then would be special, but not "over the top" for the evening…
This wardrobe has literally dozens of possibilities! That's always reassuring when you're looking at unexpected weather, and the possibility of something getting damaged or stained…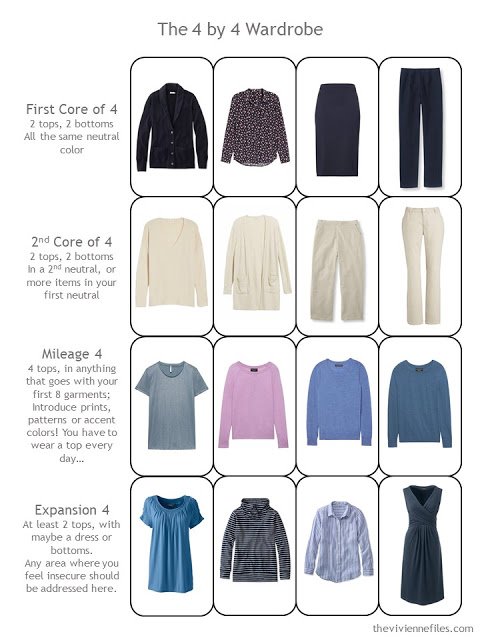 For each of the tops that our heroine is packing, she can wear it in a somewhat dressy way, or a more casual manner: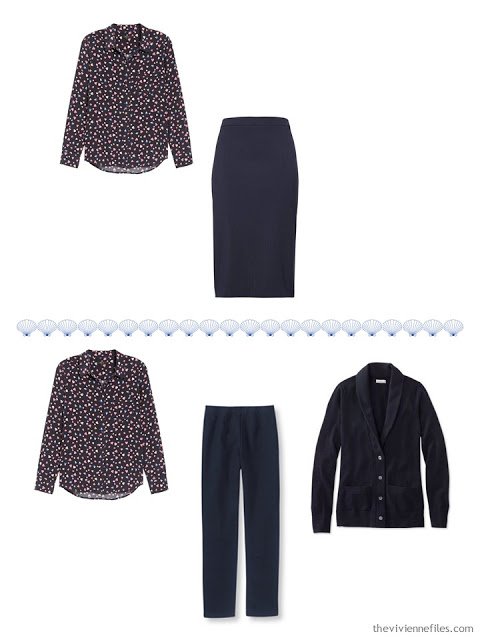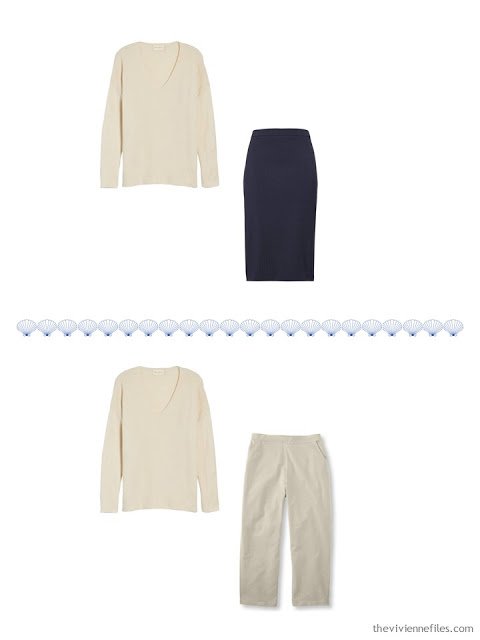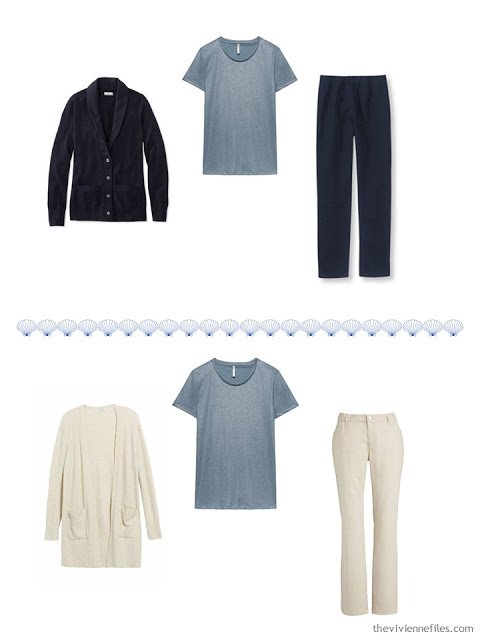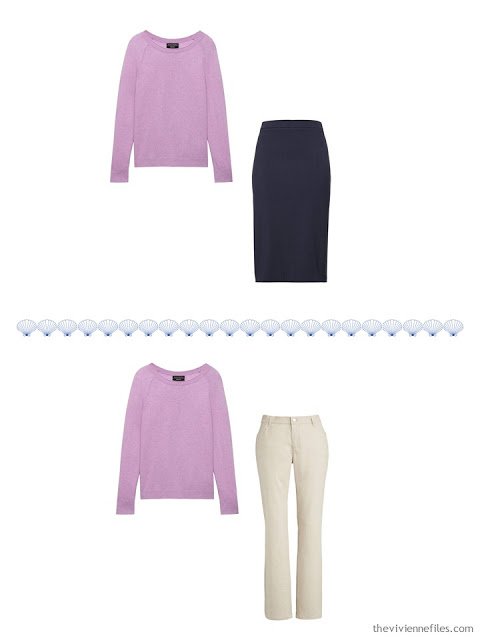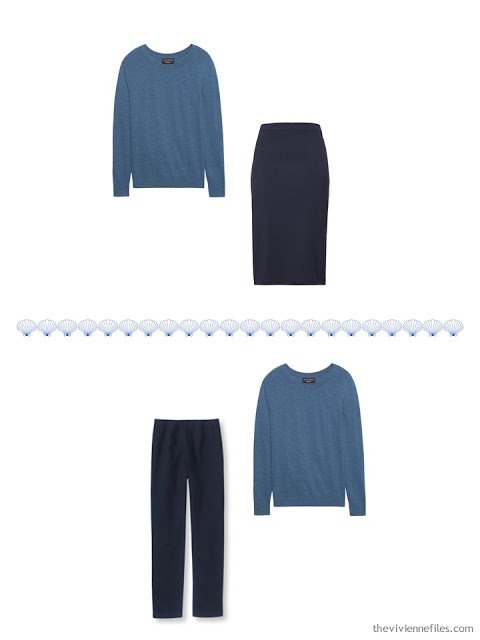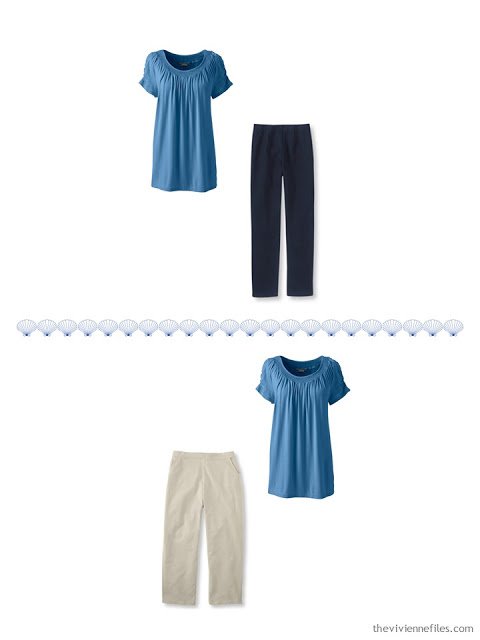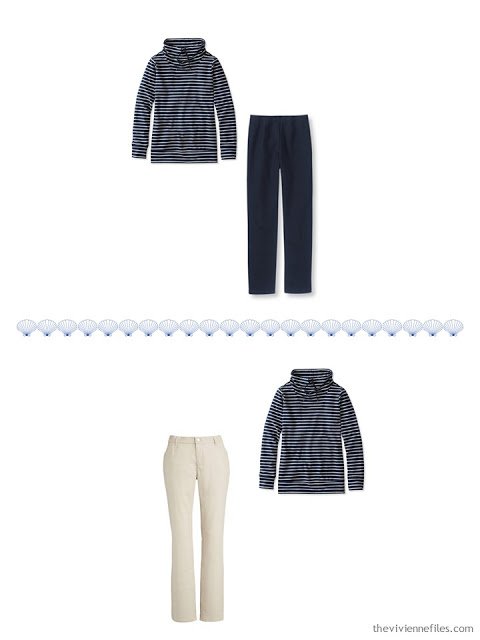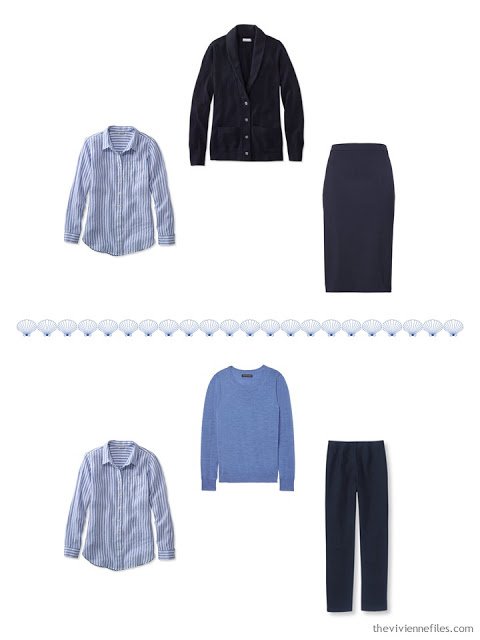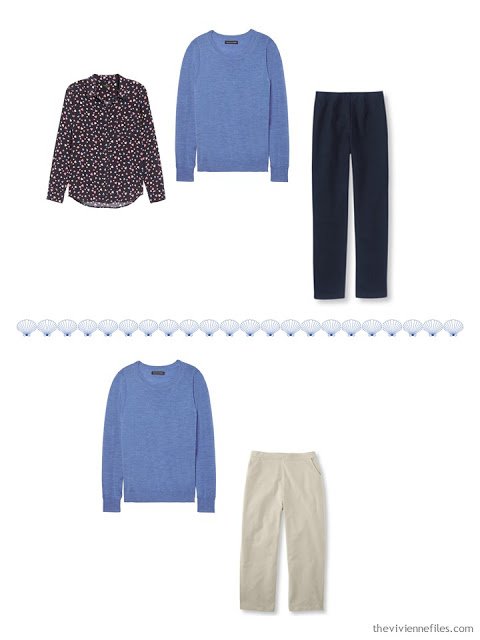 Our heroine and her sweetheart are just going to walk on the beach, climb the lighthouse, maybe do some boating… Reading is in their plans, as well as some excellent dining! I think she'll be well-outfitted for this calm and love-filled fun…
love,
Janice
p.s. Accessories, of course, are tomorrow's post!