January 26, 2018
Not just a trip to Bermuda, but a trip in March, when the weather is still cool, and the crowds aren't pressing…We're working with this color palette: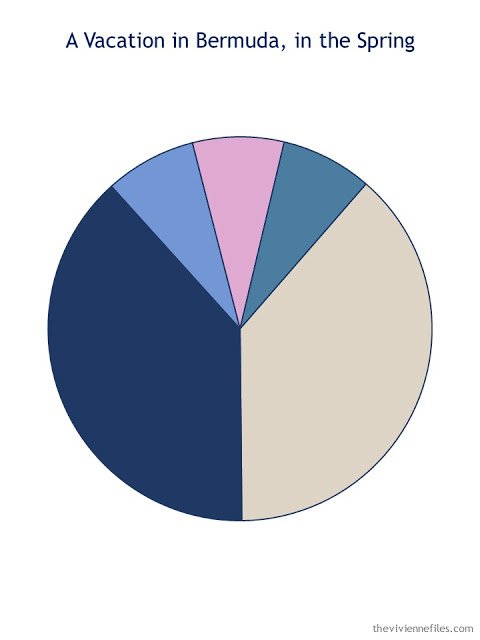 And these are the accessories that our heroine has already chosen to pack for her romantic get-away…
And this is her wardrobe that she's planning to have with her – 3 pieces to wear and a lucky 13 to pack:
Here's the accessories that she has included with her two core outfits… With the exception of shoes, she could of course travel with just these pieces and manage just fine. But in the interests of fun, let's expand her options…Please note that I'm not suggesting that this is going to be all of the accessories that one owns – unless you really wanted a structured, disciplined Accessory Wardrobe. It's more of a guideline for what you might want to pack, and for what you might look for if you want to add something to your wardrobe…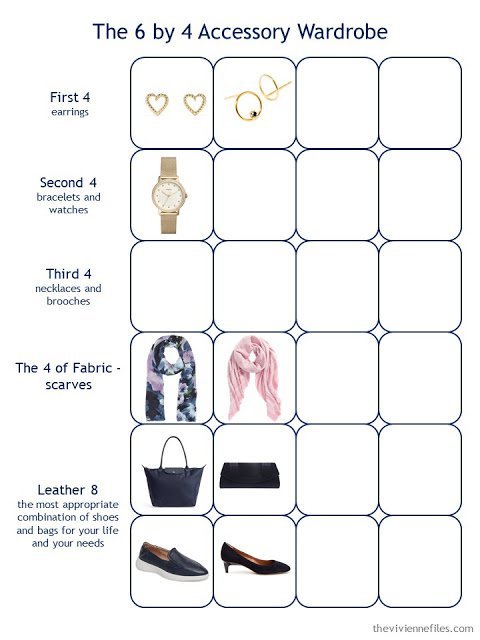 First – earrings and bracelets. I debated back and forth with myself about the heart motif bracelets and earrings. But I decided to go with a bit of whimsy, and a touch of romance. After all – Valentine's Day is coming soon! And one would not have to have ALL of these in order to carry the romance and the sentiment into one's luggage…
The first bracelet is made by women in Tunisia who are survivors of violence; SeeMe is a company dedicated to making heart jewelry to both provide employment to these women and to replace violence with love…Those lovely lapels on the navy cardigan will be perfect for a pretty brooch! And while there's only 1 heart necklace, that last necklace is indeed described as having a "love knots"…
These additions don't take up much space at all, but can at least give our heroine the feeling of some changes to her outfits…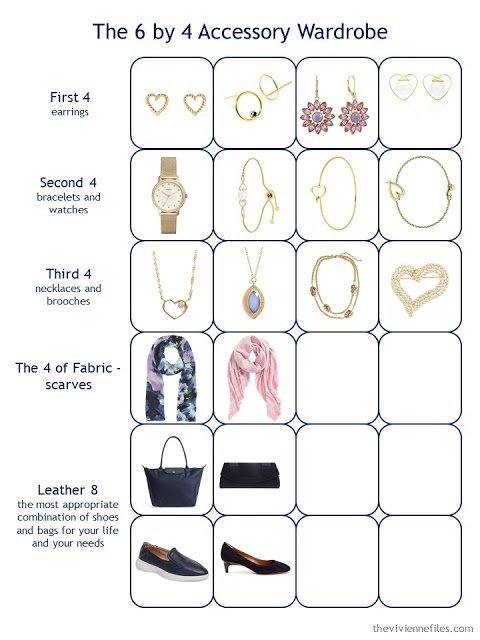 Always my favorites – pretty scarves!
Scarves are quite a bit like fabric jewelry – they don't take up much space, but the can change the look of classic clothing a LOT!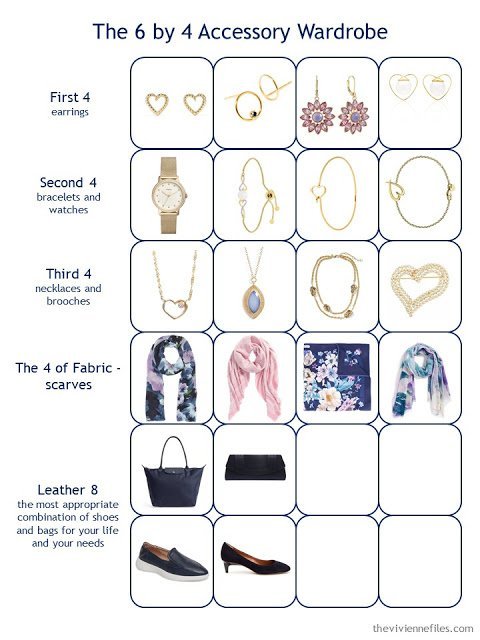 My thinking for the next step:
a simple bag that isn't an evening clutch;
light-colored loafers for days when it's warm-ish, and you want an overall lighter look;
waterproof boots, for the opposite days, when you want to be out but the weather is WET; and
navy flats that are dressy but comfortable – they go with everything…
Yes, shoes really add bulk to a travel wardrobe, but I don't think our heroine was ever thinking that carry-on was an option! When you're going somewhere for a while, there's a choice to be made between easy luggage, and options when at your destination. In this particular case, our heroine has chosen options!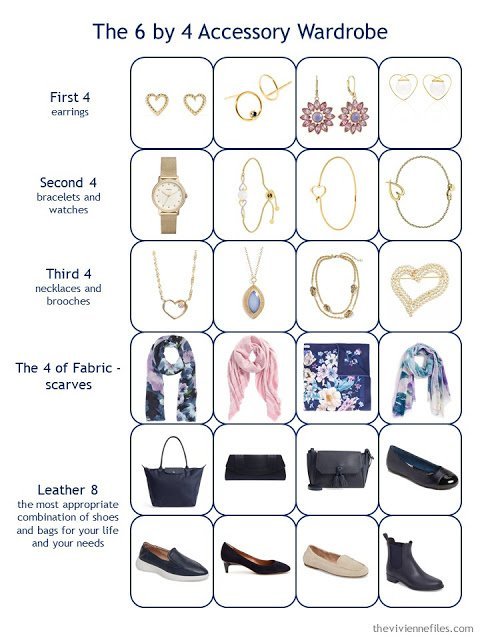 These are indeed the same outfits that we just saw yesterday, but the addition of accessories makes them feel much more "finished." Each top is show with a dressy and a casual choice…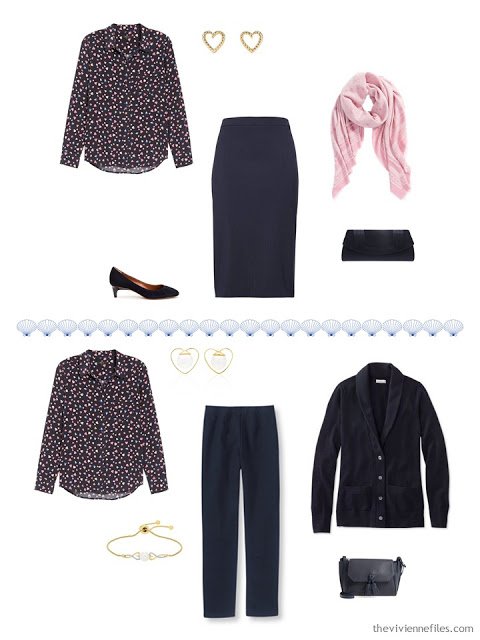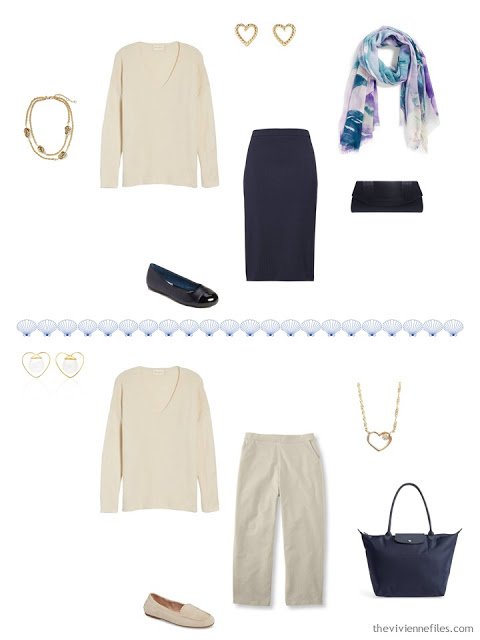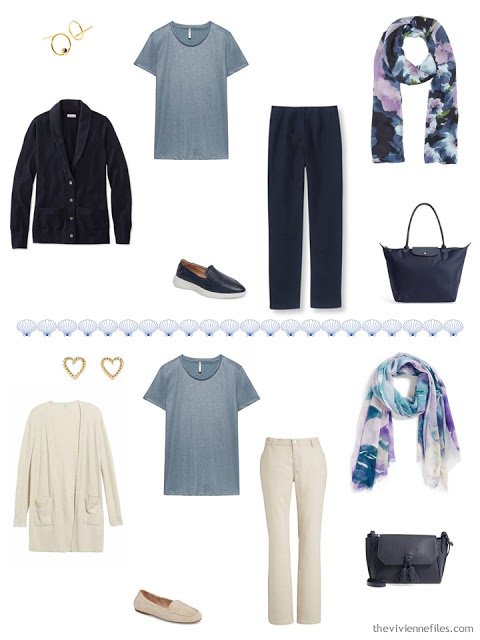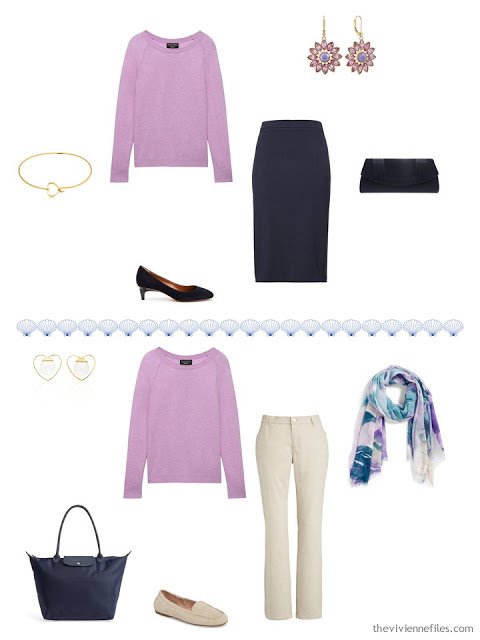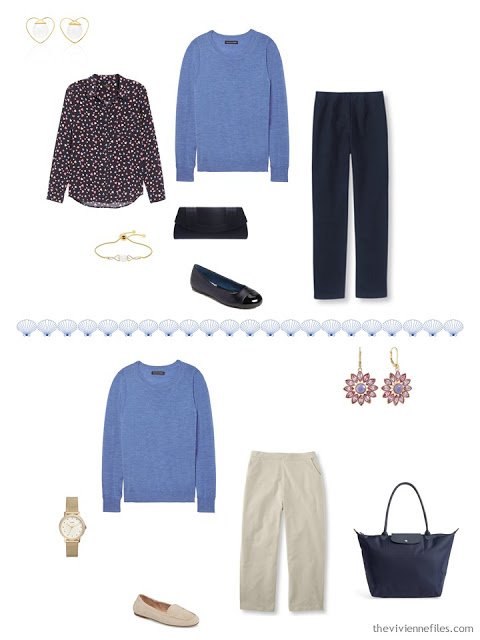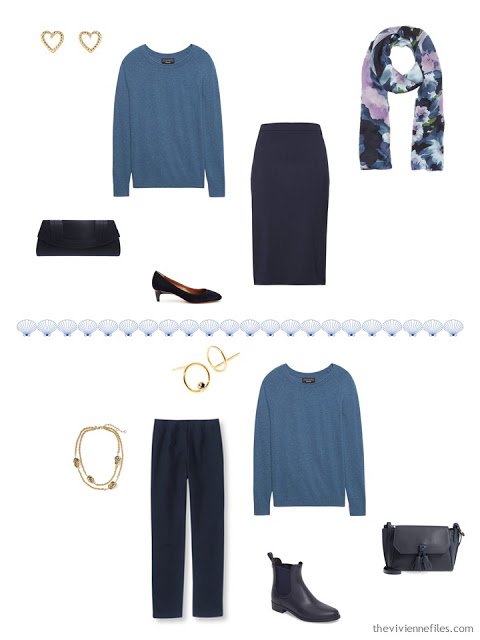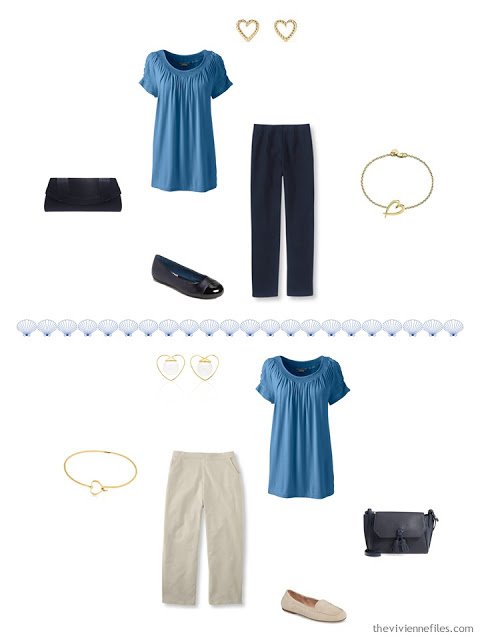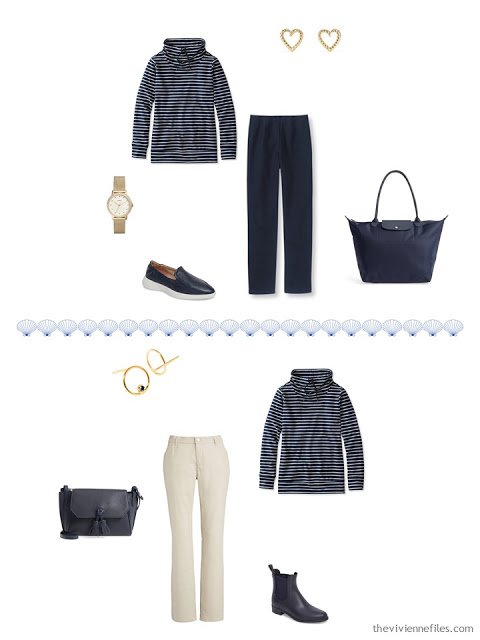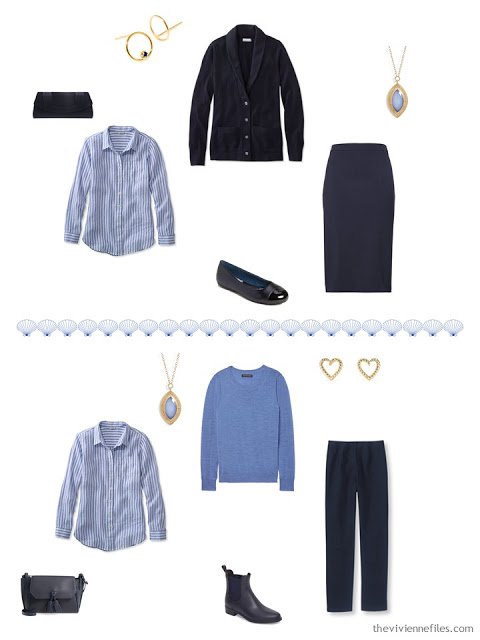 I'm getting in that vacation packing mood… And it's a good thing, because I've got a trip coming up soon!
love,
Janice