November 8, 2017
Yes, I am going back to Paris on Tuesday…It's a combination of a free plane ticket, a really inexpensive hotel (I'll tell you all about that when I'm back!) and a bone-deep yearning to see holiday decorations in another country.
But more than anything, I'm really eager to see how completely… unfettered? light? I can feel while traveling. Normally, there's the suitcase and the carry-on, and maybe a handbag, and while I know that this is necessary, I don't feel relaxed when I have these things to corral and transport. I want to be focused on external things – other people, mostly, and be able to put my own "stuff" out of my mind.
This isn't impossible – one could, in theory, go almost any place that has similar weather with just the clothes on your back, a toothbrush, wallet, and necessary prescriptions, in my case. I'm not going to be THAT liberated!
So this is what I'm envisioning: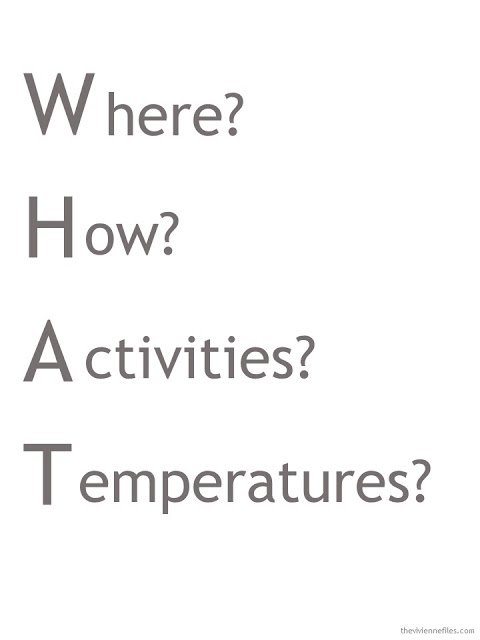 First, I answer my own questions – Paris, by air to Charles de Gaulle Airport, and then take the train into the city (which makes minimizing luggage a good choice), I'm going to walk outdoors a LOT, participate in a 5K, and eat in very "not fancy" restaurants, and the weather will be just slightly warmer than it is here in Chicago.
My entire wardrobe is going to be anchored by my red Barbour jacket – this is what I'll wear to fly:
I'm going to wear the HECK out of Fair Isle patterns, because they seem to be associated with the holidays in so many minds…
My bag will be carried as a backpack. I've found that even though I might look like I'm trying to pretend to be younger than I am, I can carry a TON in a backpack. However, one must be super-cautious not to whap people with a backpack – it changes the contours of your body completely!
And I'm thinking that I'll just wear pearl earrings all week…
Okay… this is what I'm packing:
yes, my jeans are from the men's section, and yes, the short boots are WATERPROOF!!! I still struggle to believe that my black cashmere turtleneck won't accidentally fall into my bag…
I've also go to take some things that are specifically for the 5K, although they could be worn "in real life" too:
A down vest isn't usual for a 5K, but since I will just be walking, it will be tougher for me to stay warm… These pieces, along with the New Balance shoes that I'm wearing on the plane, and the Fair Isle fleece, should do the trick!
So, if I don't chicken out and toss in other things, this is what I'll pack. While the scarves don't particularly go with any of the outfits well or badly, I suspect that I'll probably tie them over my coat when it's completely fastened, so they're there more to add interest to what I'm wearing when I'm outdoors. They'll blow up into my face a lot…
Yes, if the weather warms up, I'm going to wear my down vest in place of my red jacket!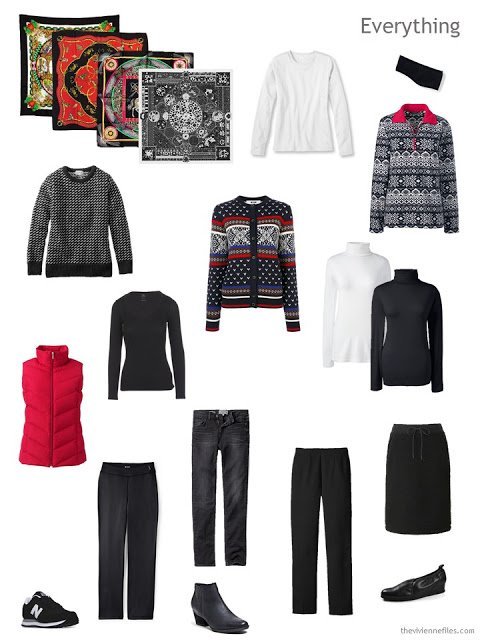 The thing that makes packing like this possible? The presence of a "5 à Sec" same day laundry and dry cleaner literally around the corner from my hotel! Tee shirts and turtlenecks, at a minimum, can be laundered as necessary…
Just to make absolutely certain that this will work, I've envisioned what I'll wear every day of my trip: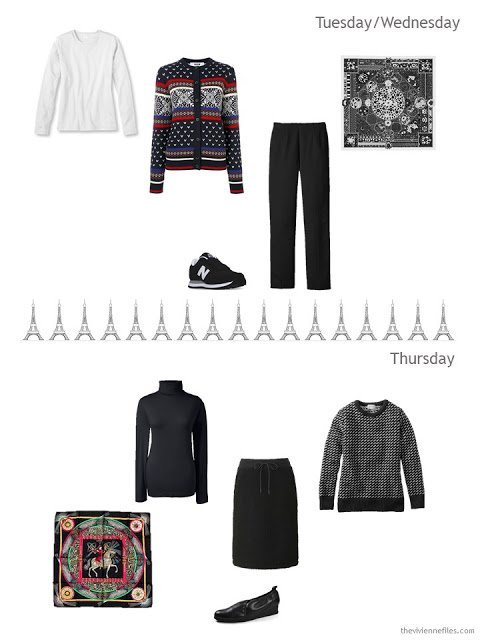 Note: Saturday morning is when I'm 5K-ing, so I'll be wearing the athletic things, and shower and change when I get back to my hotel: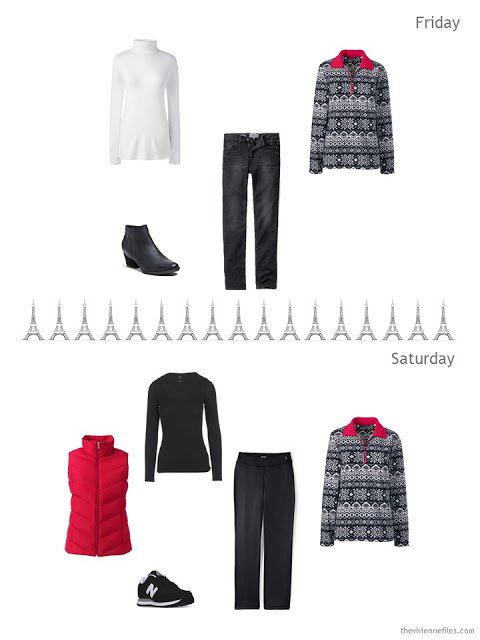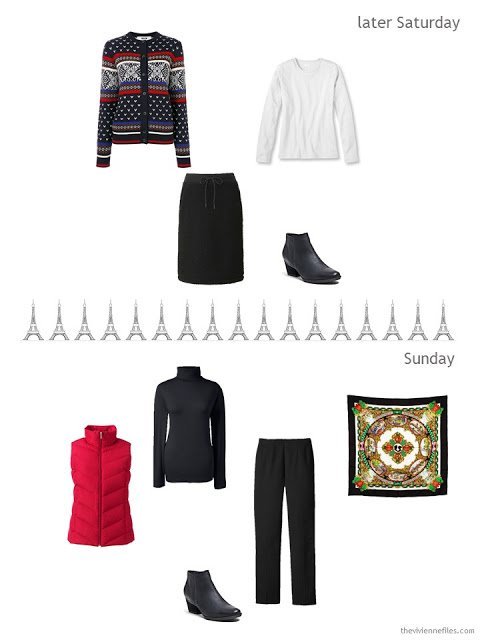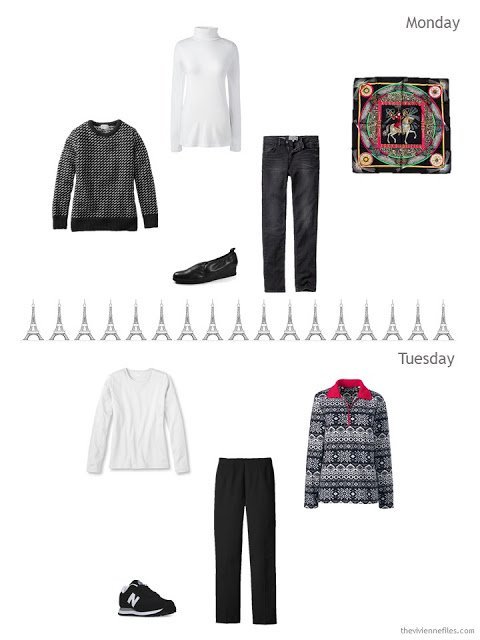 As usual, I'm completely over-analyzing things, but I'm doing this in anticipation of arriving in Paris with nothing but a backpack (and what I have in my coat pockets – I'm NOT taking a handbag…)
I can't explain this desire to travel so lightly, but I'm going to honor the fact that I feel this way and see what I can do to make it happen! I will share the results…
love,
Janice
p.s. When I'm traveling alone, I always wearing a RoadID, that has my name and medical information on it, as well as contact information for Belovedest. It's not elegant, but I can accept a bit of utilitarian style in exchange for knowing that I won't be impossible to identify if someone robs me and leaves me in a gutter… (just kidding Mom!)