I'm going to follow the steps that I took when I did the dressy wardrobe – I'm even going to keep some of the garments! So first up is a starter outfit of a black "suit" with a pink top:
As always, sometimes the only thing you need (for a quick overnight trip, for example) is a change of shirt or blouse. If anybody wants to get snarky because you're wearing the same cardigan and jeans, let them. It doesn't hurt you, and it might make them happy in some messed-up way!
My first instinct is always to put together a "twin-set-like object" at this point, but I made a point of getting a compatible but different cardigan here:
This time of year, I'm encouraging the entire Northern Hemisphere to wear a cuddly soft pair of corduroy pants…
But enough with solid colors – it's time for a print that includes a range of the shades of pink and rose from our original scarf inspiration:
Yes, this is the same cardigan you saw before – it's a nice style, it's a lovely color, and it has those winsome ruffles on the sleeves that set it apart just a wee bit!
Even though we just added a floral tee shirt, this wardrobe is still pretty "solid," so I found another really lovely tee, but with short sleeves, for a bit of variety.
Velvet isn't necessarily casual, but you can wear these pants any way you want to! Pretend like they're un-cut corduroy….
And yes, you've seen this cardigan in the other wardrobe. A beautiful sweater like this is an investment, but can happily be worn over anything from a swimsuit to a pretty dress.
Same khakis, too. These are classic for EVERYTHING…
I didn't originally think that I would bring this shirt back, but it's the BEST shade of pink, and it's a great quality shirt that doesn't need much, if any, ironing. (I have some of these, so I can speak from experience!). A classic shirt like this is madly versatile, but you know that…
I had to do this. Sometimes, you have to have that solid, dark neutral column over which you put 2nd layer pieces.
And here's that 2nd layer piece that will benefit from the simple black tee shirt! No way I could resist this…
Although it feels like a lot of flowers in this wardrobe, it's still coming in at 75% solids! So a sweater that will look nice over your pink shirt, or worn on its own, is a perfect finishing touch.
When everything is in the 4 by 4 capsule wardrobe template, you can see how the floral pieces occupy a nicely appropriate portion of the whole picture. So many options here – at least 2 dozen or so?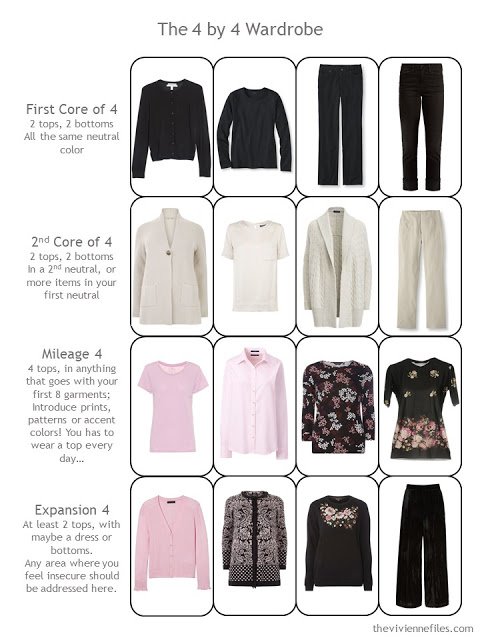 Do you want to see accessories? You know that I can ALWAYS do accessories…
love,
Janice