December 28, 2017
Our heroine from yesterday has a tidy and very well-planned wardrobe, after her few additions to what she used for business travel. But she's in pretty serious need of some accessories, I'd say!First off, let's remember what her inspiration is for her wardrobe: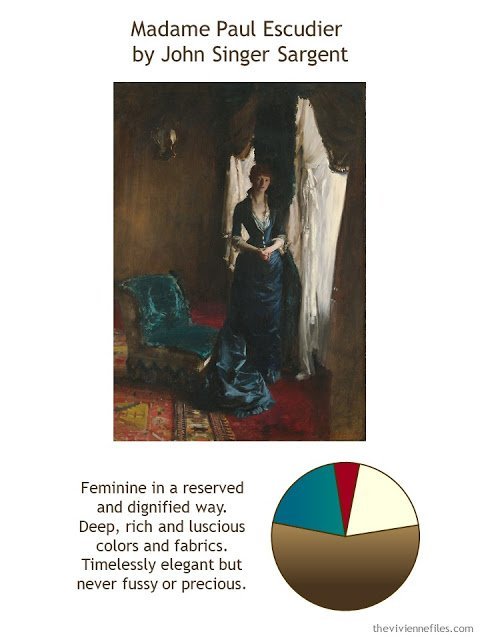 Our heroine finally got her well-deserved (and long overdue!) promotion, and picked up a few more garments to finish up her wardrobe. She's going to be traveling a LOT…
But she didn't buy anything BUT garments – no more shoes, scarves, nor jewelry. That's just not fun!
Although she's made her reputation at work for her empathy and her ability to provide coaching and correction in a warm and constructive manner, she is at heart also a really organized woman! After a bit of thinking, she decided to try to have a structured approach to her accessory wardrobe, in the same way as which she had planned her clothing. This is her plan, designed specifically for her needs and preferences:
In her methodical manner, she looks at her color scheme and realizes that she doesn't have a classic pair of cream earrings; cream = PEARLS to many of us…And she loves her lone bracelet so much that she knows that she would wear a couple more – maybe one that blends shades of brown, and one that is mostly brown but picks up her teal accent color…
(This is a very efficient and effective way to fill in "spots" in your accessory wardrobe: What are your main wardrobe colors? Do I have a (bracelet, pair of earrings, etc.) in that color, or in colors that will integrate that color with my other clothes?)
After she searched high and low for the perfect bracelets, and her simple but fun earrings, her plan looks like this:
She's working from top to bottom on her Accessory Wardrobe plan for our purposes, although I think that most of us would have started with shoes…A brooch can make SO MUCH difference. This looks like it's going to be a big year for floral fabric brooches, so she finds a perfect one… And a couple of amazing necklaces, too!
(regarding fabric brooches – don't get sucked into paying hundreds of dollars for one of these unless you have lots of extra cash, and you find something that you absolutely adore; there are going to be literally thousands of these everywhere for very modest investments…)
She has so many more options now than she had just a few weeks ago – and her accessories all look so lovely together!
She really loves her 2 scarves, but she knows that a couple more could help a lot – especially with her knit dress! She might be able to find a scarf that she could wear with her dress, that would also bring her favorite teal color into the mix. That would open the door for carrying her teal handbag, or wearing labradorite earrings…. hmmm….
This is shaping up nicely! Our heroine is pleased…
Now, the leather goods! She's got a lovely handbag, but she could really use a bigger tote bag. A pair of loafers would be useful on days when she has a lot of walking to do. She might also want a pair of dressier flats to wear with her sweater dress, and nice riding boots would look absolutely perfect with her suede skirt…
Oh, THIS is going to make so much difference. She's going to travel a lot, and those 16 pieces of clothing are going to be worn frequently, but she can change up the feel of her outfits a lot with these accessories in hand!
Now, when our heroine looks at her completed wardrobe, it feels much more personal and uniquely hers. Accessories make so much difference…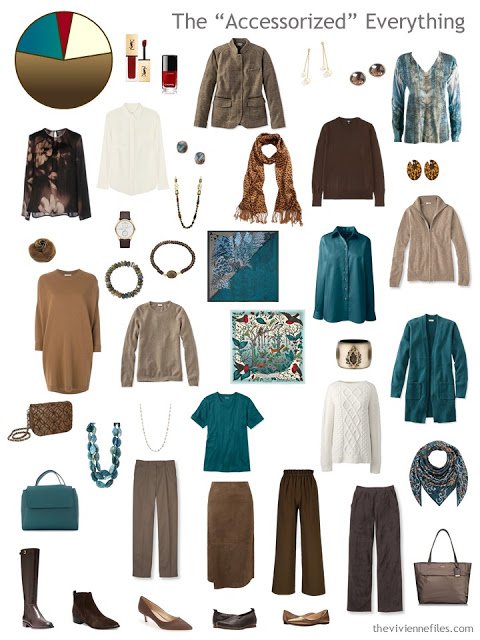 She now decides to re-visit her outfits that she assembled yesterday, and see how much more interesting everything looks!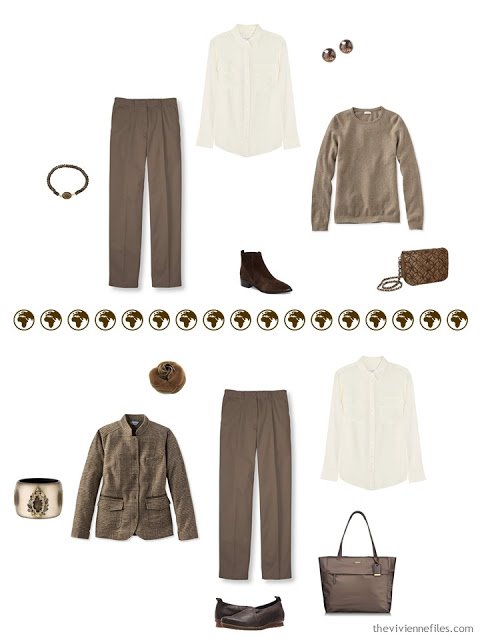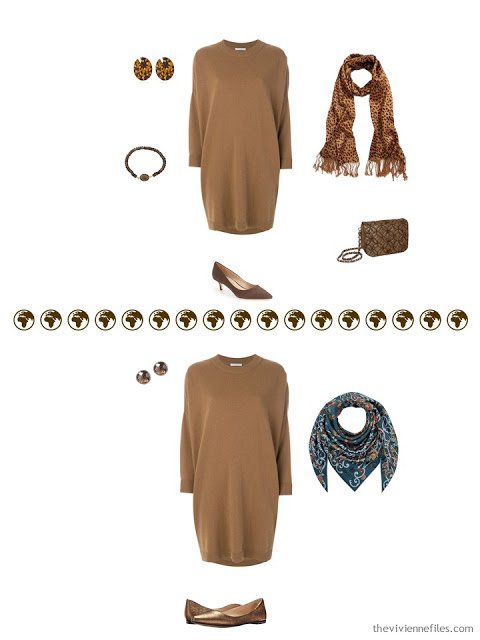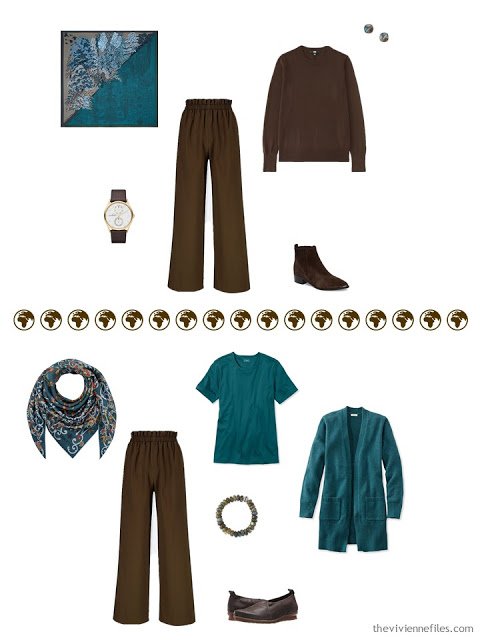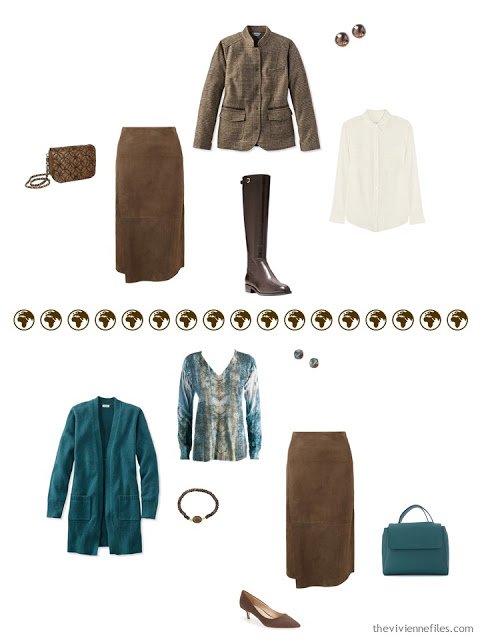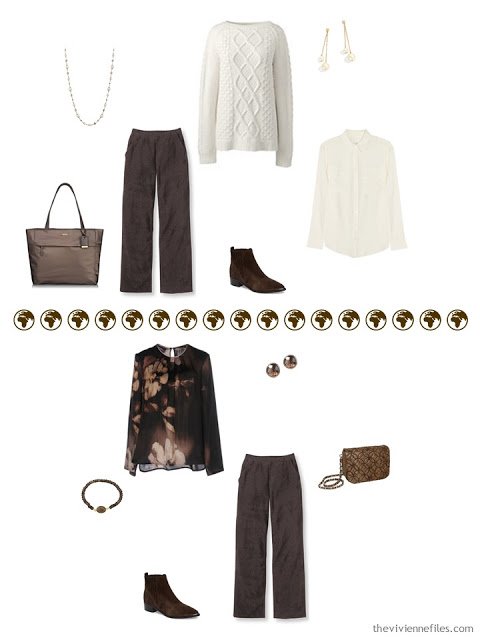 Anybody who handles their purchases with this kind of discipline well deserves to be a Global Manager, don't you think?
love,
Janice