December 26, 2017
Our heroine has this lovely wardrobe…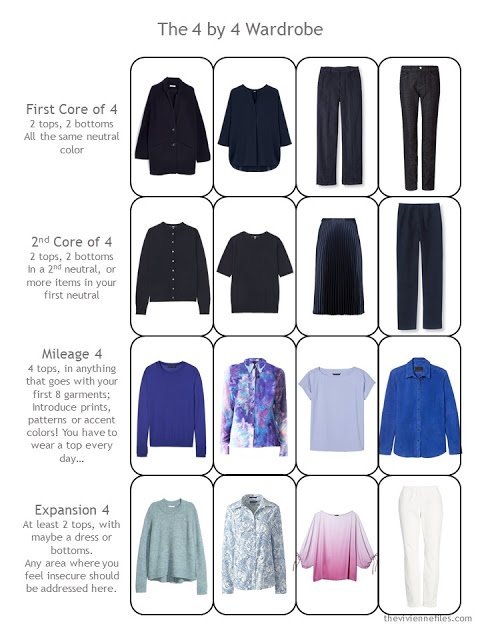 But she's really going to need some accessories! She already has 1 scarf, but because so MUCH of this wardrobe is solid navy, more than 1 scarf can come in handy…
Please understand that any (or ALL) of the accessory suggestions that I make would be great with this wardrobe – this isn't some sort of "guess the "best" accessory" game… I personally could easily make a case for this heroine to own at least a handful of scarves!
I wanted a pretty, floral pendant for her now – something that echoed both the floral motifs of her original painting, and also had a "water-ish" feeling. (no, that's not really a word, but you know what I mean…)
And a bracelet – I think that bracelets are an undervalued possibility when it comes to adding just a touch of interest and ornament to an outfit.
Someone suggested that this heroine might be a good candidate for a silver shoe wardrobe – why not? These clothes are pretty simple, so a snazzy shoe choice might be fun for her!
Our heroine has a pretty gorgeous little velvet backpack, but I think she might need a small crossbody bag too, for days when she wants to keep her hands free, and only needs to carry the minimum necessities.
Yes, she already has a watch, but it's flowered… I'm going to suspect that she might wish that she had a more classic watch for those days when she's just NOT feeling floral!
If she's going to have a skirt, she will probably want dressy shoes…
A simple outfit like this just cries out for a scarf, or maybe a beautiful necklace!
Yes, you always need sunglasses. If your sunglasses look great with your entire wardrobe, maybe you'll remember to wear them ALL the time?
I've become a convert to ballet flats – for year I thought that I couldn't wear them because I couldn't keep them on, and someone finally convinced me to try a different pair. Turns out that they were just never fit properly for my feet! You live, you learn…
It's fun to have festive earrings – although your definition of festive can be VERY personal! Some of us can sustain quite a bit more in this category than others. Or maybe you should own a range of earrings to accommodate your mood, and the particular event…
I feel that anybody who really loves blue should look into the possibility of lapis earrings. They aren't necessarily very expensive, and they can be so pretty…
These are always my favorite images – I think that looking at this gives me a real "feel" for the heroine. Arranging everything on the page isn't easy, but seeing everything together like this is well worth the effort!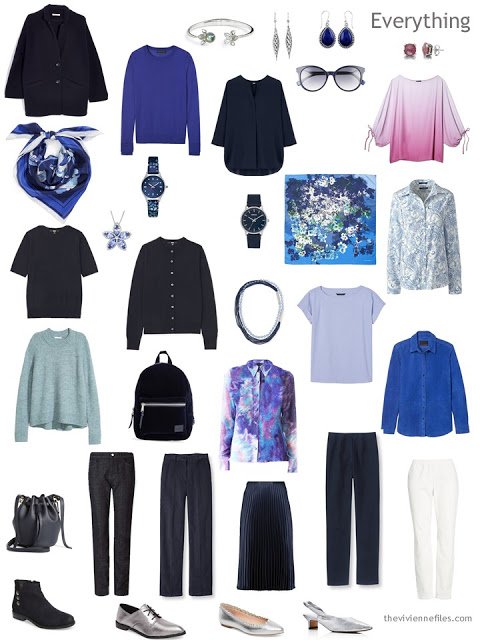 As always, let's make certain that our heroine is going to have a full range of outfits available: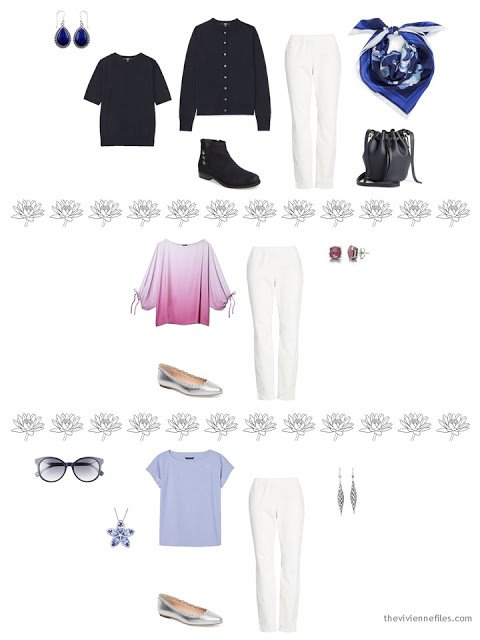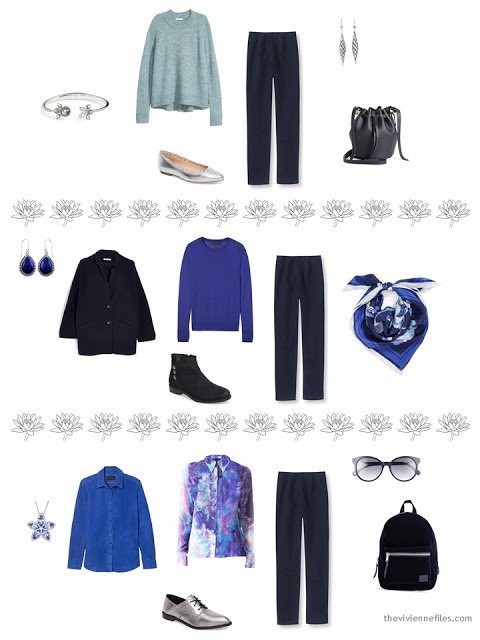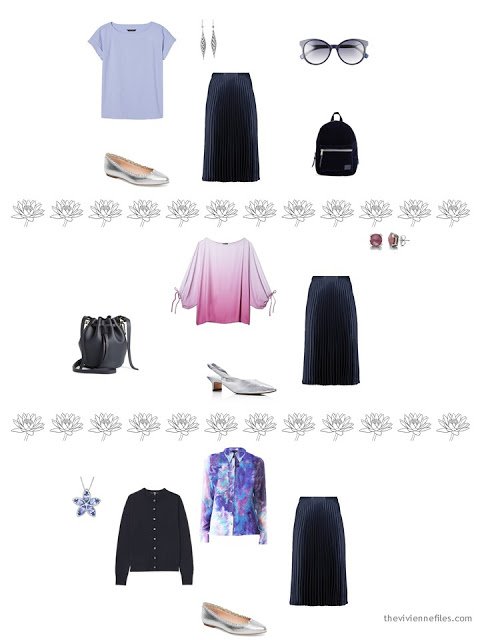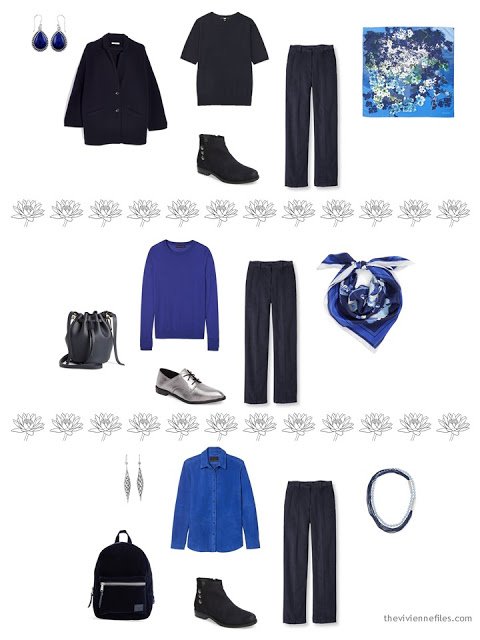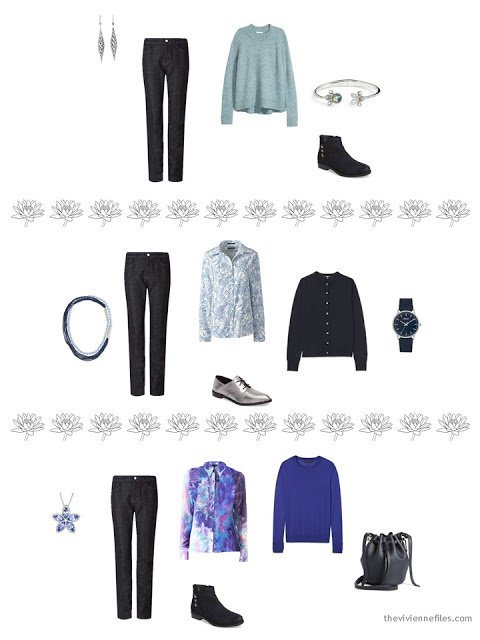 And just as a reminder, this is our inspiration…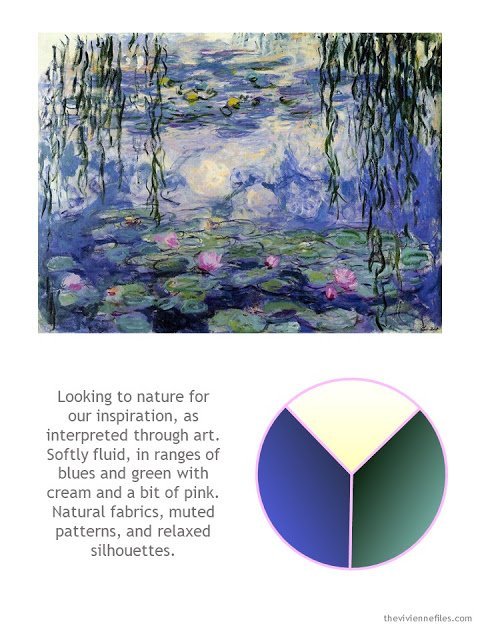 If you've ever seen the Monet Water Lilies in person, you know that they are HUGE, and that it would be possible to take a snapshot of a small portion of a panel and come up with almost any color combination imaginable. He used every color in the world on the paintings… What genius…
love,
Janice