June 14, 2017
I thought that this would be the easiest color scheme imaginable; that the clothes would virtually jump off of the screen at me… WRONG!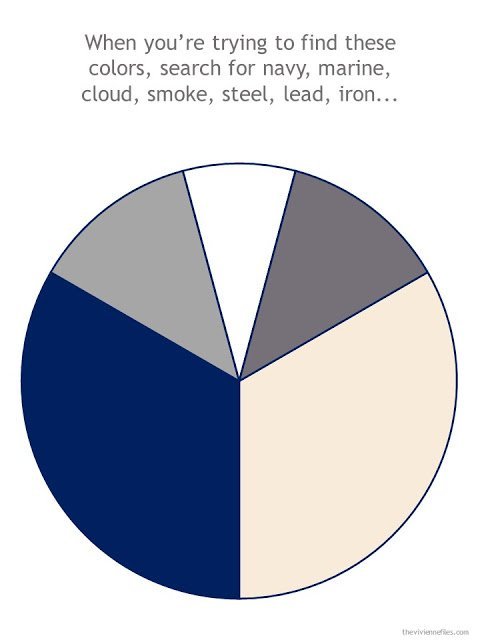 I thought I would start as I have been for a while, with the navy and beige neutrals. I swapped out the watch for silver, thinking that it would be better with the grey pieces to come…
And I found a pair of sandals that weren't quite as "warm" in hue, so that they might bridge the gap better also.
Then… I tried to find dark grey. And, after an honest 2 hours of looking for a lovely, rich charcoal grey linen, or a lustrous lead-grey raw silk, I threw in the towel. Some colors just don't exist in large numbers during some seasons, and at a point that only you can choose, you have to quit beating yourself up by looking in vain…
But much better, I moved onto lighter grey! And realized that I had to choose between "warm grey" and "cool grey." Since beige is one of the purported neutrals in this wardrobe, I thought that the warmer grey might be a better choice than the very bluish cool colors… And I found some nice goodies!
Next up I felt that I needed to get a few more pieces in navy, in order to give the wardrobe some balance; when I started plugging the various pieces into the 13-Piece Template, it just had an overall feeling that was very light… Two pair of pants help with the overall wardrobe balance, provide some cover for those of us who really prefer darker colors below the waist, and also serve to hide the schmutz that inevitably accompanies travel…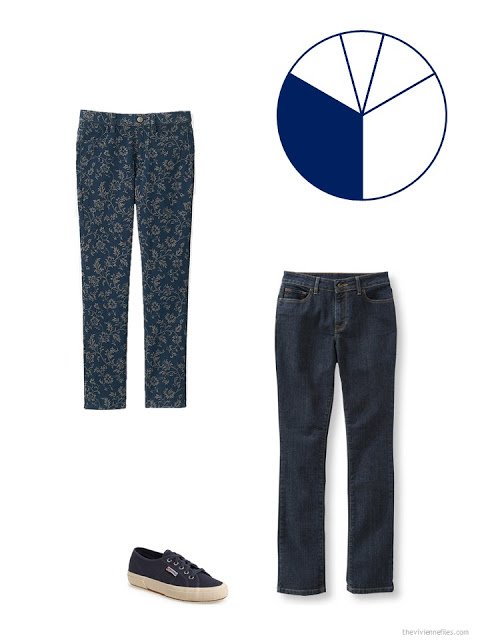 The most fun almost certainly came when I looked for pieces mixing the various colors – beige and navy, or warm grey and navy, are pretty easy to find… And some things, like this scarf, are pretty fun, too!
After all of my early hair pulling, this came out rather nicely: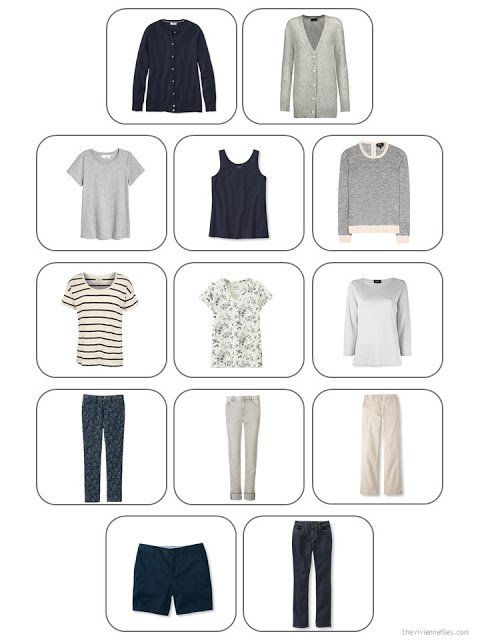 I think that it would have been really easy to have used gold jewelry, rather than silver. Or maybe pieces that mixed both metals? But just in the interest of experimentation, I stuck with my original silver choices…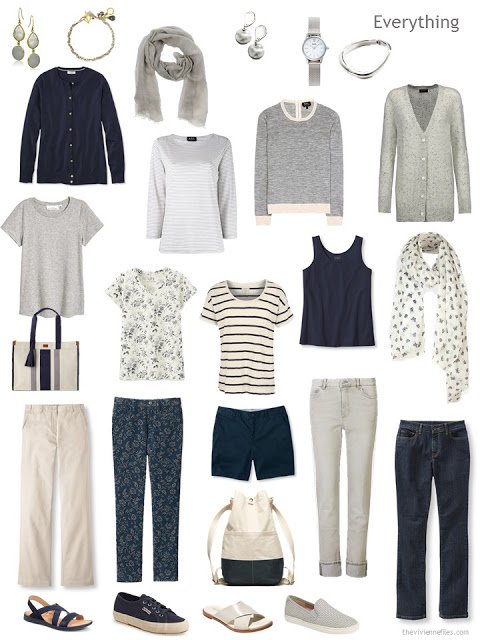 Some of these combinations are subtle, and might not suit everyone. I think that makes this a much more interesting wardrobe than I initially expected when I realized that I was working with all neutrals!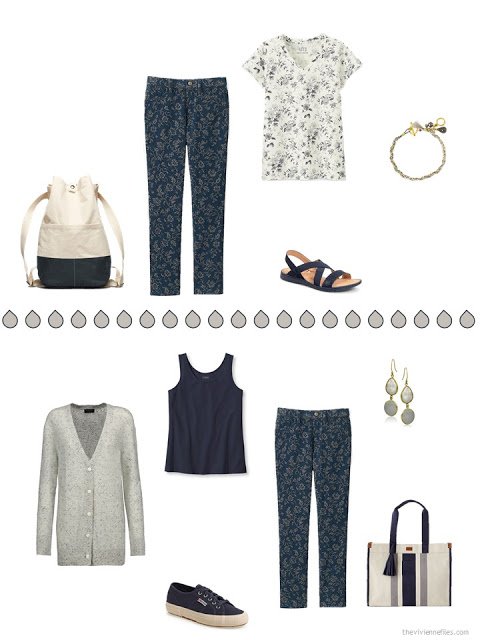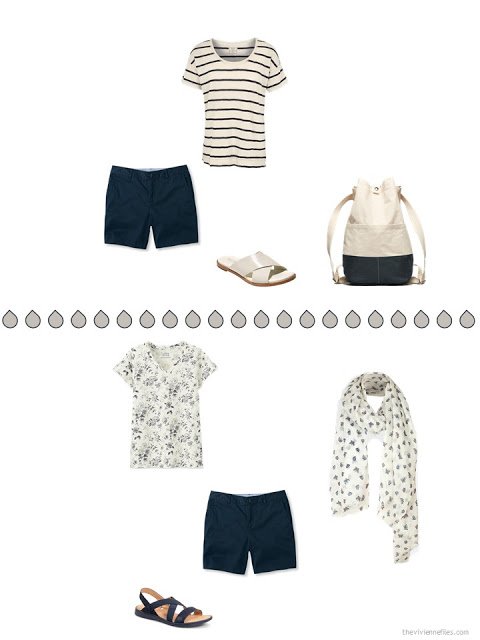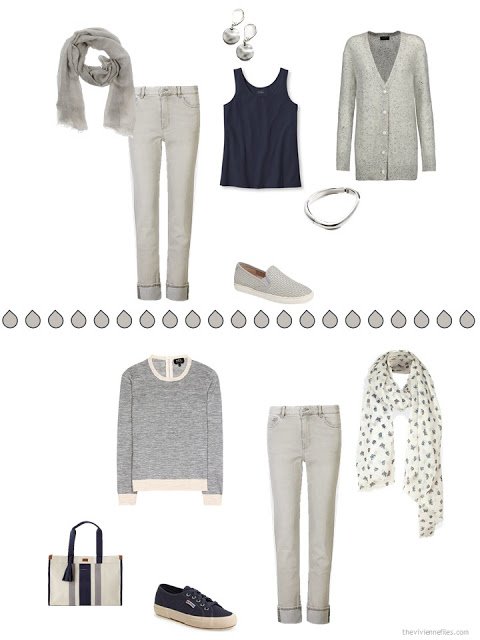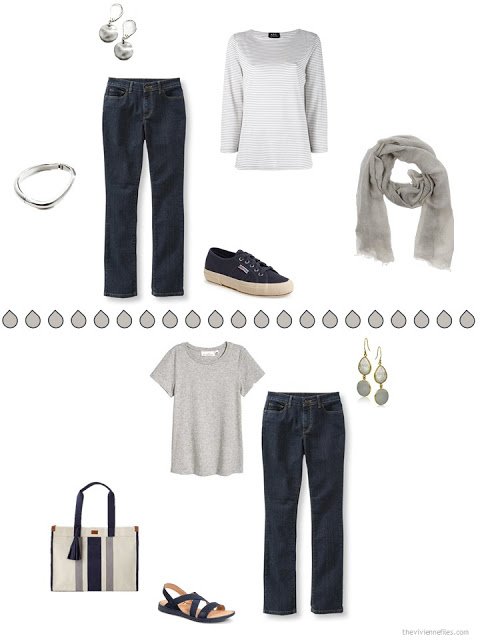 I'm wondering if I've exhausted navy and beige? I'm always happy to press on forever (more or less) in the face of interest in the project… let me know!
love,
Janice