June 19, 2017
A few people have asked me recently about packing for early autumn – needing a jacket, and probably a sweater or two, but still wanting a few lightweight tops. And others have been eager to see denim switched out for the navy that we've looked at for weeks! And then there are questions about how denim and khaki might be too… boyish?
So I'm starting with this color scheme: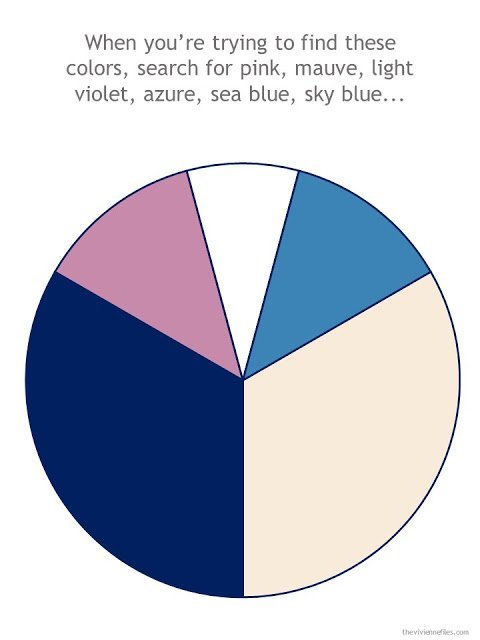 The first thing to be addressed is the need for something warm to wear on damp, cool days, or in the evenings: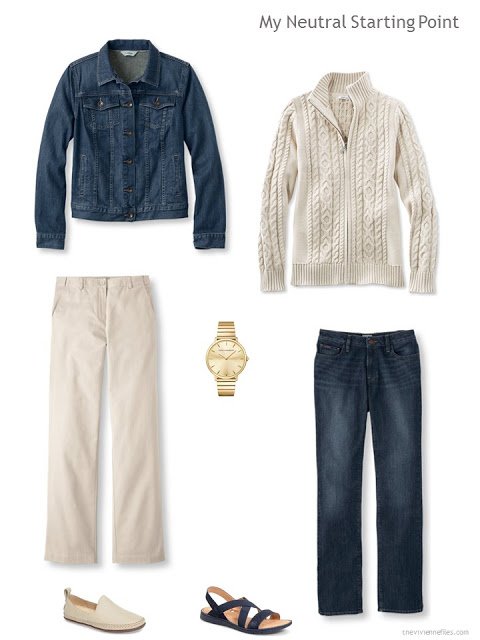 Realistically, I should have included a pair of dark blue walking shoes… But these four pieces have lots of possibilities – one could include shirts and tee shirts in literally any possible color and you'd be able to get dressed pretty simply!
But let's start with that delicious muted pink that often shows up if you search for mauve: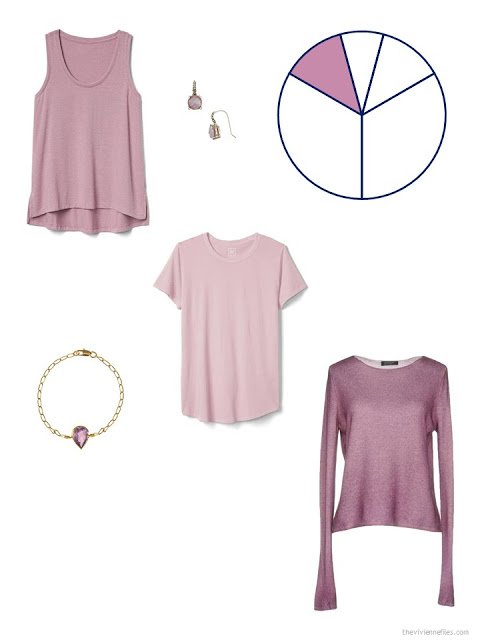 Note of course that these pieces don't have to match exactly; if you're not planning to layer them together, they can vary quite a bit. And even if you were going to layer them up, a little bit of variation adds visual interest and can look really nice!
Next up is this blue, which is plain difficult to track down! So don't discount the possibility of looking at printed and patterned tee shirts to find the perfect color hidden within a flower…
After putting all of the pieces into the 13-Piece Template, it's clear that two more neutral "bottoms" are needed. I'm including a denim skirt, for that "sort of dressed up" evening that might occur. But if you're really opposed to skirts, either shorts or capris would work equally well here.
Next, the elusive but always super-important scarves, that tie things together so beautifully. I looked for a long time, but I'm pretty thrilled with these 2! And note, for no reason known to me, the plaid scarf is a man's scarf. What in the WORLD gives a scarf gender? What we learn from this is that when we have a particular color in mind, check the mens' department. Because scarves have gender…
I ALWAYS check that the pieces that I've chosen will fit neatly and happily into the packing template. This, to me, is the absolute proof that the choices will work together. The equivalent, at home, is to spread everything out on the bed, or hang together on the shower rod. When you do this, you should see if you can quickly and easily put together LOTS of outfits from what you see in front of you.
Does each piece fit in?
Will each piece be wearable with a variety of pieces?
Can each item be dressed up or down? (within the limits of what you consider dressing up or down – for a casual vacation, dressing up might be sitting in the pub for dinner!)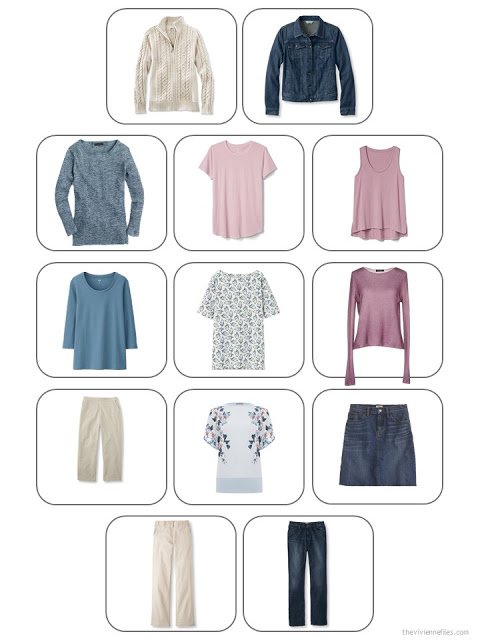 This might be the most important thing – when you put together outfits, either in reality on your bed, or just in your mind, what accessories will you need? Here, as I said, a dark pair of walking shoes would be handy as HECK…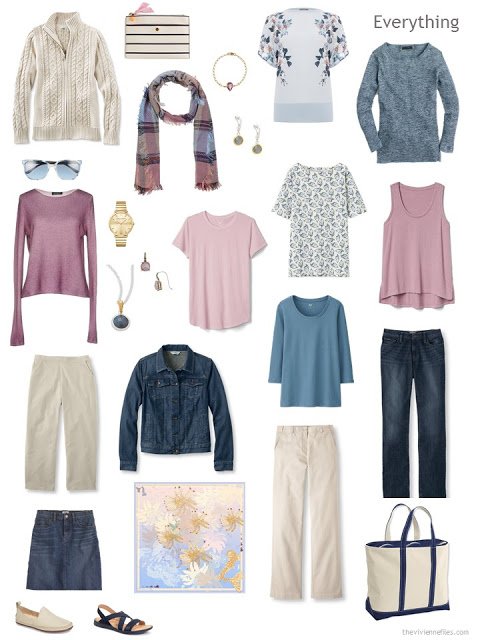 Walk your way through your itinerary, with a notepad in hand, if you think it would be helpful. What can you do with your khaki capris if the morning is cool? If it's warmer?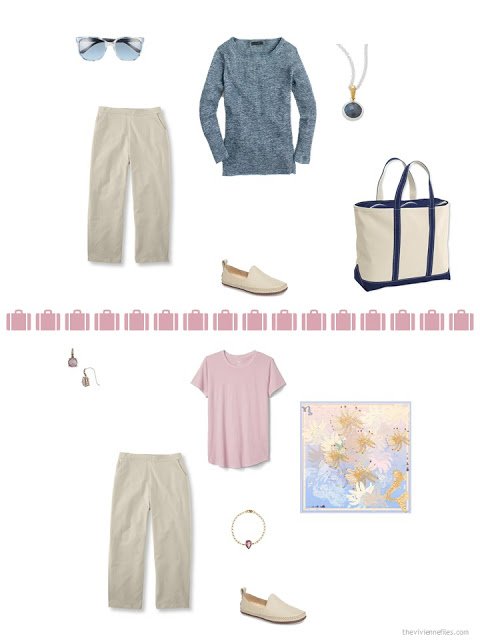 I want to wear my denim skirt, but it's not really ALL that warm. Do I have things with sleeves that will work well with my skirt?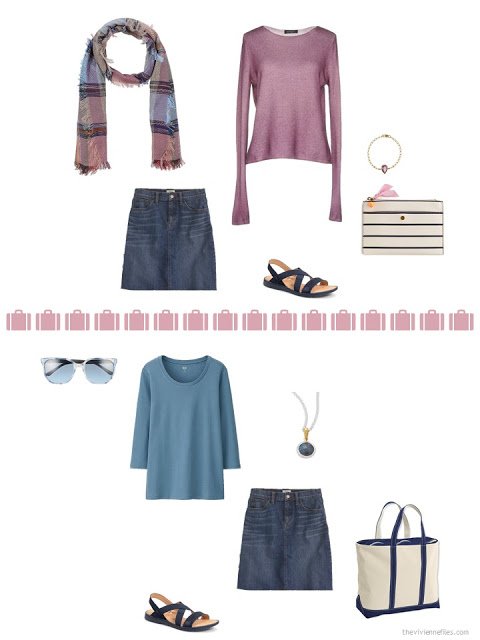 My pants are obvious for cooler days – but it could always warm up A LOT during the day. What will I wear then?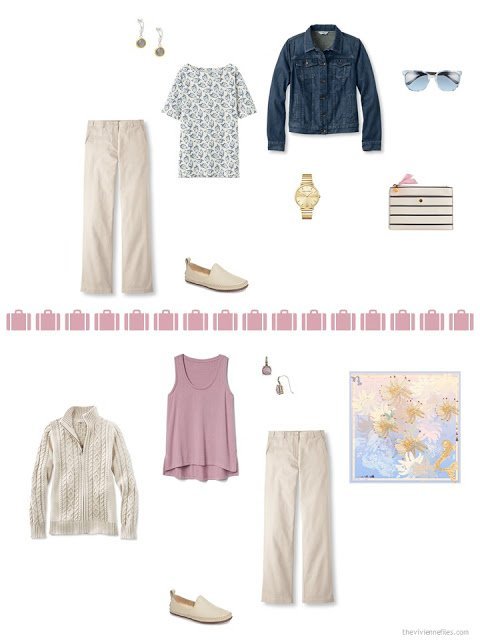 What if I want to wear jeans but still look pretty? (Of course we all know that a happy smile is the best way to be pretty…)
What if there's frost on the ground when we wake up, but the temp is supposed to get up into the upper 20's?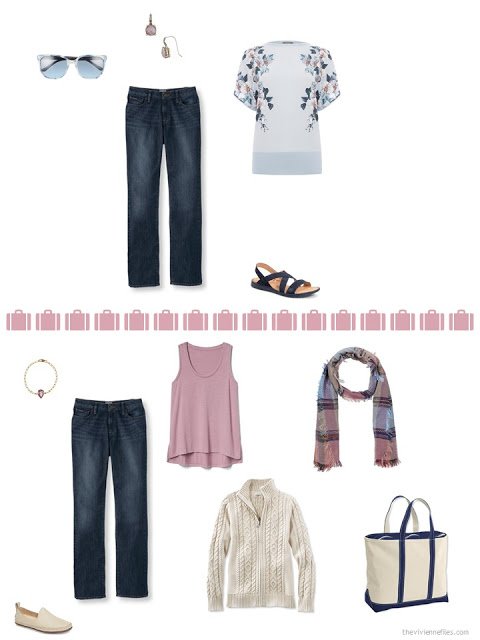 It's often said that anticipation is half of the fun of a vacation; it might also be the best part of making certain that you're packed appropriately and completely!
love,
Janice