This is just an observation that I've made in the last few days, that I hope might be interesting and/or useful for you…
Belovedest and I live in a roomy, but not insanely large, 1 bedroom apartment. For 6 weeks or so, in March and April, we had a TON of additional furniture in our apartment. Our neighbor was having floors redone, and rather than have her pay to put things into storage, we agreed to host things like a SOFA, a BED, a large number of occasional chairs, and a very bulky and fragile glass cocktail table.
We were… crowded. But we were fine; it really wasn't nearly the inconvenience you might have expected.
After all of the furniture was returned to its home, we realized that we could now get into a closet and a few other places that had been blocked for over a month. And we started to cull the contents; we had first-hand proof that we were able to live very comfortably without a lot of the things that we owned.
But when we got to some of our clothes, we realized that we still wanted to keep them. We WANTED them…
I think this violates all of those rules about "if you haven't worn it in a year, get rid of it!"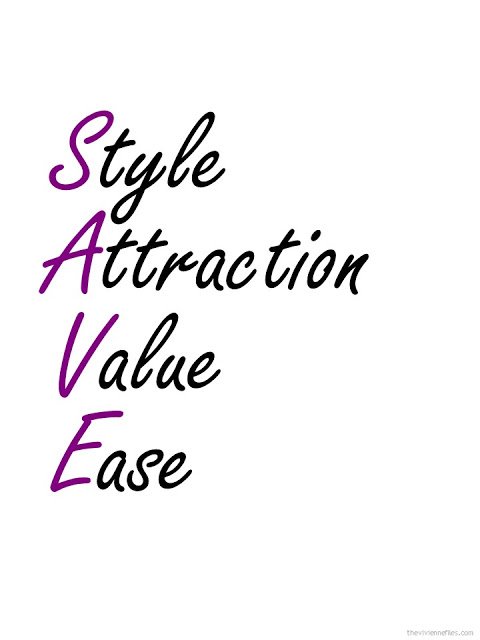 So I thought about why we were keeping things, and if it made any sense to do so…
The clothing we're keeping is still in STYLE – not at all dated, nor likely to date because it's classic.
We still feel great ATTRACTION to these pieces – we would buy them again, if they suddenly were destroyed.
These pieces are worth holding onto for future wear – the VALUE of them is such that replacing them in the future would be expensive. We didn't keep tee shirts, or old jogging shorts – we kept things like silk jackets…
These pieces could be incorporated into our wardrobes with great EASE at any time in the future – they're the kinds of things that dress up neutrals…
So what am I keeping? Primarily, I was wrestling with a couple of beautiful silk jackets from Eileen Fisher (one has to be 15 years old…) that I don't wear all that often:
I don't really know what this all means, except that the rules aren't always right for everyone, and that you have to find your own way in the world. Maybe I'm just rationalizing (oh THAT'S possible…) or maybe I'm onto something, but either way, I think that there has to be flexibility when we're dealing with something as intensely personal as wardrobes and self-image…
What do you think?
love,
Janice