May 22, 2017
Well okay, I've also read that we get moonstones, AND alexandrite, but I'm going to concentrate on pearls. They're my all-time favorites… (I've actually never owned a diamond engagement ring, because I'd really always rather have pearls…)
And I'm going to get this out of the way right up front – these pieces are not all genuine pearls, and none of these pieces is expensive. There are smarter bloggers than me who can tell you all about real pearls, and glorious pieces of jewelry that include them (yes, Passage des Perles, I'm looking at you!), so I thought I'd concentrate on more modestly priced treats… Joy should not be confined to those with abundant disposable income…
For lack of any better idea, I've just grouped all of these lovelies by general style qualities…
First up, for spring and especially summer, jewelry that echoes shapes in nature seem like such a nice choice. Here we've got all kinds of sea life, as well as the always lovely flowers…
Here's where my heart really seems to settle – on cleanly geometric pieces of jewelry… It's not something that I can explain, it's just the way I feel. I think that it's really important to learn these things about yourself and to remember them when you're confronted with a world full of beautiful options. It's easy to be lured astray by something absolutely lovely that doesn't suit you at all!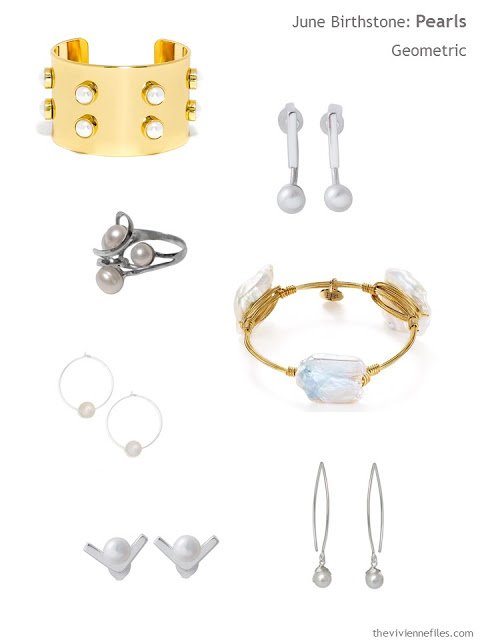 There are timeless designs that could be a favorite of anyone.. These could be a lovely small touch with almost any outfit except maybe hiking gear? (although I'm quite sure I've worn pearl earrings while hiking!)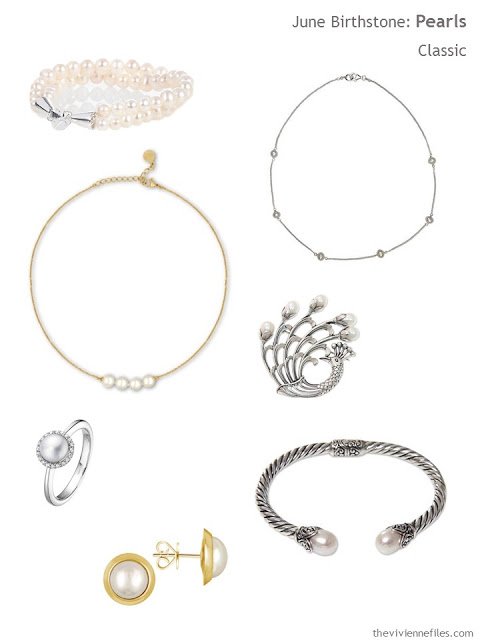 For years, this was where my heart was drawn; I had all sorts of illusions that I was more feminine and delicate than I really am! But pearls (especially surrounded by marcasite!) are so pretty…. sigh…
And while we're at it, let's not forget that pearls can come in all sorts of colors! Many of these have been dyed, and so you have to be sort of careful that you don't get something that's going to fade or do something strange as time passes. But the peacock luster of a grey pearl can be very gorgeous against a teal sweater, or a purple dress…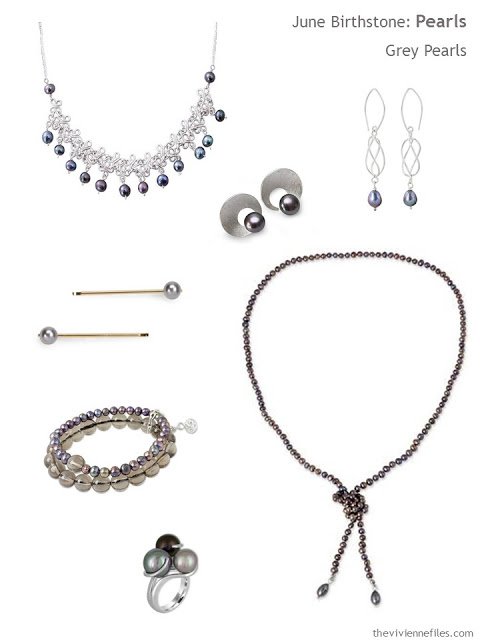 I love pearls, and could wear nothing but forever. It's easily possible to have a LOT more jewelry than one strictly needs… Is that so bad?
love,
Janice
More from the Birthstone Series: