May 5, 2017
When you read this, I will be in New York for a long weekend with La Photographe. She's got a chance to photograph at Ellis Island on Sunday, and so we decided to make a long weekend of it! Why not?
But of course, one must pack…. How do you make these choices? I have thoughts – oh do I have thoughts!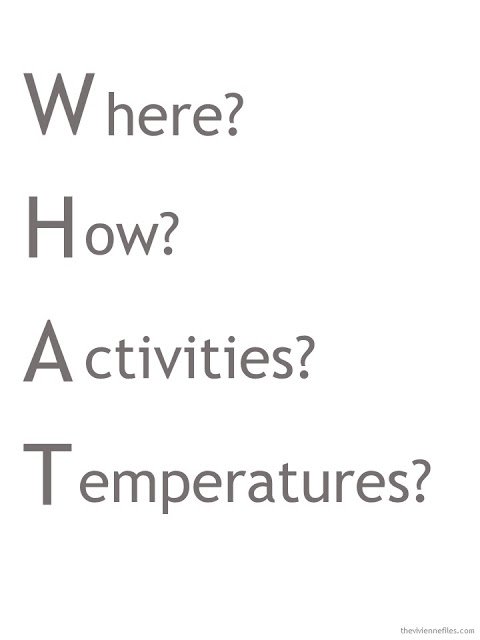 (my brain generates acronyms like normal people make conversation…)
W – here are you going? This is pretty critical, because the difference between the city and the beach, or between the mountains and the downtown office, are massive. The joy of going to New York is that I could pack a tutu, a Buddhist monk robe, and a leather jumpsuit, and still be fine… it's pretty difficult to be inappropriate there!
H – ow do you want to be seen? If I were making this trip with Belovedest, I would pack 4 dresses, and an assortment of flat shoes. I'd have at least a couple of scarves with me, and lots of changes of jewelry.
But this trip is with LP, and she's done ALL the dressing up that she wants to do in her life, thank you. She wore suits for years when she worked in the financial markets, and so now she dresses for comfort and function. If I wore dresses when I was running around with her, it might be an awkward juxtaposition – just being comfortable is all that I need with her. I personally feel that it's not respectful, and might even be seen as showing up someone, if you deliberately dress a lot more dressy than your companions. Your mileage may vary…
A – ctivities. If you've got something special on tap, you've got to dress for it. Our agenda is sightseeing, museum-going, and casual but "table-service" dining. Family-owned Italian and French is what we're aiming for….
T – emperature. You've got to be as prepared as you can reasonably manage for the weather. It's impossible to know with complete certainty what you're going to encounter, but you should at least keep an eye on forecasts, and perhaps plan for some variations from what the predictions tell you. I've written a lot about this in the past, in the posts Tagged "Triple Top Secret."
So enough philosophy – W.H.A.T. am I taking with me?
(I've linked to anything that's still available; I'm sure that you understand that some of these items aren't new!)
I'm basically packing two "Clusters" around my two crew neck sweaters, and then adding another sweater and skirt…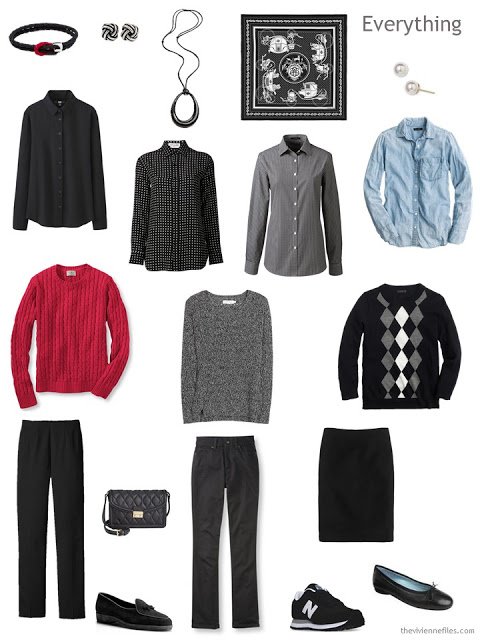 This is how I'm picturing things – Friday will be a ton of walking, and relatively relaxed. I'm going to step it up about a half a notch on Saturday because we're meeting people for dinner. (so it's trousers instead of jeans, and loafers rather than trainers – not a big change…)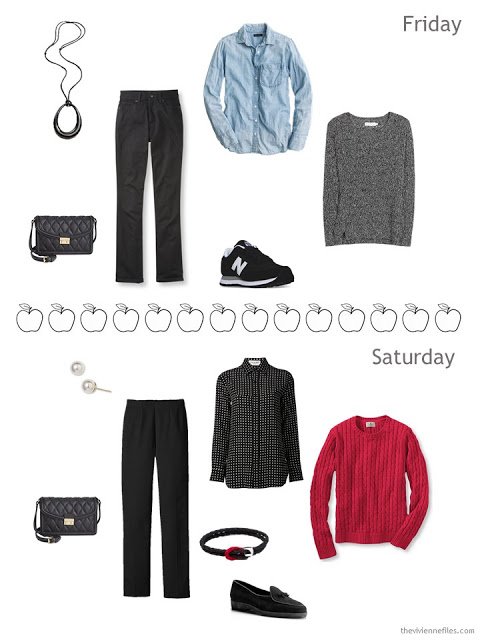 I think I'm going to be alone most of the day on Sunday, so I'm going to do some "Vivienne Files" due diligence by seeing what I can see that's wonderful and amazing. Monday morning – back to Chicago!
The Vivienne Files is continuing without interruption during my little jaunt, but if I'm late with responses to questions and comments, forgive me!
love,
Janice